---
Crew
Directors – Steve Balderson & Elizabeth Spear, Screenplay – Steve Balderson, Michael Page, Chris Pudlo & Elizabeth Spear, Producer – Steve Balderson, Photography – Don Sae Kang & Daniel G. Stevens, Music – Mark Booker. Production Company – Dikenga Films.
Cast
Debbie Rochon (Herself), Krysten Day (Trish Gable), Jennifer Grace (New Laura), Beckijo Neill (Original Laura), Blake Cordell (Bobby Gable), Amanda Deibert (Chanel Manly), Owen Lawless (Jesse Manly), Ben Windholz (Butch Manly), Matt Weight (Blaze Manly), Pleasant Gheman (The Nurse/Mother Manly), Jeff Montage (Father Gable), Sarah Napier (B.J. Gable), Chris Pudlo (Coach Perry), Cara Hillstock (Manda), Bettie O. (Reporter)
---
Plot
Debbie Rochon introduces several episodes that have been uncovered of the controversial and mysteriously lost soap opera 'Hell Town'. On the show, the patriarch of the Gable family announces to his son Bobby and two daughters Trish and Laura that he will leave his inheritance to one of them. This immediately sets them in competition to be the one to win it. The slutty Trish has decided to offer her other virginity to her boyfriend Blaze Manly at the prom. Meanwhile, Bobby is struggling with his attraction to Blaze's brother Jesse, although Jesse is now insisting that he is straight. At the same time as these dramas play out, the Letter Jacket Killer is eliminating everybody that Trish has slept with.
---
Hell Town is directorial collaboration between Kansas-based filmmakers Steve Balderson and Elizabeth Spear. Balderson has been making films since the almost culty high school horror comedy Pep Squad (1998) and has mixed a variety of documentaries with dramas, horror films such as Watch Out (2008) and the Women in Prison film Stuck (2009). Co-director Elizabeth Spear has made a variety of indie dramas that do not appear to have been widely seen.
At the Vancouver Shivers Cinemafantastique festival, Steve Balderson appears and speaks about how as a child he was watching one of his mother's soap operas and was blown away when the regular dramatics were interrupted by armed gunmen shooting everybody – in later years, he realised that what he was watching was the infamous The Moldavian Massacre episode of Dynasty (1981-9). This idea led to his creation of Hell Town – a standard soap opera that has been combined with elements of the slasher film.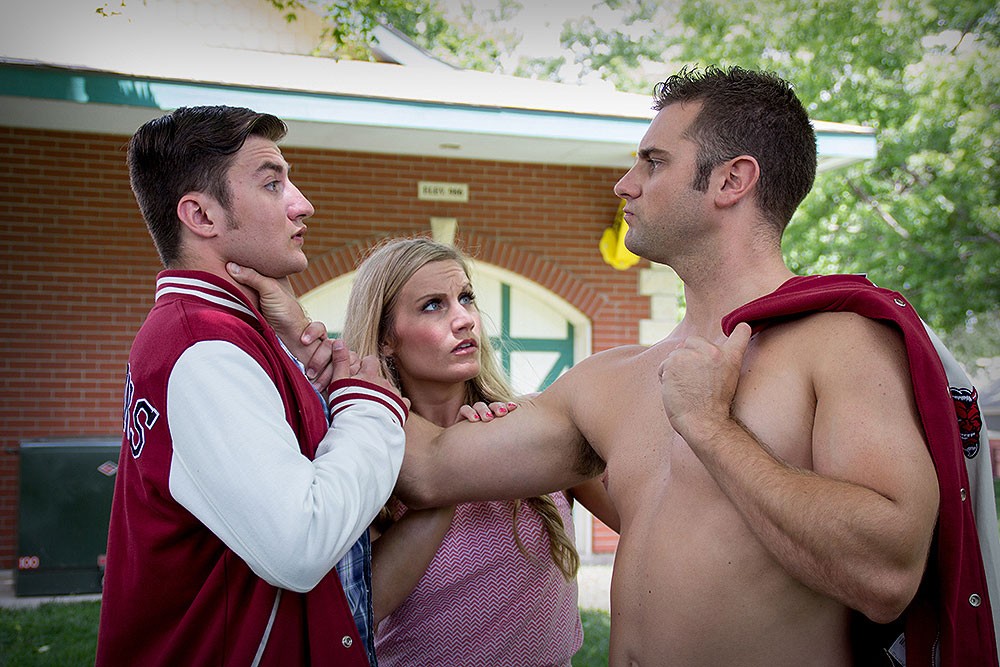 On screen, Hell Town plays out as a faux soap opera. It even comes broken into three episodes, replete with cliffhangers and recaps. This is bookended by real-life horror icon Debbie Rochon who acts as a narrator and presents the fictional soap opera (even in mid-film introduces the trailer for Model Hunger (2016), her own directorial debut). Balderson and Spear have fun parodying the conventions of the soap opera (which also at times seem to merge into the high school drama – or maybe that could just be the cast of twentysomethings), albeit on a low-budget. We get everything from the family patriarch (Jeff Montage), the slutty blonde (Krysten Day), the manipulating sister (who makes a mid-film transition to be played by another actress without anybody batting an eyelid), the rival family and so on. A substantial B plot plays on unrealised gay attractions.
Hell Town is an amusing joke – I was constantly mentally comparing it to the John Candy comedy Delirious (1991), which does similar parodies of the conventions of the soap opera. Or perhaps you could even go all the way back to the ahead-of-its-time sitcom parody Soap (1977-81). On the other hand, I kept feeling that this was the whole of the film. Once you get the joke, which it is not very hard to do, there is never too much more to the film after that. Most of the film consists of the cast wandering around playing comically exaggerated parodies of characters in a frenzied flurry but what the film feels like was lacking was a profusion of laugh out loud moments. These are interspersed with a variety of slasher scenes, none of any particular distinction.
(Screening at the Shivers Cinemafantastique Film Festival)
---
---