---
Crew
Director – Mike Mendez, Screenplay – Brad Keene & Chris Skinner, Producers – Al Corley, Lawrence Elmer Fuhrmann Jr., Mill McCutchen, Eugene Musso & Bart Rosenblatt, Photography – David A. Armstrong, Music – Joseph Bishara, Visual Effects Supervisor – Kelley Ray, Visual Effects – VelocityApe FX, Digital Effects Supervisor – Chris Ervin, Special Effects Supervisor – Richard Perry, Creature Effects Supervisor – Mike Elizalde, Creature Effects – Spectral Motion Inc., Production Design – Carmi Gallo. Production Company – Code Entertainment/Prophecy Pictures.
Cast
Dominic Purcell (Harris McKay), Tcheky Karyo (Vincent Cochet), Josie Maran (Kira Hayden), Claire Kramer (Allison Mitchell), Marcus Thomas (Sid Vance), Megahn Perry (Frances Culpepper), Oakley Stevenson (Haunted Woman)
---
Plot
Lawyer Harris McKay attends the funeral of Devin Lansing, a friend from his university days. Afterwards he hangs out with Kira Hayden and Sid Vance, others from the group of friends. Sid comes up with the idea of them going and partying on Devin's grave at the Cresent Cemetery. They find a poem on the grave and read it aloud and, as it suggests, drunkenly dance on the nearby graves. In the weeks afterwards, Harris and his wife Allison are subject to inexplicable supernatural phenomena. They find that Kira and Sid are also haunted by the same things. Sid introduces them to parapsychologist Vincent Cochet who helps them realise that they enacted a ritual and have raised the spirts of those on whose graves they danced. Further investigation reveals that these were the graves of criminals and murderers who were buried in the section of the cemetery reserved for those who died in disgrace.
---
Mike Mendez has been a rising name as a horror director for the last couple of decades. Mendez first appeared as director of the horror film Killers (1996) and went onto other genre works such as Bimbo Movie Bash (1997), The Convent (2000), the horror documentary Masters of Horror (2002), Big Ass Spider! (2013), Lavalantula (2015), Don't Kill It (2016) and The Last Heist (2016), as well as producing Tales of Halloween (2015) and directing the Friday the 31st episode, plus producing Unnatural (2016), Against the Night (2017), Snake Outta Compton (2018) and The Shed (2019).
The Gravedancers was Mike Mendez's venture into the ghost story. There have been innumerable films made in this vein during the latter half of the 2000s and throughout the 2010s. Indeed, it has gotten to the point that I dread having to watch one more ghost story as all of them do so little that is different from the same limited plot moves. The Gravedancers churns through the same moves as most of these – assorted hauntings, the delving into the backstory of the restless dead, the introduction of a team of paranormal investigators. The only novelty is perhaps that the show does not involve a haunted locale like a house but concerns a group of friends who raise the spirits of social outcasts in the local cemetery after they unwittingly enact a ritual by dancing on the graves.
I was prepared to give Mike Mendez a pass with The Gravedancers and say that it was one of his early films and he was still learning the craft. On the other hand, he had made the earlier 'The Convent – a perfectly enjoyable horror comedy – and there is no reason why this could not have been up to the same level. But it isn't – it is something that feels as it though it were filmed quickly and with not enough budgetary resources to hand.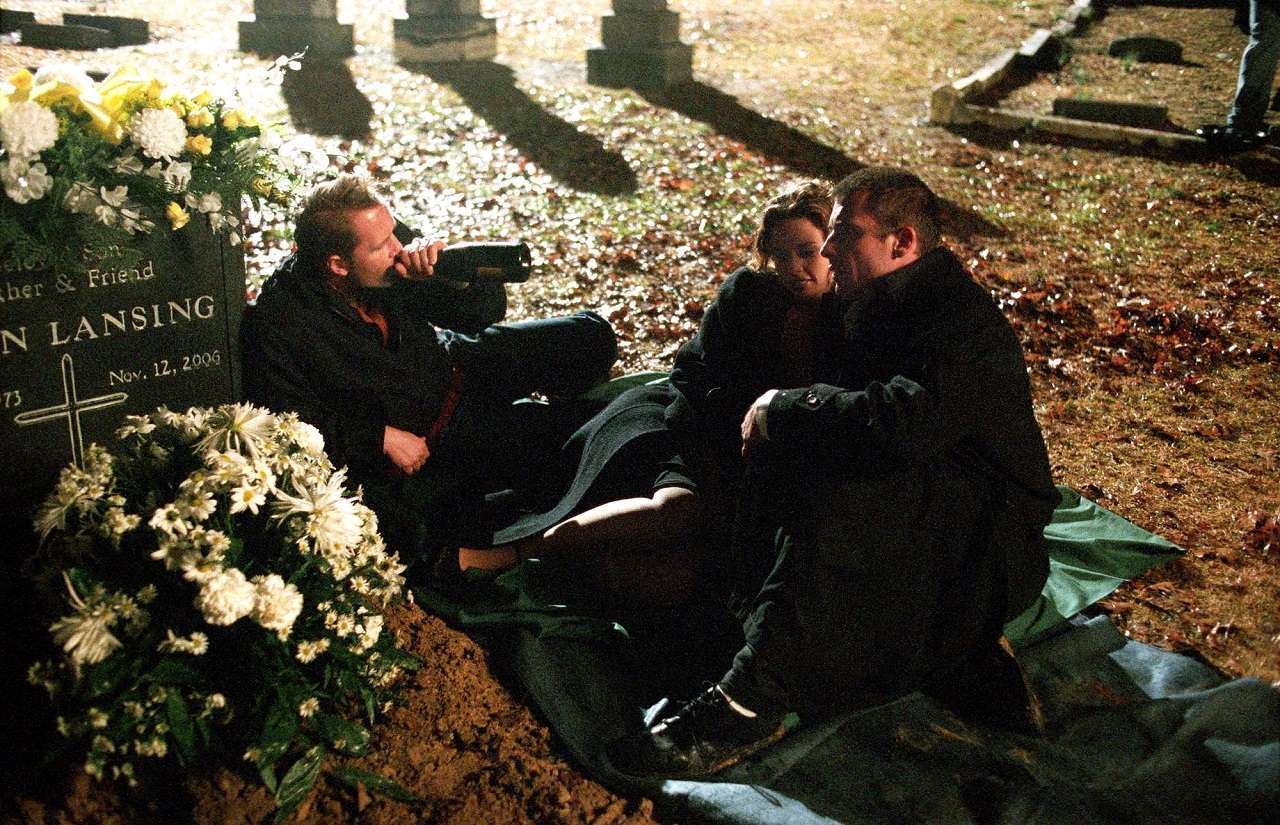 Mendez generates shocks that feel entirely by the numbers, the sort made by an ingenue director who is leaping into the genre with more enthusiasm than he has actually watched enough examples of the films he seeks to emulate. This is particularly evident during the grave robbing scene with Mendez having the various participants each in peril in a different grave – one grave exploding into flame, a skeleton come to life and Josie Maran trapped in a coffin as it starts sinking into the earth – a sequence that becomes more ridiculous in the desire to generate jumps than it ever generates any effect.
The sole scene that starts to seem effective is one where Dominic Purcell wakes up in bed with his wife Claire Kramer's arm around him only for Kramer to then appear out of the shower towelling herself off and he to turn and realise he is in bed with a dead woman. It is a scene that has been overused in the plethora of ghost stories since then and could have worked but Mendez fails to play the scene with the necessary subtlety.
Among his cast, the only moderately known names that Mendez has to hand are Dominic Purcell, an Australian actor who was then a reasonable name as a result of the tv series Prison Break (2005-8, 2017) and French actor Tcheky Karyo known for the James Bond film GoldenEye (1995) and a host of other international roles.
---
---