---
Crew
Director – David Zucker, Screenplay – Jim Abrahams & Craig Mazin, Story – Craig Mazin, Producers – Craig Mazin & Robert K. Weiss, Photography – Thomas E. Ackerman, Music – James L. Venable, Visual Effects Supervisor – Ray McIntyre Jr, Visual Effects – Cafe FX (Supervisor – Dave Ebner), Entity Fx (Supervisor – Mat Beck), Pixel Magic (Supervisor – Reid Paul) & Synthespian Studios Inc, Special Effects Supervisor – Bob Comer, Prosthetic Makeup Effects – Keith Vanderlaan's Captive Audience & Schminken Laboratories Inc, Production Design – Holger Gross. Production Company – Dimension Films/Brad Grey Pictures.
Cast
Anna Faris (Cindy Campbell), Craig Bierko (Tom Ryan), Regina Hall (Brenda Meeks), Leslie Nielsen (President Harris), Bill Pullman (Henry Hale), Anthony Anderson (Mahalik), Carmen Electra (Holly), Dr Phil McGraw (Himself), Shaquille O'Neal (Himself), Charlie Sheen (Tom), Kevin Hart (CJ), Conchita Campbell (Rachel Ryan), Beau Mirchoff (Robbie Ryan), Garrett Masuda (Japanese Ghost Boy), Michael Madsen (Oliver), Chris Elliott (Ezekiel), Henry Mah (Mr Koji), Molly Shannon (Marilyn), Debra Wilson (Oprah), John Reardon (Jeremiah), Cloris Leachman (Mrs Norris), Edward Moss (Michael Jackson), James Earl Jones (Himself)
---
Plot
Cindy Campbell takes a new job as a healthcare worker tending an elderly woman. However, as soon as she moves into the house, she finds that it is haunted by the ghost of a young Japanese boy. Cindy's neighbour is crane operator Tom Ryan and the two are attracted after meeting. The world is then suddenly invaded by giant trIpods who start killing humanity en masse. Tom flees with his two children. Meanwhile, the ghost boy directs Cindy to find the secret to defeating the aliens and leads her and Brenda to a secret community of people that live as though they were in the 19th Century.
---
Scary Movie 4 was the fourth in the series of films that began with Scary Movie (2000). The first Scary Movie was creatively maintained by, it seems, the entirety of the Wayans family. The central conceit for Scary Movie came in running a parody of Scream (1996) and I Know What You Did Last Summer (1997), as well as various recent films of the 1999 season, over with a series of raucous and vulgar gags. The Wayans family continued with Scary Movie 2 (2001), which did the same for the haunted house genre.
The Wayans's departed and with Scary Movie 3 (2003) the directorial reins were inherited by David Zucker who had co-created and co-directed the original modern movie parody Airplane/Flying High (1980) as well as other parody films like Top Secret (1984), The Naked Gun: From the Files of Police Squad (1988) and BASEketball (1998), as well as the subsequent An American Carol (2008). With the entry of David Zucker – who continues to direct and co-write here – the Scary Movie series started to become increasingly more whitebread and cleaned up, moving away (largely) from its origins in Black Humour.
Scary Movie 4 settles in with a familiar tedium. The targets are, as usual, various fantastique films of recent vintage – The Grudge (2004), Saw (2004) and Saw II (2005), M. Night Shyamalan's The Village (2004) and Steven Spielberg's War of the Worlds (2005). As with Scary Movie 3, David Zucker also expands the parody widely beyond what could easily fit into the description of a 'scary movie' any longer to also include spoofs of Million Dollar Baby (2004) and Brokeback Mountain (2005).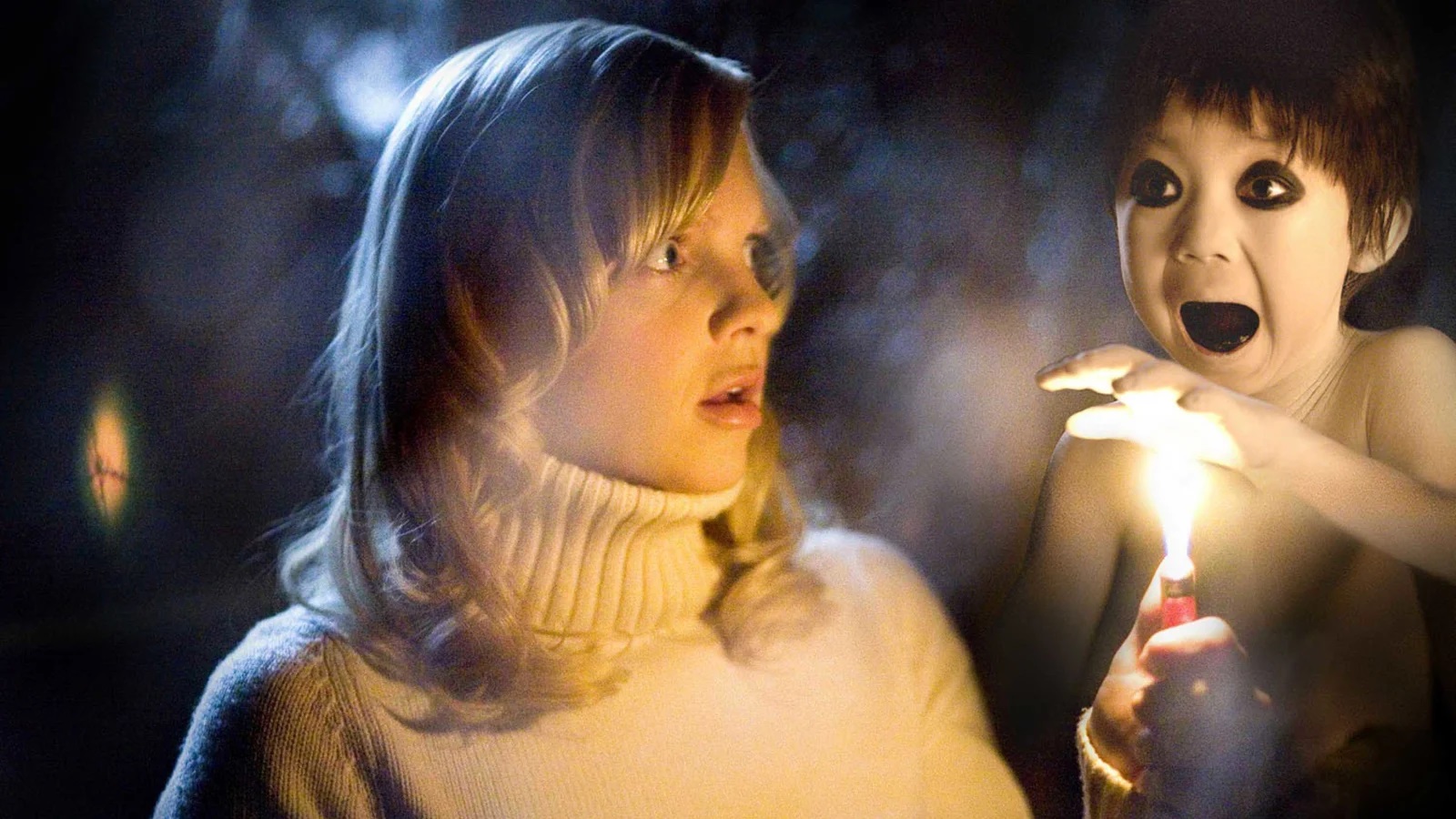 With Zucker's Scary Movie's, there has also been the increasing introduction of some satire taken from recent current events – here of Leslie Nielsen's President doing a parody of George Bush's reading a children's story as the news of disaster hits; or of Bush's appearance before the UN; of Tom Cruise's famous couch-jumping antics on The Oprah Winfrey Show; as well as a repeat of the Michael Jackson gag from Scary Movie 3. Most of the political gags are so broad it is hard to tell if the film even has a particular political point-of-view.
As with the previous Scary Movies, the sense of humour is squarely aimed at the lowest common denominator – fart, sex, dick, poop and gay jokes. Though Scary Movie 4 aims to be a parody, there is little in it that is funny. (Although, to its credit, Scary Movie 4 grated less on the nerves in its moronicism than all of the other Scary Movies). Many of the gags – one that keeps on going about people trying to unlock a car door, or a sequence with people exchanging guns and knives – are witless.
Phil McGraw, the host of the massively popular Dr. Phil (2002– ) show, turns up alongside basketballer Shaquille O'Neal during the prologue where both more than clearly demonstrate that they are not actors. Dr Phil, who has often seemed an astute folksy pop psychologist on his show, surely only denigrates his standing as a dispenser of serious wisdom by appearing in lowbrow comedy like this.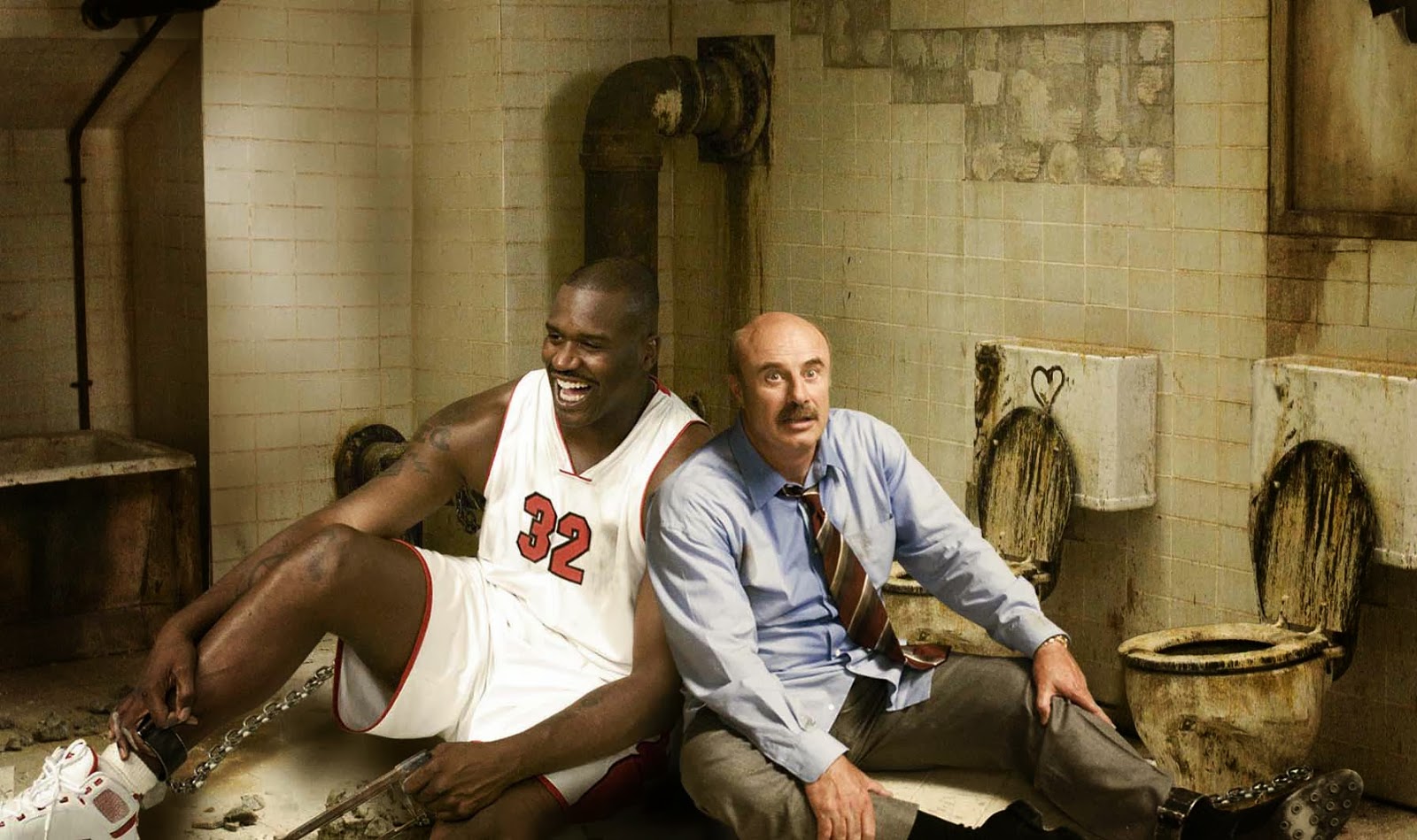 Moreover, Scary Movie 4 strains to attach its various parodies together into a plot. For instance, Anna Faris moves into a house that is haunted by the Japanese ghost boy from The Grudge; her neighbour happens to be Craig Bierko who is then plunged into a rehash of Tom Cruise's role in War of the Worlds. Things become absurdly strained in the attempt to make everything connect – the Japanese ghost boy turns from the malicious revenant he was in The Grudge into someone who provides guidance for Anna Faris to solve the alien invasion, whereupon she and Regina Hall travel to find the answers in a village that recreates the 19th Century in a parody of The Village; or else when Anna Faris and Craig Bierko are snatched up into the basket from War of the Worlds, the interior of the trIpod turns out to be the cellar from Saw and the aliens are the clown-faced figures riding around on bicycles from the Saw movies.
In the end, what we have is a film that is little more than a variation on the movie spoof skits that appear on shows like Saturday Night Live (1975– ) or French and Saunders (1987-2017) that has been awkwardly extruded out into an entire movie.
David Zucker went onto produce/write Scary MoVie (2013) with a different cast.
---
---