---
Crew
Director – Craig Deering, Screenplay – Craig Deering & Allen Murphy, Story – Craig Deering & Karen Deering, Producers – Craig Deering & Shane Semmens, Photography – Louis Wong, Music – Eros Cartechini, Production Design – Zach Allen. Production Company – Evil Iguana Productions.
Cast
Maurice Demus (Richard Clemens), Callie Stephens (Nicky Miller), Michael Medford (Shane Miller), Allen Murphy (Conner), James R. Doherty (Zak), Peter Clemens (Officer Peter Clemens), Ann Hagemann (Ellis), Matthew Urban (Dr Anthony Pender), Joette Waters (Nurse Deming), Charles Straka (Nathan)
---
Plot
Richard Clemens and his film crew are ghost hunters who have been hired to conduct an investigation into an abandoned asylum. Tagging along to write about them is the internet blogger Zak who is sceptical about their belief in ghosts. Inside the asylum, they find a locale is very much haunted. Richard, who is a medium, has flashes back to how Dr Anthony Pender conducted illegal experiments on patients and then snapped and killed everyone. The ghostly forces in the asylum now start to attack the group.
---
Since around the 2000s, there has been an increasing body of films set around haunted hospitals or (as here) asylums. (For a more detailed overview of these see my essay Asylums). These include the likes of House on Haunted Hill (1999), Killer Instinct (2000), Dark Asylum (2001), Session 9 (2001), Hell Asylum (2002), Boo (2005), The Devil's Chair (2006), Don't Look in the Cellar (2008), Room 33 (2009), House of Dust (2013), Paranormal Asylum (2013), Backmask/Exeter (2015) and Cain Hill (2017). A good many of these are also Found Footage films – see the likes of Haunted Changi (2010), The Sanatorium (2010), Grave Encounters (2011), Greystone Park (2012), Asylum: The Lost Footage (2013) and Gonjiam: Haunted Asylum (2018). Asylum of Fear is not Found Footage, although you keep expecting with its team armed with video cameras that it should be.
Asylum of Fear is capable enough from a production standpoint. The main issue is that its plot cycles through a bunch of elements that have been done to death by the abovementioned films – the young Paranormal Investigators armed with cameras entering the abandoned building, assorted manifestations, the building messing with their sense of what is real, the discovery of the building's dark past. Director/co-writer Craig Deering does nothing new with any of them, nothing to vary from a well-established formula.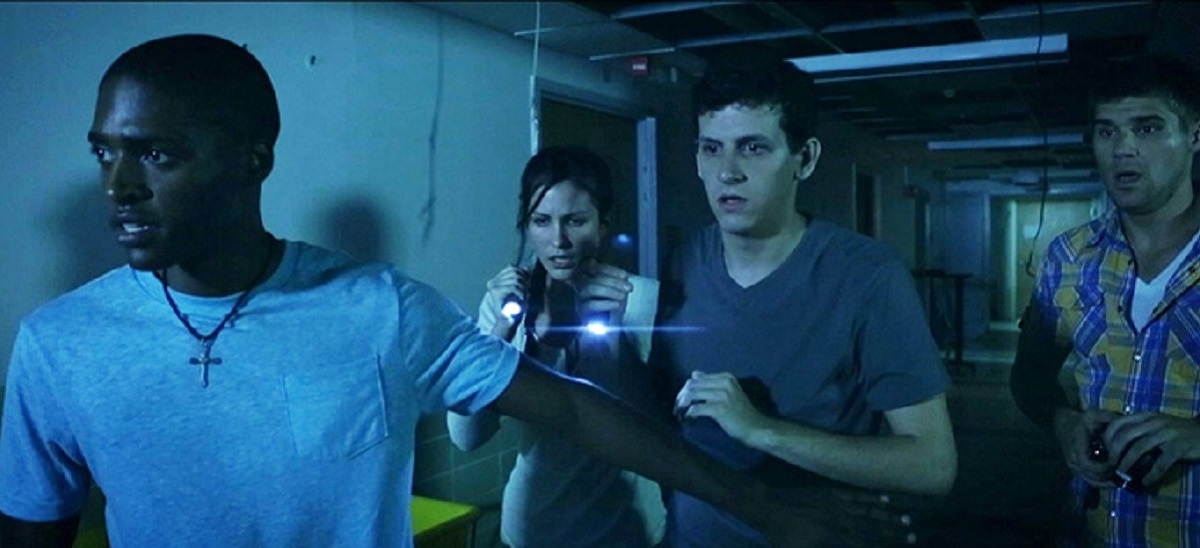 The film also comes with a low-budget – most of the film appears it to have been shot at a real abandoned hospital location. It makes an effort but sometimes it undeniably comes through that the film is operating on a lesser budget. In the flashback scenes, for instance, it is not clear when in the past the events are meant to be taking place but the very contemporary hairstyles and clothing of the actors tends to break the illusion. The cast are generally okay with Maurice Demus showing promise. Others such as Allen Murphy tend to hit a single note and stay there.
Asylum of Fear has been the one and only film directed by Craig Deering who has otherwise worked in television comedy and as an actor.
---
Trailer here
---