aka The Asylum Tapes; Graystone
---
Crew
Director – Sean Stone, Screenplay – Sean Stone & Alexander Wraith, Concept – Alexander Wraith, Producers – Giulia Prenna & Kaila York, Photography – Eduardo Mayen, Visual Effects Supervisor – Aaron Kupferman, Visual Effects – Digital Post Services, Makeup Effects – David Presto, Production Design – Philip Salick. Production Company – Secretstone Productions, LLC.
Cast
Sean Stone (Sean), Alexander Wraith (Alex), Antonella Lentini (Antonella), John Schramm (John), Oliver Stone (Oliver)
---
Plot
In 2009, Sean and his girlfriend Antonella went on an expedition to New Jersey's abandoned Greystone Park asylum. They were in search of urban legends about it being haunted by inmate Billy Lasher who had murdered all the nurses. Guided by Sean's strange friend Alex, they broke into the building after dark, filming everything along the way. As they wandered the empty halls, glimpses of shadowy figures and an increasingly strange number of incidents convinced them something was not wanting them to leave.
---
Greystone Park, known under several alternate titles but principally this one, is a Found Footage film. The interesting footnote is that it is the directorial debut of Sean Stone, the 28-year-old son of director Oliver Stone, the director of works like Platoon (1986), Wall Street (1987), JFK (1991) and Natural Born Killers (1994). Sean has been making small acting appearances in his father's films ever since he appeared an infant in Salvador (1986). He began directing with Making Of shorts for his father's Alexander (2004) and previously co-directed the documentary Nuremberg: A Vision Restored (2007). Oliver pays back the favour and makes a brief appearance in the dinner party scene at the start of the film where he tells the story of the urban legend of Crazy Kate.
The venture into the abandoned hospital and in particular asylum that is haunted (or features lurking killers) has become so prolific in horror that it can be considered a cliche – see also the Found Footage likes of Haunted Changi (2010), The Sanatorium (2010), Grave Encounters (2011), Asylum: The Lost Footage (2013) and Gonjiam: Haunted Asylum (2018) – and a host of other non-Found Footage efforts such as Doom Asylum (1987), House on Haunted Hill (1999), Killer Instinct (2000), Dark Asylum (2001), Session 9 (2001), Hell Asylum (2002), Boo (2005), The Devil's Chair (2006), Deadgirl (2008), Don't Look in the Cellar (2008), Room 33 (2009), House of Dust (2013), Paranormal Asylum (2013), Backmask/Exeter (2015), Cain Hill (2017) and Asylum of Fear (2018). (For a more detailed overview of the topic see Asylums).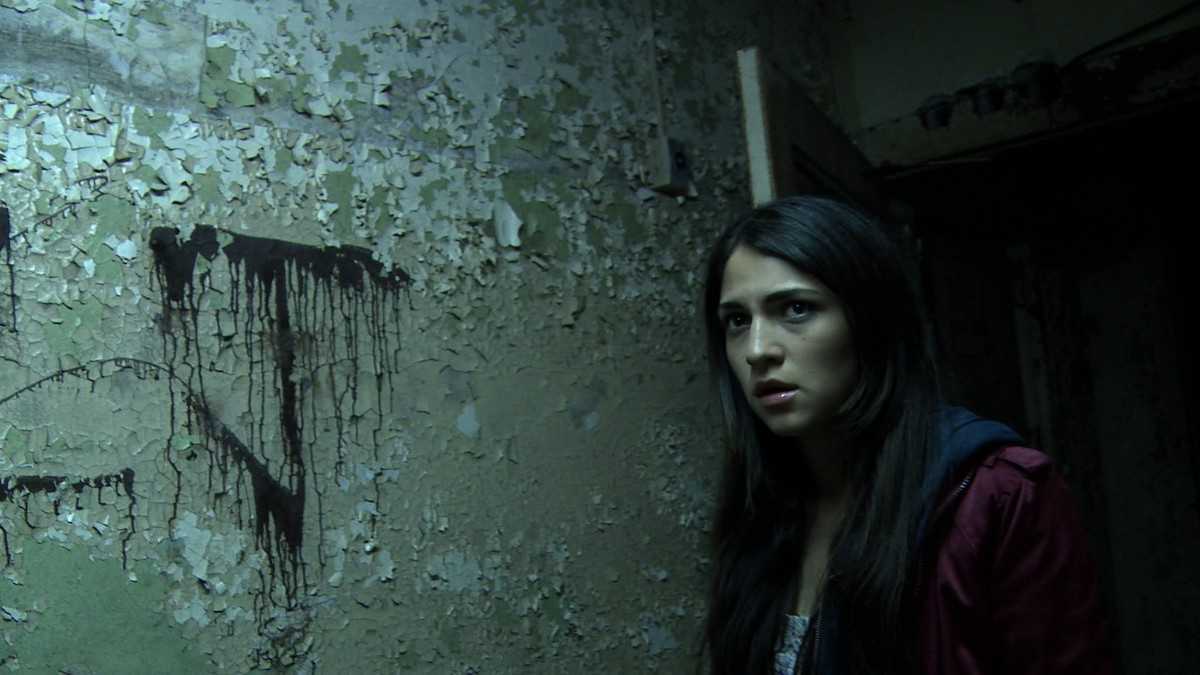 Greystone Park is Found Footage but Sean Stone also plays with the form in different ways to most other directors in the field. One thing he does is to break the image up far more than other Found Footage films do – the shots are much more edited than usual and often interrupted by subliminal flashes of nightmare images. This starts to become undeniably effective as the trio head in to the asylum and we start to see shapes and shadows that might be something lurking in the backgrounds of shots or flitting across doorways. These are presented in momentary glimpses not long enough to register more than the suggestion of something there and so brief that you think you might be imagining them. This keeps you constantly watching the periphery of the frame for things. And some of the jumps do end up effectively jangling one's nerves.
On the other hand, the Found Footage genre has become such an overused field that Greystone Park is at best traipsing its way around well-worn conventions and visual cliches. All of the plot moves have been used before. By the time of the climactic devil worship scenes where the subliminal flickering takes over the screen to suggest a distressed state of mind, the effect starts to become overwrought. The final shot of the film looks schlocky.
---
---