---
Germany/South Africa. 2006.
Crew
Director – Nick Mastandrea, Screenplay – Robert Conte & Peter Wortmann, Producers – David Lancaster, Marianne Maddalena & David Wicht, Photography – Giulio Biccari, Music – Marcus Trumpp, Visual Effects Supervisors – Simon Hansen & Ali Maleka, Special Effects Supervisor – Anton Voster, Animatronics Design – Graham Press, Production Design – Johnny Breedt. Production Company – ApolloProMovie GmbH & Co. Filmproduktion KG/The Industrial Development Corporation of South Africa Limited.
Cast
Michelle Rodriguez (Nicki), Oliver Hudson (John), Eric Lively (Matt), Taryn Manning (Sara), Hill Harper (Noah), Lisa-Marie Schneider (Jenny), Nick Boraine (Luke)
---
Plot
Med student Matt is dragged away just before finals by his brother John, along with Nick's girlfriend Nicki and two other friends. John flies them over to a family home on an island for a weekend of partying. As they settle in, they abruptly find themselves attacked by rabid dogs, which come from an abandoned research lab on the island. The dogs appear to be intelligent and bite through the mooring ropes to set the plane adrift. As the group try to find a means to get off the island, the dogs attack from every side, forcing them into a desperate siege inside the house.
---
The Breed was a directorial debut for Nick Mastandrea. Mastandrea has been a first assistant director to George A. Romero and fairly much everything that Wes Craven made since The People Under the Stairs (1991). Mastandrea also acted as a producer to Craven on the first three Scream sequels, Music of the Heart (1999) and Cursed (2005). Craven has returned the favour and acts as executive producer for Mastandrea on The Breed.
The film was a co-production between German and South African companies with Craven's regular producer Marianna Maddalena overseeing. The Breed – which should not be confused with the earlier not uninteresting The Breed (2001) about a vampire and human detective partnership set in an alternate world – did make some limited theatrical playings but was essentially a film designed for the dvd stores.
There have been several killer dog films before, most notably Rottweiler/Dogs of Hell (1983), White Dog (1982), Man's Best Friend (1993), Rottweiler (2004) and the subsequent The Pack (2015). The plot is fairly much a reworking of the earlier, well worthwhile killer dog film The Pack (1977). See also Animals Amok Films.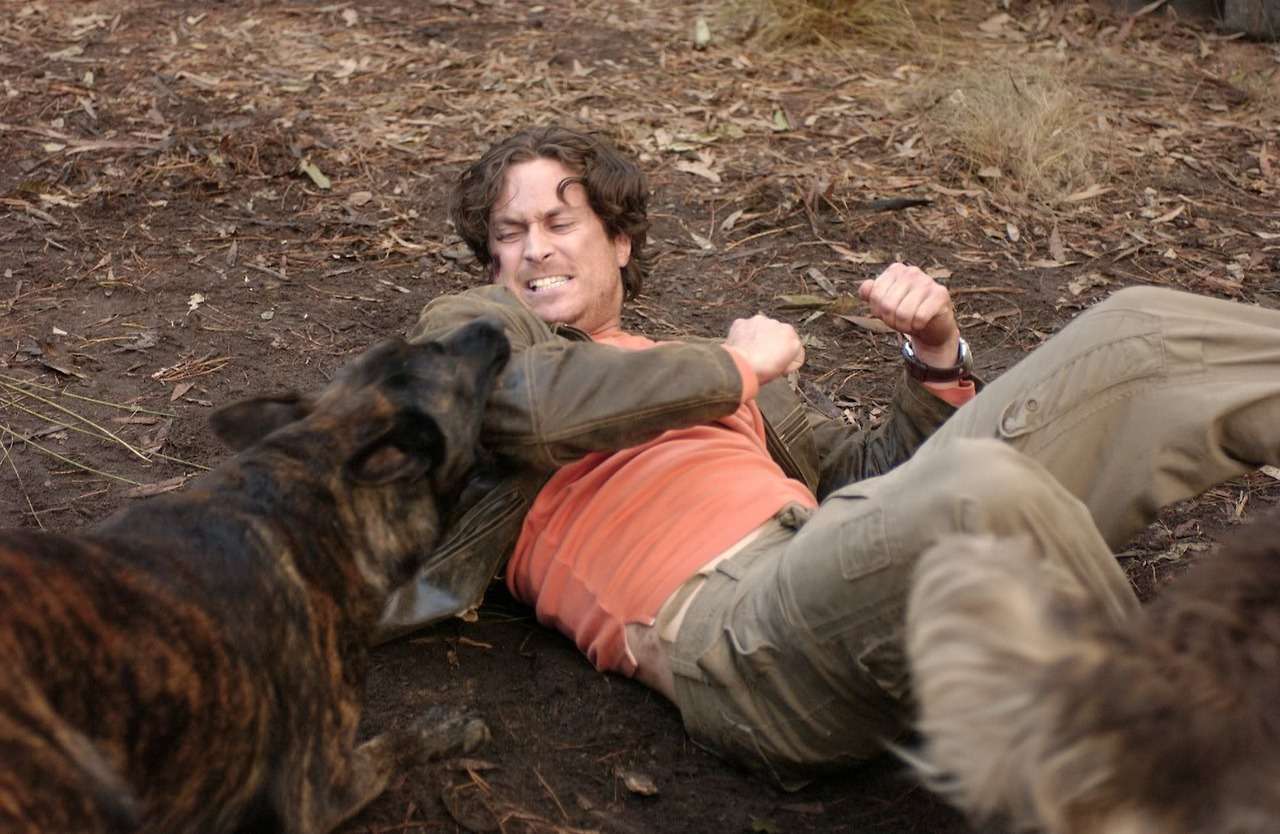 The script does nothing other than standard – there is a weak attempt to add a genetic-engineering angle towards the end but this is not well explored. There is the standard complement of teens in a cabin and isolated on a remote island (as opposed to in the woods). Nick Mastandrea generates passably okay tension during the dog attacks. There is the sense of the cast under a brutal siege and he has no difficulty ramping it up. The film kept my attention during this time, even if in the end you felt like there was a surprising lack of go for the throat moments.
The film stars Michelle Rodriguez who had come to fame in Girlfight (2000) and was gaining a name in Resident Evil (2002), S.W.A.T. (2003) and tv's Lost (2004-10). Through these, Rodriguez had crafted a persona as a tough, hard-assed street fighter but the disappointment of The Breed is that it writes no more than a standard Final Girl/girlfriend role for Rodriguez that fails to let her do anything to kick ass beyond a couple of moments on a zipline and fighting dogs. Rather than the no-name cast that usually populate these films, The Breed features some names such as Oliver Hudson, Taryn Manning and Eric Lively who have subsequently been rising up through the tv ranks.
---
---