---
Crew
Director – Franc Roddam, Screenplay – Lloyd Fonvielle, Based on the Novel Frankenstein by Mary W. Shelley, Producer – Victor Drai, Photography – Stephen H. Burum, Music – Maurice Jarre, Special Effects Supervisor – James Whiting, Makeup – Sarah Monzani & Aaron Sherman, Production Design – Michael Seymour. Production Company – Columbia.
Cast
Sting (Baron Charles Frankenstein), Jennifer Beals (Eva), Clancy Brown (Viktor), David Rappaport (Rinaldo), Alexei Sayle (Magar), Phil Daniels (Bela), Geraldine Page (Mrs Baumann), Carey Elwes (Joseph), Veruschka (Countess), Quentin Crisp (Dr Zahlus)
---
Plot
Using harnessed lightning, Baron Charles Frankenstein brings to life his second creation, a beautiful female. He names her Eva. His first creation, a male, Viktor, is angry when Frankenstein betrays his promise to give her to him as a mate. Viktor is then consumed in a laboratory explosion but survives. Presumed dead by Frankenstein, he meets Rinaldo, a friendly dwarf who invites Viktor to join him on a trip across Europe to join a circus in Bulgaria. Meanwhile, as Frankenstein introduces her to society, Eva becomes the attention of many male paramours. A battle of wills ensues as she comes to desire her independence from Frankenstein.
---
Director Franc Roddam promoted The Bride as being a feminist reworking of Bride of Frankenstein (1935). It was a lavish big-budget version that was clearly a revisionist attempt. This meant goodbye to Dr Pretorious, Queen Nefertiti hairdos and Boris Karloff with his tombstone intonation: "We belong dead" and all resemblances to the 1935 version. There is no longer any of the dark, arch humour that James Whale invested the original with. Instead, this is a film drenched in period atmosphere – at times, The Bride looks for all the world closer in tone to a straight version of My Fair Lady (1964) than anything resembling James Whale's droll classic.
Certainly, The Bride is a film that is beautiful to look at. The photography is stunning – the Countess's reception is like a perfectly poised Classical canvas. The production design is superb – the multi-tiered laboratory in the opening scene with ornate inscriptions in German and giant buckets of water waiting to douse the lightning rods evinces a great shiver of excitement. However, the film is no more than a series of posed tableaux. Franc Roddam has no idea how to dramatically enervate it.
The laboratory opening is indeed spectacular, but thereafter the film splits off into its two separate storylines – one following Viktor's trek across Europe (and the bonding scenes with he and the dwarf do get terribly twee) and the other about Frankenstein and Eva's battle for supremacy – but it merely becomes one tableaux following another without dramatic cohesion. There is no Dr Pretorious character in this film – the film could have done with something that to get it worked up.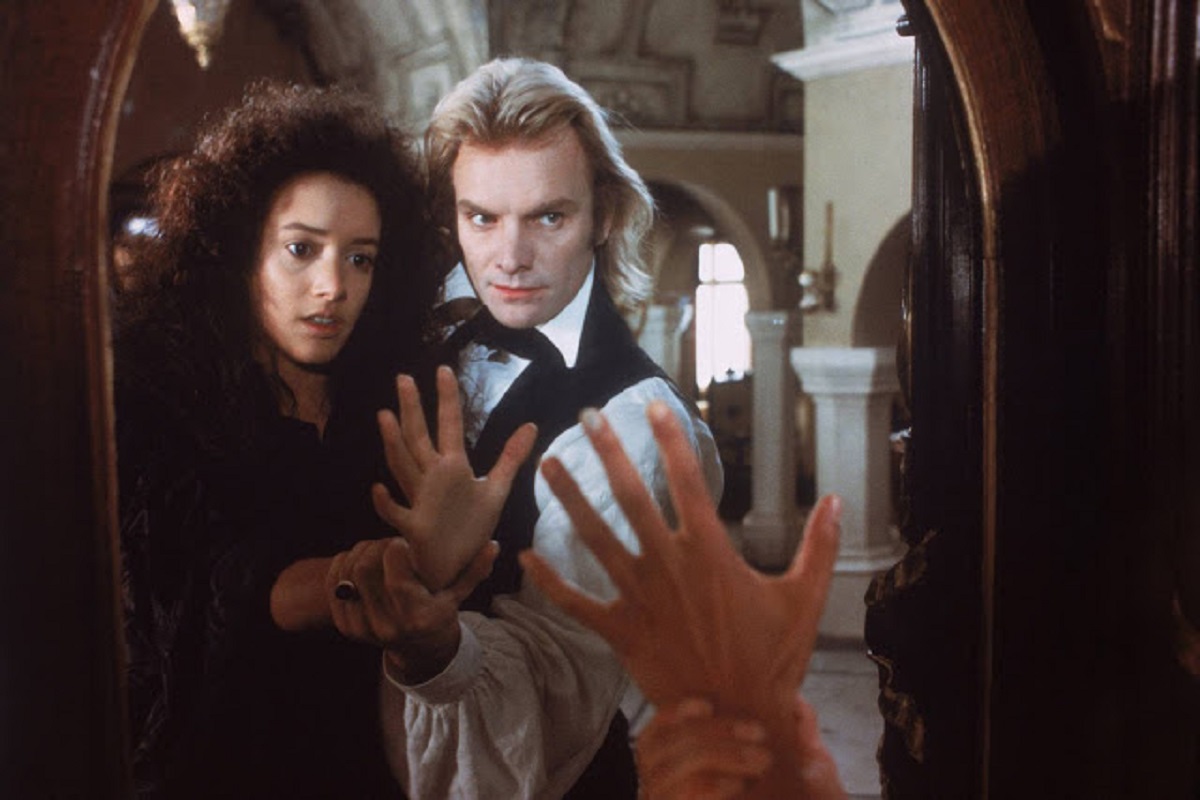 As Frankenstein, Sting does what he does best – acting ruthless and evil (he is the perfect person to play The Vampire Lestat (1985) if they ever get around to filming it) – but the character has no depth beyond that. Jennifer Beals came to attention after her sizzling debut in Flashdance (1983) and this was her second film. Subsequent to Flashdance, she almost entirely vanished without a trace. With her dark saucer-eyes, she is all provocative innocence but the moment she opens her mouth, her American accent crashingly destroys all pretence. Much better is the pairing of David Rappaport and Clancy Brown – Rappaport's crafty swagger has charm and Clancy Brown's slow genteel brings a touch of pathos to the monster altogether missing since the days that Boris Karloff stopped playing the part.
In the end, The Bride will probably only be remembered for Franc Roddam's ability to bring together a most unusual cast list – one of the world's biggest rock stars Sting; England's 'stately homo' Quentin Crisp of The Naked Civil Servant (1975) fame as the lab assistant, no less); absurdist comedian Alexei Sayle; Polish model Veruschka; the eccentric grand dame and previous year's Best Actress Oscar winner Geraldine Page; diminutive 3'11" David Rappaport; and, apparently, Mariel Hemingway, who was cast as Elizabeth but had her scenes cut out.
British director Franc Roddam had come to fame with Quadrophenia (1979), based on The Who album and featuring Sting in his first acting role, and The Lords of Discipline (1983) about brutality in a military academy. Roddam's subsequent films have been the little-seen War Party (1988) about an historical war reenactment gone wrong and the mountaineering drama K2 (1992), as well as the tv mini-series Moby Dick (1998) and Cleopatra (1999). He is also the creator of the classic 1980s British tv series Auf Weidersehen, Pet (1983-6) and creator of the reality tv series Masterchef (1990-2001) and its various spinoffs. Screenwriter Lloyd Fonvielle also wrote the stories for Cherry 2000 (1987) and The Mummy (1999), as well as wrote and directed the unusual film noir ghost story Gotham/The Dead Can't Lie (1988).
---
---