---
Crew
Director/Visual Effects Supervisor – Ryan Bellgardt, Screenplay/Producers – Ryan Bellgardt, Josh McKamie & Andy Swanson, Photography – Josh McKamie, Music – David Hamilton, Production Design – Dustin Faust. Production Company – 6 Stitches Entertainment/Boiling Point Media.
Cast
Jordan Farris (Alan Jones), Christian Bellgardt (Igor), Eric Gesecus (Army of Frankensteins), Rett Terrell (Corporal Solomon Jones), Raychelle McDonald (Virginia), John Ferguson (Dr Tanner Finski), Tommy Cunningham (Captain Robert E. Walton), Don Taylor (Abraham Lincoln), Jami Harris (Ashley), Lucas Ross (Lieutenant Swanson), Christopher Robinson (John Wilkes Booth), Billy Bean (Mutated Lieutenant Swanson), Shellie Sterling (Maggie), Gary Olinghouse (Eugene)
---
Plot
In the present-day, Alan Jones' attempts to propose to his girlfriend Ashley go wrong when she decides to work instead of come home to the surprise dinner he has planned. He then goes to the supermarket where she works, only to find her supervisor trying to kiss her. Walking away upset, he is abducted by Igor, the young kid who works for mad scientist Dr Tanner Finski. Tied up at Finski's laboratory, Alan's eyeball is removed to complete the patchwork creature that Finski is about to bring to life. In trying to escape, Alan accidentally triggers a lever and opens up a time warp that causes Finski's monster to multiply. He, the monsters, Igor and Finski are thrown back in time to 1869 right in the midst of the American Civil War. There Alan meets his own ancestor Corporal Solomon Jones. The nurse Virginia manages to inspire the Frankenstein monster to stand up on the side of North. Joined by the army of copies that follows its moves, the monster is able to defeat the Southern soldiers. However, the Confederate captain Walton has gotten his hands on Igor's syringe of serum and uses it to create his own monster with which he intends to kill President Abraham Lincoln.
---
Army of Frankensteins – not to be confused with Frankenstein's Army (2013) that came out a few months earlier – was a low-budget debut for Oklahoma-based director Ryan Bellgardt.
Army of Frankensteins is a film that comes with a mind-spending plethora of competing concepts that leave your head spinning. We jump between a prologue set on a Civil War battlefield scene and the present day with mundane scenes where the hero (Jordan Farris)'s attempts to propose to his girl go awry. In rapid turn, he is abducted into a mad scientist's laboratory and in the space of a single scene has his eye surgically removed, a Frankenstein is monster brought to life and a time warp opened that throws everybody back to the 19th Century and for some reason also creates multiple versions of the monster.
The film is filled with insane plot developments – the Confederate Army creating mutant monsters, including a cat creature; the kid patching the hero's ancestor up with a cyborg arm attachment that fires ray blasts; and the Frankenstein monsters discovering solidarity with the freed slaves and standing up to fight for the Union side. The scenes where Abraham Lincoln is introduced shows that Army of Frankensteins is trying to take a leaf or two from Abraham Lincoln, Vampire Hunter (2012) – in the climactic scenes, Lincoln is killed not by John Wilkes Booth but after falling from his box seat in Ford's Theatre and being crushed when the Frankenstein monster lands on top of him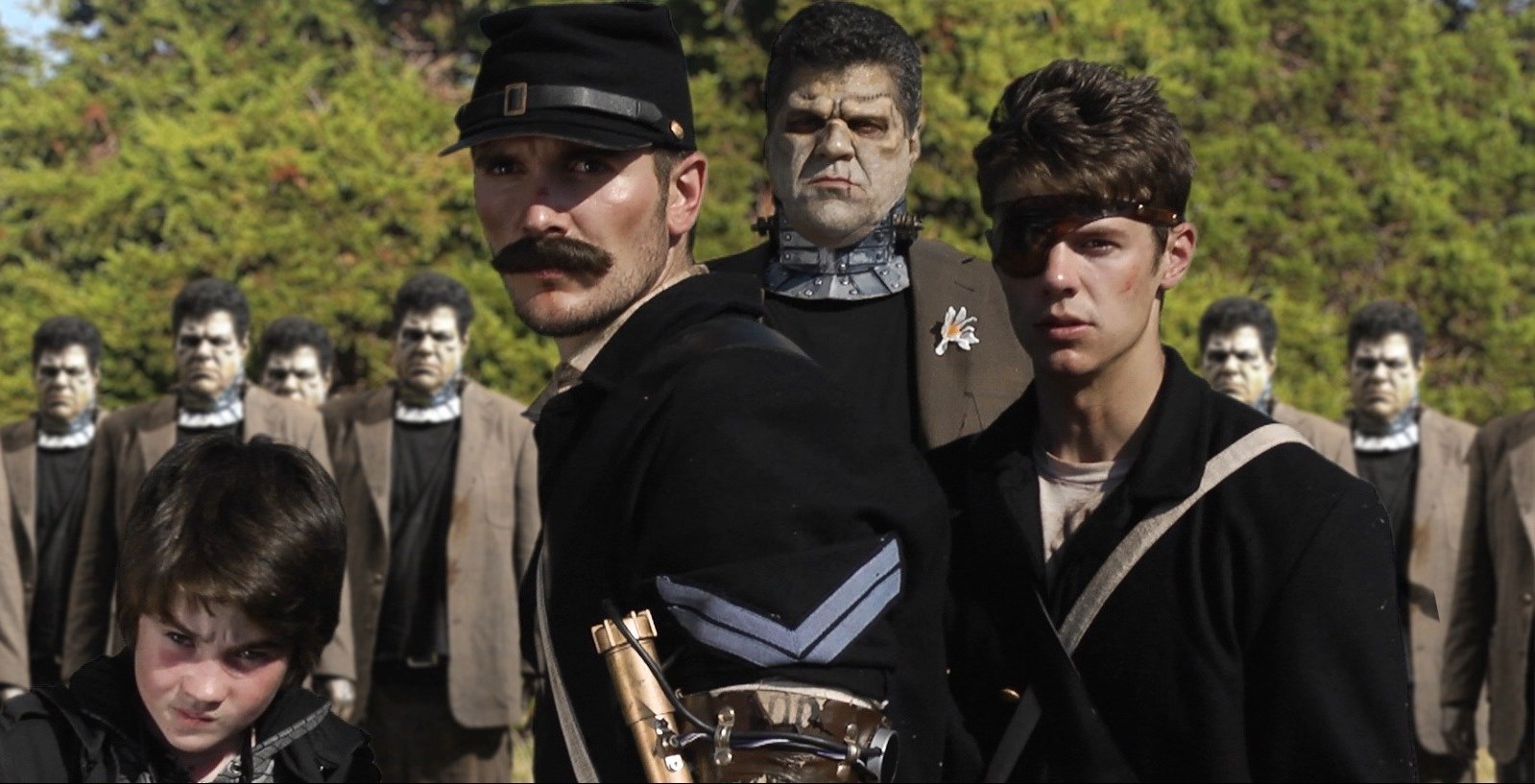 This madcap mash-up of genre elements sounds far more interesting than the film actually ends up being. For the most part, it is a competently made amateur production. Ryan Bellgardt's amateurism shows through particularly in some of the early mundane scenes where people's over-reactions to normal things – like the supervisor's demands that Jami Harris kiss him – seem absurdly over-dramatised.
There is a bizarrely unconvincing scene where the Frankenstein monster decides to stand up and fight for the Union after nurse Raychelle MacDonald tells him her story – where the entire impassioned exchange occurs as they stand opposite one another in the gondola of a hot-air balloon in mid-air. The low-budget stretches fairly well, although the film disappointingly opts for digital gore scenes.
Ryan Bellgardt subsequently went on to make Gremlin (2017), The Jurassic Games (2018), The Adventures of Jurassic Pet (2019), Adventures of Rufus: The Fantastic Pet (2020) and Dinosaur World (2020).
---
---