---
USA. 1990.
Crew
Director – Frank Henenlotter, Screenplay – Frank Henenlotter & Robert Martin, Producer – Edgar Ievens, Photography – Robert M. Baldwin, Music – Joe Renzetti, Visual Effects – Al Magliochetti, Makeup Effects – Gabe Bartalos, Production Design – Charles Bennett. Production Company – Shapiro-Glickenhaus Entertainment.
Cast
James Lorinz (Jeffrey Franken), Patty Mullen (Elizabeth Shelley), Joe Gonzalez (Zorro the Pimp), Louise Lasser (Jeffrey's Mom), Charlotte J. Helmcamp (Honey)
---
Plot
New Jersey power company technician Jeffrey Franken is obsessed with medical experimentation. After his fiancee Elizabeth Shelley is chewed up in an accident with a lawnmower, Jeffrey makes plans to build a new body for her and to revive it in an electrical storm due in two days time. In order to get parts for the body, he cruises New York's Times Square, luring hookers and killing them with his explosive super-crack.
---
Frankenhooker offers the amusing concept of a Frankenstein film set in Times Square. Behind the film is the inventive mind of Frank Henenlotter, mini-auteur of low-budget tongue-in-cheek films like Basket Case (1982) and Brain Damage (1987). Henenlotter's speciality in these films was heroes who had symbiotic relationships with the freakish and the bizarre and the milieu of New York street life as backdrop. Here Henenlotter co-writes with Robert Martin, the former editor of Fangoria, horror filmdom's leading genre magazine.
In Frankenhooker, Frank Henenlotter's touch is much more heavy-handed, more obviously tongue-in-cheek than in his two earlier gems Basket Case and Brain Damage. Certainly, Henenlotter's depiction of Times Square street life is highly entertaining – a bar that seems to wear its complete lack of any decor with pride, with addicts lining up to purchase and then shoot up in the toilet, and patrons that include drag queens, nutty harbingers of the End of the World and Shirley Stoler (infamous as the 200+ pound girlfriend in The Honeymoon Killers (1970) – who has lost no weight and is now in her fifties) in a black leather cap, horrendously bad rouge and a demeanour somewhere between a caveman and a bulldog.
James Lorinz gives a genuinely bizarre performance – appearing as though he is stoned throughout, delivering bizarre little monologues to himself and for some reason jamming a power drill into his head in order to find inspiration. And for a time, it seems that Frank Henenlotter has constructed an entertainingly funky little horror parody.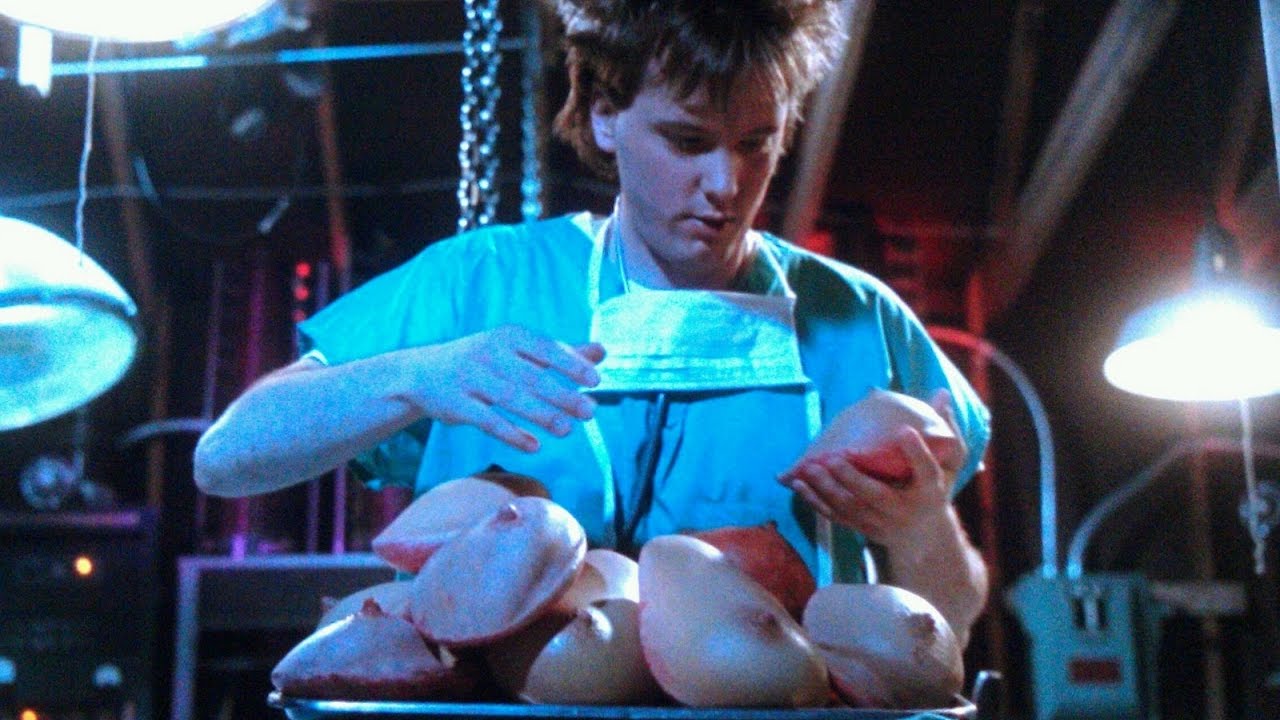 However, after Patty Mullen gets brought to life in the last third of the film, Frank Henenlotter loses it. The image of the patchwork Mullen staggering about in purple bikini, regurgitating various lines that have been used throughout the film and electrically blowing various men up during the act of sex is initially amusing but quickly becomes tiresome through repetition. The whole film strikes one as a good set-up with a weak punchline. Frank Henenlotter's other films at least had a core of freakish characterisation that hit one between the eyes but the central character here lacks that drive and dependency that made Henenlotter's other protagonists and (resultingly) films so memorable. An outrightly comedic Frank Henenlotter film it seems is much less interesting than a more serious Henenlotter film.
Frank Henenlotter also made Basket Case (1982) and the amazing Brain Damage (1987) and two Basket Case sequels Basket Case 2 (1990) and Basket Case 3/Basket Case 3: The Progeny (1991). After this, Frank Henenlotter disappeared as a director for nearly two decades but did eventually return with Bad Biology (2008) and documentaries on genre subjects with Herschell Gordon Lewis: The Godfather of Gore (2010) and That's Sexploitation! (2013) and the non-genre likes of Chasing Banksy (2015) and Boiled Angels: The Trial of Mike Diana (2018).
---
---