aka Horrors of Burke and Hare
---
UK. 1972.
Crew
Director – Vernon Sewell, Screenplay – Ernle Bradford, Producer – Guido Coen, Photography – Desmond Dickinson, Music – Roger Webb, Art Direction – Scott Macgregor. Production Company – Kenneth Shipman Productions.
Cast
Derren Nesbitt (William Burke), Glynn Edwards (Thomas Hare), Alan Tucker (James Arbuthnot), Harry Andrews (Dr Knox), Francoise Pascal (Marie Mitchell), Joan Carol (Madame Thompson), Yootha Joyce (Mrs Hare), Dee Shenderey (Mrs Burke), Robin Hawdron (Lord Angus McPhee), Yutte Stensgaard (Janet), Katya Wyath (Natalie), Caroline Yates (Annie), David Pugh (Daft Jamie)
---
Plot
19th Century Edinburgh. Thomas Hare, a slum landlord, and his best friend William Burke luck upon good fortune when one of Hare's lodgers is found dead. They take the body to dispose of it and are directed to anatomical lecturer Dr Knox. Bodies for use in anatomical lectures and research are at a rarity due to a law that states only those of the hanged and dispossessed dead can be used and so Knox pays seven pounds for the body. Amazed at their newfound riches, Burke and Hare alight upon the idea of killing more people, luring them to their home with the offer of drink and then smothering them.
---
The Burke and Hare case has an infamy in the annals of true crime. In 1828 in Edinburgh, Scotland, William Burke and William Hare, two Irish immigrants, murdered sixteen people and sold their bodies to anatomical lecturer Dr Robert Knox, receiving what would have been a sizeable sum in the day for each. Their murder spree began, as the film recounts, when one of Hare's tenants died owing money and they took the body to Knox who was eager for subjects that could be used for demonstrations in anatomical lectures due to the prohibitive laws of the day regarding the use of cadavers. Finding a lucrative new sideline, Burke and Hare murdered an ill tenant and then lured others home with the promise of alcohol. They were eventually arrested with Hare turning King's Evidence to convict Burke. Burke was publicly hanged, while Hare was forced to flee Edinburgh and it is not known what happened to him after that. Knox was never charged and the law concerning the use of cadavers changed as a direct result of what happened. The Burke and Hare story gained a fame and there were many lurid penny dreadful recounts of it.
There have been several film versions of the Burke and Hare story (see below). This version was made at the height of popularity of the Anglo-horror cycle (1957-76) that had been created by Hammer Films and is clearly seeking to tap the same milieu that Hammer regularly did. You do have to commend Burke & Hare on many grounds. The script bears a reasonable resemblance to the facts of the case right down to getting the description of the victims and circumstances right, even giving them their actual names. The sets are convincing – the film goes with the Hammer standard but also gives us a much less glamorous representation than we are used to. Everyone makes an effort to play with Scots accents – even Swedish actress Yutte Stensgaard.
What almost entirely kills the film is the substantial focus on the happenings at the brothel. This is ostensibly tied to the rest of the story as one of Knox's students (Alan Tucker) becomes involved with one of the prostitutes (Francoise Pascal). However, this mostly serves as an excuse for the film to feature numerous scenes at the brothel where the rooms have been set up with peepholes so that people can look in on the girls with clients. Each of the scenes involves some role-playing scenario – where the filmmakers seem under the strange belief that all that men visit brothels for is to dress up in historical costume or as schoolmasters to run around and play act with naked girls.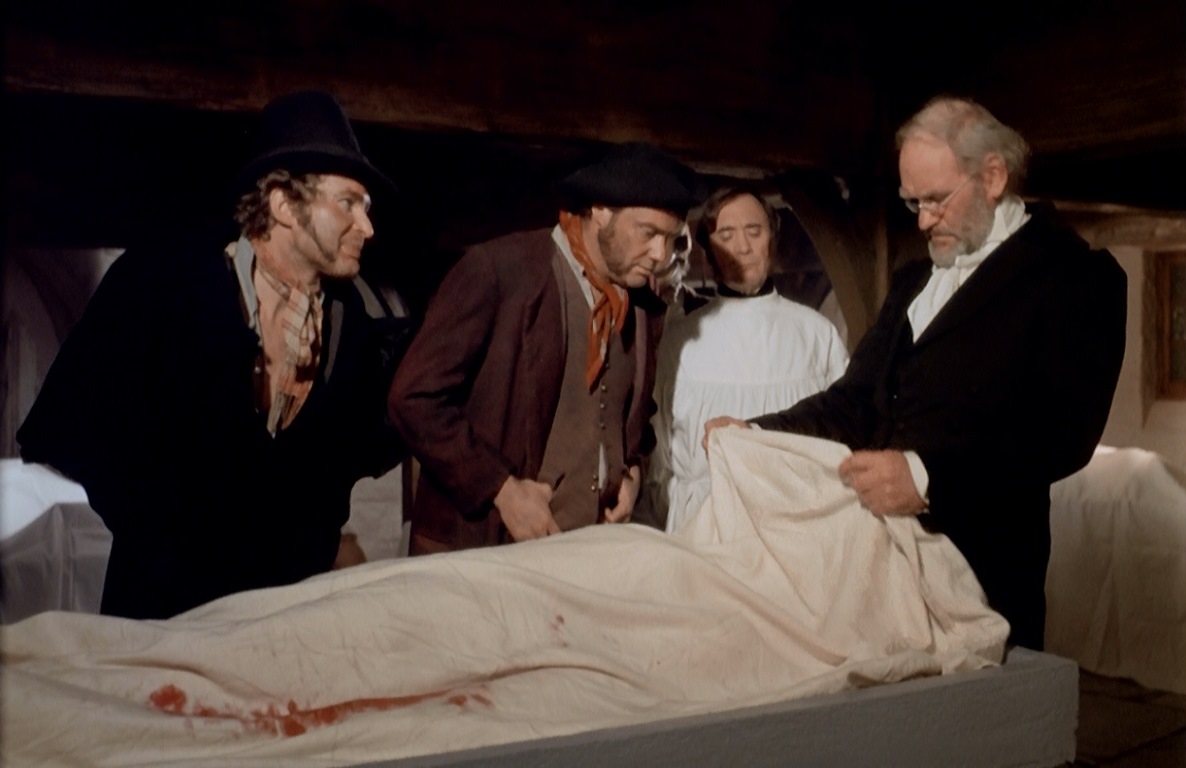 The 1970s was a period when world cinema was just discovering nudity on screen due to freeing up of censorship standards but this become embarrassing in its giggly focus and moreover twist the story out of shape for the insertion of these scenes. Furthermore, the brothel scenes have almost no connection to the Burke and Hare story until right at the end when they claim Francoise Pascal as one of their victims and Alan Tucker becomes determined to stop them.
The film chooses a cast that was only mildly known – the most high-profile face among them at the time would have been Harry Andrews who is cast as Dr Knox. Lead Derren Nesbitt was the son of entertainer Harry Nesbitt and has a number of acting roles, nothing that propelled him to a major name. Glynn Edwards, the film's Hare, found a certain fame a few years later as the gullible bar owner in tv's Minder (1979-89). Edwards was married to Yootha Joyce who plays his wife here. She gained fame a few years later as the landlady in the comedy series Man About the House (1973-6), after which she and Brian Murphy were spun out into their own series with George and Mildred (1976-9). Also spotted as one of the prostitutes is Swedish actress Yutte Stensgaard who appeared in a number of films during this period, usually in a state of undress, most notably Hammer's Lust for a Vampire (1971).
The Burke and Hare story has also been told in the Val Lewton classic The Body Snatcher (1945), which remains the best film to date set around the Burke and Hare story, even though it changed the names of the principals; The Greed of Burke and Hare (1948); the worthwhile British version The Flesh and the Fiends/Mania (1960) starring Peter Cushing as Dr Knox and Donald Pleasence as Hare; The Doctor and the Devils (1985), which was originally written by poet Dylan Thomas in 1953 and floated around as a script for many years, before being filmed with Timothy Dalton as the equivalent of Dr Knox and Jonathan Pryce and Stephen Rea as the stand-ins for Burke and Hare; and John Landis's comedic treatment Burke & Hare (2010) with Simon Pegg and Andy Serkis as Burke and Hare. There was also the bizarre I Sell the Dead (2008), a low-budget American film loosely based on the Edinburgh body snatching trade, which added zombies and vampires to the mix.
Vernon Sewell was a minor director in the heyday of English horror cinema. Sewell also made:- The Medium (1934), Latin Quarter (1945), The Ghosts of Berkeley Square (1947), Ghost Ship (1952), House of Mystery (1960), The Blood Beast Terror (1968) and Curse of the Crimson Altar (1968).
---
---