---
UK. 2010.
Crew
Director – John Landis, Screenplay – Piers Ashworth & Nick Moorcroft, Producer – Barnaby Thompson, Photography – John Mathieson, Music – Joby Talbot, Visual Effects – Bluebolt Ltd (Supervisor – Angela Barson), Special Effects – Special Effects GB Ltd, Special Effects Supervisor – Neal Champion, Prosthetics – Animated Extras & MGFX Ltd., Makeup Design – Christine Blundell, Production Design – Simon Elliott. Production Company – Entertainment Film Distributors/Prescience/Ealing Studios/Fragile/Aegis Film Fund/Quickfire Films.
Cast
Simon Pegg (William Burke), Andy Serkis (William Hare), Isla Fisher (Ginny Hawkins), Tom Wilkinson (Dr Robert Knox), Jessica Hynes (Lucky Hare), Tim Curry (Dr Alexander Monro), Ronnie Corbett (Captain Tam McLintoch), David Hayman (Danny McTavish), David Schofield (Fergus), Hugh Bonneville (Lord Harrington), Michael Smiley (Patterson), Allan Corduner (Nicephore), Bill Bailey (Hangman Angus), Christopher Lee (Old Joseph), John Woodvine (Lord Provost)
---
Plot
Edinburgh, 1828. There is rivalry between Dr Robert Knox of Barclay's School for Anatomy and Dr Alexander Monro of the Royal College of Surgeons. The only cadavers that are legally allowed to be used for anatomical study are those of hanged criminals but Monro has obtained an official monopoly on these. Irish immigrants William Burke and William Hare are struggling to make ends meet. When the boarder in the Hare's house dies, the two of them go to dispose of the body but overhear that Dr Knox is offering three pounds for each cadaver. After profiting from this, they realise the potential for making more money and set about killing other people. As their finances take off, Burke is swayed by the prostitute Ginny Hawkins who woos him as a potential cash cow for funding her all-female production of 'MacBeth'. Meanwhile, Burke and Hare's new wealth has attracted the attention of underworld figures who demand a cut of the profit. At the same time, the city's incompetent militia have started to become suspicious of the number of missing people being reported.
---
Burke & Hare is a film based on the infamous historical body snatchers William Burke and William Hare. In 1827, Burke and Hare were Irish immigrants who had both independently moved to Edinburgh, then met and become good friends. They first happened on the body snatching trade when one of the tenants in boarding house run by Hare's wife died and they cannily took the corpse to Dr Knox at the University of Edinburgh medical school instead of burying it. At the time, changes in law meant that the only corpses available for medical experimentation and anatomical teaching were the bodies of hanged murderers, thus giving birth to a thriving trade in stolen cadavers. After earning £7 for the body, Burke and Hare decided to drum up more business by murdering people. Their activities were discovered in 1828 after they had killed some sixteen people (maybe as many as thirty), receiving £10-12 for each body. Burke was hung, with the police granting Hare immunity in return for providing the evidence to convict Burke. Incredibly enough, Dr Robert Knox (the recipient of the bodies) was never charged and retained his position at the university where, due to the notoriety surrounding him, his classes became some of the most popular. The law was changed several years later, allowing wider availability of corpses for anatomical study.
The Burke and Hare case fed into a public fascination and has fuelled a number of films. There was the Val Lewton classic The Body Snatcher (1945), which remains the best film to date set around the Burke and Hare story, even though it changed the names of the principals. The also worthwhile British version The Flesh and the Fiends/Mania (1960), starring Peter Cushing as Dr Knox and Donald Pleasence as Hare, is generally considered the best of those that adhere to historical details. Other films on the subject include The Greed of Burke and Hare (1948) and Burke & Hare (1972). The most recent adaptation was The Doctor and the Devils (1985), which was originally written by poet Dylan Thomas in 1953 and floated around as a script for many years, before being filmed with Timothy Dalton as the equivalent of Dr Knox and Jonathan Pryce and Stephen Rea as the stand-ins for Burke and Hare. There was also the bizarre I Sell the Dead (2008), a film loosely based on the Edinburgh body snatching trade, which added zombies and vampires to the mix.
Burke & Hare comes from John Landis, an American comedy director who first emerged in the 1970s with hits such as Kentucky Fried Movie (1977), National Lampoon's Animal House (1978), The Blues Brothers (1980), An American Werewolf in London (1981) and Trading Places (1983). It is has felt like sometime back in the 1980s before John Landis was a vital presence on cinematic screens – you could almost point to the incident where Landis was sued over the accidental deaths on the set of his segment of Twilight Zone – The Movie (1983) as the tipping point where he moved from edgy director to a mainstream hack. For some time, his works – unexceptional efforts such as Spies Like Us (1985), Three Amigos (1986), Coming to America (1988), Oscar (1991) and Beverly Hills Cop III (1994) – have felt mostly like they were cruising through a commercial safety zone, at their worst recycling the past as in the badly miscalculated Blues Brothers 2000 (1998). Indeed, Burke & Hare, which comes with British financing, was the first film that John Landis has directed in twelve years.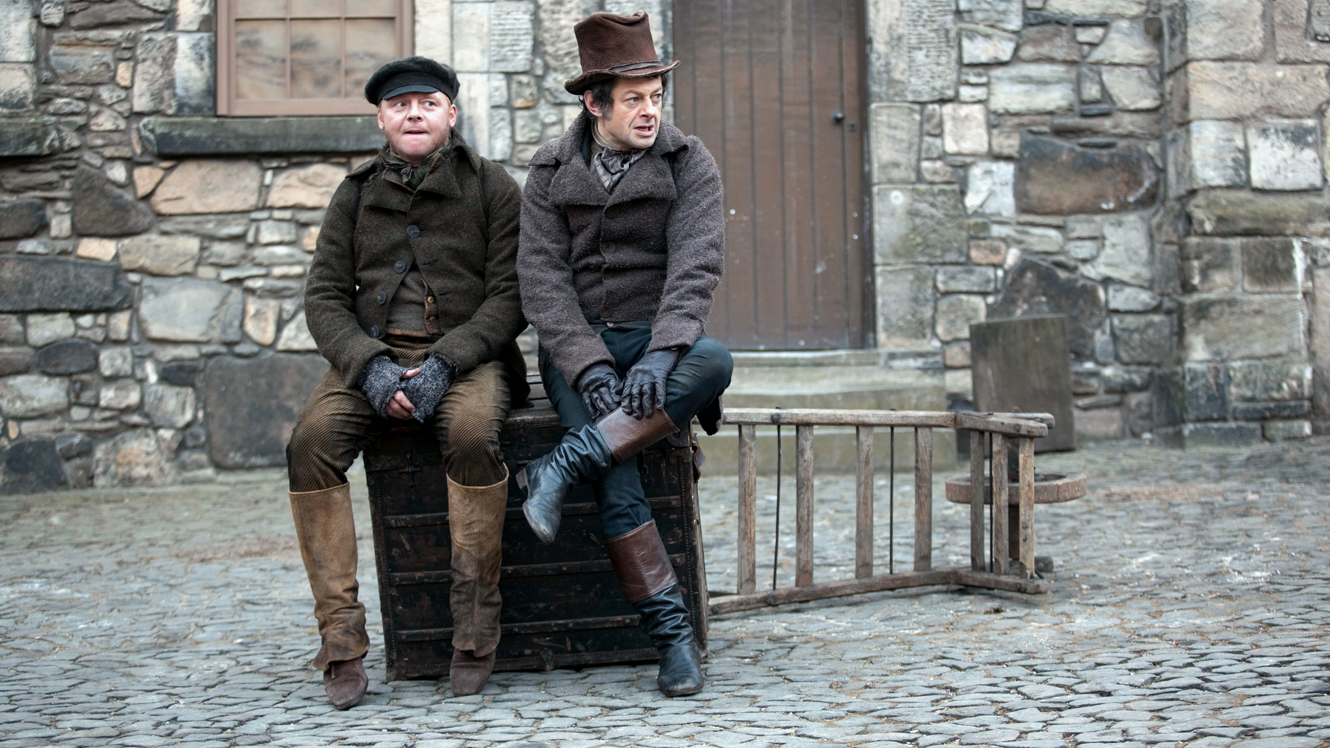 Burke & Hare looked like it was taking a promising approach. It had a reasonable budget and was able to shoot on many of the real-life locations that still exist today. The sets and costumes are particularly rich and full of texture. There is a strong sense of historical authenticity in its telling that no other version of the story has had to date, bringing out aspects such as the legal background of the anatomy schools and the rivalry between the officially sanctioned Dr Monro and the independent Dr Knox. (Other details are slightly off – it was Hare that signed a confession to incriminate Burke, not Burke that signed one to incriminate himself). The cast even play with Scottish accents, whereas most other versions of the story tend to fudge these somewhat and opt for general British accents.
At the same time, Burke & Hare also becomes a wasted opportunity. The tone for the film is set by the opening title card that announces: "This is a true story. Except for the parts that are not." This fairly much sums up the film's mix and match approach where it largely throws out the historical record and makes up its own story. Cast with Simon Pegg and Andy Serkis, the characters of Burke and Hare are more loveable rogues having a lark than as history would have them – stupid murderers who descended to an inhuman level of sordidness in the name of greed.
In particular, Simon Pegg's Burke seems far too cute and cuddly, more like the naively adorable lad that a girl could take home to meet her mother than a blackguard. We even get an entire subplot where Simon Pegg's newfound wealth is being taken advantage of by an opportunistic hooker (Isla Fisher) who uses her wiles and his naivete to get him to bankroll her stage production ie. a plot where the character we should be regarding as a murderer is no more than a likeable schmuck. Hanged, Burke even and goes out with the epithet "I did it for love", while it is said of him in tribute "I suppose he was a nice guy and did make the ultimate sacrifice for love," which seems to put too absurdly romantic a spin on the character.
Often modern attitudes seep in – like the scene at the nightclub dealing with the bouncer featuring contemporary terms like 'guests lists' and 'plus ones'. The film even has Simon Pegg having a discussion on the nature of the character of Shakespeare's MacBeth (1606), which seems ludicrously out of place, like something somebody from a modern high-school English lit class background would say than you can credibly believe would come a person in working class 19th Century Edinburgh or Ireland where a substantial proportion of the population were still illiterate.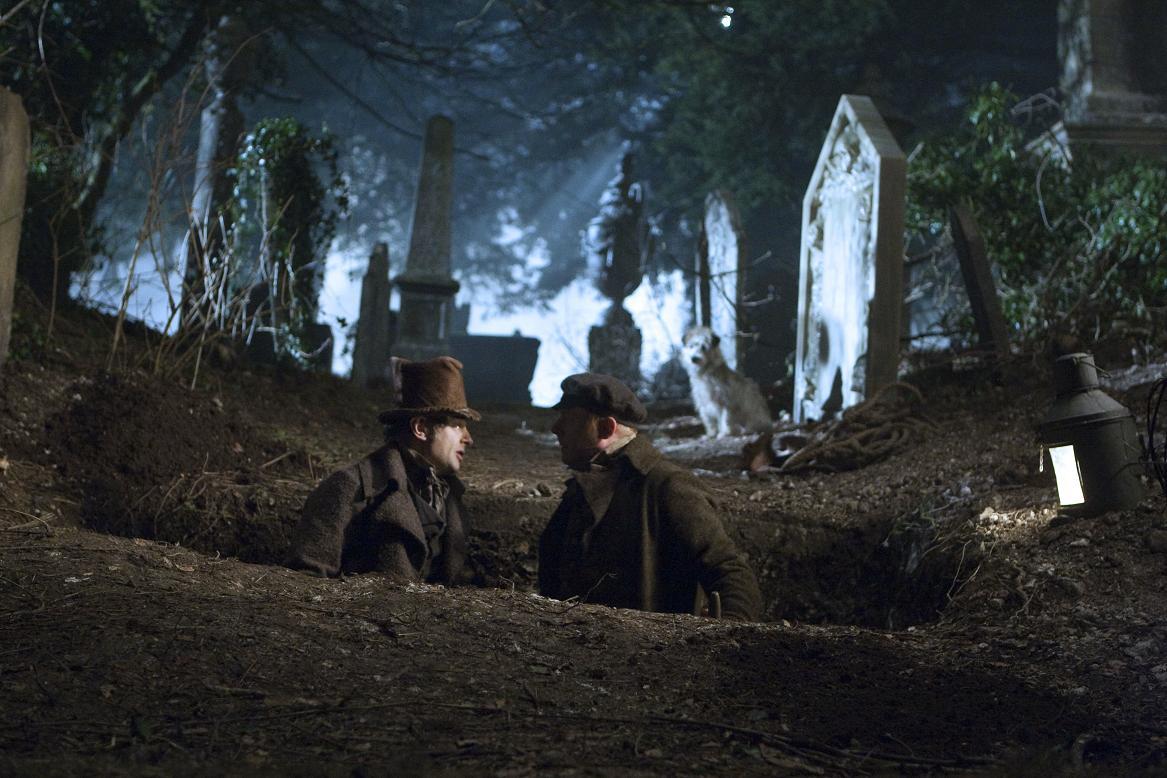 There are also throwaway background gags where the script tries to suggest that modern terms like 'photograph' and 'funeral parlour' were invented during the film's course of events. Landis also throws in cameos from various real-life figures such as Charles Darwin and Nicephore Niepce, the creator of the world's first photograph, even from Greyfriars Bobby, a real-life terrier in mid-19th Century Edinburgh who spent fourteen years standing by the grave of its owner.
You do have to commend John Landis for the amazing cast he brings together. He obtains Christopher Lee for a small cameo as a murdered lodger and brings 80 year-old British comedy legend Ronnie Corbett out of mothballs for a more substantial role as the captain of the militia. Aside from the abovementioned, he also includes cameos from Jenny Agutter (the female lead in Landis's American Werewolf) as one of the ladies auditioned for the play by Isla Fisher; Ricky Gervais associate Stephen Merchant as a royal footman; Costa-Gavras, director of Z (1969), Missing (1982) and The Ax (2005), and family as part of Nicephore's family portrait at the end; and cult stop-motion animator Ray Harryhausen as a distinguished gentleman.
John Landis's other genre films include:- the monster movie parody Schlock (1973), An American Werewolf in London (1981), the infamous first segment of Twilight Zone – The Movie (1983), the famous MTV video for Michael Jackson's horror movie homage Thriller (1983), the lame spy comedy Spies Like Us (1985), episodes of Amazon Women on the Moon (1987), the vampire film Innocent Blood/A French Vampire in America (1992), Blues Brothers 2000 (1998) and the gonzo comedy The Stupids (1996). Landis has also produced various genre tv series such as Weird Science (1994-6), Honey I Shrunk the Kids (1997) and The Lost World (1999).
---
---