France/USA. 2000.
Crew
Director – Kathryn Bigelow, Screenplay – Alice Arlen & Christopher Kyle, Based on the Novel by Anita Shreve, Producers – A. Kitman Ho, Sigurjon Sighvatsson & Janet Yang, Photography – Adrian Biddle, Music – David Hirschfelder, Visual Effects – Threshold Digital (Supervisor – Allison Savitch), Special Effects Supervisor – Gary Coates, Production Design – Karl Juliusson. Production Company – Studio Canal/Manifest Film/Palomar Pictures/Miracle Pictures.
Cast
Catherine McCormack (Jean Janes), Sarah Polley (Maren Hontvedt), Sean Penn (Thomas Janes), Elizabeth Hurley (Adaline Gunn), Vinessa Shaw (Anetha Christenson), Josh Lucas (Richard Janes), Katrin Cartlidge (Karen Christenson), Ciaran Hinds (Louis Wagner), Anders W. Berthelsen (Evan Christenson), Ulrich Thomsen (John Hontvedt)
---
Plot
In 1873 on Smutty Nose Island, a bleak island off the coast of New England, Louis Wagner is tried and hanged for the murder of two women. At the trial, the survivor of the murders, Norwegian immigrant Maren Hontvedt, recounts the events that led up to the murder of her sister and sister-in-law. In so doing, she reveals how she was caught in a loveless marriage and her repressed passion for her brother. Meanwhile, in the present-day, Jean Janes comes to Smutty Nose Island, seeking to write an article about the murders. She sails there in her husband Thomas's brother's yacht. Along the way, Thomas, a famous poet, becomes increasingly tempted by his brother's girlfriend.
---
Kathryn Bigelow is an interesting director. Her films seem aimed at mainstream box-office appeal – the surfing bank robbers film Point Break (1991), the psycho-thriller Blue Steel (1990) – but her best work has found its audiences outside the mainstream. Her two finest works, the vampire film Near Dark (1987) and the fin du siecle Virtual Reality film Strange Days (1995), did slim box-office business, nevertheless found strong cults of admirers. The Weight of Water was a sidestep for Bieglow away from the mainstream to making a more literary film whose audience was clearly the arthouse crowd. Despite a well-received debut at the Toronto Film Festival in 2000, The Weight of Water languished in distribution limbo for two years before obtaining a US release. Bigelow subsequently went onto make the submarine drama K-19: The Widowmaker (2002) and the enormously acclaimed Iraq War film The Hurt Locker (2008), for which she won the Best Director Academy Award, Zero Dark Thirty (2012) and Detroit (2017).
The Weight of Water is an historical murder mystery. It is based on a 1997 novel by Anita Shreve. This was a work of fiction that speculated about a real set of murders that occurred in 1873. The characters in the flashbacks we see here were real people and the film closely models the events of the trial. However, rather than create a wholly historical film, the film tells a double story where events are interwoven with a modern day journalist's investigation into what happened. It makes for an absorbing mystery, even if the focus on telling the events from the point-of-view of a particular character and the modern day character's speculations remove any surprise from the whodunnit aspect, leaving it more of a whydunnit.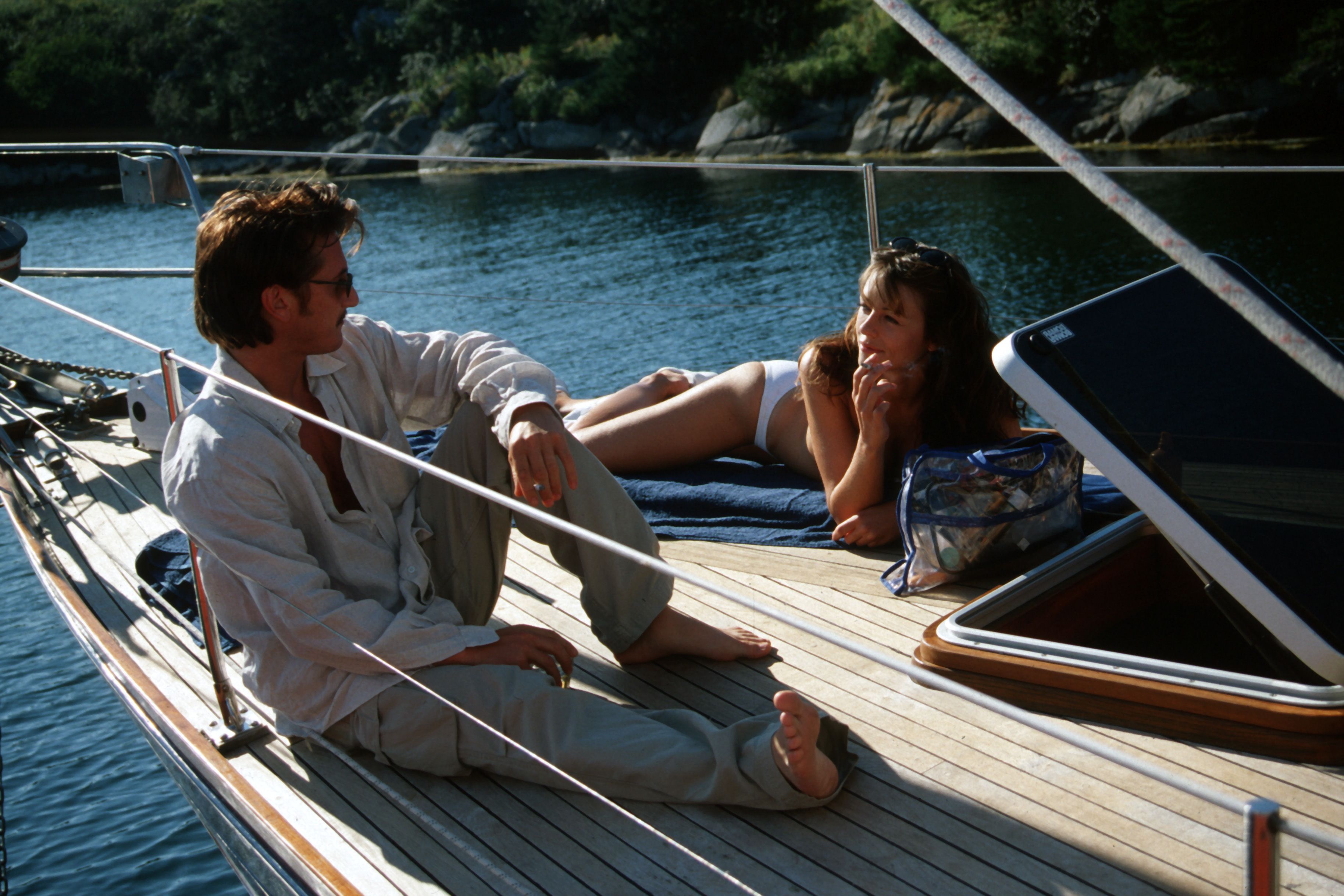 Bigelow makes much contrast between the two eras. Coastal New England in the past (actually represented by Halifax, Nova Scotia) is depicted in terms of people struggling against a harsh inhospitable landscape where Bigelow places the emphasis on Sarah Polley's emotional wanting in a loveless marriage. On the other hand, the present-day scenes, despite the same location, come with a languid ease where Bigelow emphasises a dangerous excess of sexuality. Elizabeth Hurley is written in for no other purpose than to exude predatory female sexuality and tempt Sean Penn away from wife Catherine McCormack. Every time she is on screen, Hurley is distracting us and the characters with her sexuality – lying in and out of a bikini on the deck of the boat, only her shapely leg foregrounded as she converses with Sean Penn, images of her shaking her hair loose – all with many meaning-laden crosscuts between Penn surreptitiously looking at her and Catherine McCormack scowling at the attention he is giving her.
Unfortunately, the film flubs the payoff somewhat. The unfolding of the 1873 story works well and the ending is a good shock. The lesbian aspect is somewhat coy though – it comes completely out of nowhere and is even more puzzling in light of the previously established jealousy and dislike between the two characters. Moreover, the way Kathryn Bigelow directs it, everything seems innocent and ambiguous as though she were uncertain about being explicit about anything – the way the scene is it is quite possible to read it as though nothing might have happened. Like a number of other films, from Thelma and Louise (1991) through Fried Green Tomatoes at the Whistle Stop Cafe (1992) and Heavenly Creatures (1994), the film holds acts of violence and murder upon the part of women up in a sympathetic and even salutary light on the grounds that they are oppressed or because society does not treat lesbianism with acceptance.
The denouement of the modern story is even less satisfying. There is no real payoff to all the brooding sexual tension. Maybe I missed a crucial point of plot explanation but it was never clear what the flashback was all about where it seems to suggest that Elizabeth Hurley was the girlfriend of Sean Penn who died in a car crash and around whom all his poetry seems to obsess. Is this Catherine McCormack merely imagining it or did the girl not die at all? Or is Elizabeth Hurley even a ghost? Why is Catherine McCormack suddenly shocked to find that Elizabeth Hurley has a similar crucifix? Why does Elizabeth Hurley suddenly decide to throw herself overboard during the storm? The ambiguity confuses.
---
---