---
Crew
Director/Producer – Pete Walker, Screenplay – Alfred Shaughnessy, Photography (some scenes 3D) – Peter Jessop, Music – Cyril Ornadel. Production Company – Pete Walker (Heritage) Ltd.
Cast
Ray Brooks (Mike Archer), Jenny Hanley (Julia Dawson), Luan Peters (Carol Edwards), Patrick Barr (Major Bell), Tristan Rogers (Tony Weller), David Howey (John Furlough), Robin Askwith (Simon Morris), Candace Glendenning (Sarah Hales), Judy Matheson (Jane Flewen), Raymond Young (Inspector Walsh), Elizabeth Bradley (Mrs Saunders), Penny Meredith (Angela)
---
Plot
Several young actors are hired for a stage production. They are sent to rehearse at the old Dome Theatre on the pier in the sleepy seaside town of Eastcliffe, which has been closed for twenty-five years. They make camp inside the theatre and begin rehearsals under director Mike Archer. One of the girls then goes missing and Mike thinks he sees her body and severed head – but when he calls the police this only proves to a mannequin. However, other members of the cast begin to be stalked and killed. As Mike uncovers, this somehow relates back to the tragic incident that led to the theatre's closing in 1944.
---
England's Pete Walker is a genre contributor of some interest. Walker began making sexploitation films in the late 1960s but switched to horror, in specific psycho-thrillers and psycho films, with Die Screaming Marianne (1971). He made a number of such efforts over the next few years with Frightmare (1974), House of Whipcord (1974), House of Mortal Sin/The Confessional (1976), Schizo (1976), The Comeback (1977) and House of the Long Shadows (1983).
Walker always financed his films independently and stood outside of the Anglo-horror fad of the day that was dominated by studios like Hammer and Amicus. For whatever reason, many of the films that he was producing were seen as much more lurid and exploitative material. As a result, Walker's output has been looked down on by the British cinematic establishment and even the genre press. Walker is however a largely unsung director whose praises I am happy to sing.
The Flesh and Blood Show was Pete Walker's second venture into genre material. For this reason, the film is not as sophisticated as some of his later ones – nevertheless, Walker learned quickly, making his best film House of Whipcord only two years later. Here he contrives a clumsy whodunnit centred around the group of people rehearsing in a theatre. On a directorial level, the film has a competence but Walker fails to generate much in the way of tension. Certainly, on the flesh angle, Walker gets his female cast frequently undressed but the blood angle is relatively tame – the number of murders we see is few and Walker has not yet developed the sadism that would permeate his later films.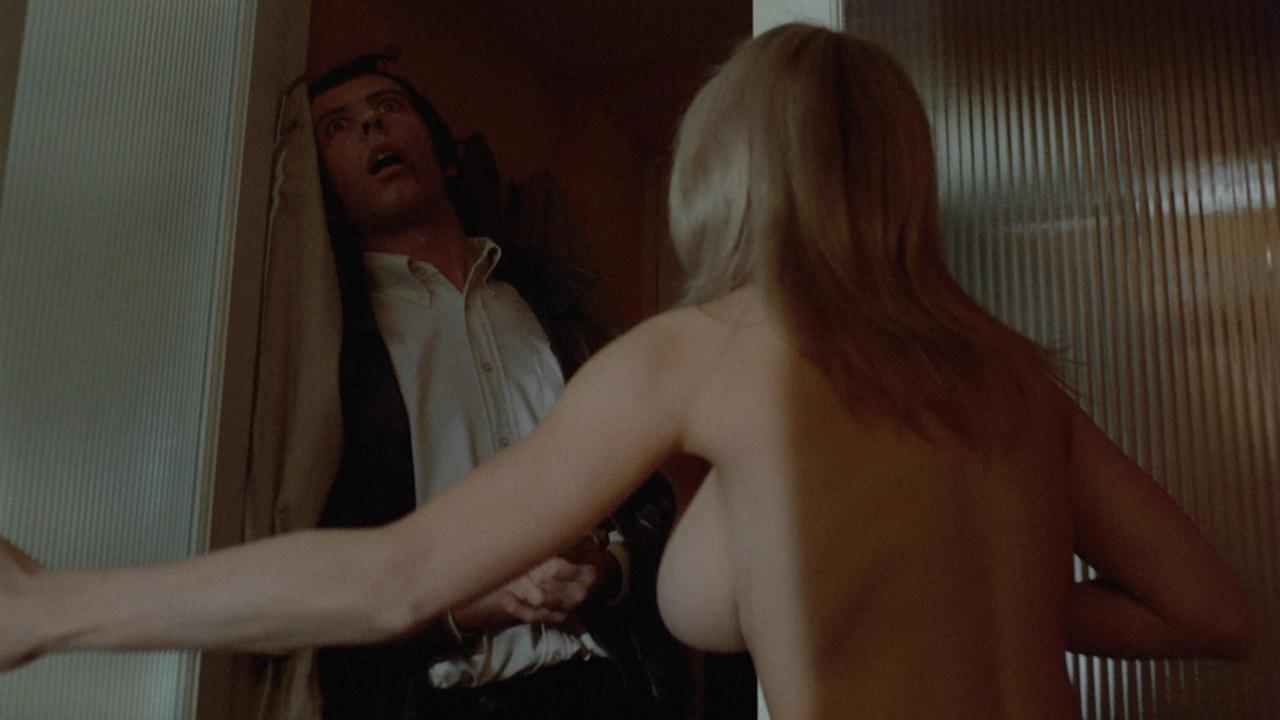 Walker has borrowed the killer's motivation from the Alfred Cukor psycho-thriller A Double Life (1947) – that of a former actor who identifies too closely with the title character in William Shakespeare's Othello (c1603) and jealously murders his wife. The psychological motivation whereby we go from an actor who snaps at seeing his wife in another man's arms to essentially a slasher set-up where he is randomly killing a group of youths is exceedingly tenuous. That said, the actor in question barnstorms their way most entertainingly through the climactic revelation. The film also goes out with a nicely chill double twist after the unmasking. During the revelation, we also get another of Pete Walker's regular themes – that of the conservative old school figure who morally disapproves of the modern youth generation and is determined to punish them for their permissiveness.
Pete Walker says that he was inspired by Agatha Christie's play Ten Little Indians (1939), which also served as the inspiration for Mario Bava's Twitch of the Death Nerve (1971) around the same time and has also undergone several film adaptations – see And Then There Were None (1974). The mad Shakespearean actor was used only the next year in the Vincent Price starring Grand Guignol Theater of Blood (1972), while Michele Soavi used much of the basic plot of The Flesh and Blood Show with his later giallo slasher film StageFright – Aquarius (1987).
Walker has some interesting names in his cast line-up, although most are young people who never went on to do anything of significance. Jenny Hanley, who plays the actress who had a prior film role, was previously a Hammer starlet in Scars of Dracula (1971) and went onto a career mostly in British television. The most famous name to emerge from the film was Robin Askwith who a couple of years later would find fame after appearing the sex comedy Confessions of a Window Cleaner (1974) and three follow-up films, as well as a number of other softcore British sex comedies of the era, as well as the campy Horror Hospital (1973).
Pete Walker's scriptwriter Alfred Shaughnessy was a longtime scriptwriter who had previously directed the interesting Anglo-horror film Cat Girl (1957), wrote the script for the Hammer psycho-thriller Crescendo (1970) and was script editor for tv's Upstairs, Downstairs (1971-5).
---
---