---
Crew
Director/Screenplay – Rob Zombie, Producers – Rob Zombie, Mike Elliott, Andy Gould, Marco Mehlitz & Michael Ohoven, Photography – Phil Parmet, Music – Rob Zombie & Tyler Bates, Visual Effects Supervisor – Robert Kurtzman, Visual Effects – Precinct 13 Entertainment, Special Effects Supervisor – John Hartigan, Makeup Effects – Wayne Toth, Production Design – Anthony Tremblay. Production Company – Cinelandia/Devil's Rejects Inc/Firm Films.
Cast
Bill Moseley (Otis Driftwood), Sid Haig (Captain Spaulding), Sheri Moon Zombie (Baby Firefly), William Forsythe (Sheriff John Quincy Wydell), Ken Foree (Charlie Altamont), Leslie Easterbrook (Mother Firefly), Geoffrey Lewis (Roy Sullivan), Danny Trejo (Rondo), Priscilla Barnes (Gloria Sullivan), Kate Norby (Wendy Banjo), Lew Temple (Adam Banjo), Diamond Dallas Page (Billy Ray Snapper), Dave Sheridan (Officer Ray Dobson), Robert Trebor (Marty Walker), Brian Posehn (Jimmy), Michael Berryman (Clevon), Elizabeth Daily (Candy), P.J. Soles (Susan), Ginger Lynn Allen (Fanny), Tom Towles (George Wydell), Matthew McGrory (Tiny Firefly)
---
Plot
Otis Driftwood and Baby Firefly make an escape as the sheriff's department headed by Sheriff John Quincy Wydell circle the Firefly ranch in a heavily armed shootout. Otis and Baby head across state where they take four people hostage in a motel room and proceed to torture and kill them. They are joined by Captain Spaulding who flees as Wydell realizes his connection to the family. Together they go to hole up with Spaulding's old friend Charlie Altamont. Pursuing them is the obsessive Wydell who is determined to seek vengeance for the family having killed his brother.
---
Rob Zombie first gained attention as the lead singer with the metal/industrial band White Zombie during the 1990s, where the band's song lyrics and stage presence frequently came informed by horror imagery. After several abortive attempts to break out onto cinema screens, Rob Zombie first appeared as director with House of 1000 Corpses (2003). House of 1000 Corpses attained a good deal of controversy after it passed through the hands of several major distributors who refused to release it because it was seen as too violent. Finally released by the Canadian-based Lionsgate in 2003, House of 1000 Corpses hardly belied its reputation. Rob Zombie seemed far too obviously reliant on homaging 1970s films like The Texas Chain Saw Massacre (1974) and the film proved amateurish in Zombie's perpetual straining for effect.
The Devil's Rejects is a sequel to House of 1000 Corpses. Rob Zombie once again writes and directs and the film features repeat performances from Sid Haig, Bill Moseley, Zombie's wife Sheri Moon and even Tom Towles (who was murdered in the first film). As with the first film, Rob Zombie features a host of cameos from principally horror actors, including Ken Foree from Dawn of the Dead (1978); Robert Rodriguez regular Danny Trejo; Michael Berryman, the distinctive bald-headed Pluto from The Hills Have Eyes (1977); P.J. Soles, one of the victims from Halloween (1978); porn star Ginger Lynn Allen; wrestler Diamond Dallas Page; and cult B movie queen Mary Woronov.
House of 1000 Corpses was frequently laughable in Rob Zombie's constant posturing for effect. The surprise about The Devil's Rejects is that Rob Zombie's directorial skill has improved markedly in between films. House of 1000 Corpses often seem swamped by Zombie's frenetic desire to pack in effect, while The Devil's Rejects is altogether a much cleaner film. It has some shock value, while House of 1000 Corpses seemed so overdone it contrarily had none and you get a clearer picture of what it is that Rob Zombie is trying to achieve.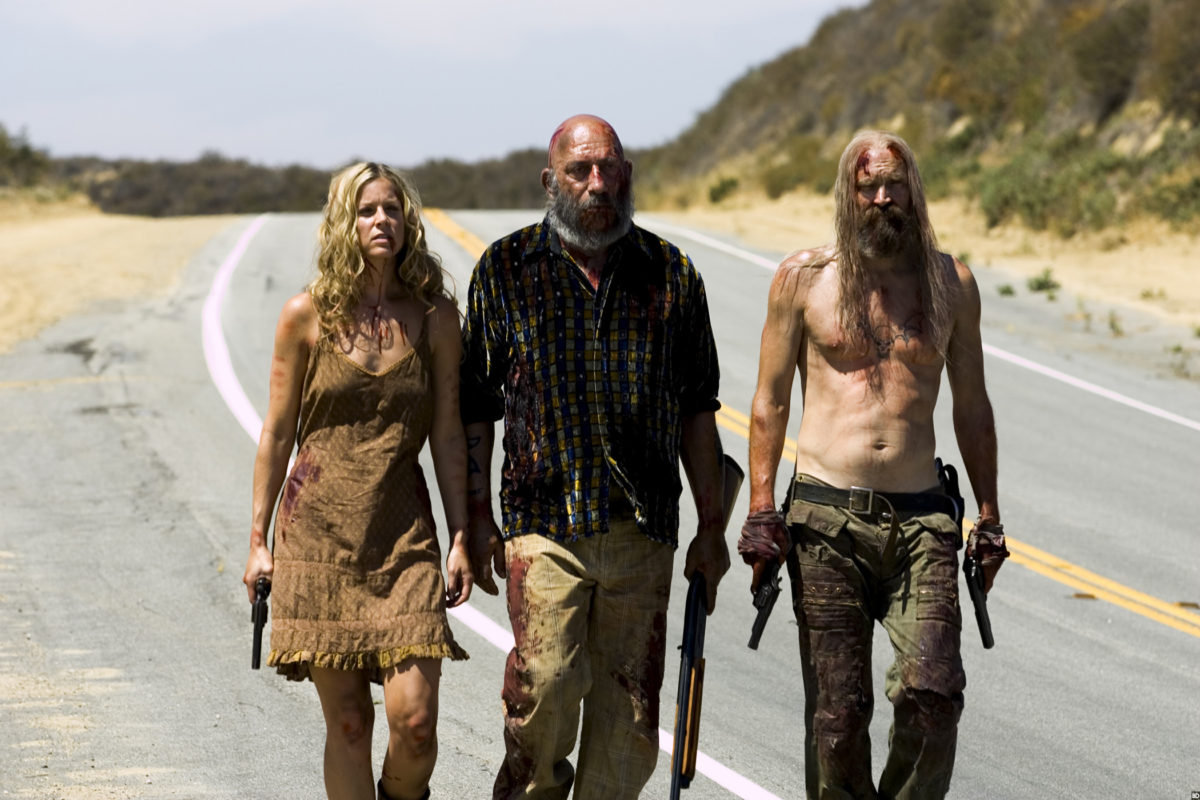 Zombie's direction has an effective nastiness – the scenes torturing the foursome in the motel room and Bill Moseley's violation of Priscilla Barnes with his gun; Moseley's murder of the two menfolk in the desert; and the opening shootout. The film is also leavened by an often eccentric sense of humour upon Rob Zombie's part – the scene with Sheri Moon and Bill Moseley both demanding ice cream from Sid Haig; the encounter between Ken Foree, Michael Berryman and a chicken farmer who wants to know if they are intending to fuck the chickens; and an amusing cameo from Robert Trebor as a film critic who lauds the Marx Brothers over Elvis in front of an outraged William Forsythe.
With Rob Zombie's constant posturing largely under restraint, most of his cast emerge to give decent performances. Bill Moseley has a towering strength as Otis Driftwood, in particular one scene where he taunts the praying Geoffrey Lewis, calling God to come and strike him down; Zombie's wife Sheri Moon, a relatively inexperienced actress, comes to the fore in a performance that is akin to a hot, sexually playful rock chick but holds something quite crazy underneath; while Sid Haig has his entertainingly OTT amusements as Captain Spaulding once again. The show is largely stolen by an exceptional performance from William Forsythe as the tough-as-nails Southern sheriff who seems driven by a holy fire in his mission.
On the other hand, what one finds distinctly unappealing about The Devil's Rejects is Rob Zombie's nihilistic outlook on life. It is certainly a refreshing perspective to see a film that regards the psychos as heroes. However, it is another story altogether when one is asked to regard their actions as laudable when we see them torturing a group of people for no other reason than they are getting a kick out of humiliating and killing whitebread innocents.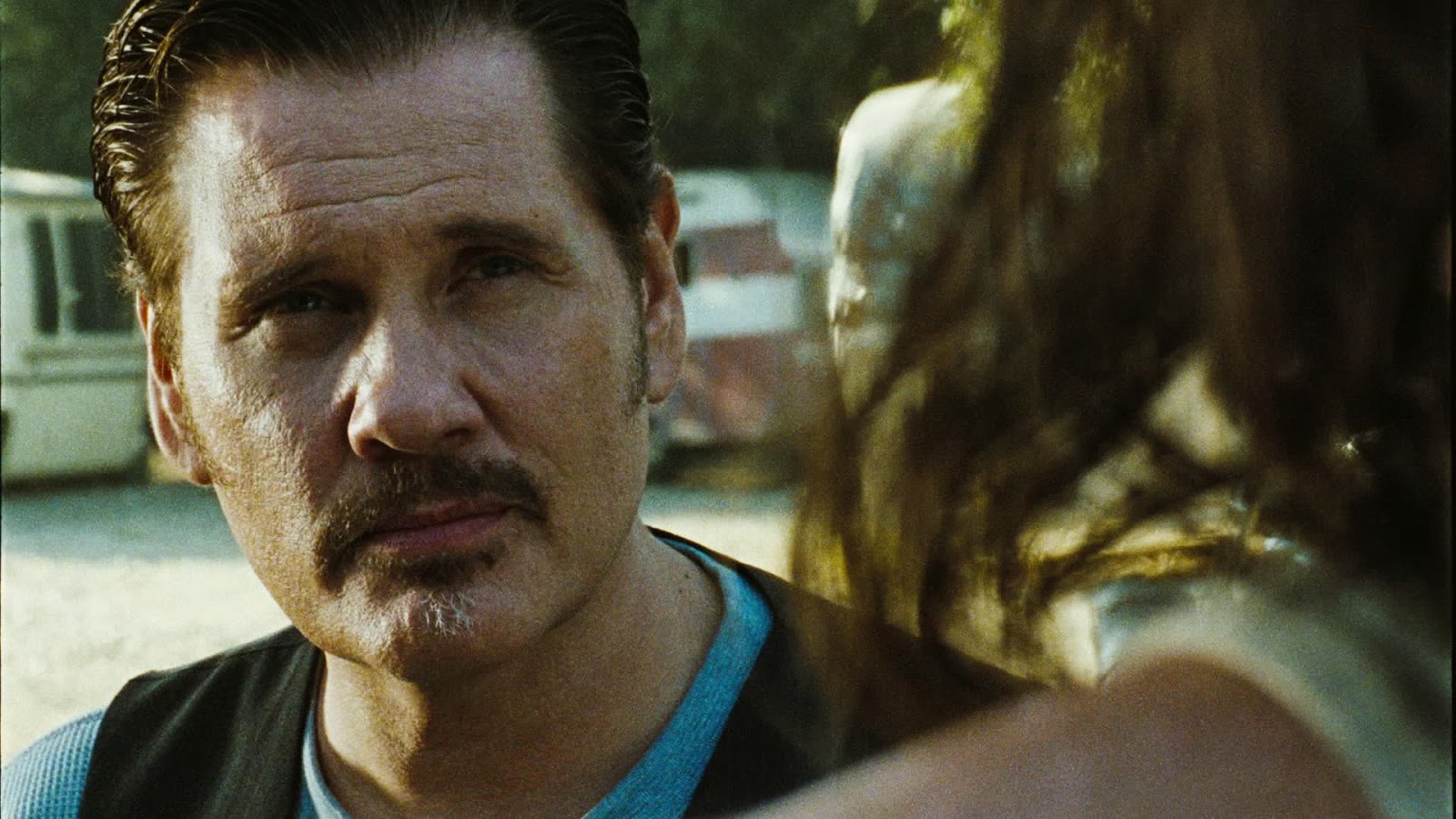 Rob Zombie seems to embrace a worldview that goes way beyond moral relativism and even nihilism to say that nothing means anything morally. There is the effective scene where we have Bill Moseley torturing Geoffrey Lewis and challenging God to strike him down and stop him. It is a well written scene but one also where we see that it is Zombie taunting the world, mocking a lack of divine presence to stop bad things from happening.
Unlike House of 1000 Corpses, Rob Zombie contrasts the family of psychos with a strong nemesis in William Forsythe's sheriff. However, the end of The Devil's Rejects has William Forsythe also tying the Firefly family up and torturing them while admitting that he tried to follow the narrow line, only to find that there was no line. It seems in all of this that Rob Zombie has come to the view that there are no moral lines – fair enough – but to then see that this means that sadism and torture are permissible because there is nothing to stop you and should thus be enjoyed seems surely a headspace that nobody in any law-abiding state of mind can ever follow Zombie into.
Rob Zombie subsequently revisited the Firefly saga, along withe principals trio of actors, in a further sequel 3 from Hell (2019).
---
---