---
Crew
Director/Screenplay – Jordan Peele, Producers – Jason Blum, Edward H. Hamm Jr.,, Sean McKittrck & Jordan Peele, Photography – Toby Oliver, Music – Michael Abels, Special Effects Supervisor – Matt Harris, Production Design – Rusty Smith. Production Company – Blumhouse/QC Entertainment/Monkeypaw Productions.
Cast
Daniel Kaluuya (Chris Washington), Allison Williams (Rose Armitage), Catherine Keener (Missy Armitage), Bradley Whitford (Dean Armitage), Lil Ray Howery (Rod Williams), Caleb Landry Jones (Jeremy Armitage), Betty Gabriel (Georgina), Marcus Henderson (Walter), Lakeith Stanfield (Andrew Logan King), Stephen Root (Jim Hudson), Erika Alexander (Detective LaToya), Geraldine Singer (Philomena King), John Wilmot (Gordon Greene), Ashley LeConte Campbell (Lisa Deets), Richard Herd (Roman Armitage)
---
Plot
African-American Chris Washington agrees to accompany his white girlfriend Rose Armitage home to meet her parents. He is apprehensive about whether they will accept him but she assures him it will not be a problem. However, once there, Chris finds things unsettling. Though perfectly friendly and accepting, Rose's parents also have two Black servants who behave in a strangely formal and unnatural way. Rose's mother, a psychologist, hypnotises Chris, placing him in a state of temporary paralysis. As Chris comes to see, the townspeople are controlling African-Americans in some way, employing a form of mind control. He seeks to flee town before a similar fate occurs to him.
---
Jordan Peele is a name that has risen in the last couple of years. Born of a Black father and a white mother, Peele first gained attention during the mid-2000s as a performer and comedy writer on the comedy series MADtv (1995-2016). He appeared in a variety of other comedy shows and roles, including a recurring guest part on the tv series Fargo (2014– ). On cinema screens, Peele has played various roles, most notedly both co-writing the script and playing the lead in Keanu (2016).
Get Out was Jordan Peele's first film as a director. Get Out was produced by the near-ubiquitous Blumhouse production company, which have been prominent in horror in the last few years. (See below for Blumhouse's other films). Get Out was a huge box-office success (the biggest to date for Blumhouse), earning over $170 million in domestic box-office and propelling Peele into being seen as a major new name. It also won that year's Academy Award for Best Original Screenplay.
In the guise of a populist film – a work of horror – Jordan Peele touches on a number of hot button race issues. In effect, once you get past the horror scenes, which are undeniably effective, Get Out is a film all about a Black man's feeling of discomfort in a white middle-class world. This runs the whole way through the film from the scenes where they are pulled over by a cop and Daniel Kaluuya asked for his i.d. even though he was only a passenger in the car to the discomfort in seeing two subservient Black servants around the house even though Bradley Whitford insists they are just old employees and that he would have voted for Obama if he had been allowed a third term. Peele taps the unconsciously patronising comments that come across even from people that pride themselves on liberal attitudes and open acceptance. Not to mention the party scene where Daniel Kaluuya must field comments from people asking if it is better with a Black men, admiring his muscles and eagerly asserting "Black is the new cool." These are scenes you suspect that have the uncomfortable feeling of having been written from first-hand experience.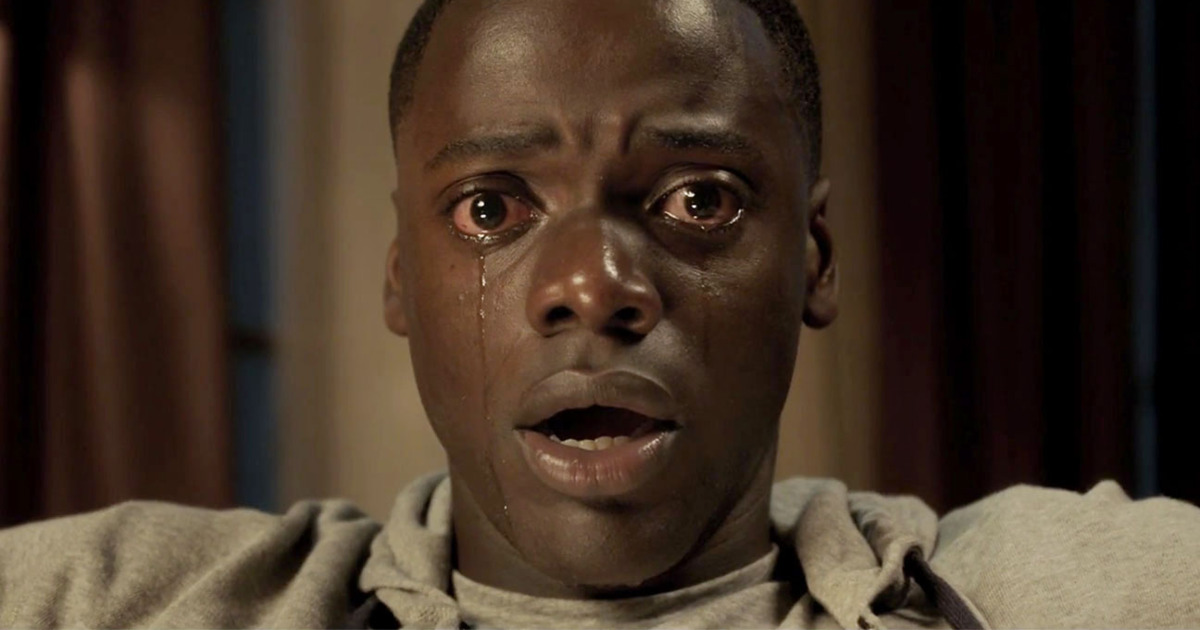 It is not that Get Out is a message film about racism. The audience that embraced Get Out is a very different than the one for a vaguely similar film about Black people in a white world such as The Help (2011) or Hidden Figures (2016). By contrast, Get Out seems to have been alighted on and embraced by the all-important 18-25 demographic that goes to horror movies rather than by the older audiences that usually go for Academy Award fare like The Help.
Jordan Peele does well when it comes to the horror elements. This is a film that is kept tightly turning by a series of wild and outre jolts and happenings. Throughout there is a constant sense of dis-ease upon Daniel Kaluuya's part and us wondering WTF is going on. The title is an oddly ambiguous one – you are never sure if it is meant to be a proclamation from the community wishing to be rid of an outsider, or else an imprecation urging Daniel Kaluuya to flee. There is a weird discomfort that comes in the scenes where we see Betty Gabriel, Lakeith Stanford and Marcus Henderson's blank smiles and oddly unnatural speech, of Betty swinging between tears and calm assurances that everything is alright. The scene that makes you sit upright is the one where Catherine Keener hypnotises Daniel Kaluuya with the rhythmic chinking of a spoon against the side of a tea cup and then abruptly commands him to sink through the floor.
When it comes down to revealing what is going on, Get Out emerges as fairly much a rehash of The Stepford Wives (1975) but with African-Americans instead of women. The notion is a charged one but it is here that I started to have problems with the scenario. They are the same ones that I also have with The Stepford Wives – namely that is I have difficulty buying why it is that an entire community would decide that it is a good idea to do something like that. The underlying premise of The Stepford Wives – that men would want a woman who looks blank, prettily dressed and unquestioningly subservient and could conceive of no other needs from a wife like emotional companionship or authentic passion – seems frankly unbelievable.
Equally here, you keep asking why a white upper-class community would target solely African-Americans. There is no real explanation offered as to why – indeed, all that we get is where Richard Herd's character asks a question "Why Black people?" and answers with a shrug "Who knows?" Some of the individual reasons are listed but the film fails to establish why the community seems to think that solely Black people are needed to serve these purposes as opposed to say any random white, Latino or other ethnic group. It might not have been too difficult to come up with a reason as to why just Black people – like say the community has a strongly racist streak going back to the Confederate era – but Jordan Peele oddly leaves the motivation for the entire scenario in a bubble. The basic idea of older people transferring their minds into young Black people was dealt with in far more challenging ways in the German-made Transfer (2010).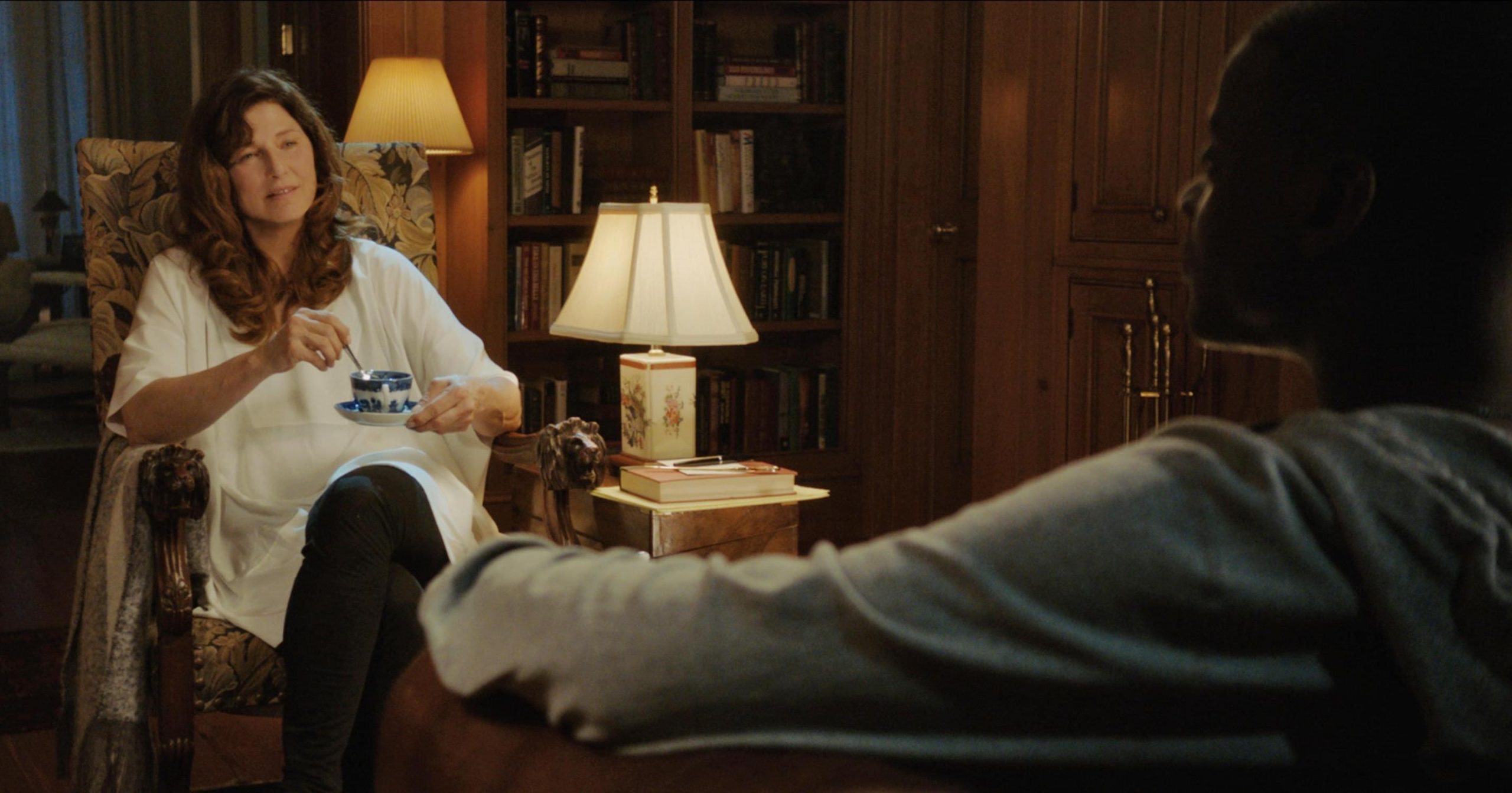 One big positive that Get Out provides is to give Daniel Kaluuya a big breakout role. A British actor of Ugandan background as opposed to African-American, Kaluuya is a name that has kept reappearing in some great under the radar roles – an hilarious part in the tv mini-series The Fades (2011), one of the standout episodes of Black Mirror (2011– ) – so it is nice to see him in a part that propels him to mainstream attention. Kaluuya has a round, open face and a very happy-go-lucky series of expressions that seems to make him a natural for comedy roles, something that works well when he is propelled into a dramatic part here. Amid the rest of the cast, Catherine Keener sinks her teeth into her role with undeniable effectiveness.
Subsequent to this, Jordan Peele went on to direct the doppelganger film Us (2019) and the UFO film Nope (2022), as well as to produce/act as narrator of a revival of The Twilight Zone (2019-20), write/produce the remake of Candyman (2021) and produce the tv series Lovecraft Country (2020).
Jason Blum and his Blumhouse production company have produced a number of other genre films including:- Hamlet (2000), Paranormal Activity (2007) and sequels, Insidious (2010) and sequels, Tooth Fairy (2010), The Bay (2012), The Lords of Salem (2012), The River (tv series, 2012), Sinister (2012) and sequel, Dark Skies (2013), Oculus (2013), The Purge (2013) and sequels, the tv mini-series Ascension (2014), Creep (2014), Jessabelle (2014), Mercy (2014), Mockingbird (2014), Not Safe for Work (2014), Ouija (2014) and sequel, 13 Sins (2014), The Town That Dreaded Sundown (2014), Unfriended/Cybernatural (2014), Area 51 (2015), The Boy Next Door (2015), Curve (2015), The Gallows (2015), The Gift (2015), Jem and the Holograms (2015), The Lazarus Effect (2015), Martyrs (2015), Visions (2015), The Visit (2015), The Darkness (2016), Hush (2016), Incarnate (2016), The Veil (2016), Viral (2016), Amityville: The Awakening (2017), Happy Death Day (2017), The Keeping Hours (2017), Split (2017), Stephanie (2017), Bloodline (2018), Cam (2018), Delirium (2018), Halloween (2018), Seven in Heaven (2018), Truth or Dare (2018), Upgrade (2018), Black Christmas (2019), Ma (2019), Prey (2019), Don't Let Go (2019), Sweetheart (2019), Black Box (2020), The Craft: Legacy (2020), Evil Eye (2020), Fantasy Island (2020), Freaky (2020), The Hunt (2020), The Invisible Man (2020), Nocturne (2020), You Should Have Left (2020), Black As Night (2021), The Black Phone (2021), Dashcam (2021), Firestarter (2022), M3gan (2022), Mr Harrigan's Phone (2022), Nanny (2022), Soft & Quiet (2022), Run Sweetheart Run (2022), Sick (2022), They/Them (2022), Torn Hearts (2022), Unhuman (2022), The Visitor (2022), The Exorcist: Believer (2023), Five Nights at Freddy's (2023), There's Something Wrong With the Children (2023) and Totally Killer (2023).
(Winner for Best Supporting Actress (Catherine Keener) at this site's Best of 2017 Awards).
---
---