---
Crew
Director – Dennis Bartok, Screenplay – Tom Abrams & Dennis Bartok, Producers – Brendan McCarthy & John McDonnell, Photography – James Mather, Music – Abe Fenton, Tim Slade & David Yeoman, Visual Effects Supervisor – Eli Dorsey, Visual Effects – Fantastic Films Digital Productions, Makeup & Prosthetic Designer – Steph Smith, Production Design – Til Frohlich. Production Company – Fantastic Films.
Cast
Shauna MacDonald (Dana Milgrom), Ross Noble (Trevor Helms), Steve Wall (Steve Milgrom), Leah McNamara (Gemma Milgrom), Richard Foster-King (Eric Nilsson/Nails), Charlotte Bradley (Elizabeth Leaming), Robert O'Mahoney (Dr Ron Stengel), Mureann D'Arcy (Ashley)
---
Plot
In Dublin, Dana Milgrom is out for her morning jog when she is hit by a car. She is placed in the Hopewell Rehabilitation Hospital attached to a ventilator as she slowly recovers. There she comes to believe that someone is entering her room at night. The staff say that none of them did and point out that all the other patients are bedridden. Dana's husband is equally disbelieving but installs security cameras in the room. However, these reveal nothing there even as Dana says she is being attacked. She comes to believe that the ghostly entity is Eric Nilsson, a former patient who killed multiple children and was nicknamed Nails for clipping their fingernails as trophies.
---
Nails was a directorial debut for US filmmaker Dennis Bartok. Bartok's previous film was as writer and producer of the multi-director anthology Trapped Ashes (2006).
Nails is a variant on the hospital horror film. We have had several films in this vein before from works like Coma (1978) and Extreme Measures (1996) featuring sinister conspiracies at a hospital to Lars von Trier's darkly funny The Kingdom (1994) and more outrightly horrific happenings in the likes of Anatomie (2000), Sublime (2007), Autopsy (2008), Dark Floors (2008), A Cure for Wellness (2016), Fractured (2019), Yummy (2019), Antidote (2021), The Power (2021). (For a more detailed overview see Medical Horrors).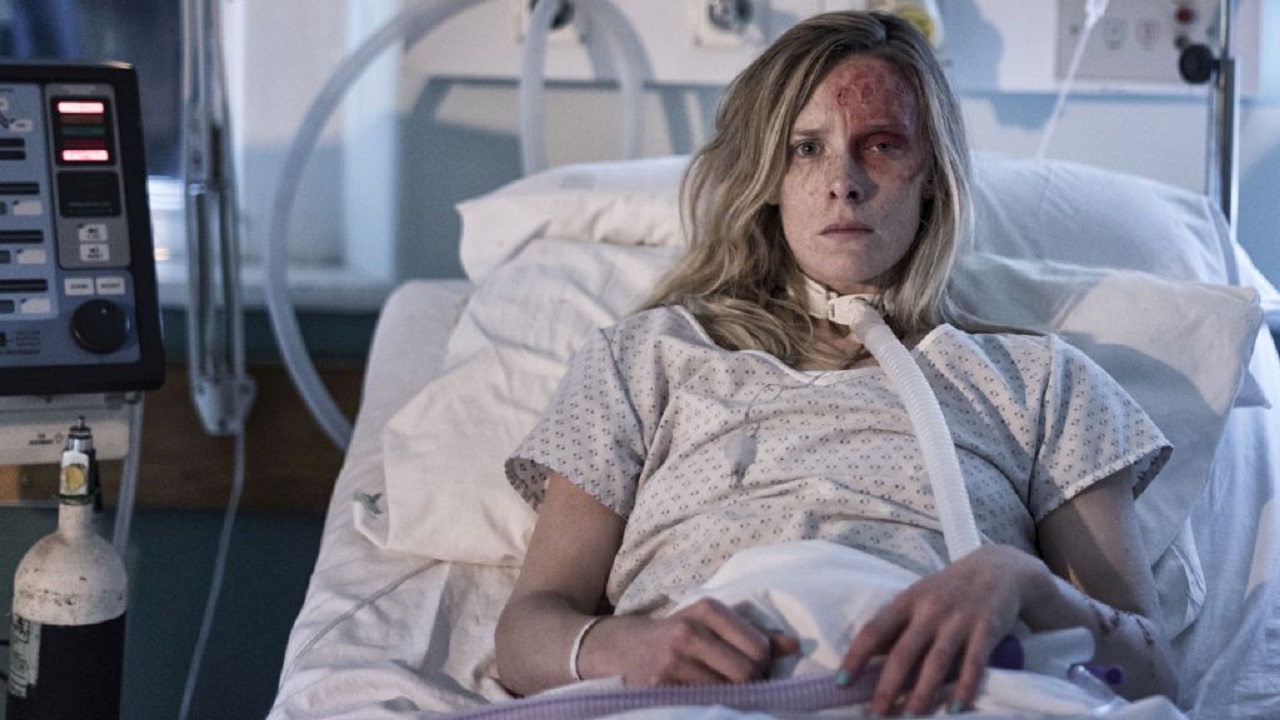 The unique variation that Nails offers is not so much the routine haunting plot but that heroine Shauna MacDonald remains confined to her bed for the entire film without moving from there at the same as dealing with the malevolent ghost, the disbelief by her husband and the doctors etc. I kept being reminded of the Stephen King novel Gerald's Game (1992) and the Mike Flanagan film version Gerald's Game (2017) with its heroine imprisoned to a bed – in particular, the appearances of Nails reminds of the scenes with the uncanny character of the Space Cowboy appearing in the room.
Dennis Bartok creates some reasonable eeriness and jumps. I particularly liked a scene where Shauna MacDonald is looking at a video clip where a person is talking about something called The Grey Ghost and then suddenly sees the ghost looking out at her from the video. There is another eerie video effect later in the show where Ross Noble is in his basement room and sees an empty hole in the wall behind him while on his laptop monitor screen he sees the ghost emerging from the hole. The latter sections of the show tends to kill the modest effectiveness of the mood by wrapping everything up in a big drama and having pop-up scares and deaths all over the place.
---
Trailer here
---