---
Crew
Director – Ronnie Yu, Screenplay – Don Mancini, Producers – Grace Gilroy & David Kirschner, Photography – Peter Pau, Music – Graeme Revell, Music Supervisors – Michelle Kuznetsky & Mary Ramos, Visual Effects Supervisor – Michael Muscal, Visual Effects – Gajdecki Visual Effects & Nerve Effects Inc, Animation Effects – Toybox Toronto, Special Effects Supervisors – Colin Chilvers & Arthur Langevin, Chucky & Tiffany Effects – Kevin Yagher Productions, Doll Designed by Kirschner, Makeup Effects – Paul Jones Studio Inc, Production Design – Alicia Keywan. Production Company – Universal.
Cast
Jennifer Tilly (Tiffany), Brad Dourif (Voice of Chucky), Katherine Heigl (Jade), Nick Stabile (Jesse), John Ritter (Chief Warren Kincaid), Alexis Arquette (Damien Baylock), Mike Johnson (Officer Norton), Gordon Woolvett (David Collins)
---
Plot
Charles Lee Ray's girlfriend Tiffany obtains the charred remains of the Chucky doll from a police evidence locker and revives it using a copy of 'Voodoo for Dummies'. However, when Chucky starts ill-treating her, she imprisons him in a doll's pen. He escapes, kills her and then reincarnates her spirit in a female doll. The only way the two can ever regain human form is for him to obtain the amulet known as the Heart of Damballa that was buried with his body in New Jersey. Tiffany pays her teenage neighbour Jesse to drive to New Jersey with the dolls. Jesse takes the opportunity to elope with the police chief's underage niece Jade. However, Chucky and Tiffany's killing spree along the way unwittingly turn Jade and Jesse into wanted killers.
---
Bride of Chucky was the fourth in the series of films that began with Child's Play (1988). In a calculated commercial move, Hong Kong director Ronnie Yu, most well-known for The Bride with White Hair (1993), was brought in to take the helm. The thinking that has gone on is obvious – the Child's Play series was flagging in creativity, Hong Kong fantasy cinema was the freshest and most exciting source of talent during the 1990s and already came with a built-in cult audience.
Clearly, Ronnie Yu was seen as capable of invigorating the otherwise tired Child's Play series. However, it is hard to guess what series producer David Kirschner intended to achieve by bringing Yu in – maybe splatter scenes with people conducting mid-air acrobatics or Chucky suddenly learning martial arts swordplay moves – but whatever it was Yu clearly does not provide it. (It may well be that of the breed of Hong Kong emigre directors of the 1990s – along with the likes of John Woo, Tsui Hark, Ringo Lam and Ching Tsui-Tung – Ronnie Yu is one whose reputation was the most overrated). There is surprisingly little that Yu brings to Bride of Chucky that does not seem formula. Maybe the occasional novelty death – a honeymoon couple being speared by a rain of broken ceiling mirror shards; Gordon Woolvett being casually splattered by an eighteen-wheeler truck. However, there is little that displays imagination, certainly nothing that stands out over say the average A Nightmare on Elm Street sequel.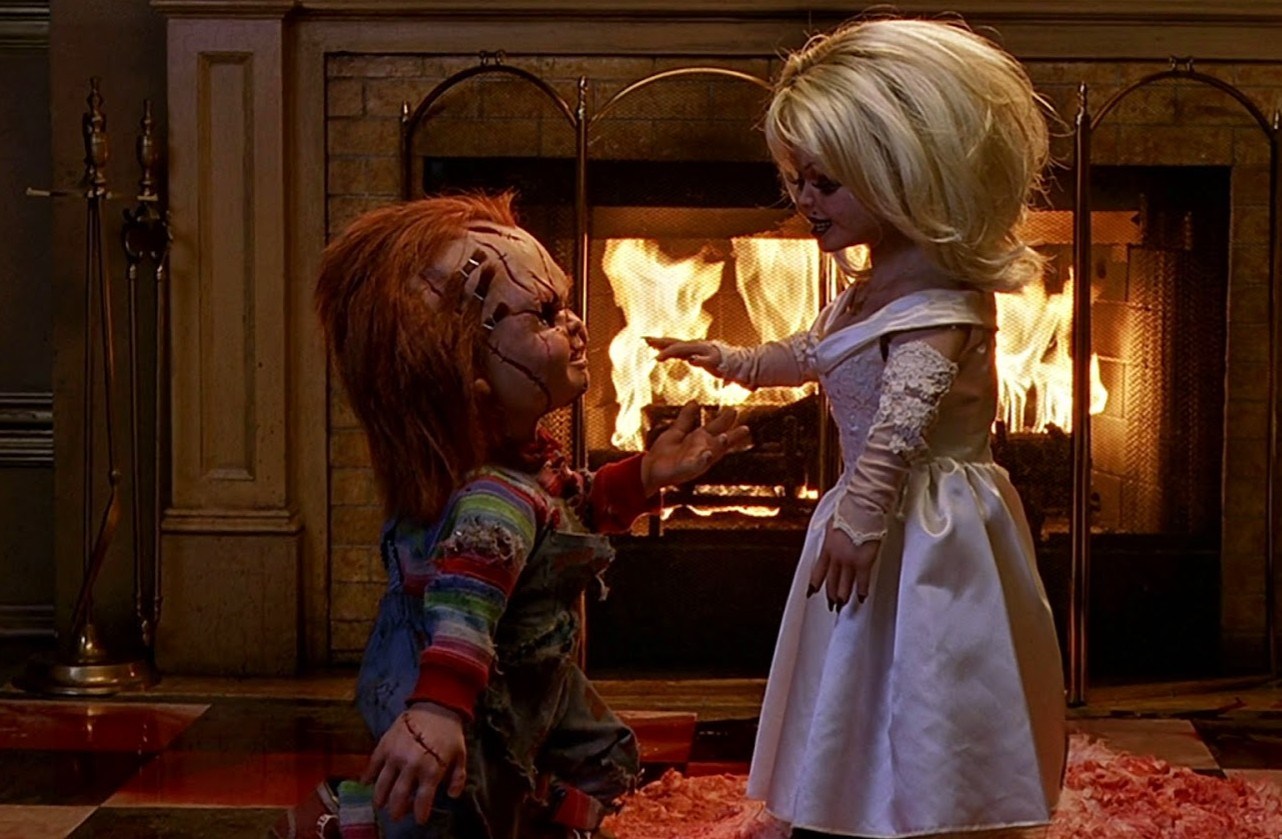 Ronnie Yu's greater talent may exist in playing up the series' sense of black humour – like having Tiffany revive Chucky using a copy of Voodoo for Dummies. Or an outrageous scene where the two dolls have sex (all shown in silhouette) – Tiffany: "What about protection?" Chucky: "I'm all rubber, baby." There is an amusing level of meta-referentiality – "It'd take at least three sequels to tell my whole story," Chucky notes at one point, and a requisite "I'll be back" ending. At least the laced sense of black humour does enliven an otherwise routine film.
The doll effects are competent and Jennifer Tilly, whose baby-doll voice can be intensely irritating in straight acting roles, is well suited to the part here. The film is notable in retrospect for featuring a teenage Katherine Heigl who a few years later came to the forefront on tv's Grey's Anatomy (2005– ) and various leading film roles.
The other Child's Play films are:– Child's Play (1988), Child's Play 2 (1990), Child's Play 3 (1991) and subsequent to this Seed of Chucky (2004), Curse of Chucky (2013) and Cult of Chucky (2017), as well as the tv series Chucky (2021- ). Child's Play (2019) is a remake of the original.
Ronnie Yu next went onto to revive two other 80s horror franchises in one with Freddy vs. Jason (2003). In Hong Kong, Yu has made martial arts efforts like The Postman Strikes Back (1981), the horror comedy The Trail (1983), the horror comedy The Occupant/The Tenant (1984), the psycho-thriller Mummy Dearest (1985), the horror film Bless This House (1988), the Wu Xia Phantom Lover (1995). With the handover of Hong Kong to China, Yu departed for the US, making English-language films like Warriors of Virtue (1997) and subsequent to this the action film The 51st State (2001), before returning to Hong Kong to make the acclaimed Jet Li martial arts film Fearless (2006) and the historical epic Saving General Yang (2013).
---
---