---
Crew
Director/Screenplay – Don Mancini, Producers – David Kirschner & Corey Sienega, Photography – Vernon Layton, Music – Pino Donaggio, Visual Effects – Stargate Digital, London (Supervisors – Graham Christie & Sam Nicholson), Special Effects Supervisor – Paul Dunn, Animatronics – Tony Gardner, Makeup Effects – Alterian Inc, Dolls Designed by Kirschner, Production Design – Cristian Niculescu & Peter James Russell. Production Company – Rogue Pictures/David Kirschner/La Sienega Productions.
Cast
Jennifer Tilly (Herself/Voice of Tiffany), Brad Dourif (Voice of Chucky), Billy Boyd (Voice of Glen/Glenda), Redman (Himself), Hannah Spearritt (Joan), Steve Lawton (Stan), John Waters (Pete Peters), Keith-Lee Castle (Psychs), Tony Gardner (Himself), Jason Flemyng (Himself)
---
Plot
Chucky and Tiffany have given birth to a doll child. The child is now in England where it is used as a dummy in a ventriloquist's act and knows nothing about its parentage. When it sees a tv item about the making of a new Chucky movie, the child recognises the Made in Japan logo on the dolls' arms and realises that they are its parents. It heads to Los Angeles where it enacts the voodoo rites that resurrect the spirits of Chucky and Tiffany in the Chucky film's prop dolls. Placid in nature, it is shocked to learn that the two of them are killers. Discovering that the child has no genitalia, Chucky and Tiffany cannot decide whether it is male or female and argue over whether to name it Glen or Glenda. Tiffany discovers that actress Jennifer Tilly is voicing her in the movie and determines to transfer her spirit into Jennifer's body. They invade her house as Jennifer decides to sleep with rapper/director Redman in order to get the part of the Virgin Mary in the film he is making. They knock Jennifer out and impregnate her with Chucky's sperm in order to give birth to a new body for Glen/Glenda. At the same time, Tiffany tries to give up her addiction to killing, while Chucky takes Glen/Glenda out, determined to introduce it in the family killing ways.
---
The first Child's Play (1988) was a rather silly attempt to redo the old possessed doll theme with then (mid-1980s) state of the art makeup effects. By the time of the first two sequels – Child's Play 2 (1990) and Child's Play 3 (1991) – the character of Chucky had metamorphosed into another badass villain making one-liner quips as he despatches people and the frontman for another horror franchise that was clearly designed to emulate the success of the A Nightmare on Elm Street films. The waning interest in Elm Street-styled films saw an end to the Chucky franchise in the early 1990s, although those involved did see fit to get back together again for a further entry with Bride of Chucky (1998).
Bride of Chucky, though a routine effort, received some surprisingly good word of mouth in the mainstream media – all due to director Ronnie Yu's penchant for black comedy. Seed of Chucky, which had been announced as a go project on and off ever since 1998, takes Yu's reinvention of the franchise and runs with it. Seed of Chucky has been turned over to the directorial hands of Don Mancini. Don Mancini was the one who came up with the original character of Chucky, has written all the other films in the Child's Play series and is allowed to make his directorial debut here.
Don Mancini pumps Seed of Chucky up into an outrageous work that quite takes one aback. He plays up the black comedy angle from Bride of Chucky by a factor of ten and delves into an arena that frequently verges on outrageously bad taste. Moreover, his one other ingenious idea is to set Seed of Chucky during the making of a Child's Play sequel, casting Jennifer Tilly as herself and allowing some rather funny gags at both the meta-film and Tilly's career. (A few others appear as themselves, although the notable absence is surprisingly Brad Dourif who is the one mainstay, other than Don Mancini and producer David Kirschner, of all the Child's Play films so far, as opposed to Jennifer Tilly who only entered the series with Bride of Chucky).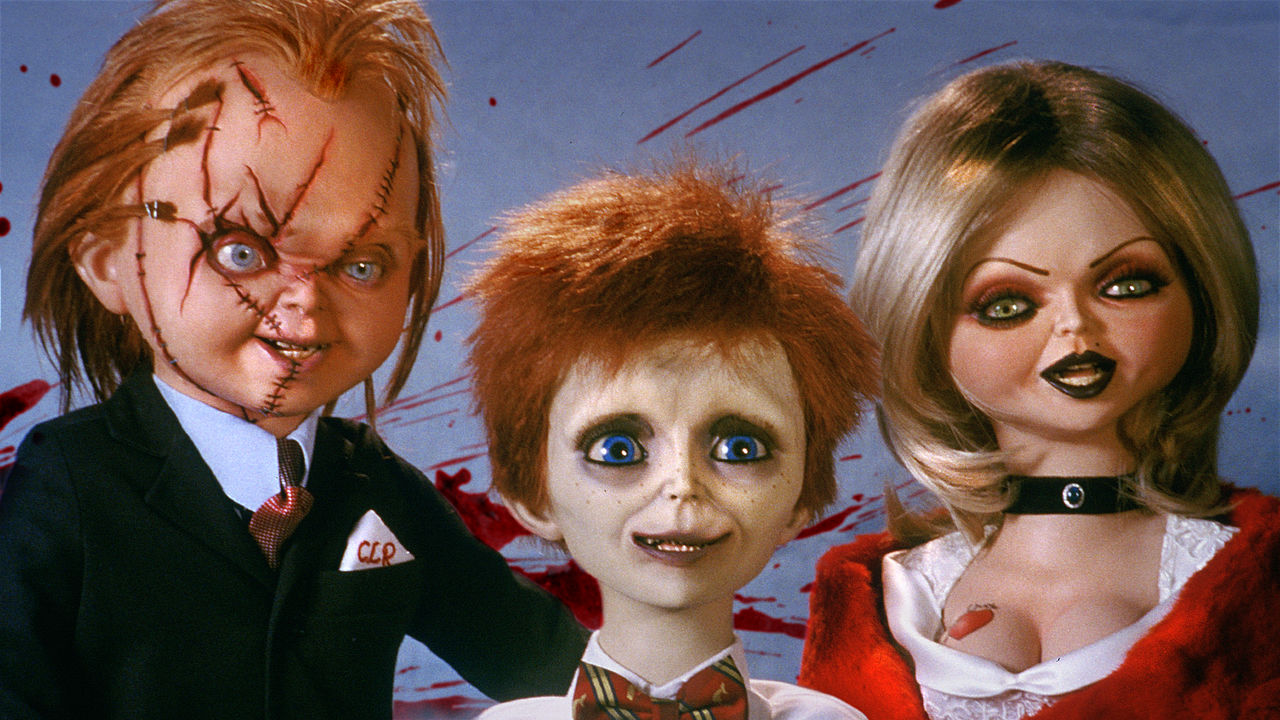 If one might compare the Child's Play series to the Elm Street series, then Seed of Chucky is surely the equivalent of Elm Street's Wes Craven's New Nightmare (1994) wherein Wes Craven reinvented the Elm Street series through a lens of meta-fiction where Freddy Krueger was invading the making of an Elm Street sequel in the real world. Indeed, with the puppets now as central characters in the show and getting foul-mouthed, the best capsule description one might make of Seed of Chucky is to imagine it as a conceptual collision between New Nightmare and Team America: World Police (2004).
Seed of Chucky is rather funny. I enjoyed it far more than the standard horror franchise entry that it seemed to be shaping upon entering the theatre. How can it not be possible to enjoy a film that features a cameo from a Britney Spears lookalike who passes Chucky on the road, flips him the finger and is promptly run off the road by him with the sarcastic aside "Oops I think I did it one more time." Or the credits sequence that parodies the opening of Look Who's Talking (1989) and sequels with animated sperm swimming down a vagina to fertilise an egg and then a series of lap dissolves of the gestating embryo revealing a baby with 'Made in Japan' imprinted on its arm. Or the image of Tiffany calling an addictions quitline in an attempt to try and give up serial killing. When it comes to images of Chucky masturbating, Tiffany flashing him her tits to help him get off and then of Tiffany impregnating Jennifer Tilly with Chucky's titular seed using a turkey baster, one ends up doing a double-take at the outrage that Don Mancini is prepared to court.
The most outrageous aspect of the whole film might be Jennifer Tilly herself. Tilly peaked a few years ago with an Academy Award nominated performance in Woody Allen's Bullets Over Broadway (1994) and then as the gangster's moll drawn into a lesbian affair in the Wachowski Brothers' thriller Bound (1996). Since then she appeared in a number of films but none that have had any kind of profile outside of voicework for animation. Her self-eviscerating part here walks a fine tightrope that falls somewhere between clever sarcasm in a post-The Player (1992), post-Scream (1996) kind of way and something that is akin to the sight of former glamour stars Bette Davis and Joan Crawford reduced to trashing their images in What Ever Happened to Baby Jane? (1962).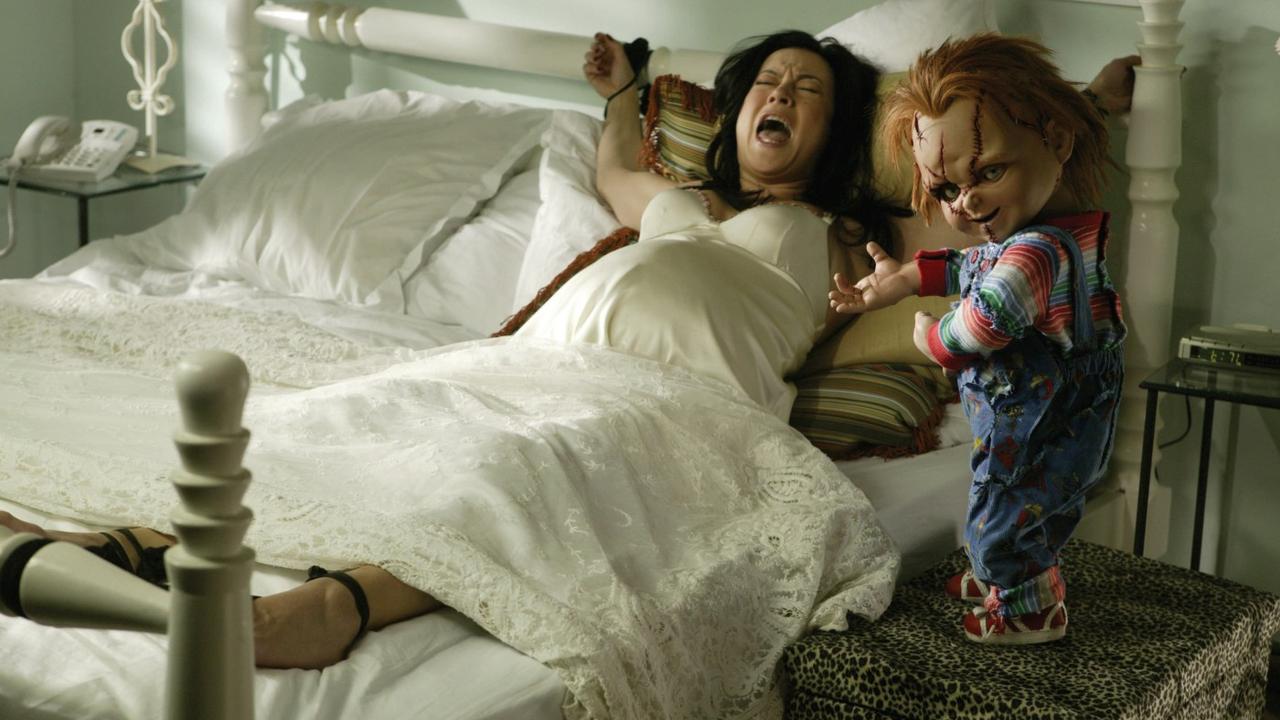 Tilly has a fascinatingly self-effacing role – be it being on the receiving end of fat jokes; sarcastic asides about her Academy Award nomination and lesbian scenes in Bound; jokes about her cleavage and how more appropriate she was for the part in Erin Brockovich (2000) and how Julia Roberts only got the part by sleeping with the director; her decision to sleep with the director to get the part in the life story of The Virgin Mary, which invites naturally snide remarks at Mel Gibson and The Passion of the Christ (2004). If nothing else, Tilly at least shows a truly extraordinary dedication to the acting craft in terms of the humiliations she is prepared to go through.
Alas, the same cannot be said of the rest of the cast. Redman is the latest rapper to try and craft an acting career for himself, where it is strongly advised that he not try giving up his day job. He plays with a lazy surliness that indicates he believes the entire show to be beneath him – about the time that Tiffany decides to off him for being a lazy pig, you are not exactly sure if it is acting or just being in character for Redman. British teen popster Hannah Spearritt gives a poor performance – though she is a Brit, she comes across exactly like an American actress trying to imitate a British accent.
With the puppets having much more central roles than they did in all the previous films (in fact, it is the actors who are really playing supporting parts to the puppets), the effects are expectedly extremely good – indeed, are the best of the entire series.
Dom Mancini later returned to make two subsequent entries in the series with Curse of Chucky (2013) and Cult of Chucky (2017), as well as the tv series Chucky (2021- ), which made an effort to abandon black comedy and be scary once again. Child's Play (2019) is a remake of the original.
(Nominee for Best Makeup Effects at this site's Best of 2004 Awards).
---
---