aka Re-Animator 2
---
USA. 1990.
Crew
Director/Producer – Brian Yuzna, Screenplay – Rick Fry & Woody Keith, Adaptation – Brian Yuzna, Rick Fry & Woody Keith, Based on the Herbert West – Reanimator Short Stories by H.P. Lovecraft, Photography – Rick Fichter, Music – Richard Band, Visual Effects – Mike Muscal, Visual Effects/Makeup Effects – David Allen, Anthony Doublin, K.N.B. EFX, Magical Media Industries & Screaming Mad George, Stop Motion Animation – David Allen Productions Inc (Supervisor – David Allen), Special Effects Supervisor – Thomas C. Rainone, Mechanical Effects – SPFX Inc (Supervisor – Wayne Beauchamp), Production Design – Philip J.C. Duffin. Production Company – Wildstreet Pictures/Re-Animator II Productions Inc.
Cast
Jeffrey Combs (Herbert West), Bruce Abbott (Dan Cain), Fabiana Udenio (Francesca Daneli), Claude Earl Jones (Lieutenant Leslie Chapham), Mel Stewart (Dr Wilbur Graves), David Gale (Dr Carl Hill), Kathleen Kinmont (Bride/Gloria)
---
Plot
Eight months after the so-called Miskatonic Massacre and Herbert West and Dan Cain return from Peru to take up their internships at the Miskatonic Hospital. Herbert amuses himself by reanimating disembodied body parts. Cain wants nothing of this until Herbert finds his late girlfriend Megan's heart and convinces him that they could build a body for her and bring it to life.
---
Making a sequel to a film people regard as a cult classic – in this case Re-Animator (1985) – always leaves a filmmaker with a great deal of expectation to live up to. The window of opportunity in which to make Bride of Re-Animator was probably left too late for it to be effective to any more than ardent fans of the original – five years after Re-Animator and the market had been glutted by cheap clones. Nevertheless, Bride of Re-Animator manages well in the circumstances. Stuart Gordon, the director of the original, had gone onto other projects and the project was taken on by Brian Yuzna, who was producer of the first film and had subsequently made a directorial debut for himself with the kinkily weird Society (1989).
Bride of Re-Animator lacks the outrageous sense of black humour that inspired the first film. On the other hand, the relatively more serious treatment occasionally works for it – the Herbert/Dan relationship is better characterised with Jeffrey Combs having some well-written soliloquies trying to convince Bruce Abbott of the worthwhileness of the experiments. However, the film is more effective in individual parts than it is as a whole.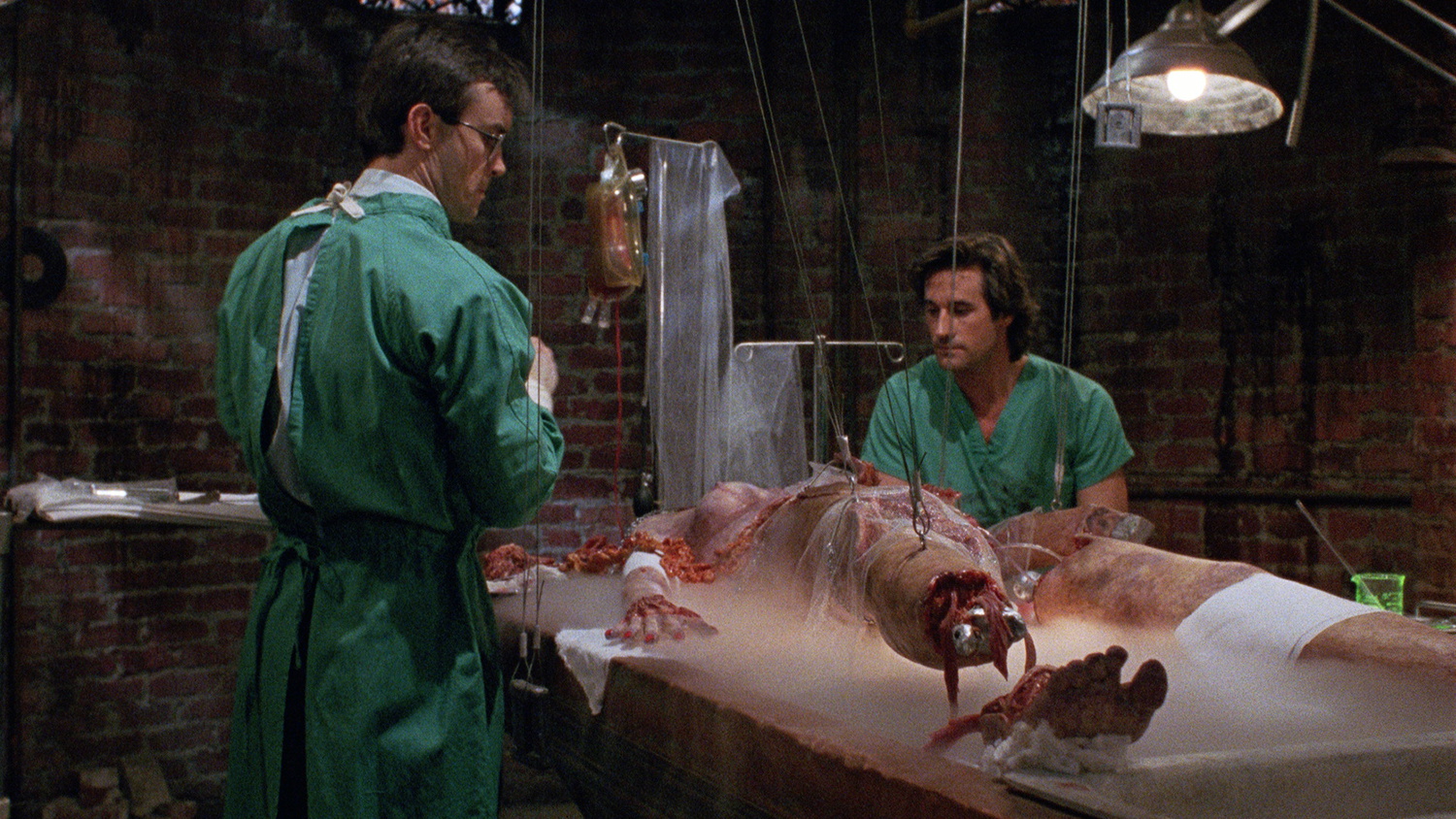 The plot leans far too heavily on Frankenstein – West's experiments now copy those of Dr Frankenstein's work with patchwork creations far more than they did in the first film, although to no apparent purpose. The influence is obvious in the title's desire to echo Bride of Frankenstein (1935), while the film builds to a climax that is an amusingly elaborate reworking of Bride of Frankenstein.
The plot is often obvious – Fabiana Udenio carries a poodle around with her for no other reason than for it to later be reanimated. The subplot about Herbert's penchant for animating mismatched limbs serves more to highlight makeup artist Screaming Mad George's predilection for Dali-esque arrangements of body parts than it does any actual plot point. The plot's one moment of inspiration is the shaggy dog story it tells when Claude Earl Jones takes Fabiana Udenio up to the psych ward – it has all the elements of a pure campfire tale and its punchline is a corker.
What makes Bride of Re-Animator above routine are the amazing makeup effects – eyeballs attached to fingers, an arm and leg combination, the bride's dissected body shown in amazing anatomical detail, including at one point Jeffrey Combs delving in and pulling the tendons like puppet strings to make the wrist work. The other thing that lifts Bride of Re-Animator above the routine is the intense and very weird return performance from Jeffrey Combs. Bruce Abbott again holds the fort with solidly handsome regard – it is a major mystery why Abbott never went on to greater leading parts and why he appears to have hardly done any other acting in between this and the original.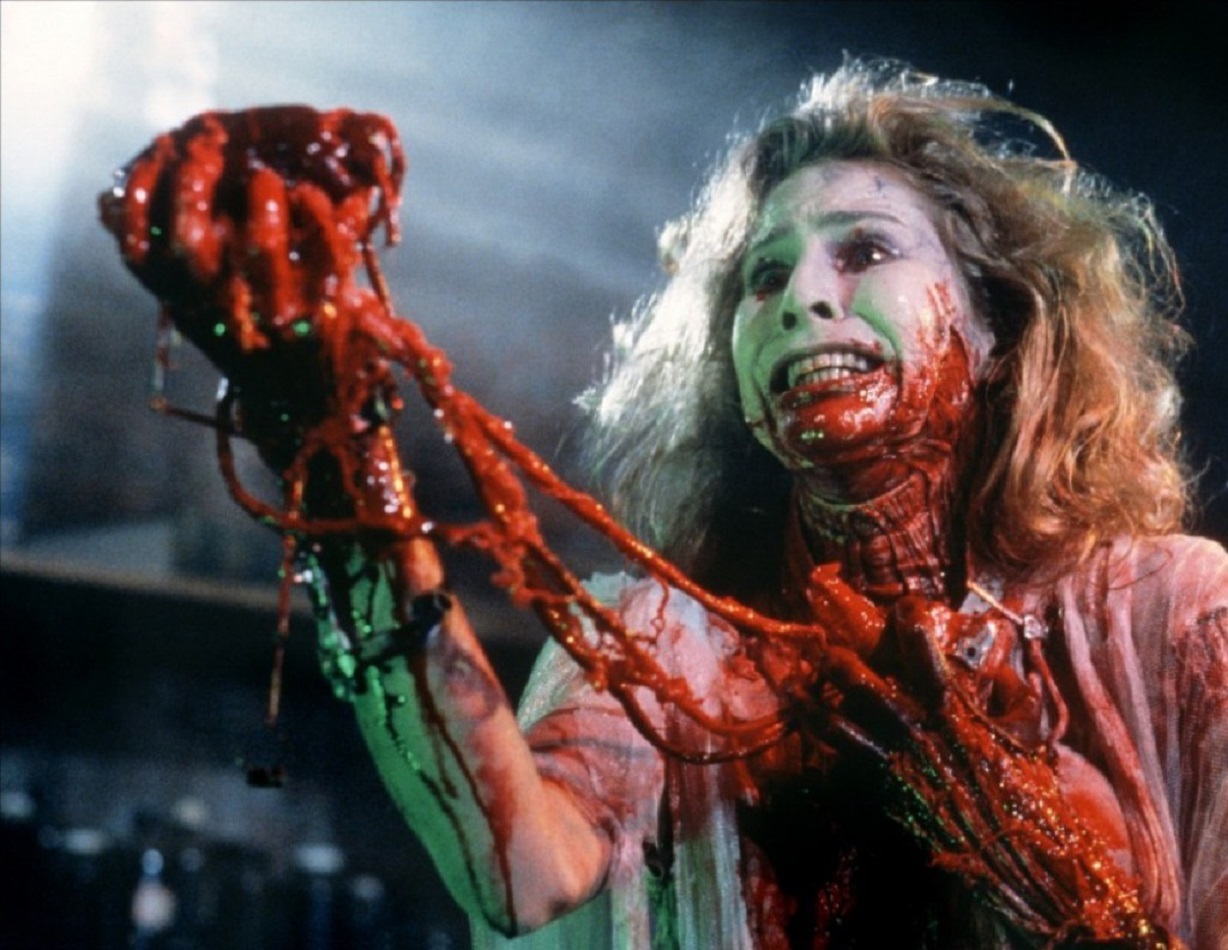 Brian Yuzna and Jeffrey Combs later returned for a third film Beyond Re-Animator (2003). For much of the 00s, original director Stuart Gordon has promised a further sequel with House of Re-Animator.
Brian Yuzna has subsequently gone onto direct a number of other horror films:– Silent Night, Deadly Night 4: The Initiation (1990), Necronomicon (1993), Return of the Living Dead III (1993), The Dentist (1996), The Dentist 2 (1998), Progeny (1998), Faust: Love of the Damned (2000), Rottweiler (2004), Beneath Still Waters (2005) and Amphibious 3-D (2010). Yuzna has also produced a number of genre films including various Stuart Gordon such as From Beyond (1986), Dolls (1987) and Dagon (2001), as well as Honey, I Shrunk the Kids (1989), The Guyver (1991), Infested (1993), the manga adaptation Crying Freeman (1995), Arachnid (2001), Darkness (2002), Romasanta: The Werewolf Hunt (2004), The Nun (2005) and Takut: Faces of Fear (2008).
---
Trailer here
---