---
Crew
Director – Lauren Montgomery, Screenplay – Michael Jelenic, Story – Michael Jelenic & Gail Simone, Based on the Comic-Book Created by William Moulton Marston, Producer – Bruce Timm, Music – Christopher Drake, Animation – Moi Animation Studio (Supervising Director – Sang-Jin Kim), Animation Directors – Ki-Jun Kim & Sang-Jin Kim. Production Company – Warner Bros. Animation
Voices
Keri Russell (Wonder Woman/Princess Diana), Nathan Fillion (Steve Trevor), Alfred Molina (Ares), Virginia Madsen (Queen Hippolyta), Rosario Dawson (Artemis), Vicky Lewis (Persephone), Oliver Platt (Hades), Julianne Grossman (Etta Candy), Tara Strong (Alexa), Skye Arens (Little Girl), Marg Helgenberger (Hera), David McCallum (Zeus), John DiMaggio (Deimos)
---
Plot
In Ancient Greece, Queen Hippolyta leads the Amazons in a bloody battle to free themselves from the yolk of Ares, the god of war. Zeus and Hera intervene to prevent Hippolyta from killing Ares and instead place him in magical shackles. Hippolyta makes him her prisoner and leads the Amazons away to found the island of Themyscira. This is invisibly shielded from the world by the gods and the Amazons made immortal. Hippolyta also gives birth to a daughter Diana, fashioned out of clay and magically brought to life by a lightning bolt from the heavens. In the present-day, Diana has become one of the top warrior women on the island. Themyscira's utopian idyll is interrupted as the plane of US fighter pilot Steve Trevor is shot down over the island and he is washed ashore. Diana makes Steve prisoner and it is decided that he will be returned to civilisation. A games is held to select the best candidate to do so. Hippolyta forbids Diana from taking part and so Diana enters the competition with her face hidden behind a battle helmet and wins. Meanwhile, the Amazon Persephone has fallen in love with Ares and aids him in escaping. Diana is given magical bracelets that deflect bullets, a lasso that makes those ensnared by it tell the truth and an invisible plane to go out into the world with the mission of returning Steve and recapturing Ares. Though Diana is shocked by the lot of women in the outside world, she and Steve come together to battle Ares as he regains his god-like powers and determines to make war against the entire world.
---
Wonder Woman is a DC Comics character who originally appeared in 1941, the creation of psychologist William Moulton Marston. (Marston's other great footnote in history was that he devised the systolic blood pressure test, which became the basis of the polygraph lie detector). In an interview, Marston spoke about the educational potential of comic-books and this was read by Max Gaines who hired Marston as an educational consultant for the company that would later become DC Comics. Marston was an early advocate of the equality of the sexes and suggested to Gaines the idea of a female superheroine to join the all-male DC line-up that was then dominated by characters like Superman, Batman, The Flash and Green Lantern. (A somewhat fictonalised depiction of Marston can be found in the film Professor Marston and the Wonder Women (2017), which goes into his private life).
It was thus that Wonder Woman was born. Marston created a background for her as an Amazon from the all-women Paradise Island, how she won the right to accompany downed US Army office Steve Trevor back to civilisation and remained there, adopting the identity of Diana Prince to fight Nazi and Axis villains. Marston later introduced her origin as being formed from clay and imbued with the powers of the Greek gods. Supplementary characters such as Wonder Girl and Wonder Tot were introduced over the years. Wonder Woman also became the first woman to join the Justice Society of America when it was founded in 1941 (although being the time it was, she was stuck as only being its secretary).
Wonder Woman has proven variably popular in the media. The success of the campy Batman (1966-8) tv series led to that show's producer William Dozier attempting to create a Wonder Woman series in 1967, which would have played everything as comedy, having Diana a mousy woman played by Ellie Wood who was nagged by her mother for not having a boyfriend before secretly turning into Wonder Woman. The screen test this can be found on YouTube but the pilot never went to series. Wonder Woman next appeared as one of the line-up of DC superheroes in the animated tv series Super Friends (1973-8).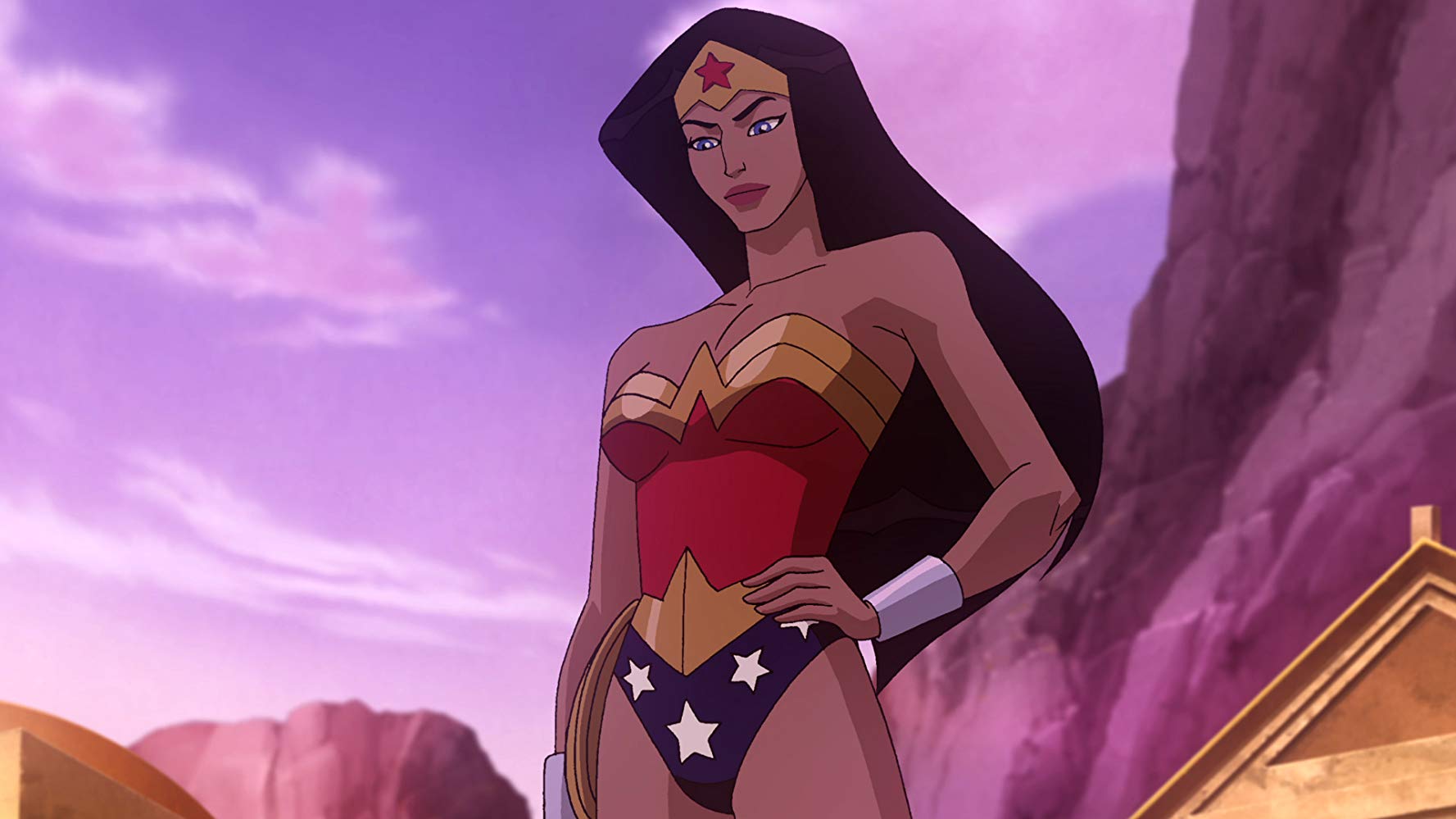 A live-action tv pilot was produced by Warner Brothers Television with the 90-minute Wonder Woman (1974) starring Cathy Lee Crosby, although this was a Wonder Woman divested of her distinctive costume and was not a success. Her most successful incarnation came in the ABC tv series The New Original Wonder Woman/Wonder Woman (1975-7) starring Lynda Carter. This was surprisingly faithful to the comic-book original, even down to (initially) retaining the World War II setting. For the second and third seasons, the series moved to CBS where the setting was updated to the present-day. This was a reasonable hit during its time and turned Wonder Woman into an iconic symbol of the nascent 1970s Women's Lib movement.
Subsequent to the Lynda Carter tv series, there have been various attempts to revive Wonder Woman. Since the mid-1990s, there was much talk of a Wonder Woman feature film. Numerous actresses were touted in the part – everyone from Sandra Bullock to Angelina Jolie, Jessica Biel, Megan Fox, Lucy Lawless, Beyonce Knowles, Charisma Carpenter and others, although it was often difficult to tell whether any of these went beyond internet mill rumour and/or the actresses' own self-promotion and towards anything that approached serious casting considerations. (A poll in 2010 by the website Total Sci-Fi arrived at the laughable notion that readers most wanted pop singer Katy Perry to play the role). The Wonder Woman property remained in the hands of action producer Joel Silver for many years with the most serious stab towards the project being when Joss Whedon was assigned to write/direct the film during the mid-00s, although Whedon eventually departed after an inability to get a handle on the script.
During this time, Wonder Woman also appeared as a character in Warner Brothers' animated Justice League/Justice League Unlimited (2001-6) voiced by Susan Eisenberg. Wonder Woman was also announced as part of the line-up of DC superheroes in the live-action Justice League film from George Miller and was even cast with Australian model Megan Gale before the project was shelved. In 2010, tv producer David Kelley, creator of The Practice (1997-2004), Ally McBeal (1997-2002) and Boston Legal (2004-8) among other shows, announced plans for a new Wonder Woman tv series starring Adrianne Palicki but this failed to go ahead. Finally, Wonder Woman appeared in live-action played by Gal Gadot in Batman V Superman: Dawn of Justice (2016), which led to a film Wonder Woman (2017) starring Gadot that triumphally incarnated Wonder Woman on the big screen to enormous success, followed by a sequel Wonder Woman 1984/WW84 (2020) and her appearance in Justice League (2017) and the superior extended cut Zack Snyder's Justice League (2021).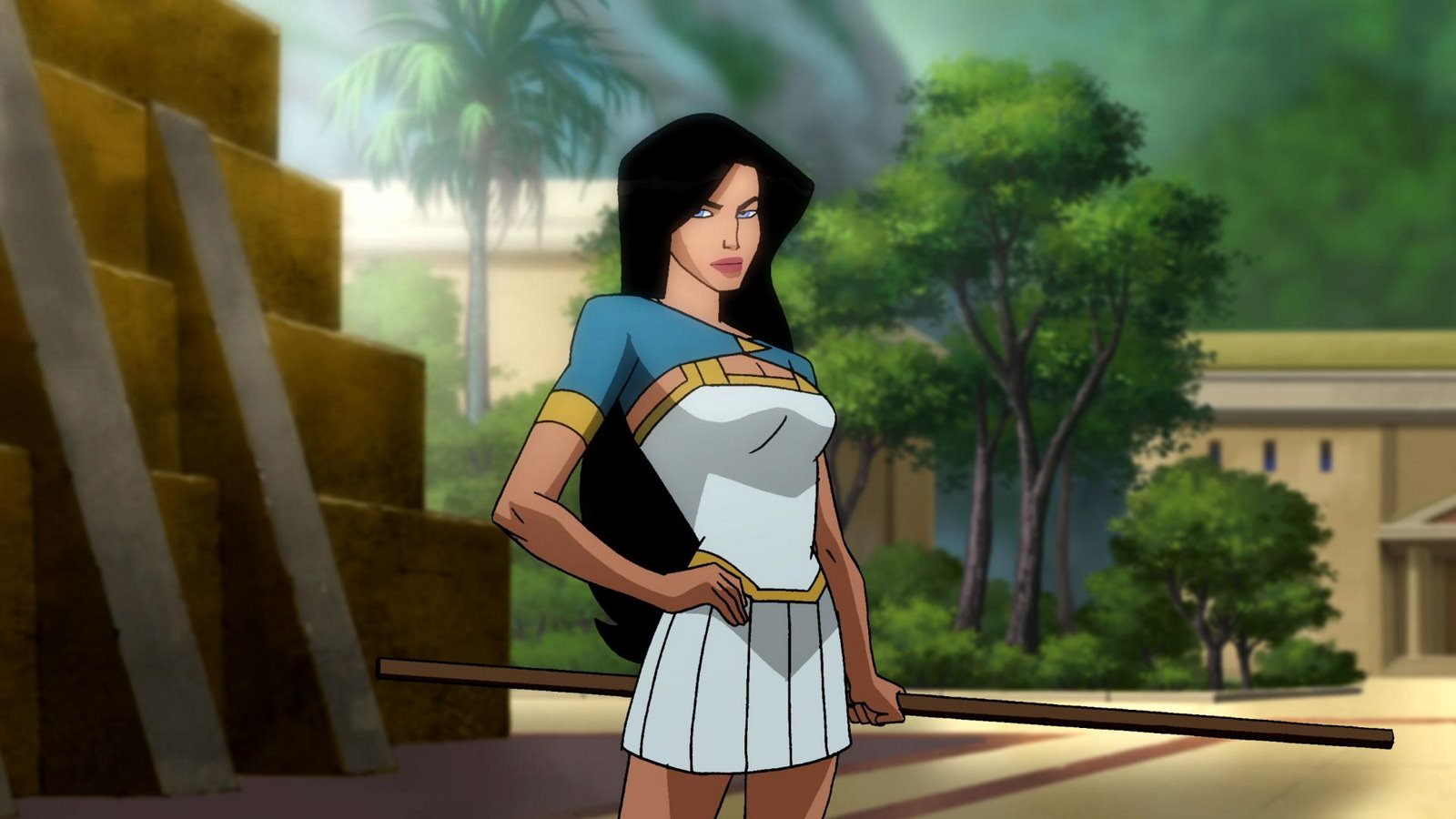 This animated Wonder Woman film is produced by Bruce Timm, the creative force behind many of the animated DC tv series since the 1990s including Batman (1992-5), Superman (1996-2000), Batman Beyond/Batman of the Future (1999-2001), Justice League and Green Lantern: The Animated Series (2011-3). Timm and co had success with a series of animated films spun off from the Batman series, beginning with the theatrically released Batman: Mask of the Phantasm (1993). In the late 00s, Timm then produced a series of animated films under the umbrella name DC Universe Original Animated Movies that have included Superman Doomsday (2007), Batman: Gotham Knight (2008), Justice League: The New Frontier (2008), Green Lantern: First Flight (2009), Superman/Batman: Public Enemies (2009), Batman: Under the Red Hood (2010), Justice League: Crisis on Two Earths (2010), Superman & Batman: Apocalypse (2010), All-Star Superman (2011), Batman: Year One (2011), Green Lantern: Emerald Knights (2011), Batman: The Dark Knight Returns Part I (2012), Justice League: Doom (2012), Superman vs. The Elite (2012), Batman: The Dark Knight Returns Part II (2013), Justice League: The Flashpoint Paradox (2013), Superman Unbound (2013), Batman: Assault on Arkham (2014), Justice League: War (2014), Son of Batman (2014), Batman vs. Robin (2015), Justice League: Gods and Monsters (2015), Justice League: Throne of Atlantis (2015), Batman: Bad Blood (2016), Batman: The Killing Joke (2016), Justice League vs Teen Titans (2016), Batman and Harley Quinn (2017), Justice League Dark (2017), Teen Titans: The Judas Contract (2017), Batman: Gotham By Gaslight (2018), The Death of Superman (2018), Suicide Squad: Hell to Pay (2018), Batman: Hush (2019), Justice League vs The Fatal Five (2019), Reign of the Supermen (2019), Wonder Woman: Bloodlines (2019), Justice League Dark: Apokolips War (2020), Superman: Man of Tomorrow (2020), Superman: Red Son (2020), Batman: Soul of the Dragon (2021), Batman: The Long Halloween Part One (2021), Batman: The Long Halloween Part Two (2021), Injustice (2021), Justice Society: World War II (2021), Catwoman: Hunted (2022) and Green Lantern: Beware My Power (2022), along with Wonder Woman here.
Bruce Timm has made the canny choice of handing the Wonder Woman film to the only woman in his animation crew Lauren Montgomery. Montgomery started out as a storyboard artist on various animated superheroic properties, including episodes of Justice League and various films based on Marvel Comics properties such as Hulk Vs (2009) and Planet Hulk (2010), before making her directorial debut on episodes of another non-Timm animated DC Comics tv series Legion of Superheroes (2006-8). She then went onto co-direct Superman Doomsday, before making her solo film debut with Wonder Woman. Subsequently, Montgomery directed Green Lantern: First Flight and co-directed Justice League: Crisis on Two Earths, Superman/Batman: Apocalypse and Green Lantern: Emerald Knights (2011).
Wonder Woman taps the essence of the William Moulton Marston comic-book. There are all the elements of the Wonder Woman origin story – Themyscira Island, she being fashioned of clay, Steve Trevor, the lasso of truth, the invisible plane. All of this is conducted with appropriate mythopoeic flourish as though the film is telling the story for the first time. Indeed, Lauren Montgomery's delivery of the basics effortlessly eclipses all other variations to date (and I would argue is also better as a story than the Gal Gadot film). Montgomery gets the character of Wonder Woman just right, treats everything with a seriousness and delivers the basics with a near-perfect touch. That said, there are some odd omissions. There is no mention of Wonder Woman's secret identity as Diana Prince, although we do see her in a business dress and glasses towards the end but there is no explanation of why she is so dressed. (This is also one superhero film that has the oddity of the superheroine never being mentioned by her popular name 'Wonder Woman' until the last line of dialogue in the film).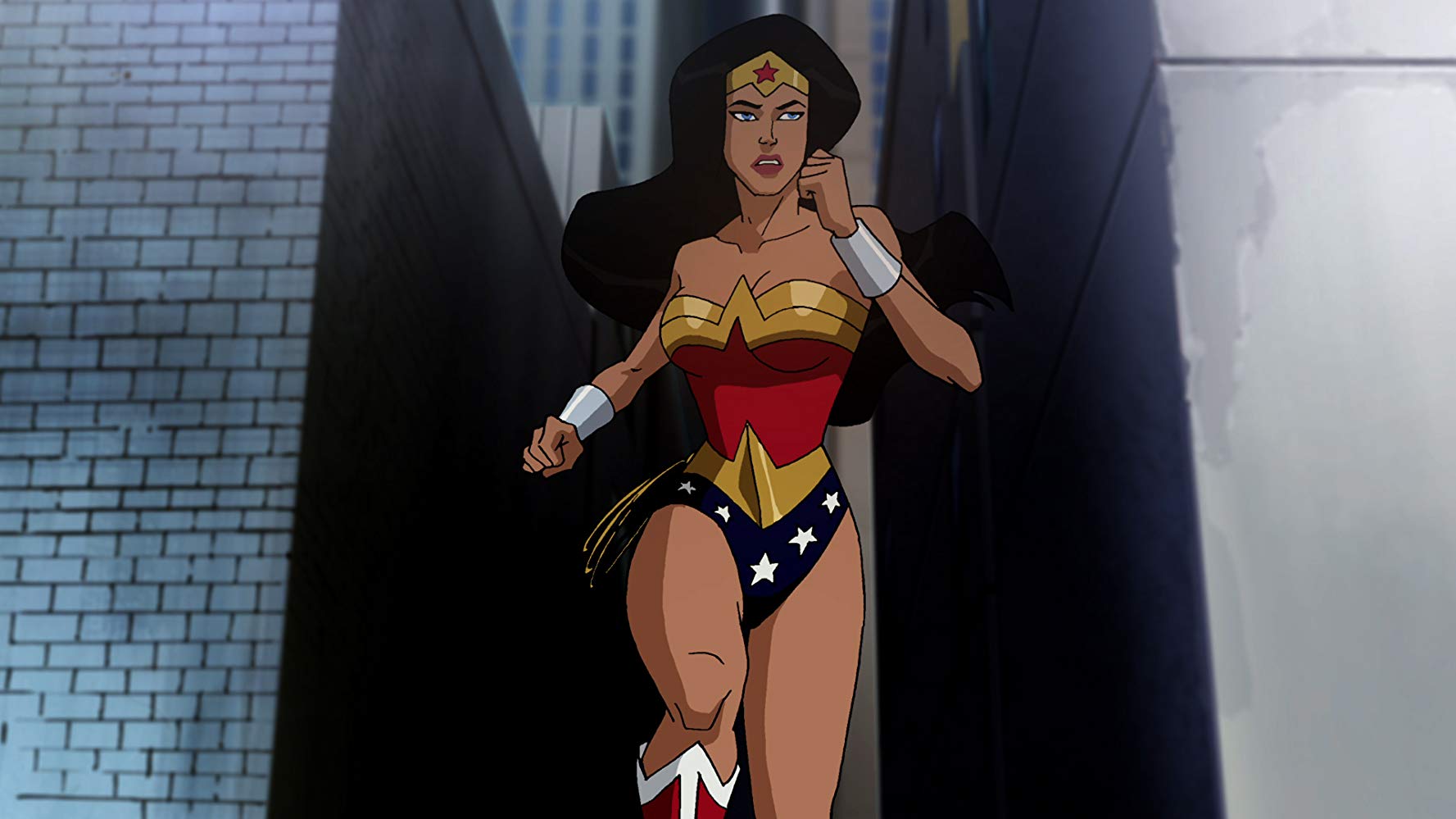 The story comes from the interesting figure of Gail Simone, who first made a controversial splash in the comics industry after creating the website Women in Refrigerators as a protest in which she detailed the number of occasions that rape, murder and assault against women was used as a device in comic-books. This had her invited to work as a writer at DC Comics on titles such as Birds of Prey, Secret Six and of course Wonder Woman. Under Gail Simone's hand, the Wonder Woman film naturally comes with a feminist agenda with scenes where a young girl is told she cannot play swordfights with the boys and Diana intervenes to show her how to deliver a lethal blow, or a scene where ditzy blonde secretary Etta Candy calls Steve to help her pick up a pen from under a desk and Diana admonishes for her apparent helplessness and manipulation of men with sexual wiles. One notable aspect is that Steve Trevor (voiced by Nathan Fillion) is portrayed as much more of a jerk than he usually is, constantly making crass sexual comments or wolf whistling. Mindedly, comic-book writers have always felt uneasy about the presence of Steve Trevor, whether he or Wonder Woman should be in charge, even going so far as to write him out and kill him off at various points. There is a later well-written scene where he apologises to Diana and they admit feelings for one another.
Wonder Woman opens promisingly with a scene where Lauren Montgomery stages a battle between the Amazons and various Greek gods, mortals and mythical creatures, including centaurs and pegasi. Montgomery is not afraid to deliver more adult action than you would expect from an animated film as we see various combatants stabbed with swords, even Ares being beheaded at the climax. In fact, there is a decidedly adult tinge and suggestiveness to the film – the pilots discussing the 'sphincter factor' in regard to the turns they make (ie. the degree to which the rectal muscles tighten); while Diana kicks Steve Trevor in the testicles at one point; he admires naked bathing Amazons and comes out with lines to Queen Hippolyta "God, you're daughter has a nice rack," or tells Diana "I'm into the kinky stuff too but if you think that is going to make me more cooperative" as she slips the lasso of truth around him. Upon arriving back in civilisation, he makes a suggestion about her costume: "First let me get you into something that won't have you arrested for solicitation".
On the minus side, Wonder Woman works well in the first half but drops off after about the halfway point once it gets the origin story over with and heads off into an adventure. This is fairly standard and mostly construed around a series of superheroic action sequences. Bruce Timm's various tv series did dazzling superheroic action sequences that were light years ahead of their live-action equivalents around at the time. On the other hand, Lauren Montgomery's forte is not directing this type of superheroic action and the sequences that fill the middle of the film are not the most standout (although she did improve in the subsequent Green Lantern: First Flight). That said, the aforementioned battle sequence that opens the film and the climactic scenes with the Amazons fighting Ares, his minions and a horde of undead Amazons outside the White House and Lincoln Memorial certainly come up to the standard of the other Bruce Timm films.
Wonder Woman was not one of the more successful of the Dc Universe Original Animated films and as a result Warner Brothers left Wonder Woman alone (aside from appearances in the Justice League films) for a decade before returning again with Wonder Woman: Bloodlines (2019).
---