(Les Riviéres Pourpres)
---
Crew
Director – Mathieu Kassovitz, Screenplay – Mathieu Kassovitz & Jean-Christophe Grange, Based on the Novel Red Blood Rivers by Jean-Christophe Grange, Producer – Alain Goldman, Photography – Thierry Arbogast, Music – Bruno Colais, Visual Effects Supervisor – Christian Guillon, Mechanical Effects – Francois Otte & Jean-Pierre Trinquier, Makeup Effects – Denis Gastouet & Jean-Christophe Spadaccini, Production Design – Thierry Flamand. Production Company – Gaumont/Legende Enterprises/TFI Films.
Cast
Jean Reno (Commissioner Pierre Niemans), Vincent Cassel (Lieutenant Max Kerkerian), Nadia Fares (Fanny Ferreira), Karim Belkhadra (Captain Dahame), Didier Flamand (University Dean), Jean-Pierre Cassel (Dr Cherneze), Tonio Descanvalle & Olivier Rousset (Policemen), Dominique Sanda (Sister Andree), Christophe Bernard & Nicky Naude (Skinheads)
---
Plot
Special investigator Pierre Niemans arrives in the French mountainside town of Guernon to investigate a case where the body of the librarian from the town's university has been found hung several hundred feet up in a glacier after having been tortured and his eyes and hands removed. At the same time in the nearby town of Sarzac, while engaged in two routine investigations – the apparent desecration of a cemetery by a group of skinheads and a break-in to the records room at the local school – detective Max Kerkerian finds that the two cases are connected by a young girl who may or may not have been killed in an accident on the highway. Niemans finds other bodies, each of which he believes seems to hold a clue where the killer is trying point him somewhere. Soon both investigations coincide at the Guernon university, a conservative and insular establishment that they discover houses a secret eugenic breeding program that is being used to create geniuses.
---
In 2000, both The Crimson Rivers and the arthouse hit With a Friend Like Harry (2000) emerged from France and proved to be strong and stylish returns to the psycho-thriller. The psycho-thriller was a genre that has waned in France since the 1950s and the heyday of greats like Henri-Georges Clouzot of Les Diaboliques (1955) and Georges Franju of Eyes Without a Face (1959), with only occasional moments of sporadic interest from people such as Claude Chabrol. Both The Crimson Rivers and With a Friend Like Harry were made by young directors who display more than an eagerness to look to Hollywood models and pacing, as well as in Crimson Rivers' case, to international name appeal.
The Crimson Rivers is a French Se7en (1995). Well that is the comparison a number of kneejerk critics made, yet while Crimson Rivers does have an undeniable debt of gratitude in Se7en's direction, it has a good deal more originality than merely being a slavish copy. It sweeps an ambitious plot – more a double plot that eventually dovetails together. Director Mathieu Kassovitz whips this around a number of exciting dramatic flourishes and scenes that have been staged for visual impact. There are a few points that are never satisfactorily resolved or explained by the end – it is never clear, for instance, whether it was the university or the killer who did the desecration and school break-in. Why did they choose twenty years later to cover up the evidence? Or why for that matter did they use one victim's Lada?
Mathieu Kassovitz directs with a great deal of style. The film is staged with a bold eye toward the landscape, with the camera sweeping away to show mountains hanging over the township and Kassovitz taking trips up to the mountain-top and even down into the interior of a glacier. There are some strong shock images of mutilated and crucified corpses. There are times when Kassovitz throws in stock action scenes – a car chase and a particularly gratuitous martial arts sequence – that seem contrived and unnecessary in trying to generate drama. There are however other set-pieces that are good and gripping – a shootout with a hooded figure who has Jean Reno at gunpoint and a hair-raising climactic fight in the face of an oncoming avalanche.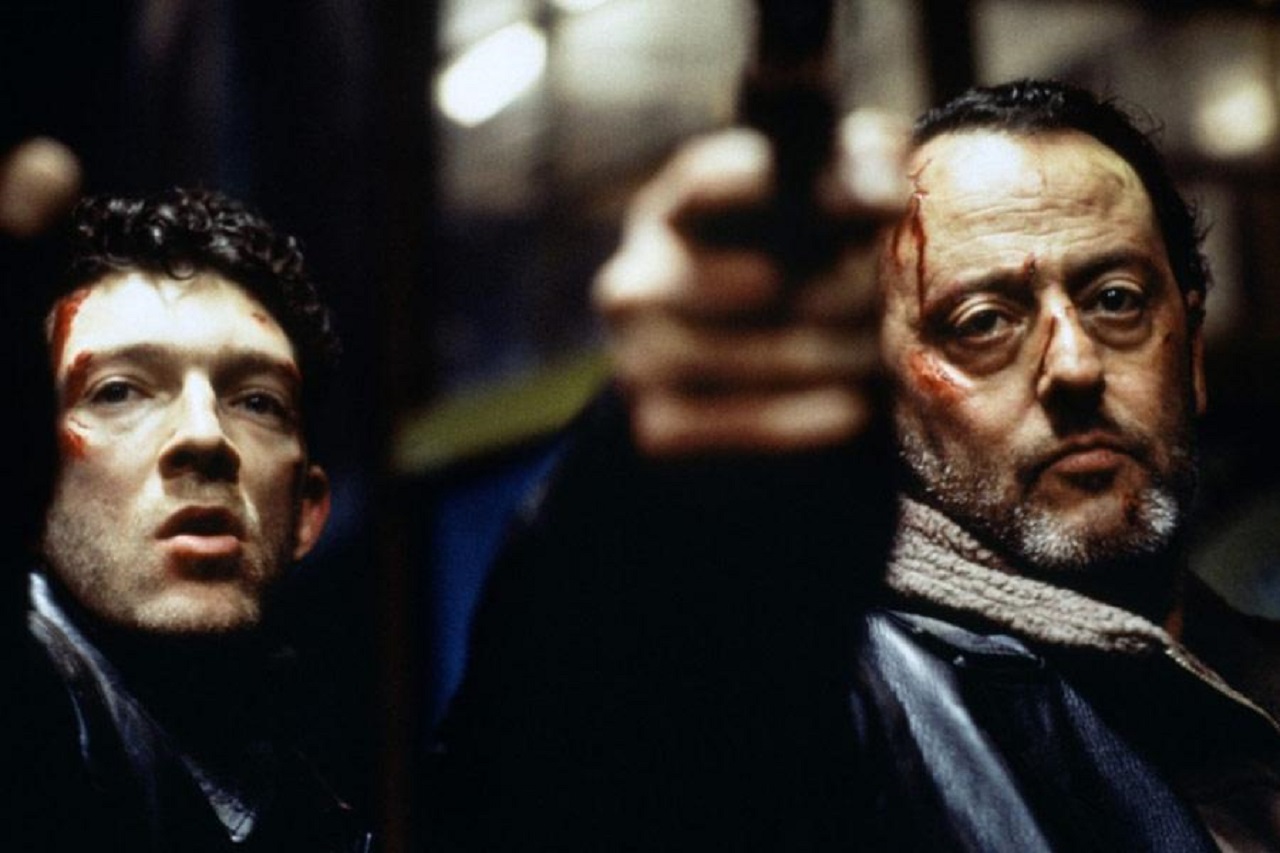 Mathieu Kassovitz casts Jean Reno, who gives an always reliable performance of weatherbeaten charm. Indeed, The Crimson Rivers could give the impression that ruffled and unshaven might be a mandatory dress code for all French detectives. Vincent Cassel is cast as the secondary cop, a part where he contrasts handsome Hollywood looks with a volatile intensity. It is a performance where Cassel exudes a sharp charisma that overshadows if not even eclipses the presence of Jean Reno.
Crimson Rivers II: Angels of the Apocalypse (2003), was a disappointing sequel that featured a return performance from Jean Reno and was written by no less than Luc Besson. The film later underwent a reworking as the tv series The Crimson Rivers (2018- ) starring Olivier Marchal as Niemans.
Director Mathieu Kassovitz first gained attention with his second film La Haine (1995), concerning itself with violence in French minority neighbourhoods. He was next brought to Hollywood to helm the Halle Berry ghost story Gothika (2003) and went onto make the Cyberpunk film Babylon A.D. (2008) and the historical film Rebellion (2011).
---
---