---
Crew
Director/Music – Rich Ragsdale, Screenplay – Kevin O'Sullivan & Jason Chase Tyrrell, Story – Kevin Ragsdale & Rich Ragsdale, Producers – Veronica Radaelli & Kevin Ragsdale, Photography – Pier Luigi Malavasi, Visual Effects – Tunnel Post (Supervisor – Giuseppe Squillaci), Special Effects – Chris Bailey & Anthony Delzio, Makeup Effects – Vincent Van Dyke Effects, Production Design – Thongchai Sittirak. Production Company – KNR Productions.
Cast
James Landry Hebert (Jim), Scout Taylor-Compton (Julie Richardson), Michael New (GoGo), Mark Boone Junior (Reno), Russell Geoffrey Banks (Robert), Richard Gray (Billy), Elana Krausz (Gwen), Kevin Ragsdale (Cal)
---
Plot
American couple Jim and Julie arrive in Bangkok on holiday. Julie becomes fascinated with taking photographs of ghost houses – a local custom of building small structures outside a home to distract malevolent spirits from entering the rest of the house. At the hotel, they meet two British guys, Robert and Billy, who take them out on the town. The two guys then insist on showing them a cemetery for dead ghost houses. There Robert places Julie's scarf in one of the houses and flees just as a spirit emerges to attack her. As a terrified Julie comes under assault by malevolent supernatural forces, Jim tries to find a way of banishing the spirits before Julie's soul is lost.
---
Ghost House was the second feature film from Rich Ragsdale, an American filmmaker who had previously made the feature-length The Ghost of El Charro (2005) and a host of short films. Ragsdale pays the bills as an editor and musician. He and his brother Kevin manage the Venice, California-based KNR Productions, which operates as a producing and distributing facility.
With Ghost House, Rich Ragsdale took his production to Thailand to shoot. This is a location that has emerged in the latter half of the 2010s as a cut-price locale for low-budget filmmakers such as James Cullen Bressick, Pearry Teo and The Asylum to travel and shoot. According to Ragsdale, this is because costs are low and it offers good production services and a variety of diverse locations.
Ghost House emerges as a fair variant among these mostly cheap other Thai-shot films. Rich Ragsdale captures an authentic feeling of Thailand from the clubs to the private rituals to incorporating the actual idea of Thai spirit houses (which are usually more innocuous places in real life where householders leave food offerings in the hope that good spirits will stay and keep away more malevolent ones). The film becomes quite spooky once it finds its feet and Ragsdale does a reasonable job accruing atmosphere and having eerie things happening. In the end, there is nothing the film does that is truly standout but the atmosphere and spookiness engendered is better than average.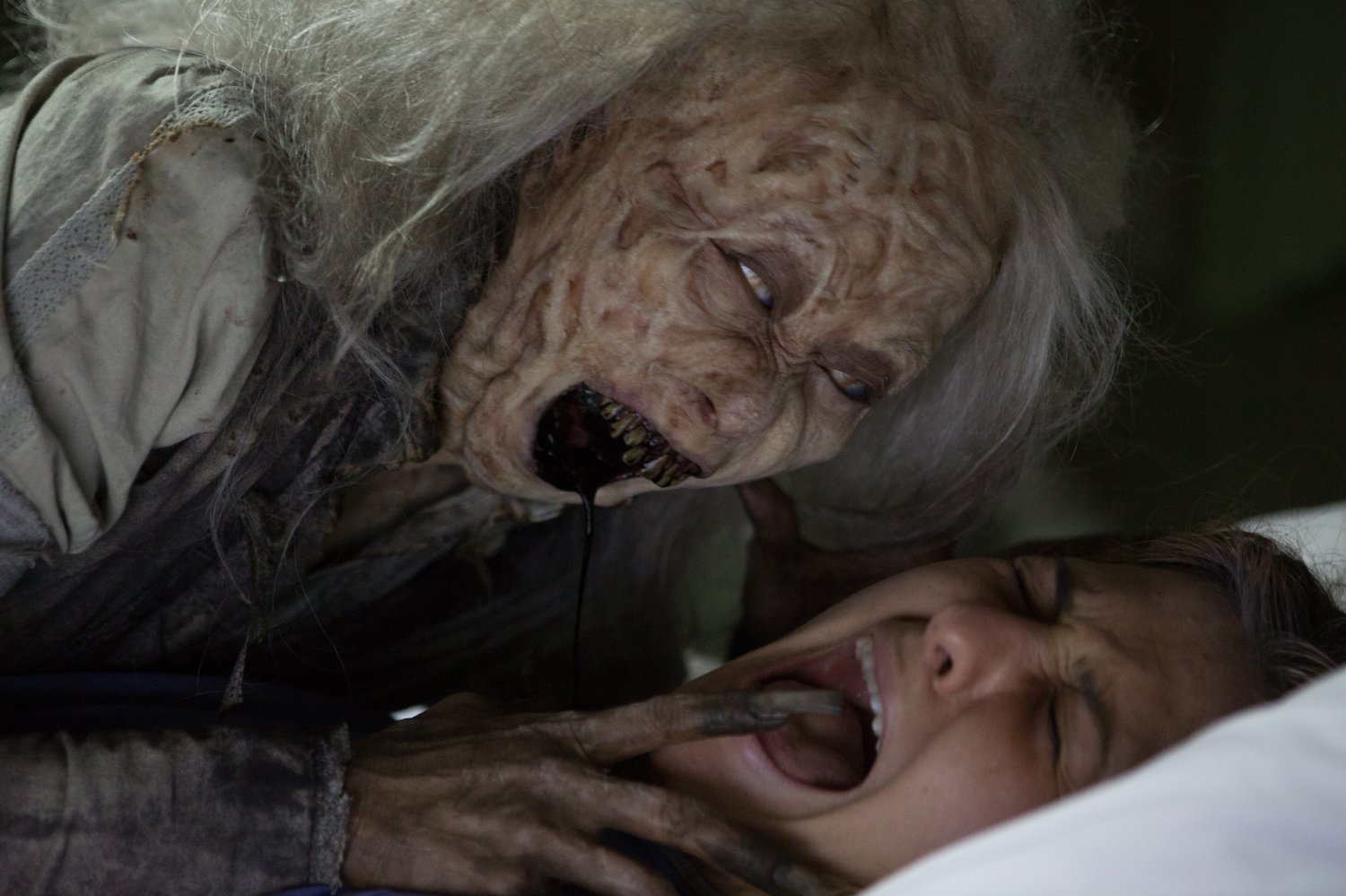 The film headlines Scout Taylor-Compton who promoted as a Scream Queen at the time of her appearance as Laurie Strode in Rob Zombie's Halloween (2007) and Halloween II (2009). Taylor-Compton subsequently went on to various other roles in genre films such as April Fool's Day (2008), 247oF (2011), 7500 (2014), Feral (2017) and The Lurker (2019).
The disappointment of the show is that Scout Taylor-Compton becomes sidelined as soon as she is infected by the ghostly presence. The character who becomes more prominent is her boyfriend, played by the lesser known James Landry Hebert, an actor who has been bubbling under in minor roles. Hebert is an interesting choice, an actor who does not exactly shout out leading man heroism, nevertheless holds up well in the role.
Rich Ragsdale and Scout Taylor-Compton later reteamed for another horror film The Long Night (2022).
---
---