---
Crew
Director/Screenplay – Maria Lease, Story – Maria Lease, Rod Nave & Peter Sutcliffe, Producer – Daniel Cady, Photography – Eric D. Andersen, Music – Mark Snow, Visual Effects Supervisor – Alan G. Markowitz, Visual & Dolly Effects – Prime Filmworks, Inc., Dolly & Makeup Effects – Michael Burnett Productions, Production Design – W. Brooke Wheeler. Production Company – Dolly Dearest Productions.
Cast
Denise Crosby (Marilyn Read), Sam Bottoms (Eliot Read), Rip Torn (Professor Karl Resnick), Chris Demetral (Jimmy Read), Candy Hutson (Jessica Read), Lupe Ontiveros (Camilla), Enrique Renaldo (Estrella), Will Gotay (Luis), Alma Martinez (Sister Alva), Luis Cortez (Peter)
---
Plot
Eliot Read, his wife Marilyn and their two children relocate from Los Angeles to Mexico. Eliot has brought an old doll factory and is intending to set it up to produce his Dolly Dearest line of dolls. Meanwhile, an archaeologist has uncovered a tomb in the mine adjoining the factory. Doing so has inadvertently unleashed a spirit that enters the factory to inhabit the dolls. The Reads' young daughter Jessica takes one of the dolls home and becomes attached to it. Marilyn soon begins to believe that the doll has caused Jessica's personality to change. As visiting archaeologist Karl Resnick uncovers, the tomb belonged to the ancient devil-worshipping Sanzia people and an unleashed devil child spirit now inhabits Jessica's doll.
---
There has been a long cinematic legacy about evil and possessed dolls. This goes all the way back to the famed Ventriloquist's Dummy segment of the British horror anthology Dead of Night (1945) and has included other works such as Devil Doll (1964), Magic (1978), Black Devil Doll from Hell (1984), Dolls (1987), Demonic Toys (1992), Dead Silence (2007), Annabelle (2014), Robert the Doll (2015) and sequels, and Goosebumps 2 (2018), For a more detailed listing of these see Dolls and Puppets.
At the time it was made, Dolly Dearest would have been construed as a direct copy of Child's Play (1988), which had enjoyed some reasonable success, and had produced two sequels Child's Play 2 (1990) and Child's Play 3 (1991). (The latter was released only two months before Dolly Dearest). The plot in both Dolly Dearest and Child's Play are very similar – a child becomes attached to a possessed doll that starts to kill all and sundry. There are different explanations – a devil worshipping early Mexican people here as opposed than a serial killer swapping his soul into a doll – but little in terms of what happens. The most noticeable difference is that Dolly Dearest conducts a gender flip, giving us a young girl with a female doll.
In all regards, Dolly Dearest is routine. Every scene comes with dull and prosaic directorial set-ups where you can easily predict everything that is going to happen in advance and there are zero surprises when exactly that happens. For the most part, the doll looks ordinary and none too threatening, although it does develop an evil face in the latter scenes (where the doll is clearly played by a midget or child). There are prize lines of bad dialogue – at one point, Denise Crosby determinedly states "Damnit, I am not losing my daughter to a 900-year old goathead."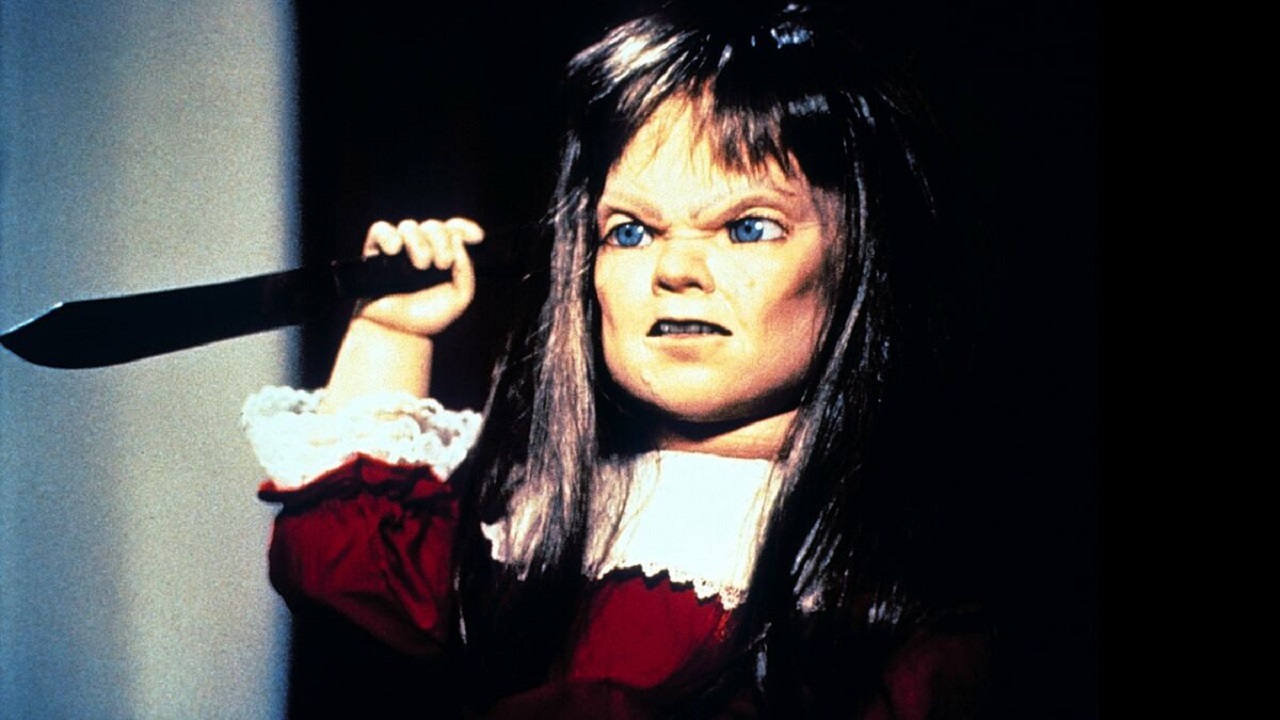 The film at least has an interesting cast. Denise Crosby came to fame on the first season of Star Trek: The Next Generation (1987-94) and then promptly quit but the film career she clearly expected to happen never did with her ending up in fodder like this in short course. Rip Torn was a classic actor with multiple nominations and wins at the major awards. You wonder what he is doing here in a nothing role as a local professor where his character seems to slip between being Caucasian and adopting a Mexican accent.
This was the only film directed by Maria Lease, although she had made a half-dozen porn films under pseudonyms. Lease has also worked as an actress, including appearing in several Al Adamson films, the first Nazisploitation film Love Camp 7 (1967), plus a number of adult roles, Since the 1970s, Lease has worked as a script supervisor. Lease devised the story with Rod Nave and Peter Sutcliffe, the latter presumably being unrelated to the Yorkshire Ripper.
---
Trailer here
---