---
Crew
Director – James Wan, Screenplay – Leigh Whannell, Story – James Wan & Leigh Whannell, Producers – Mark Burg, Gregg Hoffman & Oren Koules, Photography – John R. Leonetti, Music – Charlie Clouser, Visual Effects – Mr. X, Inc. (Supervisor – Aaron Weintraub), Special Effects Supervisor – Warren Appleby, Makeup Effects – AFX Studio (Prosthetics Designer – Francois Dagenais), Production Design – Julie Berghoff. Production Company – Burg-Koules-Hoffman.
Cast
Ryan Kwanten (Jamie Ashen), Donnie Wahlberg (Detective Lipton), Bob Gunton (Edward Ashen), Michael Fairman (Henry Walker), Amber Valletta (Ella Ashen), Laura Regan (Lisa Ashen), Joan Heney (Marion Walker), Judith Roberts (Mary Shaw)
---
Plot
Jamie Ashen is puzzled to receive an anonymous parcel in the mail, which turns out to contain a ventriloquist's dummy named Billy. Jamie steps out the apartment for a few moments and returns to find his wife Lisa murdered. Suspected of being the killer by police, Jamie returns to his hometown of Raven's Fair in search of who sent the dummy. He is intrigued by a creepy old rhyme from his childhood concerning a Mary Shaw after finding her name on the label in the dummy's case. He learns the truth behind the story of Mary Shaw, a ventriloquist who was taunted by the townspeople until she lost her voice. When she died, she asked to be buried with her 100+ dolls. Jamie realizes that Mary has now come to life through Billy and the dolls and is using them to take revenge on the people of Raven's Fair.
---
Director James Wan, along with his co-writer and actor Leigh Whannell, made a debut with Saw (2004) that caused people everywhere to sit up and pay attention. Saw was one of those lightning-strikes once miracles, a low-budget chance given to two friends in their twenties on the back of an 8-minute short film promo they had financed themselves. Of course, Saw became a worldwide hit and spawned an industry of sequels. Wan and Whannell dutifully oversaw these from an executive producing and occasionally writing capacity, even though none of them came anywhere near the torturous suspense of the original. It took three years before James Wan returned to the director's chair. In 2007, he made up for his absence by doing double time as director of first Dead Silence and then the Kevin Bacon revenge film Death Sentence (2007).
Rather than more psychological suspense and torturous grimness a la Saw, Dead Silence is a change of pace where James Wan and Leigh Whannell take up the old theme of the possessed ventriloquist's doll(s). This has had a long cinematic history, going back to The Great Gabbo (1929), the classic Ventriloquist's Dummy segment of Dead of Night (1945), Devil Doll (1964), Magic (1978) and Goosebumps (2015), as well as episodes of The Twilight Zone (1959-63). The recurrent theme in these is the creepy relationship between the ventriloquist and his dummy, with most seeing the dummy as having its own personality and/or controlling the ventriloquist.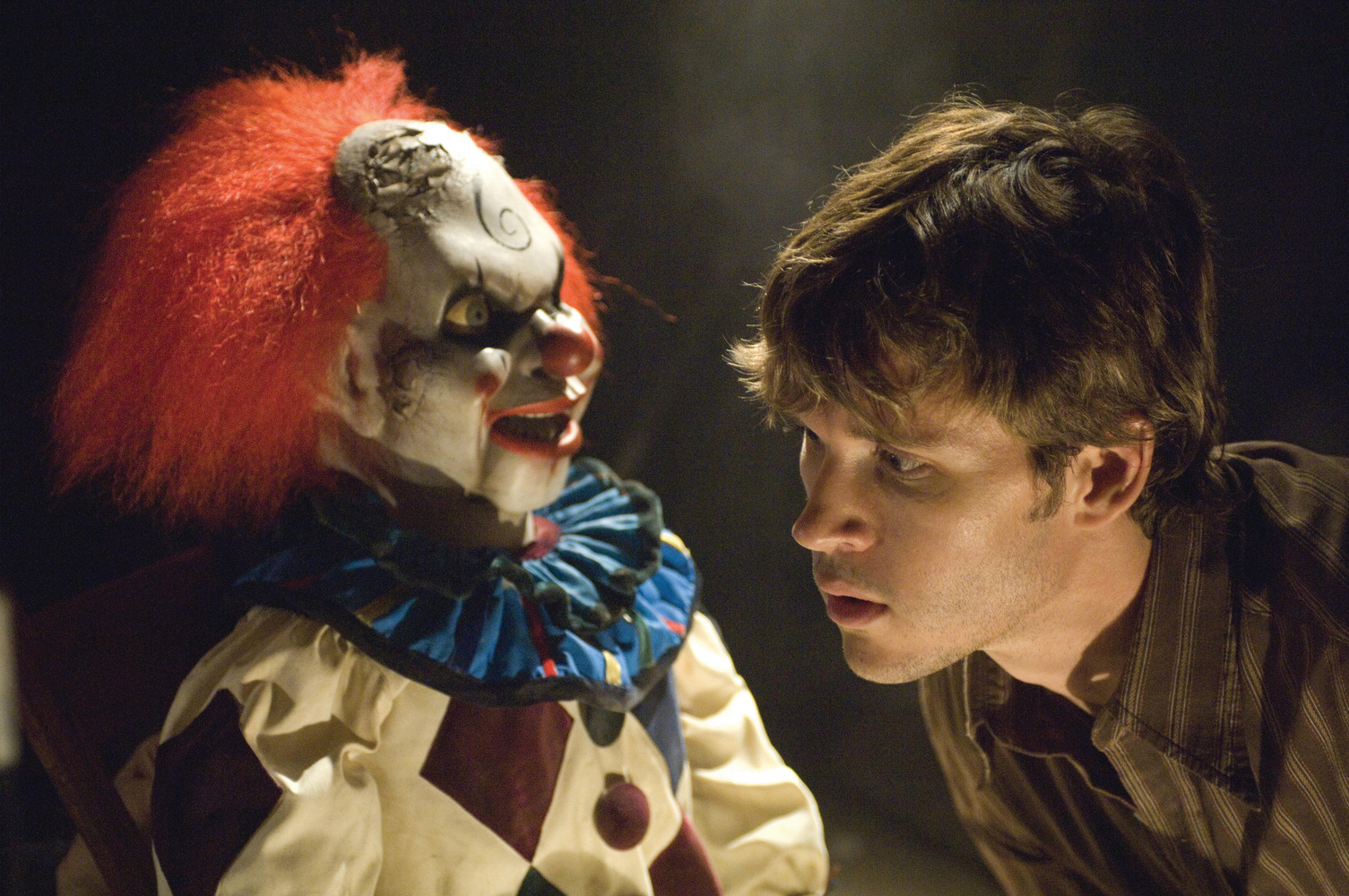 Coming on the back of Saw and as James Wan's second horror film, Dead Silence arrived with a great deal of buzz and anticipation. Wan does not disappoint. There is a most effective opening where Ryan Kwanten and Laura Regan receive the dummy as a present, she places it in bed as a joke while he steps out to the store, only for her to be attacked and dragged through the door by something unseen (presumably the dummy) and he to return to hear her supposedly calling to him then finding her mutilated body under the sheet in exactly the same position as she placed the dummy.
Throughout Wan creates a maximum number of creepy shots where the dolls' eyes and heads turn into frame or where they have moved when people turn their backs. These are cliche shots of the possessed ventriloquist's dummy genre but James Wan plays them out with much in the way of sinister effect. There are a number of scenes when Wan makes one jump in our seats – the dummy prowling around Ryan Kwanten's car and abruptly pressing up against the window; or the sudden attack on Michael Fairman after he ventures down into the cellar.
The creepiest scene of all is when Ryan Kwanten and Donnie Wahlberg venture into the old theatre and find all the dolls lined up and see their heads turning one after the other; and then encounter a doll sitting on the chair and whispering to them with Mary Shaw's voice (although the considerable creepiness of the scene is then ruined by the addition of CGI faces appearing out of the dolls and Donnie Wahlberg shooting at them).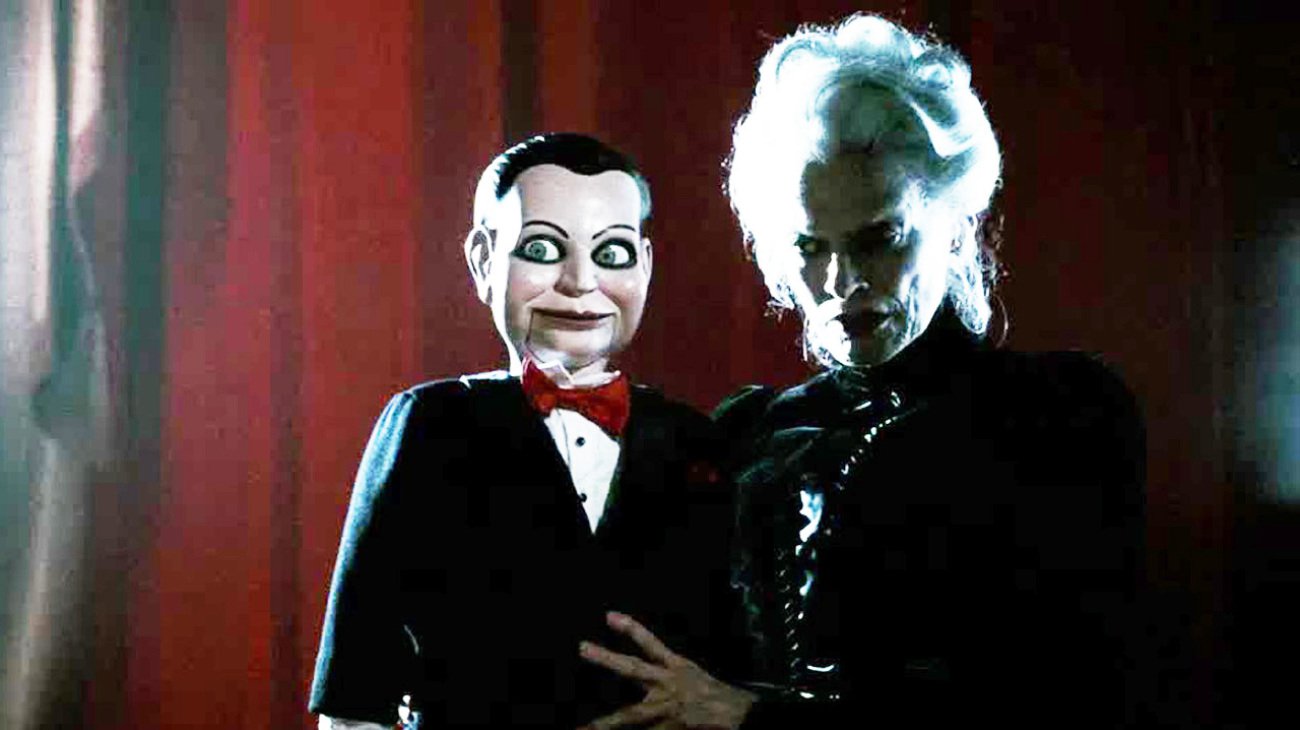 On the other hand, Dead Silence is also disappointing. It feels more like a well-polished generic horror film rather than anything that stands up to the grim psychological suspense that Saw held. There is the feeling that James Wan is less dragging things out to unbearable extremes than he is delivering potted jumpshock set-pieces fairly much like any horror film director. Certainly, his scares stand out well above the average but canned shrieks and loud noises on the soundtrack they still seem.
This also brings one to the ending. [PLOT SPOILERS]. There is certainly an effectively grotesque twist the film goes out on as it reveals that Ryan Kwanten's father Bob Gunton is no more than a hollowed-out torso and face being controlled as a puppet by Mary/Ella. However, one failed to understand some of the subsequent unveilings. What does the clown possessed by Mary Shaw mean when it says "it had an Ashen inside her" when she died – presumably this is some reference to pregnancy but the issue is not made clear in terms of explaining who it was to and how this led to revenge against the Ashen family and town. If Jamie's father (Bob Gunton) is a puppet controlled by Mary as revealed by the end, why did he send Jamie away for his own protection when Mary wanted to kill Jamie to complete her revenge scheme? If Mary was seeking revenge against the people of Raven's Fair then why does she kill Jamie's wife (Laura Regan) as well? Dead Silence is one of those films that only works in terms of forward momentum and fails to make much sense once its surprises are revealed.
Ryan Kwanten is one of the most blank and colourless leading performers that one has seen in a film in some time, although he did improve considerably subsequent to this as a regular on tv's True Blood (2008-14). Laura Regan gives a far more lively performance in her few minutes on screen at the start as his wife than anything Kwanten does throughout.
James Wan subsequently went onto make the haunting/astral projection film Insidious (2010), the true-life haunting/possession film The Conjuring (2013), Insidious Chapter 2 (2013), The Conjuring 2 (2016), Aquaman (2018) and Malignant (2021). He has also produced all of the Saw sequels, Annabelle (2014), Demonic (2015), Insidious Chapter 3 (2015), Lights Out (2016), Annabelle: Creation (2017), Insidious: The Last Key (2018), The Nun (2018), Annabelle Comes Home (2019), The Curse of La Llorona (2019), the tv series Swamp Thing (2019), The Conjuring: The Devil Made Me Do It (2021), Mortal Kombat (2021) and the tv series Archive 81 (2022- ).
---
---