---
USA. 1987.
Crew
Director – Stuart Gordon, Screenplay – Ed Naha, Producer – Brian Yuzna, Photography – Mac Ahlberg, Music Supervisor – Richard Band, Music – Fuzzbee Morse, Doll Effects – David Allen, John & Vivian Brunner & Giancarlo Del Brocco, Makeup Effects – Magical Media Industries (Supervisor – John Buechler), Production Design – Giovanni Natalucci. Production Company – Empire.
Cast
Carrie Lorraine (Judy Bower), Stephen Lee (Ralph Morris), Guy Rolfe (Gabriel Hartwicke), Hilary Mason (Hilary Hartwicke), Ian Patrick Williams (David Bower), Carolyn Purdy-Gordon (Rosemary Bower), Cassie Stuart (Enid), Bunty Bailey (Isabel)
---
Plot
David, his new wife Rosemary and his seven year-old daughter Judy are on holiday in England when their car breaks down. They seek refuge from a storm at the gloomy old mansion of the strangely genial dollmaker Gabriel Hartwicke and his wife Hilary. They are later joined by a man and two female hitchhikers he has picked up, he unaware that they are planning to rob him. As the night progresses, Gabriel's dolls come to life to take revenge on those who are mean and no longer child-like at heart.
---
Stuart Gordon had a cult hit with his debut feature, the splatter black comedy Re-Animator (1985) adapted from an H.P. Lovecraft short story. Dolls was Gordon's third released film, although was actually shot before his second film From Beyond (1986). Subsequently, Gordon went onto make the live-action Transformer film Robot Jox (1990), the vampire tv movie Daughter of Darkness (1990), the Edgar Allan Poe adaptation The Pit and the Pendulum (1991), the future prison film Fortress (1993), Castle Freak (1995), Space Truckers (1996), the Ray Bradbury adaptation The Wonderful Ice Cream Suit (1998), the Lovecraft adaptation Dagon (2001), the non-genre David Mamet adaptation Edmond (2005) and Stuck (2007) based on a bizarre true murder incident.
With Dolls, Gordon interestingly tries to make a horror film as a Brothers Grimm-styled morality play – Gordon admits he was inspired by the old Tod Browning-Lionel Barrymore The Devil-Doll (1936) about a revenge obsessed criminal turning his enemies into dolls. The question though, in taking on a child's eye tale, is can Stuart Gordon subsume his characteristically outrageous splatter style in order to adopt the careful atmosphere of both innocence and horror that all good children's stories have? The answer is – not entirely.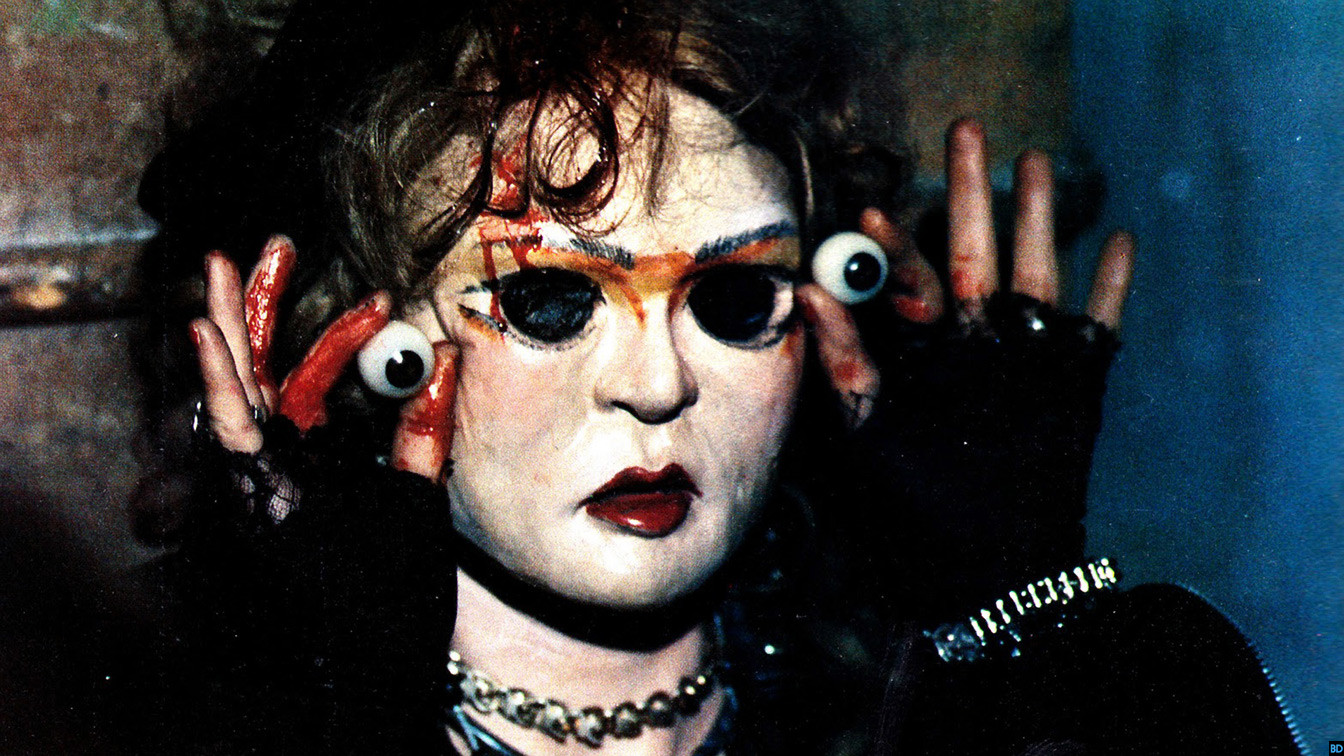 The film's sometimes effective child's eye outlook only serves as a preamble to Gordon launching into his customary gore effects. A gratuitous dream sequence near the start with Carrie Lorraine imagining a giant teddy bear tearing Carolyn Purdy-Gordon and Ian Patrick Williams apart signals the painful obviousness of Gordon's intent. The fairytale atmosphere constantly ends up being subverted by splatter effects. Moreover, any fairy-tale morality seems specious when it so obviously exists just to set up the adult characters as 'deserving victims'.
There are some undeniably effective sequences – Carolyn Purdy-Gordon pulling aside the bedsheets to reveal hundreds of dolls that then start trying to saw through her ankles with tiny hacksaws; the revelation of Bunty Bailey turned into a human doll, her head lolling over and her eyes dropping out; the formation of the toy soldiers and their slow-motion shooting of Cassie Stuart.
Atmosphere is built early on with doll's faces glimpsed suddenly turning, which has a certain creepiness, although this is later abandoned, far less effectively, for the full glimpses of the dolls, which are then revealed as spottily animated and with frequently visible wires. Richard Band conducts a good creepy child-like score, particularly during the opening credits.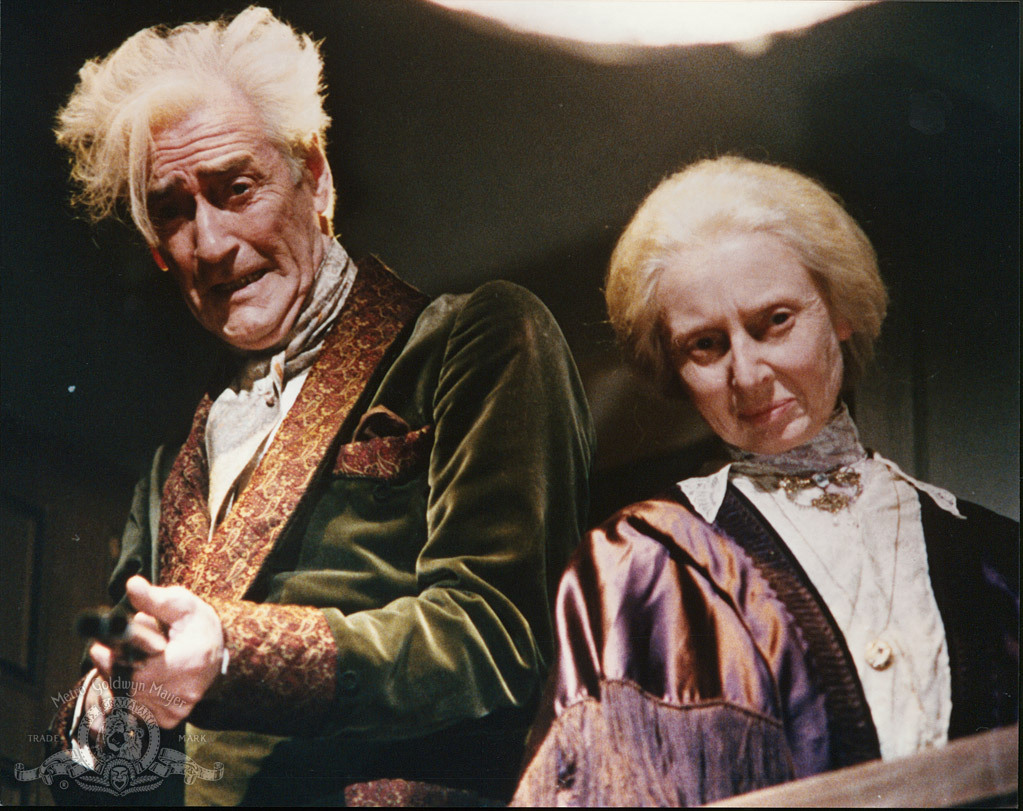 Guy Rolfe and Hilary Mason are well cast, effortlessly oscillating back and forward between kindly and sinister. Everybody else takes the opportunity to overplay, most criminally being Bunty Bailey and Ian Patrick Williams. Of the over-actors, the only one with any class is Carolyn Purdy-Gordon who gets into her superbitch role with relish.
In retrospect, Dolls' greatest distinction seems to be that it is a precursor to the mid 1980s run of possessed doll films with Child's Play (1988) and sequels. Charles Band has made a number of other efforts on doll themes such as Puppetmaster (1989) and sequels and other oddities such as Dollman (1990), Demonic Toys (1992) and sequels, and Blood Dolls (1999). Surprisingly though, Band never sequelised Dolls.
---
Trailer here
---