---
Crew
Director – Kevin Lewis, Screenplay – G.O. Parsons, Producers – Nicolas Cage, Grant Cramer, Jeremy Daniel Davis, Bryan Lord, Mike Nilon & David Ozer, Photography – David Newbert, Music/Lyrics – Emoi, Visual Effects – Base FX (Supervisor – Shad Davis), Makeup Effects – SOTA F/X.Inc (Supervisors – Roy Knyrim) & Cindy Miller-Knyrim), Creature Designer/Supervisor – Kenneth J. Hall, Production Design – Molly Coffee. Production Company – Landmark Studio Group/Baffin Media Ltd/Saturn Films/JD Entertainment/Landafar Entertainment.
Cast
Nicolas Cage (The Janitor), Emily Tosta (Liv), Beth Grant (Sheriff Lund), Ric Reitz (Tex Macadoo), Chris Warner (Jed Love), Kai Kadlec (Chris), Caylee Cowan (Kathy), David Sheftell (Evan), Jonathan Mercedes (Dan), Terayle Hill (Bob), Christian Del Grosso (Aaron)
---
Plot
A man who never speaks is driving through the countryside when his tires are punctured by a road trap outside of the town of Hayesville. He faces a $1000 bill for repairs but the repair shop only accepts cash. He is offered an overnight job offered cleaning up Willy's Wonderland, a defunct amusement arcade, in return for which his car will be fixed. As the man starts to work, he is forced to fight off the animatronic figures in the arcade as they come to life. Meanwhile, the teenage Liv is locked up by the sheriff but is freed by her friends and sets out to torch Willy's Wonderland. When she realises the man he is locked inside, Liv breaks in to rescue him. She is joined by her friends after they fall in through the roof. What they do not realise is that the animatronics are possessed by the spirits of a serial killer and his associates who created the arcade and that the locals have conducted a devil's deal to deliver sacrifices to them.
---
The Nicolas Cage film of the 2010s and beyond has become a bizarre thing to behold. It is almost as though Cage has decided to heck with a respectable career, he is making a pitch for Psychotronic audience and is out to choose roles that allow him to give the most whacked, deranged performance he can. These include everything from "quick, gimme the paycheque" roles in the likes of Left Behind (2014), Pay the Ghost (2015), The Humanity Bureau (2017) and Jiu Jitsu (2020), to far more demented oddities like Mom & Dad (2017), Between Worlds (2018), Mandy (2018), Color Out of Space (2019), Pig (2021), Prisoners of the Ghostland (2021) and The Unbearable Weight of Massive Talent (2022). I thought at one point he might be grabbing for any role offered to him because of him overdue tax or alimony bill but I've realise the truth is that Cage just likes doing these offbeat roles.
Willy's Wonderland received some anticipation for the wildness of its premise – "Nicolas Cage fights off an amusement park of evil animatronics". That said, the film arrived as a damp squib – it was announced for a theatrical release but ended up being dumped to streaming services. People more into videogames than I have pointed out the similarity to Five Nights at Freddy's (2014) and sequels, a game in which a security guard must fight off a series of evil animatronics that come to life. A very similar idea was recently conducted in The Banana Splits (2019), based on an actual 1960s Hanna-Barbera tv series, which was given a horror movie spin where the original talking animal characters become animatronic robots that go on a murderous killing spree.
Willy's Wonderland is carried by the ridiculous novelty of its premise – seeing Nicolas Cage beating the crap out of a series of sinister animatronic robots. The downside that rapidly becomes apparent in watching the film is that that is all it consists of. There is an extremely sketchy background explanation involving satanic rituals where a serial killer and associates reincarnate their souls into the robots sort of akin to Chucky in Child's Play (1988), although why a serial killer would want to do that is not something the film delves into. But really there is nothing more to the film than the basic premise of watching Nic dish it out and beat several scraggly looking anthropomorphic animatronics into junk amid black spurts of oil as they die.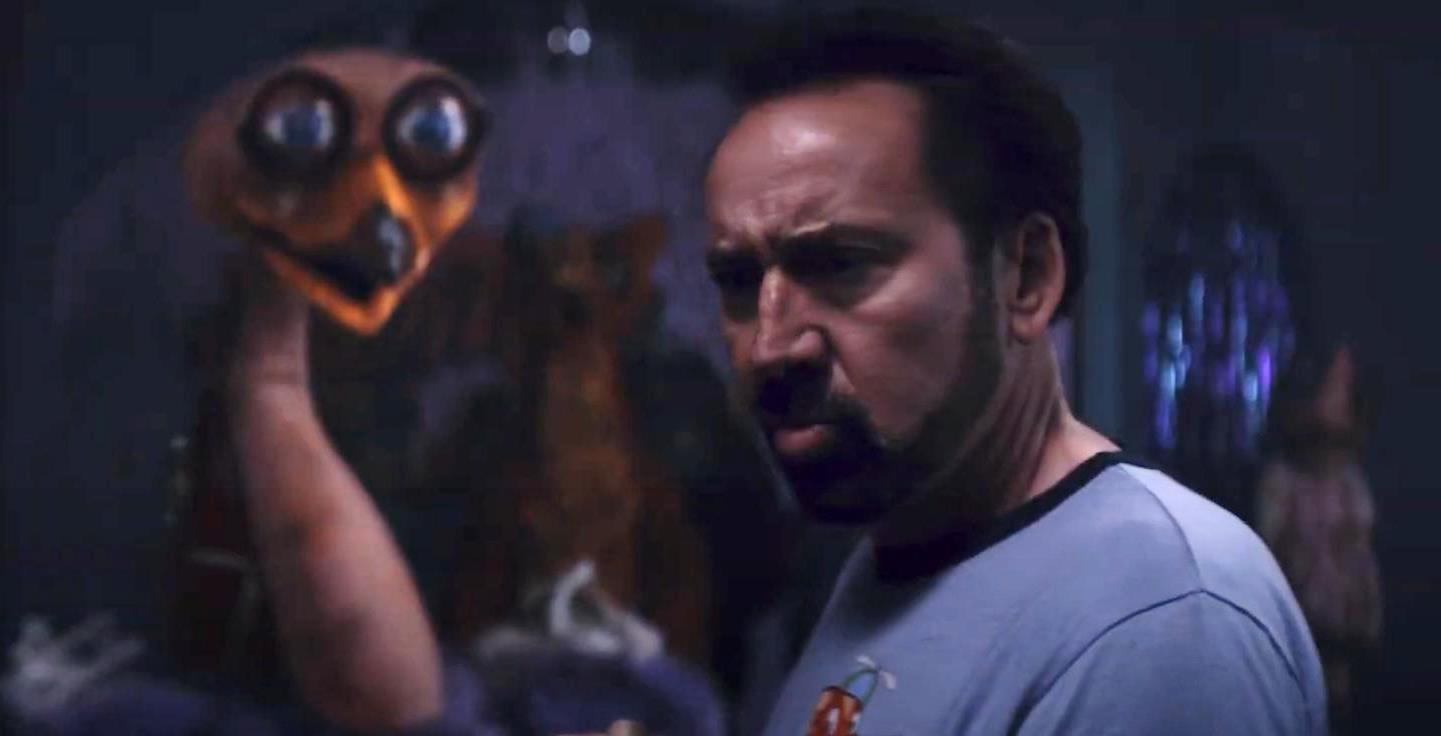 The film does have the bizarre novelty of Nicolas Cage giving an entire performance without speaking a word of dialogue. You go through the film and end up scratching your head and asking "why?" It seems to serve no particular function in the film, nor is the reason for this ever anything that is explained like us being told he is mute. The other oddity of Cage's performance seems to be the need to have the character consuming vast quantities of a drink called Punch. Quite why he does so is never made clear either but he seems to have to do so at regularly timed intervals – he even sets an alarm on his watch to remind him – whereupon he stops everything he does – including at one handing Emily Tosta a weapon to defend herself as she is being attacked by an animatronic – has to go off, consume several cans from the fridge and play a game of pinball before returning to the fray.
Director Kevin Lewis had only previously made a series of mid-range films including The Method (1996), Downward Angel (2001), Malibu Spring Break (2003), Dark Heart (2006) and The Third Nail (2007). The only of Lewis's films to fall into genre territory was The Drop (2006) with an interesting sounding synopsis in which the forces of heaven and hell pursue a man through a parking garage to get the contents of the trunk of a car.
---
Actors:
Nicolas Cage, Emily Tosta, Beth Grant, Ric Reitz, Chris Warner, Kai Kadlec, Caylee Cowan, David Sheftell, Jonathan Mercedes, Terayle Hill, Christian Del Grosso