---
Crew
Director – Jonathan Stryker [Richard Ciupka], Screenplay – Robert Guza Jr., Producer – Peter R. Simpson, Photography – Robert Paynter, Additional Photography – Fred Guthe, Music – Paul Zaza, Special Effects Supervisor – Colin Chilvers, Prosthetics – Greg Cannom, Production Design – Roy Forge Smith. Production Company – Simcom Productions.
Cast
John Vernon (Jonathan Stryker), Samantha Eggar (Samantha Sherwood), Linda Thorson (Brooke Parsons), Lynne Griffin (Patti O'Connor), Sandra Warren (Tara DeMillo), Lesleh Donaldson (Christie Burns), Anne Ditchburn (Laurian Summers), Deborah Burgess (Amanda Reuther), Michael Wincott (Matthew), Maury Chaykin (Monty), Calvin Butler (Dr Arthur Pendleton)
---
Plot
Top Hollywood actress Samantha Sherwood is committed to an asylum by her director Jonathan Stryker – only she is just faking her mental illness in rehearsal for the top role of Audra. However, she then reads the newspaper and realises that Stryker has abandoned her there and is holding auditions for the part of Audra with other actress. The six shortlisted actresses all journey up to Stryker's countryside mansion for the auditions. They are joined by Samantha who has broken out of the asylum and is fiercely determined to win the role. As Stryker begins the auditions, a masked figure moves through the grounds slaughtering the girls.
---
Curtains is one of the films from the great 1980s era of Canucksploitation. It never gained much of a high profile when it came out but makes for interesting viewing today. On one level, it is a standard slasher film from the era – although what it feels more like is an Agatha Christie murder mystery that has been drawn out to take advantage of genre fads. The film also comes with a surprising degree of meta-fictional playfulness and willingness to twist our expectations that makes it quite a bit more than the average slasher entry.
It is a film where director Richard Ciupka loves taking the opportunity to screw with our perceptions. In the opening scenes, Samantha Eggar is escorted by John Vernon to see a psychiatrist (Calvin Butler) where her initial calmness throughout the interview suddenly breaks into a fit of madness and she has to be restrained in a strait-jacket. John Vernon then asks for a private moment with her whereupon it is suddenly revealed that all of this is a ruse so that she can rehearse for a role (although part of you cannot help but think that this is something that surely takes Method Acting to a lunatic extreme).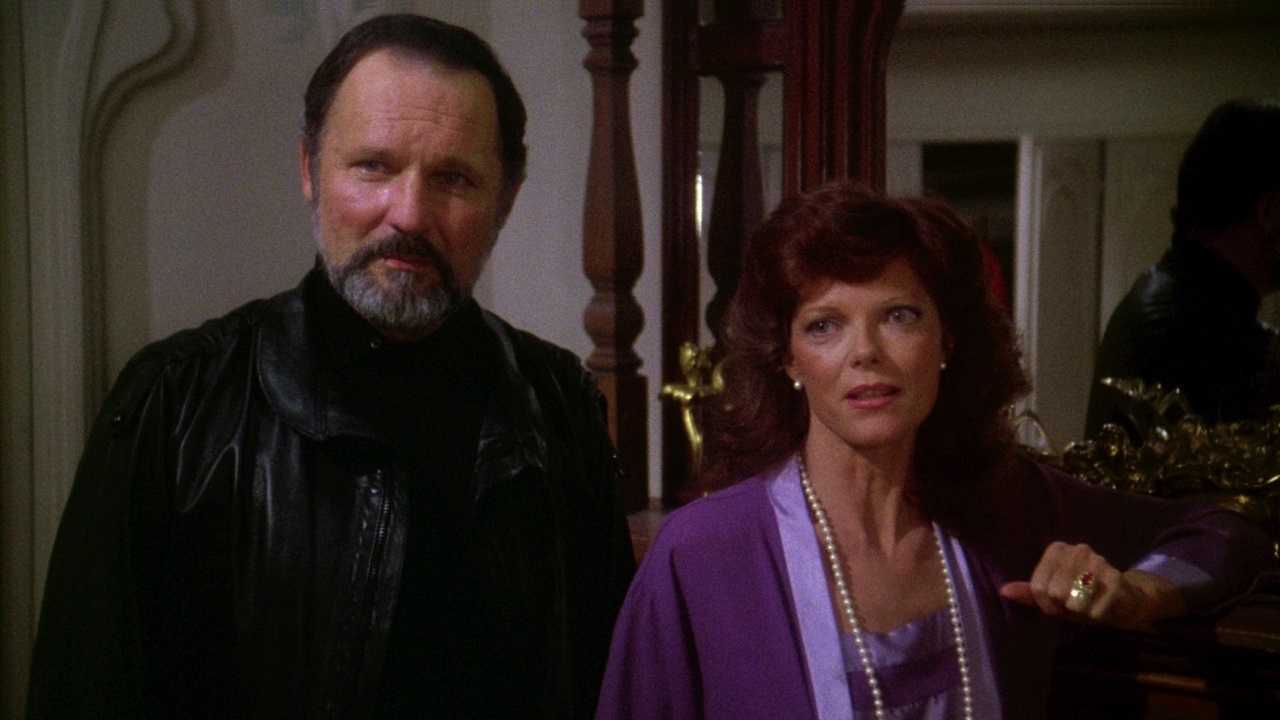 Later, this is twisted on its head when we hear John Vernon and Samantha Eggar arguing over abandoning her in the asylum but when the door is opened, they claim to merely be rehearsing lines from an old play. Not long into the film, we have what appears to be a standard slasher scene where Deborah Burgess is stalked in her apartment by a figure with a stocking over their head – only for this to be revealed to be a boyfriend playing a kinky game.
One of the appealing aspects of Curtains is its meta-fictionality. In following with the title, scene changes are often denoted by curtains falling across the screen. In one of the cuter aspects, the director's credit goes to Jonathan Stryker who is also the director played by John Vernon in the film. (In reality, this is Richard Ciupka, a Belgian director resident in Montreal. Ciupka began as a cinematographer with works that range from class acts like Atlantic City (1981) to the trashy Ilsa, The Tigress of Siberia (1977). He has directed a handful of other works, mostly for French-speaking Canadian tv but nothing else of note).
The film has a better cast than you might assume of the average slasher film. Indeed, this is an actor's film more so than it is a slasher film. The film has often been contrived around pieces that allow individual actors to show off and Stryker/Ciupka seems less interested in the slasher elements. These are competently drawn out but none particularly memorable. However, it is amongst its cast that Curtains shines.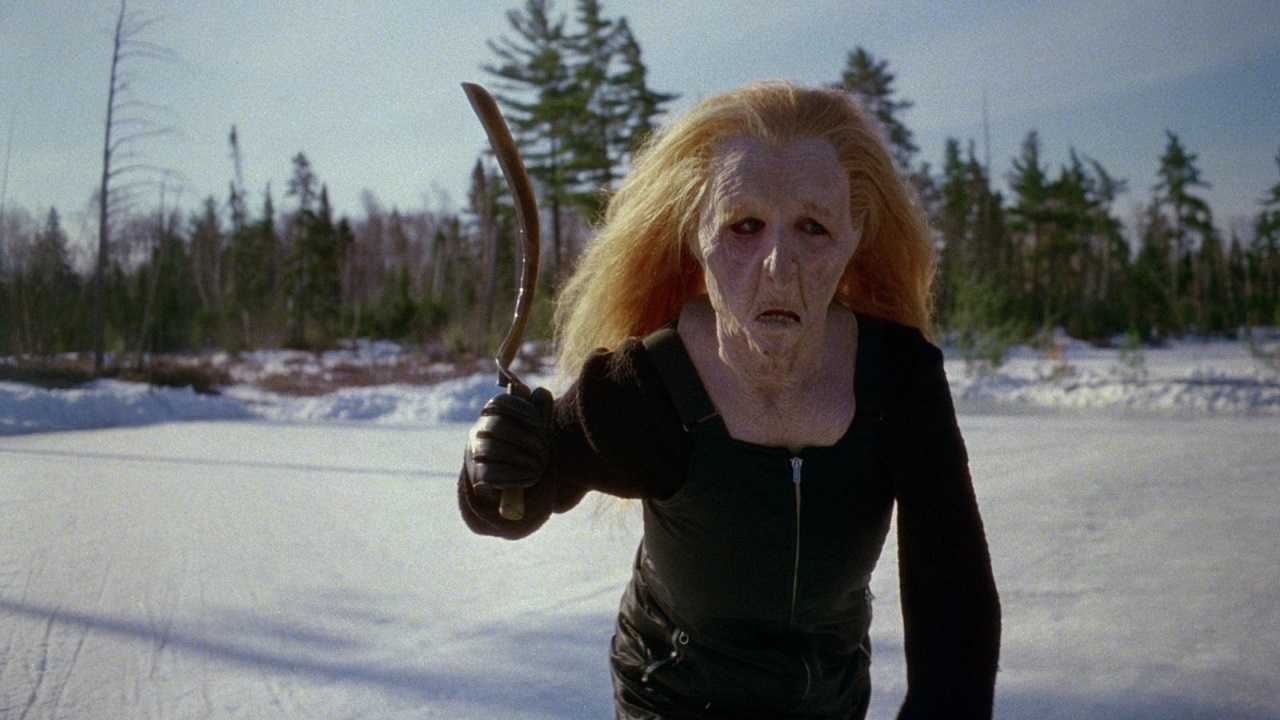 These include Samantha Eggar, a British actress who gained a name in the 1960s on stage and in high-profile film roles in The Collector (1965) and Doctor Dolittle (1967). She rediscovered herself in genre cinema in the late 1970s/early 80s – most notably David Cronenberg's The Brood (1979) – and seems to be having a field day with the role. There is also Linda Thorson who has become regarded fairly much as a snide trivia joke following her disastrous replacement for Diana Rigg in the final season of tv's The Avengers (1962-9). Here – in the opening scene too – she proves that she is capable of delivering something strong and effective.
John Vernon gives a wonderfully bullish performance. In roles ranging from Point Blank (1967) to Dirty Harry (1971) and National Lampoon's Animal House (1978) and hundreds of tv guest appearances, Vernon became typecast usually as a despotic petty authority figure. Here his amazingly domineering performance contains some great acting, particularly in the way he gets inside the various actresses – there is an amazing scene where he places an old hag's mask on Samantha Eggar and demands that she seduce him without using words. This is more to what he delivers here than most of the other supporting roles he had put together. You can also spot the then unknown Michael Wincott and Maury Chaykin in minor roles.
---
---