---
Canada. 2014.
Crew
Director/Screenplay – Jerome Sable, Producers – Ari Lantos & Jonas Bell Pasht, Photography – Bruce Chun, Music/Lyrics – Darren Batalion & Jerome Sable, Visual Effects – Intelligent Creatures (Supervisor – Geoff D.E. Scott), Special Effects Supervisor – Mark Ahee, Makeup Effects Design – David Scott, Production Design – Oleg Savytski, Choreography – Paul Becker. Production Company – Serendipity Point Films/Citizen Jones/XYZ Films/Telefilm Canada.
Cast
Allie MacDonald (Camilla Swanson), Meat Loaf Aday (Roger McCall), Brandon Uranowicz (Artie Getz), Douglas Smith (Buddy Swanson), Minnie Driver (Kylie Swanson), Ephraim Ellis (Sam Brownstein), Melanie Leishman (Liz Silver), Thomas Alderson (David Martin), Kent Nolan (Joel Hopton), James McGowan (Victor Brady), Oleg Penderecki (Eli Batalion), Adriana Di Liello (Lithpy), Steffi DiDomenicantonio (Bethany), Leanne Miller (Sheila Kelly), Chelsey Pozdyk (Whitney), Ryan Bobkin (Bobkin), Ella Querin (Young Camilla), Brian Bridger (Young Buddy)
---
Plot
Kylie Swanson is appearing on Broadway as the lead in 'A Haunting in the Opera' when a man wearing The Phantom's mask appears and kills her. Ten years later and Kylie's boyfriend/manager Roger McCall is running Center Stage, a summer camp where children can learn musical theatre. Kylie's two now teenage children Camilla and Buddy are his wards and work in the camp's kitchens. The camp's artistic director Artie Getz decides that he will put on a kabuki version of 'A Haunting in the Opera'. Camilla is determined to win the lead of Sophie, the role that her mother played, and sneaks into the auditions, wowing Artie and being selected despite not being one of the camp attendees. As rehearsals begin, Roger is behind on payments and has placed all his hopes on a big Broadway producer coming to the opening. Meanwhile, someone wearing the kabuki mask of The Phantom is lurking backstage and starts to slaughter members of the production.
---
A slasher musical? The mind kind of does a double-take when you try and process the idea. Finally, it feels as though the slasher film has reached the place that the zombie film did a few years ago by seeking creativity in the most bizarre genre crosshatches that people could dream up. Here the zombie genre ended up being colluded with everything from Shakespeare to Jane Austen, gangster films, ninjas, strippers, gay porn, Westerns, the American Civil War (and musicals too).
Stage Fright – not to be confused with Alfred Hitchcock's thriller Stage Fright (1950) or the giallo StageFright – Aquarius (1987) – sets out to cheerfully subvert expectations. Within the opening moments, we see a man being pursued by a masked killer down a darkened street. Minnie Driver then comes across them where her reaction is to unexpectedly burst into song, only for the camera to then pull back, revealing that this is a stage production. The next twist on expectation comes a few minutes later as Minnie Driver (the second most prominently highlighted name on the credits) is stabbed to death in her dressing room. When a film kills off its second lead only a few minutes in, it is clearly a work that is seeking to screw with convention and pull the carpet out from under the audience.
The rest of Stage Fright is never quite as clever in terms of its subversions of expectations than these opening scenes. The film sort of conducts a spoof of The Phantom of the Opera – more to the point, a spoof of the Lloyd Webber musical version of The Phantom of the Opera (1986) and takes place behind the scenes of a summer camp staging of what is clearly intended to be The Phantom in all but name. This allows some play between illusion and reality, especially when the film's killer takes to wearing the Phantom's white kabuki mask. There is also a climactic scene set up to quote the famous Carrie (1976) bucket of blood sequence. Compared to a work like Scream (1996) though, the degree of intertextuality and lack of quoting/spoofing of other films is surprisingly light.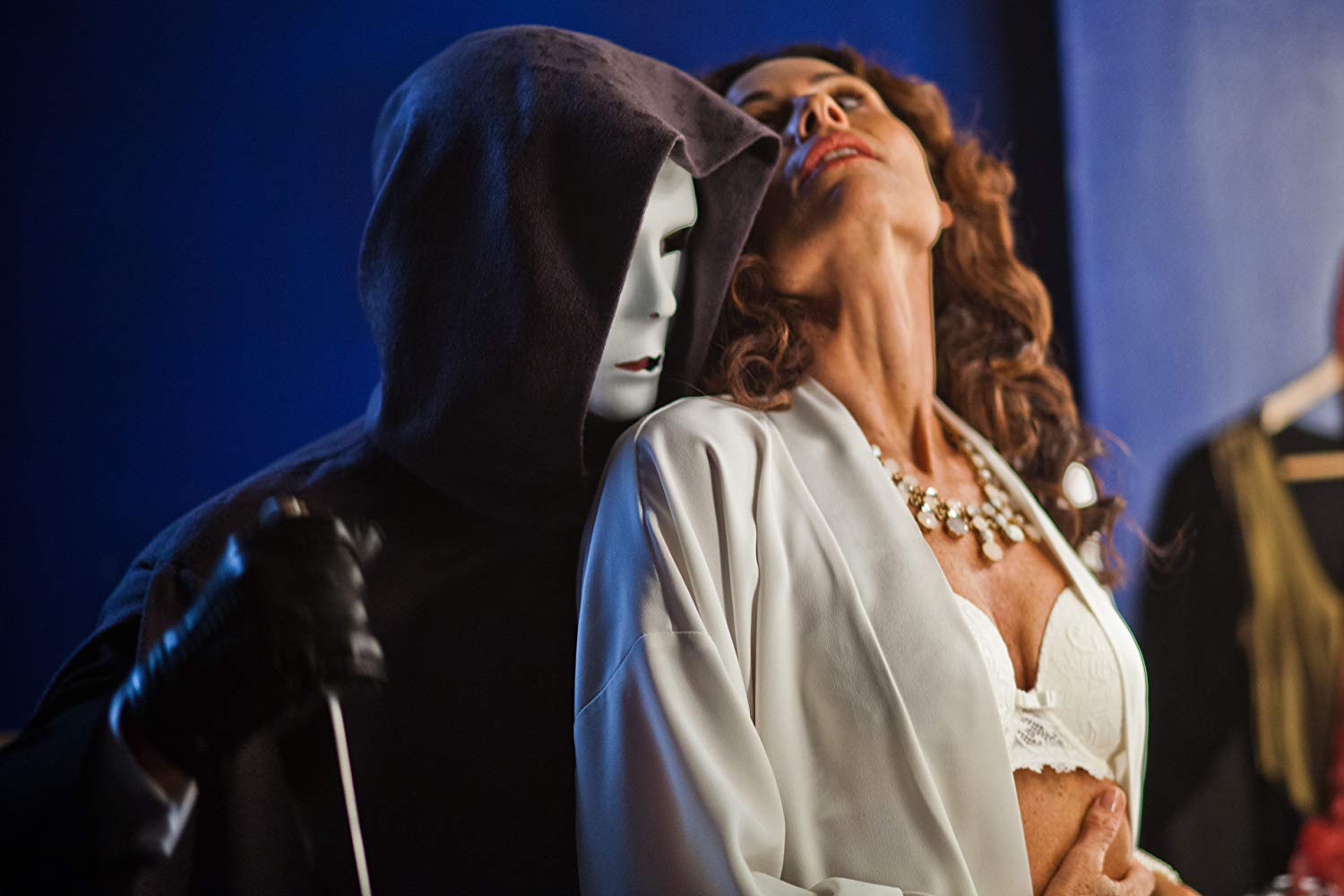 Usually with a genre bender like Stage Fright, one or more genre suffers or is rendered in an unserious way – think of something similar like Psycho Beach Party (2000). Here that is not the case and neither the slasher aspect nor the musical end up being compromised. The slasher elements are played seriously and get undeniably gory at times.
The film has its greatest fun when it comes to the musical elements, turning out a variety of witty numbers. All of the camp attendees' get standard musical ensembles and duets, while the killer's songs come as hard rock by contrast. Especially amusing among these is the camp's opening number, where everybody sings about how gay they are – although not in 'that way', excepting for those who chime in to protest that they really are gay.
The film is equally amusing when it comes to skewering the pretentions of those that typically inhabit summer theatre with there being some particularly funny characterisations in this regard. The film is clearly having fun, and often quite cleverly, yet undeniably delivers the goods when it gets down to being a slasher film.
Director/writer Jerome Sable makes his feature-length debut here after several shorts that all combined horror and musical elements. He next went onto make the V is for Vacation segment of ABCs of Death 2 (2014).
---
---