aka Hardcover
---
Canada. 1989.
Crew
Director – Tibor Takacs, Screenplay – David Chaskin, Producer – Rafael Eisenman, Photography – Bryan England, Music – Michael Hoenig, Visual Effects/Makeup – Randall Cook, Special Effects – Frank Ceglia, Production Design – Matthew Jacobs & Don Wilson. Production Company – TransWorld Entertainment.
Cast
Jenny Wright (Virginia Clayton/Anna Templar), Randall William Cook (Malcolm Brand/Dr Kessler), Clayton Rohner (Detective Richard Channing), Stephanie Hodge (Mona), Vincent Lucchesi (Lieutenant Garber), Murray Rubin (Sidney Zeit), Michelle Jordan (Colette Berkowitz), Steven Memel (Lenny)
---
Plot
Second-hand bookstore clerk Virginia Clayton becomes absorbed in the book 'I, Madman' by Malcolm Brand. In the book, the deranged, deformed Dr Kessler is obsessed with beautiful actress Anna Templar and kills victims, sewing part of each victim's face onto his own. However, as Virginia continues to read, someone starts to emulate the killings in the book, targeting the people around her.
---
This interesting little film comes from Hungarian-born, Canadian-based genre director Tibor Takacs. (See below for Tibor Takacs's other films). I, Madman has clearly been made in an attempt to emulate the A Nightmare on Elm Street films – indeed, screenwriter David Chaskin also wrote A Nightmare on Elm Street Part II: Freddy's Revenge (1985).
However, I, Madman has a considerable ingenuity that lifts it well above the run of the mill A Nightmare on Elm Street copy. The character of Dr Kessler is substantially more intriguing than the usual movie psycho. Tibor Takacs includes some wonderfully grisly scenes where Randall William Cook injects himself with novocaine and slices off his own facial features off with a scalpel to send as love gifts to the heroine and then cuts up the people in her life and reattaches their facial parts to himself. There is a tragic Phantom of the Opera-like to the villain's love, although this does not get as much airing as it should. One would have preferred if Kessler were allowed to speak – what eloquence such a character would have.
The most intriguing aspect of I, Madman is its double-structure, flipping between the plot of the book and the reading heroine's life with both heroines being played by the same actress Jenny Wright. The film is filled with all manner of fascinating small details – the way a rose knocked over in the book is mirrored in the real world; how when a tea kettle is placed on in the book, one starts whistling in the real world even though we never saw Jenny Wright put one on when she entered the apartment.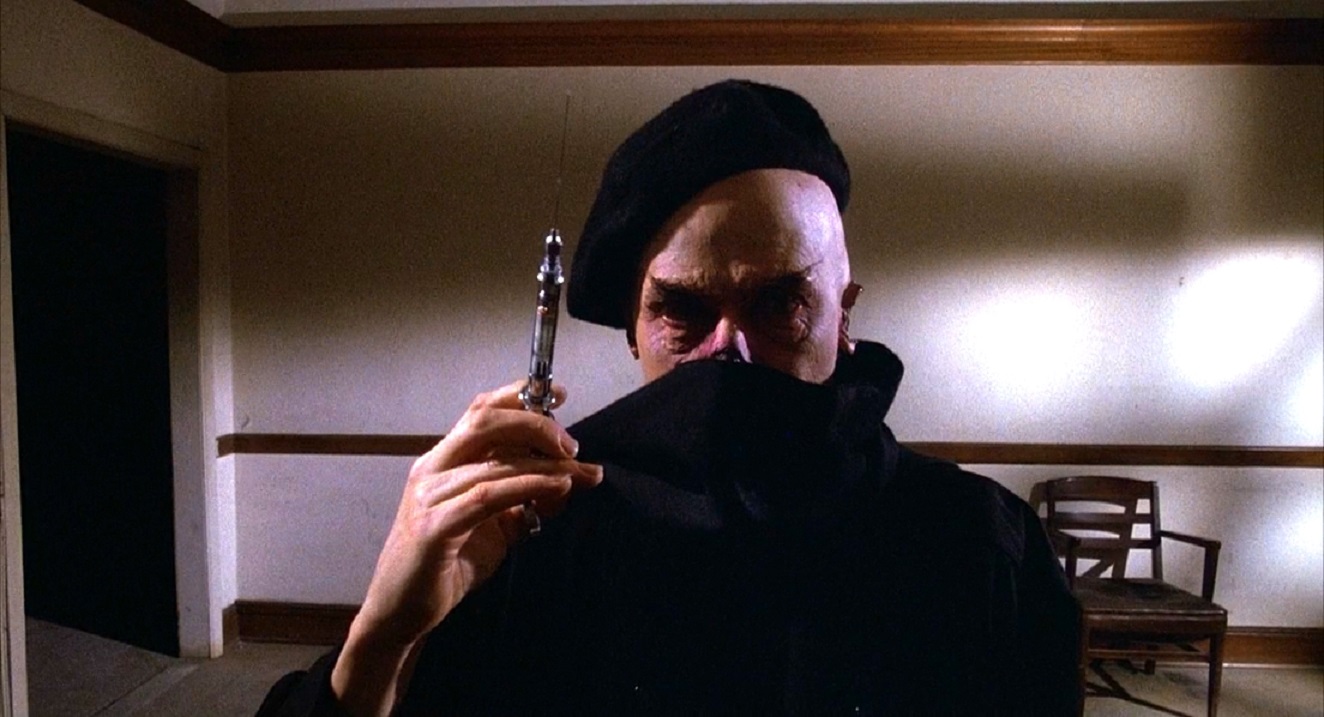 Although Kessler is given a nominally rational explanation, by the end of the story we are never certain whether it was Brand or Kessler that has been pursuing the heroine – certainly, the explanation that would rely on it being Brand offers no explanation of how the abovementioned incidents of meta-fictional synchronicity occurred.
Less effective is Tibor Takacs's cast. Jenny Wright seems distant and not emotionally involved. Clayton Rohner lacks any conviction at all, looking hardly old enough to be out of college let alone a seasoned detective. The climax of the film is let down by Randall Cook's unconvincing stop motion animation.
Director Tibor Takacs has also made a number of other genre films including the very obscure Metal Messiah (1978) about a futuristic rock star; The Gate (1987) and its even better sequel Gate II (1990) about children unlocking a demonic gateway; Redline/Deathline (1997) set in a near-future Russia; Nostradamus (2000), a conceptually bizarre film involving the prophet, time travel, The Millennium and the Biblical End of the World; Rats (2003) about an asylum of intelligent rats; Mansquito (2005) about mutant insect people; The Black Hole (2006) about an amok black hole and monster; and the monster movies Kraken: Tentacles of the Deep (2006), Ice Spiders (2007), Mega Snake (2007) and Spiders (2013); and the disaster movie NYC: Tornado Terror (2008), Meteor Storm (2010) and Destruction Los Angeles (2017).
---
---