---
Crew
Director – Corbin Bernsen, Screenplay – Kenneth Yakkel, Producers – Chris Aronoff, Corbin Bernsen & Jesse Lawler, Photography – Eric Gustavo Petersen, Music – Brandon McCormick & Mike Post, Visual Effects – Scott Bradbury, Blood & Gore Effects – Megan Areford & Jason Bonham, Production Design – Ted Guardino & Mario Osuna. Production Company – Antibody Films/Team Cherokee Productions.
Cast
Bill Moseley (Logan Burnhardt), Patricia Tallman (Lucy), David Moscow (Gil Brickman), Navid Negahban (Abir), Joshua Feinman (Burt), Federico Dordei (Khalid), Anthony Ray Parker (Tanner), Lakshmi Manchu (Gabbi), Susan Ruttan (Maggie)
---
Plot
Logan Burnhardt goes to work for his shift as a popular radio talkshow host. At a nearby stadium, Middle Eastern terrorists have released a deadly toxin into the building's ventilation system. The radio station begins receiving reports from callers and see on live television how this is affecting people, causing them to start bleeding from the eyes and then in a very quick space of time to start frenziedly attacking others. Logan determines to keep the show on the air as the city degenerates into anarchy. However, the affected crazies then break into the building.
---
Actor Corbin Bernsen came to fame in the ongoing role of marital lawyer Arnie Becker on tv's L.A. Law (1986-1994). Following the series' conclusion, Bernsen started reinventing his career as a horror movie actor (as also did fellow cast member Larry Drake) and has appeared in films such as The Killing Box (1993), Tales from the Hood (1995), Temptress (1995), The Dentist (1996) and sequel, Inhumanoid (1996), Killer Instinct (2000), Fangs (2001), Raptor (2001), Dead Above Ground (2002), Nightmare Boulevard (2004), Raging Sharks (2005), Submission (2006), Vipers (2008), The Ascension (2011) and Pizza Man (2011). Bernsen also began directing with the comedy Carpool Guy (2005) and went onto the likes of Donna on Demand (2009), Rust (2010), 25 Hill (2011), 3 Day Test (2012), Beyond the Heavens (2013), Christian Mingle (2014) and Life With Dog (2018), all non-genre and several of which fall into the genre of Christian films. (Bernsen has also recruited several L.A. Law alumni among the cast here, including Susan Ruttan as a zombified secretary and Larry Drake as one of the callers).
Dead Air came out just before The Crazies (2010), the remake of George Romero's The Crazies (1973), premised around the idea of the accidental release of a military toxin that caused people to go insane. The remake had been rumoured for several years and there were a number of other films that came out around the period with a similar theme, including The Signal (2007), Nine Miles Down (2009), Salvage (2009), YellowBrickRoad (2010), Patient Zero (2012), Urge (2016), Mayhem (2017) and Mom & Dad (2017). To this extent, Dead Air, just like The Crazies 2010, sits on a close dividing line as to whether it works as a mass insanity film or can more properly be considered a zombie film. The infected here often behave more like zombies, including spreading the infection via a bite.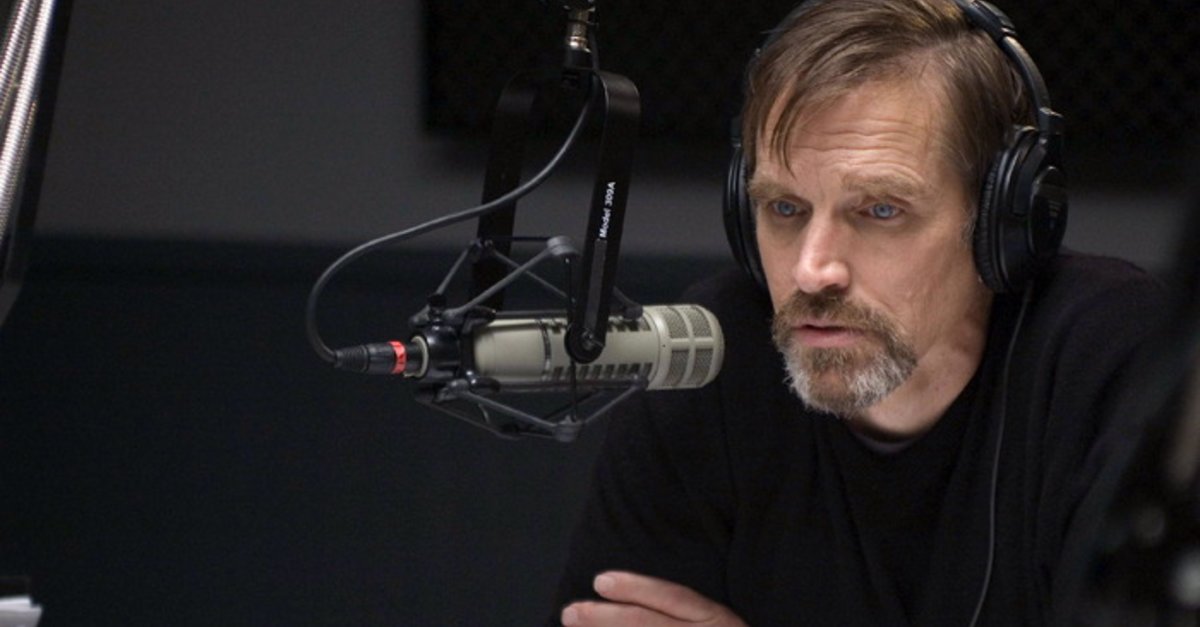 Whatever the case, Dead Air – no relation to Dead Air (1994), the earlier film about a radio talkback host being stalked by a serial killer – feels like a low-budget US attempt to copy the far superior Canadian-made Pontypool (2008). Both films have a near-identical premise and are focused around a radio talkback show as the host determines to remain on air while an outbreak of mass insanity occurs outside. In both films, most of this is relayed via live phone-in callers and later as the infected break into the studio and bite members of the station crew.
That said, Dead Air is a far less imaginative treatment of the idea. Pontypool dealt with a fascinating collapse of the entire English language, while Dead Air features little more than a standard zombie apocalypse taking place beyond the doors. Corbin Bernsen does a fair to reasonable effort in marshalling the actors and keeping their interactions tight during the studio-bound scenes but seems strictly in amateur city when it comes to the horror scenes. The zombie apocalypse is cheaply depicted and consists of not much more than a dozen figures crowding in on security guard Anthony Ray Parker and a few more trying to trap David Moscow on his motorcycle.
Bill Moseley gives a solid performance but is no substitute for Stephen McHattie in the same role in Pontypool. The films ends on a disappointingly happy wrap-up for the outbreak – the terrorists timed it to only last a matter of hours and then everything instantly returns to normal.
---
---