---
Crew
Director/Screenplay – Brian Taylor, Producers – Chris Lemole, Brian Taylor & Tim Zajaros, Photography – Daniel Pearl, Music – Mr. Bill, Visual Effects Supervisor – Connor Meechan, Visual Effects – Relevant VFX, Special Effects Supervisor – Alex Pilgrim, Makeup Effects Supervisor – Lauren Thomas, Production Design – James C. Wise. Production Company – Armory Films/Dovecheck Productions Limited/The Fyzz Facility/XYZ Films.
Cast
Nicolas Cage (Brent Ryan), Selma Blair (Kendall Ryan), Anne Winters (Carly Ryan), Zackary Arthur (Joshua Ryan), Robert Cunningham (Damon Hall), Olivia Crocicchia (Riley), Lance Henriksen (Mel Ryan), Marilyn Dodds Frank (Barbara Ryan), Samantha Lemole (Jenna), Sharon Gee (Sun-yi), Joseph B. Reitman (Homeroom Teacher), Rachel Melvin (Jenna), Bobby Richards (Dan), Edwin Lee Gibson (Mr Hall), Brionne Davis (Tanner Leigh)
---
Plot
Teenager Carly Ryan goes to school as any other day, while her father Brent goes to the office and her mother Kendall to the gym. As the day ends, Carly sees hordes of parents massed as the school gate who then break through and try to violently kill their children. All around in the streets, Carly sees parents attacking their children and there are reports on the news of this being an epidemic that is sweeping the whole country. Carly goes to her friend Riley's home, only for Riley to be strangled by her mother. Carly heads home to protect her younger brother Joshua only for their parents to return with murder on their mind. In short course, Carly and Joshua are at siege in the cellar as their parents attempt to kill them.
---
Brian Taylor is formerly one half of the team known as Neveldine/Taylor, along with Mark Neveldine. The duo made the hit Crank (2006), followed by Crank: High Voltage (2009), Gamer (2009) and Ghost Rider: Spirit of Vengeance (2012), while they also wrote the script for Jonah Hex (2010). The two appeared to part ways after that. Neveldine went on to make The Vatican Tapes (2015) as a solo director. On his own, Taylor has created Happy! (2017-9), possibly the most demented and messed-up thing that anybody has ever put on television and the Dystopian future mini-series Brave New World (2020), while making his directorial debut here with Mom & Dad.
Not to be confused with the disturbing British imprisonment thriller Mum & Dad (2008), Mom & Dad is a mass insanity film. This is a mini-genre that has grown up ever since George Romero's The Crazies (1973). The basic idea has played through a number of other films such as Impulse (1984), Warning Sign (1985), The Signal (2007), Pontypool (2008), Dead Air (2009), Nine Miles Down (2009), YellowBrickRoad (2010), Patient Zero (2012), Urge (2016) and Mayhem (2017). (For more detail see Films About Mass Insanity). The spin Mom & Dad puts on this is to have parents attempting to kill their own children. (No explanation is ever offered for this outbreak of mass insanity).
I have hated all of Brian Taylor's other films (his tv series are a completely different story) and so I sat down to watch Mom & Dad with a lack of enthusiasm. For a good part of the way in, Taylor does not disappoint in this regard. It is like he has the same testosteronally-hyped teenager inside waiting to get out that Michael Bay does. The early scenes come with frenetically blurred scenes of Nicolas Cage going mad at the wheel of a Trans Am with a topless woman sitting on his lap or shots snaking across the floor of a gym to watch Selma Blair's booty shaking at the camera while music pumps on the soundtrack.
However, there comes that sudden moment where Brian Taylor discovers himself, leaves all of the mad coke fiend twitchiness that fuelled his films with Neveldine/Taylor behind and suddenly starts to make an enjoyable watchable film. One of these scenes is the one at the school with a horde of parents menacingly waiting outside the school gates, tearing apart one child who scales the fence, then bursting onto the sports field en masse and attacking their children, including visions of one father suffocating his daughter with a plastic bin liner and another parent impaling their child with a flag marker.
The film is littered with these moments throughout – Anne Winters walking upstairs to find her friend Olivia Crocicchia has just been strangled to death by her mother; the delivery room scene where Selma Blair's sister wants to kill the baby immediately after giving birth; the mother in the street who shoves her child in a stroller out into the path of a car.
Mom & Dad soon becomes a rather watchable work. One of the more watchable aspects of the film is Nicolas Cage. His history with genre material has become rather uneven, especially some of the tatty work he has been taking on of late just for a paycheque – Left Behind (2014), Pay the Ghost (2015), The Humanity Bureau (2017) and Jiu Jitsu (2020). Here he gives one of his demented performances where he lets all stops go – he even manages to turn flashback scenes recounting stories to young Zackary Arthur into something bugged out. The highlight of this is a scene in the middle of the film in which he demolishes a pool table with a sledgehammer while ranting about his man cave, his failing hormones and getting middle-aged, which segues into a section of dialogue between he and Selma Blair that surprises you in how much it feels like Brian Taylor has written it as something personal.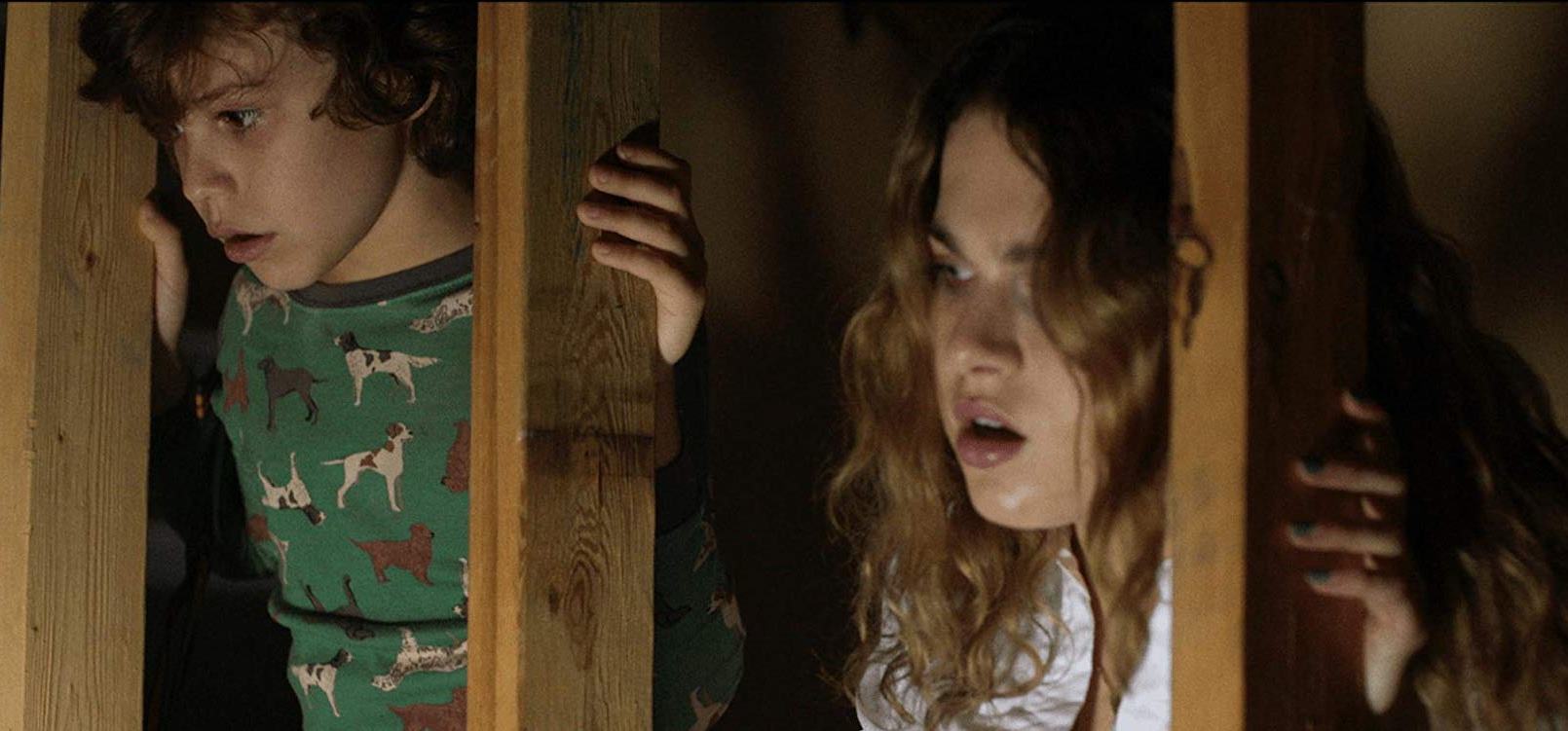 The film's most sustained scenes come where the children are at siege in the cellar and parents Nicolas Cage and Selma Blair are trying to cut down the door with saws or hooking up the gas to suffocate them. Brian Taylor also uses flashbacks to his character's pasts in ways that blackly contrast the onslaught of violence with the calmness of family life. Or where he makes contrast between the kids trying to escape and Cage and Blair sitting upstairs and calmly conspiring as though they were reminiscing over their past together.
The film becomes particularly blackly funny during the scenes when grandparents Lance Henriksen and Marilyn Dodds Frank turn up and immediately begin trying to kill Nicolas Cage and Selma Blair. This comes with some hilarious spins as one of them reacts in horror to seeing someone attacking a child and then turns to see their own child and immediately attempts to start killing them.
---
---