---
USA. 1990.
Crew
Director – Deran Sarafian, Screenplay – David S. Goyer, Producer – Mark DiSalle, Photography – Russell Carpenter, Music – Gary Chang, Special Effects Supervisor – Gregory C. Landerer, Production Design – Curtis Schnell. Production Company – Pathe Entertainment.
Cast
Jean-Claude Van Damme (Louis Burke), Cynthia Gibb (Amanda Beckett), Robert Guillaume (Hawkins), Patrick Kilpatrick (Christian 'The Sandman' Naylor), George Dickerson (Tom Vogler), Joshua Miller (Douglas Tesdale), Art LaFleur (Sergeant DeGraf), Abdul Salaam El Razzac (Priest), George Jenesky (Kohefke), Hank Woessner (Romaker)
---
Plot
Canadian Mountie Louis Burke apprehends serial killer Christian Naylor, nicknamed 'The Sandman'. Burke is then given an assignment – to go undercover into a US maximum-security prison posing as a prisoner to investigate the deaths of several inmates. Once there, Burke discovers a secret scheme being run to harvest prisoners for their organs. However, when they discover who Burke is, the corrupt prison authorities retaliate by placing him up against The Sandman.
---
Death Warrant is one of the martial arts action films that Jean-Claude Van Damme made in the late 1980s/early 1990s. Others of these included the likes of Bloodsport (1988), Kickboxer (1989), Double Impact (1991), Nowhere to Run (1993), Sudden Death (1995) and Maximum Risk (1996). All featured meaninglessly kinetic action scenes and interchangeable titles and seemed to run into a single blur that had little in the way of plot, just Jean-Claude Van Damme's lithe presence. It is almost impossible to distinguish some of these from one another in memory.
Death Warrant, which is borderline genre material, is one of the better of these. It has a passable plot, although the genre elements – a serial killer and a black market organ-harvesting operation – are minimally sketched out. Nevertheless, Death Warrant is a fair action piece. Director Deran Sarafian gets the macho posturing and simplistic morality down rather well. Most interestingly, Sarafian transforms the prison into an almost mythical realm – all dim underlighting and designed less a place of lined-up cells than a dark twisting labyrinth. Authority figures in the prison feature only peripherally and the effect is almost of one person venturing down into a dark underworld.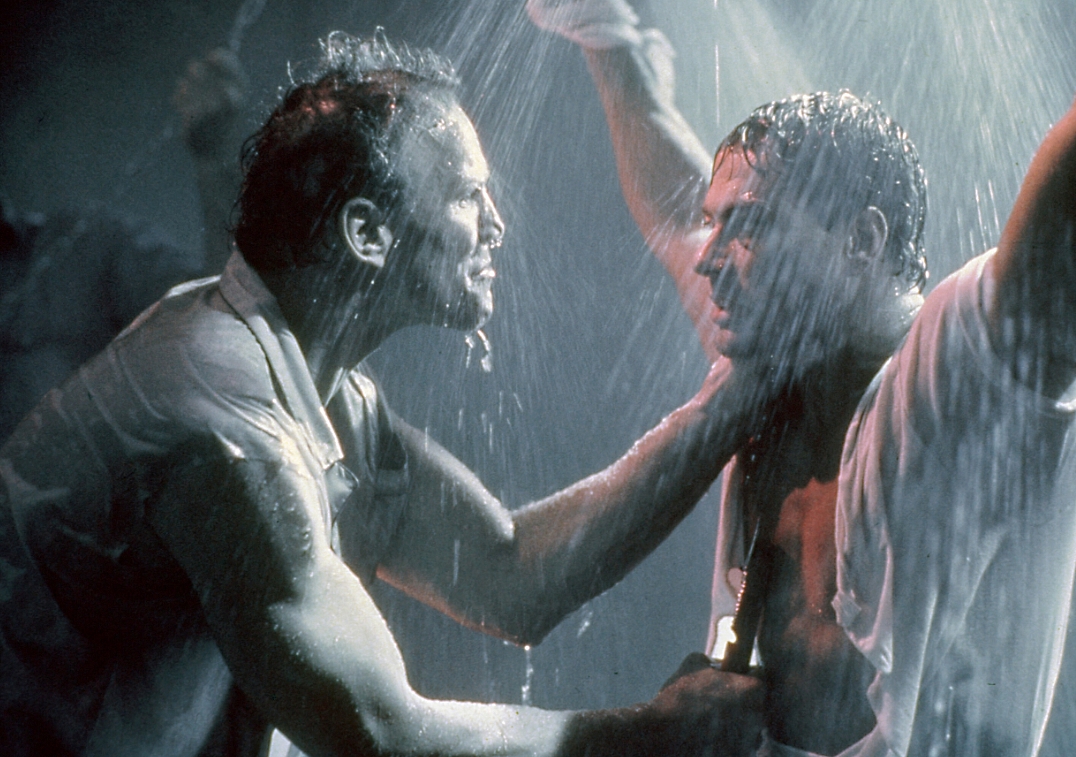 Jean-Claude Van Damme is his usual wooden presence, although Patrick Kilpatrick is well cast as the psychotic serial killer. The show is stolen by Joshua Miller as a horny computer geek.
Deran Sarafian was a director of action films such as Gunmen (1993) and Terminal Velocity (1994). He has made several other ventures into genre territory, including the cheap post-holocaust Interzone (1986), the cheap alien nasty film Alien Predator/The Falling/Mutant II (1987), the vampire film To Die For (1989) and the backroads brutality film Roadflower/Road Killers (1993). In more recent years, Sarafian has moved into television where he has worked as a producer/director on various of the CSI incarnations and House M.D. (2004-12), among various other series.
---
Trailer here
---