---
Crew
Director – John Schlesinger, Screenplay – Daniel Pyne, Producers – Scott Rudin & William Sackheim, Photography – Amir Mokri, Music – Hans Zimmer, Special Effects Supervisor – J.D. Street, Production Design – Neil Spisak. Production Company – Morgan Creek Film Partners I.
Cast
Matthew Modine (Drake Goodman), Melanie Griffith (Patty Parker), Michael Keaton (Carter Hayes), Luca Bercovici (Greg), Laurie Metcalf (Stephanie MacDonald), Carl Lumbly (Lou Baker), Dorian Harewood (Dennis Reed), Mako (Toshio Watanabe), Nobu McCarthy (Mira Watanabe)
---
Plot
Drake and Patty Goodman sink all their finances into buying a $750,000 house in San Francisco's Pacific Heights. They hope to allay the costs by renting out some of the spare rooms as apartments. They choose the smooth-talking Carter Hayes as their tenant. Hayes proves to be a nightmare who fails to pay any of the rent. In their attempts to evict Hayes, he twists the law around so that they are forced to pay him money and Drake is even barred from entering his own house.
---
In his horror essay Danse Macabre (1981), Stephen King defines the concept of the economic horror film. King used the example of the scene in The Amityville Horror (1979) where James Brolin's wallet mysteriously goes missing. Stephen King was writing well before Pacific Heights was made, which unnervingly pinpoints exactly what he was talking about. The horror films of the 1990s became horror films of the American upper middle classes. As befitting the economic anxieties and uncertainties of the times, they were horror films that reflect the growing worries of the middle-classes – that what is taken for granted in terms of job security is on shaky ground or, as in the likes of Fatal Attraction (1987) and Falling Down (1993), they are expressing the increasing sense of powerlessness of the American male.
This remarkably black film is an unusual financial horror film. Instead of cobwebs, rattling chains and knife-wielding psychos, Pacific Heights substitutes a nightmare tangle of escalating bills, rejections for loans by banks and legal loopholes. The film is written with a dark sense of irony, turning the red tape surrounding tenant protection into a nightmare minefield, culminating in the beautifully ironic nightmare situation where Matthew Modine finds himself legally barred from entering his own house and unable to do anything when his assailant shoots him.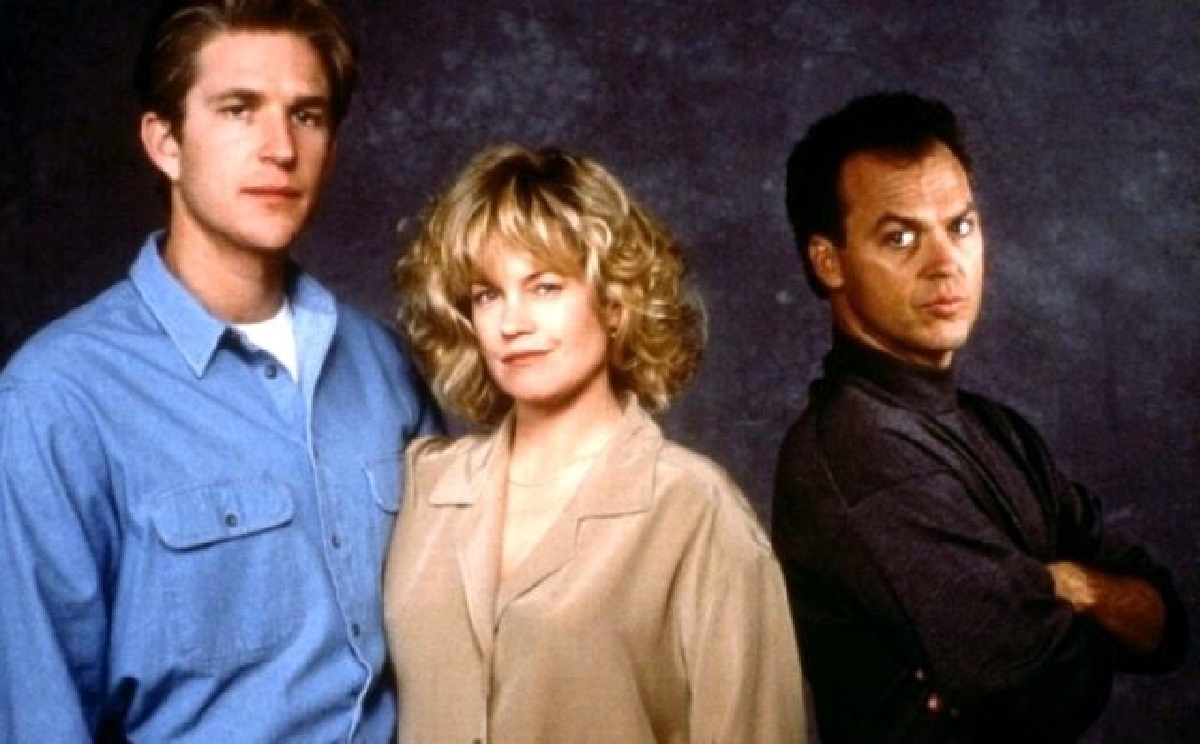 Indeed, Michael Keaton's tenant is given such scanty motivation (some of his acts like unleashing cockroaches have no other purpose than pure malice) that he becomes a pure deux ex machina with no other purpose than to turn the lives of Matthew Modine and Melanie Griffith upside down. John Schlesinger directs with nicely sinister effect, mounting to a particularly tense climax with Michael Keaton holding Melanie Griffith down with a nailgun at her forehead.
Melanie Griffith does her airy vacant thing in a sort of vaguely distressed way, but Michael Keaton gives a performance of darkly enigmatic charisma that quite fires the film up.
Pacific Heights was the work of the celebrated director John Schlesinger, who also made classics like Billy Liar (1962), Far from the Madding Crowd (1967), Midnight Cowboy (1969), The Day of the Locust (1975) and Marathon Man (1976). John Schlesinger's only other venture into the horror genre were The Believers (1987) and the tv movie version of The Tale of Sweeney Todd (1997) starring Ben Kingsley.
---
---