---
Crew
Director – Stephen Norrington, Screenplay – David S. Goyer, Based on the Comic Book Created by Gene Colan & Marv Wolfman, Producers – Robert Engleman, Peter Frankfurt & Wesley Snipes, Photography – Theo Van Der Sande, Music – Mark Isham, Music Supervisor – Dana Sano, Visual Effects Supervisor – Chuck Comisky, Digital Visual & Miniature Effects – Blue Sky/VIFX (Supervisor – Richard Hollander), Visual Effects – Digiscope, 525 Post Productions and the Production Plant Inc, Flat Earth Productions (Supervisor – Kevin O'Neill), Image Savant (Supervisor – Richard 'Dr' Brady), Post Logic & Wildcat Digital Effects, Special Effects Supervisor – Vincent Montefusco, Makeup Effects – Greg Cannom Creations, Additional Makeup Effects – Image Animation (Supervisor – Gary J. Tunnicliffe), Production Design – Kirk M. Petruccelli. Production Company – Imaginary Forces/Amen Ra Films/New Line Cinema.
Cast
Wesley Snipes (Blade), Stephen Dorff (Deacon Foster), N'Bushe Wright (Dr Karen Jenson), Kris Kristofferson (Abraham Whistler), Donal Logue (Quinn), Udo Kier (Dragonetti), Kevin Patrick Wells (Officer Krieger), Arly Jover (Mercury), Tim Guinee (Dr Curtis Webb), Sanaa Lathan (Vanessa Brooks)
---
Plot
In 1967, Vanessa Brooks is brought into a hospital, having been fatally bitten by a vampire. She goes into labour and gives birth to a baby son before expiring. In the present day, the child is now Blade, who is half-vampire and half-human as a result of the bite. He can walk in daylight but also has supernatural strength. Armed with garlic and silver-filled shotgun shells and titanium stakes, Blade conducts a single-handed campaign to slaughter all vampires in revenge for the murder of his mother. Blade finds a dangerous new enemy in Deacon Frost, a radical vampire who poses a threat to the traditional vampires who own and control most of the city. Deacon wants to use the ancient vampire Bible to raise La Magra, the blood god, but this requires the spilling of Blade's half-human blood.
---
Blade is an adaptation of a 1970s Marvel comic. The character of Blade had first appeared as the vampire hunter nemesis in Marvel's The Tomb of Dracula (1972-80) and intermittently appeared in his own self-titled comic-book throughout the 1990s. The comic-book was not one of Marvel's major titles but the Blade film was and has spawned two sequels and a tv series – see below. Blade was also the first in a series of highly successful adaptations of Marvel comics that have continued throughout the 00s with the likes of X-Men (2000), Spider-Man (2002), Daredevil (2003), Hulk (2003), The Punisher (2004), Elektra (2005), Fantastic Four (2005), Man-Thing (2005), Ghost Rider (2007), Iron Man (2008), Captain America: The First Avenger (2011), Thor (2011), The Avengers (2012), Guardians of the Galaxy (2014), Ant-Man (2015), Deadpool (2016), Doctor Strange (2016), Black Panther (2018), Venom (2018), Captain Marvel (2019), Black Widow (2021), Eternals (2021), Shang-Chi and the Legend of the Ten Rings (2021) and various sequels to these, as well as the tv series' Agents of S.H.I.E.L.D. (2013-20), Daredevil (2015-8), Agent Carter (2015-6), Jessica Jones (2015-9), Luke Cage (2016-8), The Defenders (2017), Inhumans (2017), Iron Fist (2017-8), The Punisher (2017-9), Runaways (2017-9), The Falcon and the Winter Soldier (2021- ), Hawkeye (2021- ), Loki (2021- ), WandaVision (2021- ), Moon Knight (2022- ), Ms Marvel (2022- ), She-Hulk: Attorney at Law (2022- ) and Secret Invsion (2023).
The screen adaptation of Blade is written by David S. Goyer who has been responsible for such darkly driven works as Dark City (1998) and Batman Begins (2005). Goyer has become one of the major interpreters of comic-books on screen. (A complete list of David S. Goyer's credits is at the bottom of this page). Blade was helmed by Stephen Norrington who made a striking directorial debut with Death Machine (1995), a killer robot film that transcended its low-budget with an immense ferocity and energy and marked former effects man Norrington as one of the most promising of up and coming genre directors. Blade was Stephen Norrington's second film and his debut in the American A-budget mainstream.
Although Blade is not as intensive an all-out ride as Death Machine was, Stephen Norrington succeeds in fulfilling the promise that his earlier film showed, injecting a considerable amount of stylistic elan into the film – notably a breathlessly intensive sequence with Wesley Snipes and vampires chasing one another through a subway tunnel alongside speeding trains.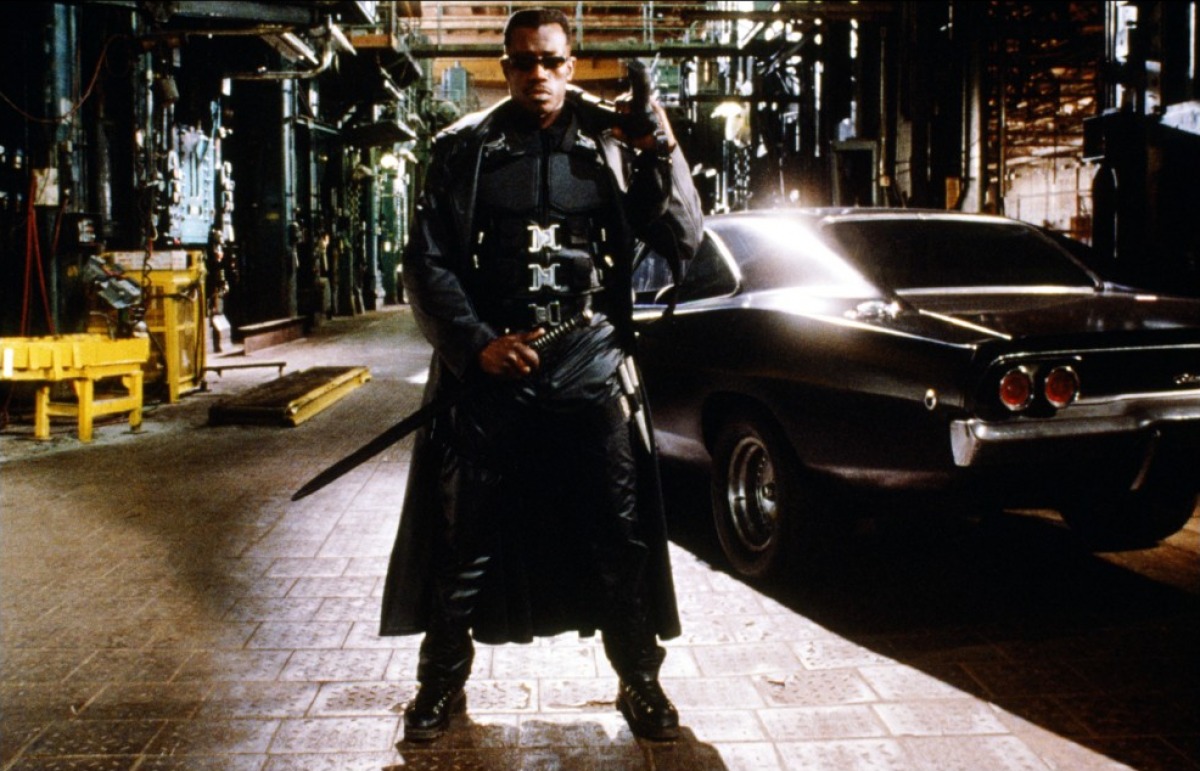 In the script, David S. Goyer conducts some unique twists on vampire legend. If the likes of The Lost Boys (1987) and Near Dark (1987) represent the transformation of the vampire into a badass thug relishing the freedom of the modern world, then Blade takes it to a logical extreme wherein the vampires are a kind of criminal underworld preying on humanity – secretly controlling the city, running vampire nightclubs that spray blood through the walls onto the vampiric patrons, treating would-be converts as a slave underclass, even marking them as their own property. Indeed, Blade could almost read as an action film wherein Wesley Snipes might be a cop taking on a group of drug underlords amid considerable outlay of artillery fire. The plot becomes considerably more cliche-driven in the latter quarter when David S. Goyer has Stephen Dorff conducting hackneyed Lovecraftian rites to raise elder gods.
Blade was criticized at the time as being a comic-book but the critics that did so seemed to elude the obvious point that is exactly what it is meant to be. Indeed, Stephen Norrington and David S. Goyer do a decent job at capturing the dark, nihilistic mood that drives modern screen comic-book adaptations. Blade never fully resonates with the scintillatingly dark psychology of either of the first two Batman films, Batman (1989) and Batman Returns (1992), or The Crow (1994), but then neither does it have the two-dimensional lack of depth of Spawn (1997) or either of Joel Schumacher's Batman abominations Batman Forever (1995) and Batman & Robin (1997).
Star Wesley Snipes also produces Blade via his Amen Ra production company. One finds it hard though to understand Wesley Snipes' appeal as an actor. The man keeps coming across as thick every time he appears on screen. Whenever he does well in a part – in the likes of Jungle Fever (1990) and Rising Sun (1993) – it is because there is a good script on his side. Stephen Norrington seems to realise the limitations of Snipes' talents and works with it, giving him minimal dialogue and shooting everything he does as a stylised pose. He gives, for example, Snipes a fabulous entrance – slowly panning up from his boots to show him impressively decked out in shades, gleaming trenchcoat and black body armour. On the other hand, whenever Snipes removes his sunglasses and talks, the character seems to lose much of its dark mystique – the effectiveness of the character is a triumph of style over acting talent.
On the other hand, Stephen Dorff, although he does adequately, seems miscast as Deacon – the part requires someone into their thirties at least and Dorff comes across as far too youthful. Kris Kristofferson is okay and N'Bushe Wright gives a promising performance that she should have turned into more of a career than she has.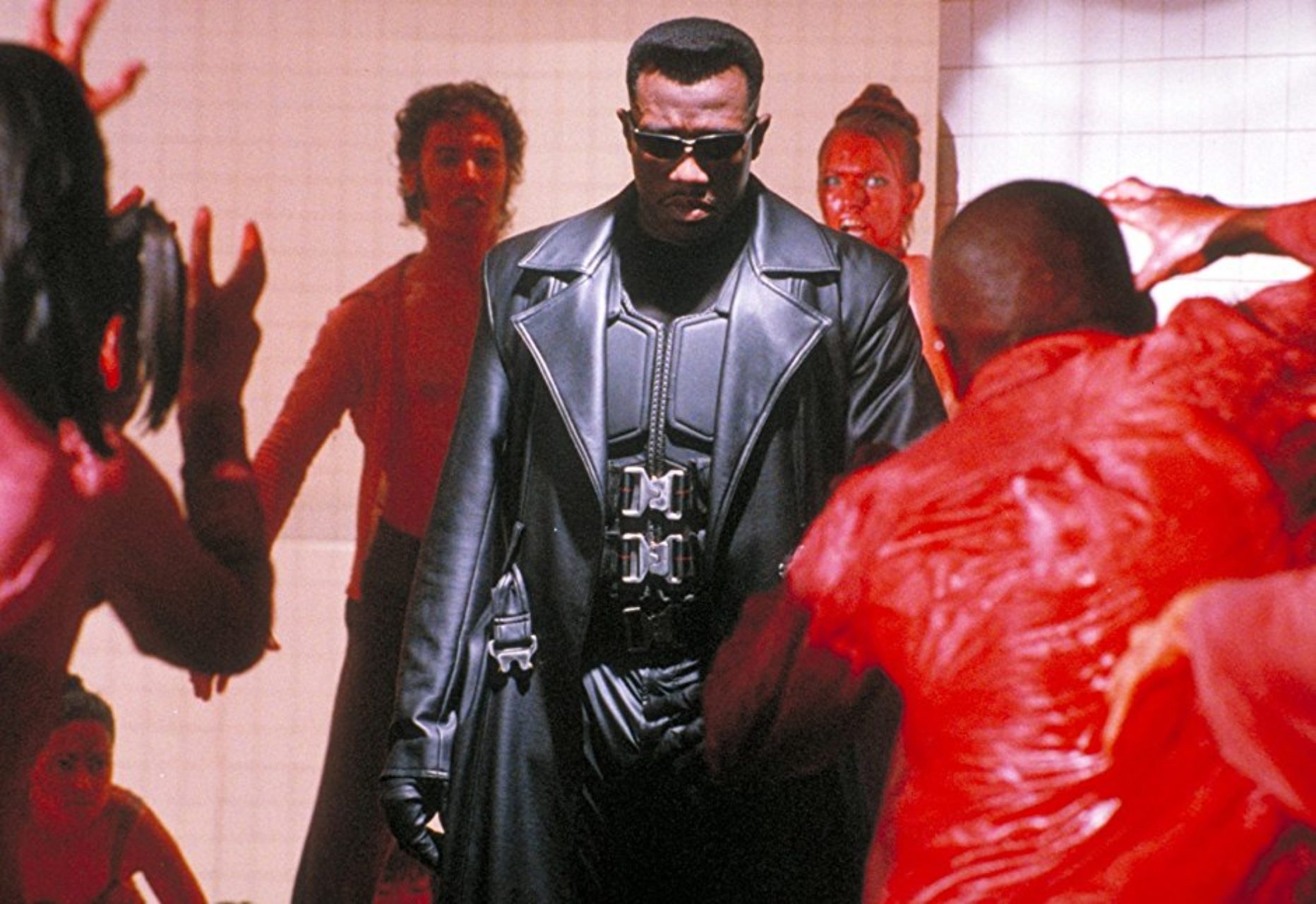 Wesley Snipes, Kris Kristofferson and David S. Goyer reteamed for two sequels, the excellent Blade II (2002) and Blade Trinity (2004), both of which are better films than this. Blade was also spun out into a tv series Blade: The Series (2006), executive produced by Goyer and with Sticky Fingaz in the title role, although this was cancelled partway through its first season after only twelve episodes. In 2019, Marvel announced they would be rebooting the character of Blade within the MCU starring Mahershala Ali.
Stephen Norrington next went onto direct a further comic-adaptation with The League of Extraordinary Gentlemen (2003), featuring a team-up between characters from Victorian fiction. That proved an enormously problem ridden production with much of the blame being heaped on Norrington's shoudlers. He was briefly announced as director of the remake of Clash of the Titans (2010) and the long-rumoured remake of The Crow (1994) but was replaced in both cases. He has not directed a film since.
David S. Goyer's others genre scripts are:– the Jean-Claude Van Damme action film Death Warrant (1990), Full Moon's Demonic Toys (1992) and Arcade (1994), the alien body snatchers film The Puppet Masters (1994), the stunning Dark City (1998) and Jumper (2008) about a kid with teleportation abilities, as well as other comic-book adaptations like The Crow: City of Angels (1996), Nick Fury, Agent of Shield (tv pilot, 1998), Batman Begins (2005), Batman: Gotham Knight (2008), The Dark Knight (2008), The Dark Knight Rises (2012), Ghost Rider: Spirit of Vengeance (2012), Man of Steel (2013), Batman V Superman: Dawn of Justice (2016) and Terminator: Dark Fate (2019). Goyer has also produced the genre tv series' Sleepwalkers (1997) about dream researchers, FreakyLinks (2000) about paranormal investigators, Threshold (2005) about the investigation of a UFO, the film adaptation of the Marvel Comic Ghost Rider (2007), the tv series Flash Forward (2009-10) about a mysterious worldwide premonition, the tv series DaVinci's Demons (2013-5) about a fantastical secret history of Leonardo Da Vinci, the tv series adaptation of Constantine (2014-5), the ghost story The Forest (2016), the robot dog film A-X-L (2018), the animated web series Constantine: City of Demons (2018), the Superman prequel tv series Krypton (2018-9), the A.I. film Tau (2018), the ghost story The Night House (2020). the wendigo film Antlers (2021), the tv series' Foundation (2021- ) and The Sandman (2022- ), and the remake of Hellraiser (2022). As director, Goyer has made the fine non-genre ZigZag (2002) about a troubled autistic kid, Blade Trinity, The Invisible (2007) about a disembodied teenager and the possession film The Unborn (2009).
(Nominee for Best Makeup Effects at this site's Best of 1998 Awards).
---
---