aka The Devil's Daughter
(La Setta)
---
Crew
Director – Michele Soavi, Screenplay – Dario Argento, Giovanni Romoli & Michele Soavi, Producers – Dario Argento, Mario Cecchi Gori & Vittorio Cecchi Gori, Photography – Raffaele Mertes, Music – Pino Donaggio, Special Effects – Massimo Cristofanelli, Makeup Effects – Sergio Stivaletti, Production Design – M. Antonello Geleng. Production Company – Penta Film/ADC.
Cast
Kelly Curtis (Miriam Kriesl), Herbert Lom (Moebius Kelly), Maria Angela Giordano (Kathryn), Michel Adatte (Frank), Carla Cassola (Dr Penrith), Giovanni Lombardo Radice (Martin Romero), Tomas Arana (Damon), Angelika Maria Boeck (Claire Henri)
---
Plot
The aging Moebius Kelly catches a bus from Frankfurt to nearby Hollenbach. He wanders out onto the road where teacher Miriam Kriesl skids to avoid hitting him in her car. He falls over but she is certain she did not hit him. She takes Kelly home where he acts strangely. She calls her doctor friend Frank and they return to find Kelly dead in a strange cellar area beneath the house that Miriam had no idea existed. In the aftermath, those around Miriam start to be affected and die in mysterious ways, while a devil worship cult close in around her with mysterious purpose.
---
For a time in the late 1980s/early 90s, Michele Soavi seemed the hope of Italian horror cinema. After working as an assistant director to Dario Argento and then graduating to directing the documentary Dario Argento's World of Horror (1985), Soavi made the giallo StageFright – Aquarius (1987) and went onto make The Church (1989), followed by The Sect, which was retitled The Devil's Daughter in the US. The film that Soavi is remembered for however is the indescribably madcap Dellamorte Dellamore/Cemetery Man (1994).Subsequent to that, Soavi left horror cinema, although has directed a number of other non-genre works.
Soavi co-writes The Sect with Dario Argento who at this time was lending his name in a producing and co-writing facility to a number of other works such as Demons (1985) and sequel, as well as producing/writing The Church.
The Sect starts promisingly with the scenes where a woman is stalked by a mystery man (Giovanni Lombardo Radice); where the man is then on a crowded subway car as a pickpocket picks his pocket only to come away with a human heart wrapped in a necklace; and the mystery man then fleeing from police pursuit and in the midst of this turning and shooting himself.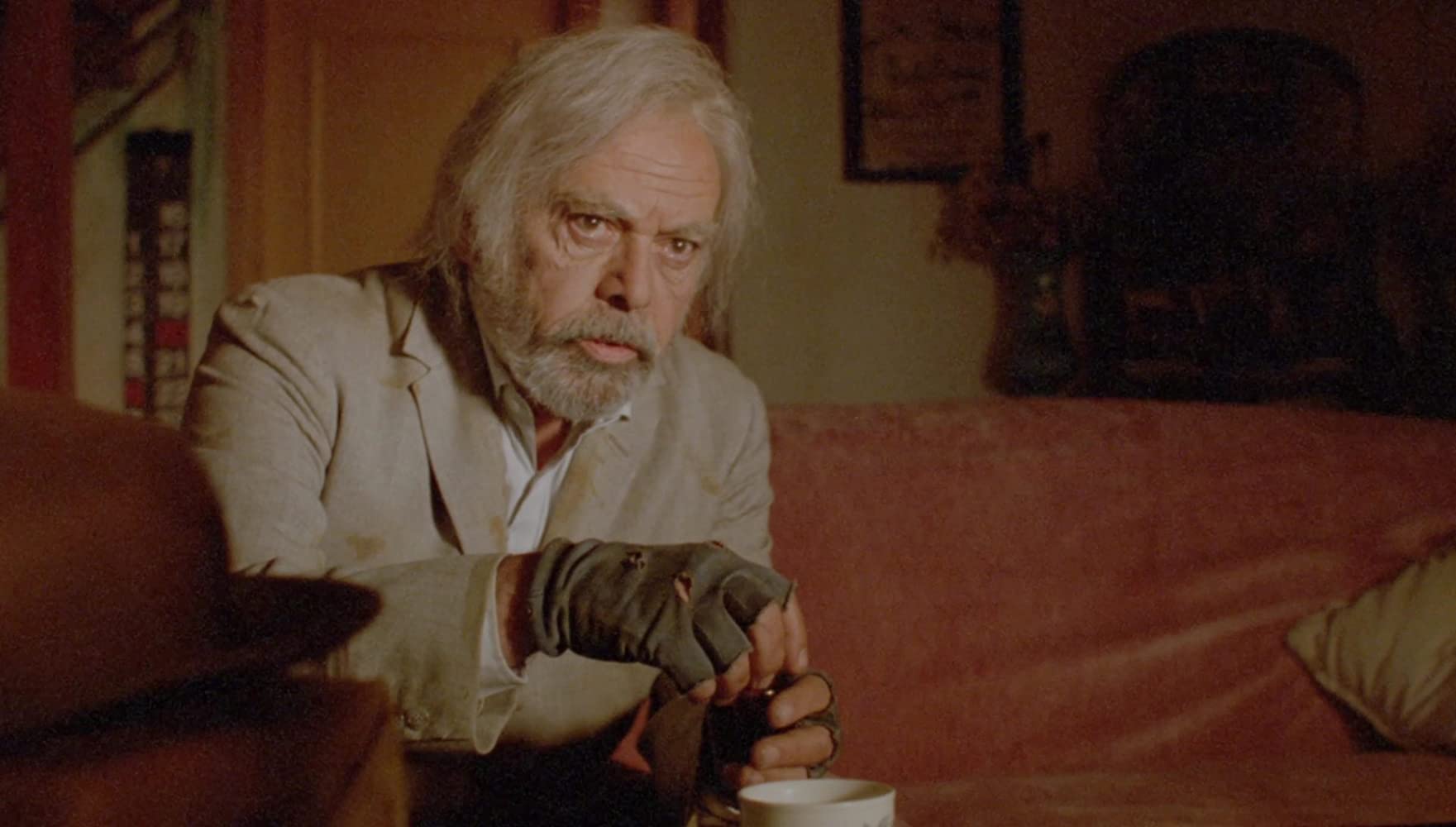 The problem then becomes that after such a strong opening, one ends up waiting nearly an hour for something else to happen again. Soavi winds us up in following aging Herbert Lom and his taking a bus ride and then his efforts to make Kelly Curtis think she has run him down, her taking him home and he wandering around the house, uncovering a cellar that she somehow didn't know existed and mysterious goings-on there. In the middle of the night, he also opens a box he has been carrying and produces an insect that proceeds to crawl inside her nose. All of this is drawn out in a way that is filled with a momentous event.
For a horror film, particularly the occult giallo niche that this aims for, the film is incredibly uneventful. All of the scenes with Herbert Lom in the house leave you with the suggestion that far more is going on when all that we have is the better part of an hour of inaction where nothing happens. You can only compare this to the nearest equivalent – Dario Argento's Suspiria (1977) and in particular Inferno (1980), which likewise had their heroines surrounded by occult happenings – and the difference is immediately evident. Suspiria and Inferno have even slimmer stories than this but are filled with supplementary atmosphere, things constantly happening in the periphery of the frame that suggest sinister and occult effect all around. By contrast, The Sect has none of that. You suspect maybe if Argento had coached Soavi in being able to import more of that, we might have ended with a better film.
Things do pick up just after the one-hour point with a rather lame scene where Maria Angela Giordano is attacked by a cloth that covers her face. She then turns up at a truck stop dressed in a slutty red dress, propositions a driver to have sex in the back of his truck only for his fellow drivers to burst in moments later and find him stabbing her to death. Quite why he does this is never explained – as with Argento's Three Mothers films, there are random novelty deaths interspersed throughout that come with little or no reason.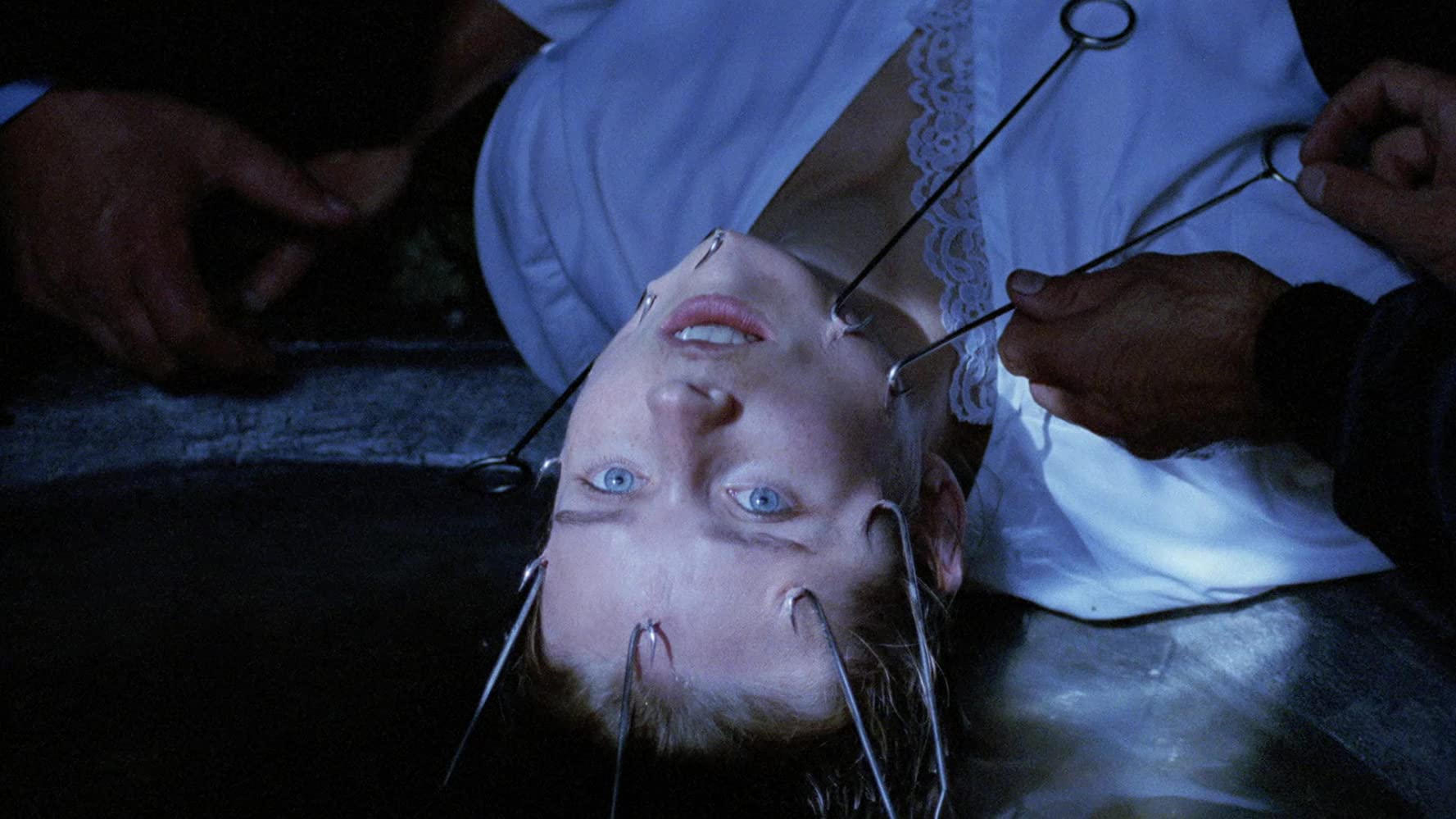 There is an interestingly nasty scene where Kelly Curtis goes to the morgue to identify Maria Angelo Giordano's body only for the nude Giordano to get up off the morgue table and attack her before slitting her own throat with a scalpel. The nastiest scene is one where Angelika Maria Boeck has hooks placed into the skin of her face and it is twisted off and then placed onto the cult leader's face.
This does lead to the end, which is the most disappointing part of the film. It does give some nominal explanation for proceedings. Here we learn that Herbert Lom and many of those around Kelly Curtis are members of a devil worship cult and that she was given the house as part of their purposes (typically we never find out how this ties into their plan). All of this is so that she can bear the devil's child.
In other words, the film reveals itself as no more than a last minute, left field copy of Rosemary's Baby (1968). It is a lame letdown. Although the film does reverses the end of Rosemary's Baby which had Mia Farrow accepting the child whereas here Kelly Curtis pretends to accept the baby, only to flee with it and choose to jump into the fire of a burning car crash and be consumed.
---
---