aka Dangerous Obsession
(Il Miele del Diavolo)
---
Crew
Director – Lucio Fulci, Screenplay – Jesus Balcazar, Lucio Fulci, Ludovica Marineo & Vincenzo Salviani, Producer – Vincenzo Salviani, Photography – Alessandra Ulloa, Music – Claudio Natili, Art Direction – Marta Caveza. Production Company – Selvaggia Film/Balcazar S.a.s..
Cast
Brett Halsey (Dr Wendell Simpson), Blanca Marsillach (Jessica), Corinne Clery (Carol Simpson), Stefano Madia (Johnny), Bernard Seray (Nicky), Paolo Marina (Sandra)
---
Plot
Wendell Simpson is a successful surgeon. His wife Carol then announces that she is leaving him, tired of his liaisons with prostitutes and she taking second place to his work. Simpson is then called in to operate on the musician Johnny after he falls and hits his head but is unable to save Johnny's life. Johnny's girlfriend Jessica blames Simpson for killing Johnny and starts making harassing calls. She then abducts Simpson and takes him away to a seaside villa. There she chains him up and tortures him, announcing that she is going to kill him.
---
Italian director Lucio Fulci (1927-96) attained a brief cult following during the 1980s. During the period 1979-81, Fulci made a series of films that include Zombie – Flesh Eaters (1979), City of the Living Dead/The Gates of Hell (1980), The Beyond (1981) and The House By the Cemetery (1981). These usually feature zombies in some form and were premised principally around the provision of gory and way-out murders, various surreal happenings and not much else, least of all any plot holding them together. Fulci's subsequent films up until his death in 1996 are much less interesting, largely because the outré gore was watered down. (See bottom of page for a full listing of Lucio Fulci's other genre films).
The Devil's Honey is one interesting oddity among Fulci's oeuvre. It opens with a series of sex scenes that are eye-opening at least for the fact they are like nothing we have seen in an erotic/sex film before. Musician Stefano Madia is in a recording studio and wants to make out with girlfriend Blanca Marsillach, she is standoffish and so he plays his saxophone with the bell up against her crotch to get her turned on. Next Brett Halsey takes a hooker (Palo Marina) to a hotel room and watches as she applies lipstick over her crotch and starts teasing herself with it. In the following scene, Stefano Madia is riding a motorcycle along a road with Blanca Marsillach as pillion passenger as she reaches around from behind, unzips him and starts jerking him off.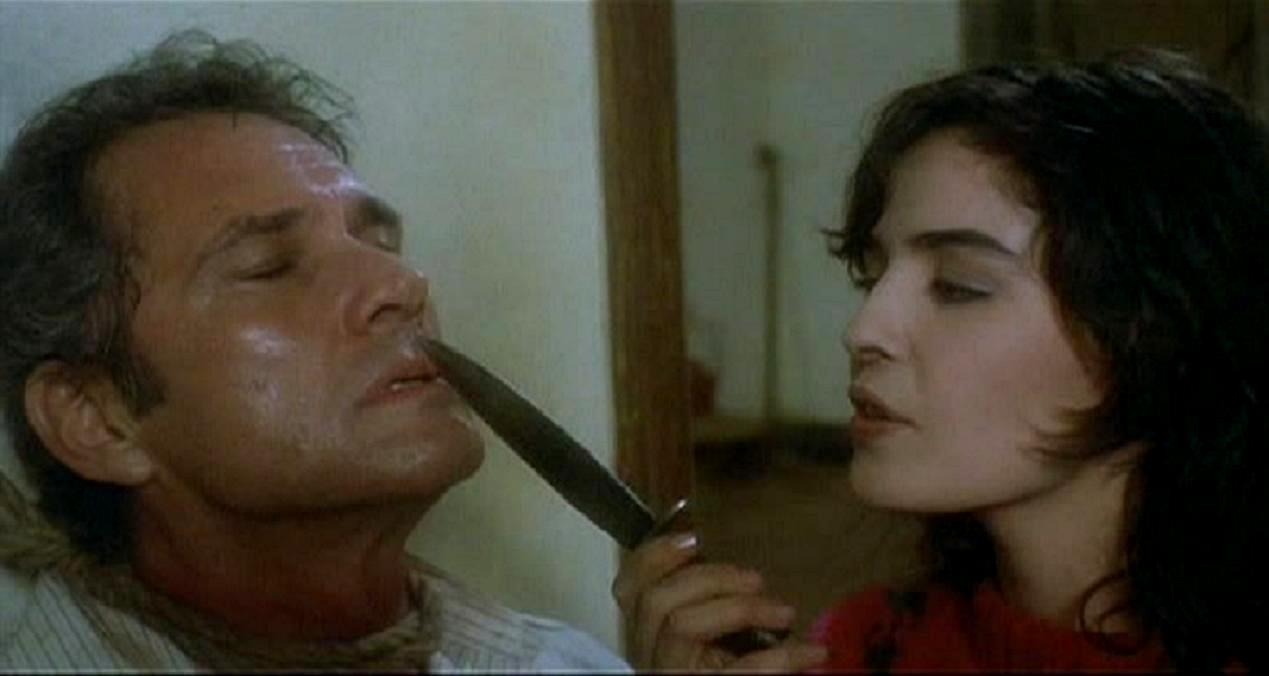 This seems to be Lucio Fulci's sex film, although it emerges as an odd hybrid that also seems to be trying also to appeal to his horror audience. The title suggests a horror film, although if you had to classify the film based on its content you would have to go more with Erotica than horror. Certainly, there is an abduction and imprisonment plot with some torture scenes in the latter half that pushes the film into the horror genre. The bizarre sex scenes at least gives the film a watchability that Fulci's non-gore films lack.
The latter half becomes a standard Imprisonment Thrillers with Blanca Marsillach keeping Brett Halsey as a prisoner at a villa. This comes amid some entertainingly whacked scenes with her leading him around on a leash in the surf on his hands and knees. Even the torture scenes have a sado-sexual element that make you think you are watching one of Jess Franco's films. Like where Blanca Marsillach hits Halsey, cutting him and then makes him kiss the blood off her bare stomach. Or flashbacks where the dead boyfriend (Stefano Madia) makes her pose for pictures nude while holding a gun between her thighs. There comes a bizarrely unmotivated end where Blanca Marsillach frees Brett Halsey and they suddenly find themselves in nude embrace with the film fading out with the implication that that will be together happy ever after.
Lucio Fulci's other genre films are:– Perversion Story (1969), Lizard in a Woman's Skin (1971), Don't Torture a Duckling (1972), Dracula in the Provinces (1975), The Psychic (1977), Zombie – Flesh Eaters (1979), City of the Living Dead/Gates of Hell (1980), The Beyond/The Seven Doors to Death (1981), The Black Cat (1981), The House By the Cemetery (1981), The New York Ripper (1981), Manhattan Baby/Eye of the Evil Dead/The Possessed (1982), Conquest (1983), Rome 2072 A.D. (1983), Murderock (1984), Aenigma (1987), Touch of Death/When Alice Broke the Mirror (1988), Zombi 3 (1988), Demonia (1990), A Cat in the Brain.Nightmare Concert (1990), Voices from Beyond (1991) and Door to Silence (1992). Aenigma: Lucio Fulci and the 80s (2017) and Fulci for Fake (2019) are documentaries about Fulci.
---