(Sette Notte in Nero)
---
Crew
Director – Lucio Fulci, Screenplay – Lucio Fulci, Roberto Gianviti & Dardano Sacchetti, Photography – Sergio Salvati, Music – Bixio-Frizzi-Tempera, Makeup – Maurizio Giustini, Production Design – Luciano Spadoni. Production Company – Cinecompany s.r.l.
Cast
Jennifer O'Neill (Virginia Ducci), Gianni Garko (Francesco Ducci), Marc Porel (Luca Fattori), Gabriele Ferzetti (Emilio Rospini), Evelyn Stuart [Ida Galli] (Gloria Ducci), Fabrizio Jovine (Commissioner D'Elia), Jenny Tamburi (Bruna)
---
Plot
Virginia Ducci, an English woman married to an Italian businessman, is driving home when she has one of her clairvoyant visions. The fragmentary images seem to indicate a murder. Retreating to her husband Francesco's countryside house, she is startled when things there resemble images from her vision. Following the clues, she breaks opens a wall to find the skeleton of a murdered girl that has been plastered up there. Francesco immediately falls under suspicion and is taken into custody by the police, even though he protests that he was out of the country when the girl disappeared. Virginia follows the clues in her vision, determined to prove his innocence. It then becomes apparent to her that the vision she had was not about the murder that happened in the past but one that is about to occur.
---
Italy's Lucio Fulci was a cult director. Up until his death in 1996, Fulci was a prolific producer of horror films, most of which are focused around the provision of gory despatches. I cannot say I am part of the Fulci cult – most of his films are plotless to the point of randomly surreal. They are only focused around sadistic gore effects, most of which look cheaply produced when seen today, and beyond that Fulci seems to lack anything but the most minimal requirements as a director. Fulci's peak came around 1979-81 with films like Zombie – Flesh Eaters (1979), City of the Living Dead/The Gates of Hell (1980), The Beyond/The Seven Doors of Death (1981) and The House By the Cemetery (1981), after which interest appeared to taper off. A full list of Lucio Fulci's genre films is at the bottom of the page.
The Psychic was made before the beginning of the Fulci cult and the point when he emerged as a director famed for his surreal gore effects. As a result, the film is somewhat tame. We do get one scene that opens the film with a person jumping from the White Cliffs of Dover where Fulci's camera follows the body as it falls down (an obvious looking dummy) and we see the head being gorily split open by multiple impacts with rocks on the way, but that remains it for the rest of the film.
It is wrong to look upon The Psychic as a typical Lucio Fulci horror film. Instead, it seems to have drawn its influence from Nicolas Roeg's arthouse hit Don't Look Now (1973). Don't Look Now was a film (also set in Italy) where Donald Sutherland received a series of cryptic visions of events about to happen, all of which were relayed on a level of overlapping visual clues. Sutherland was also in Italy on a church restoration project, while The Psychic similarly takes place amid classical architecture and at one point makes a visit to a church that is in the process of being restored.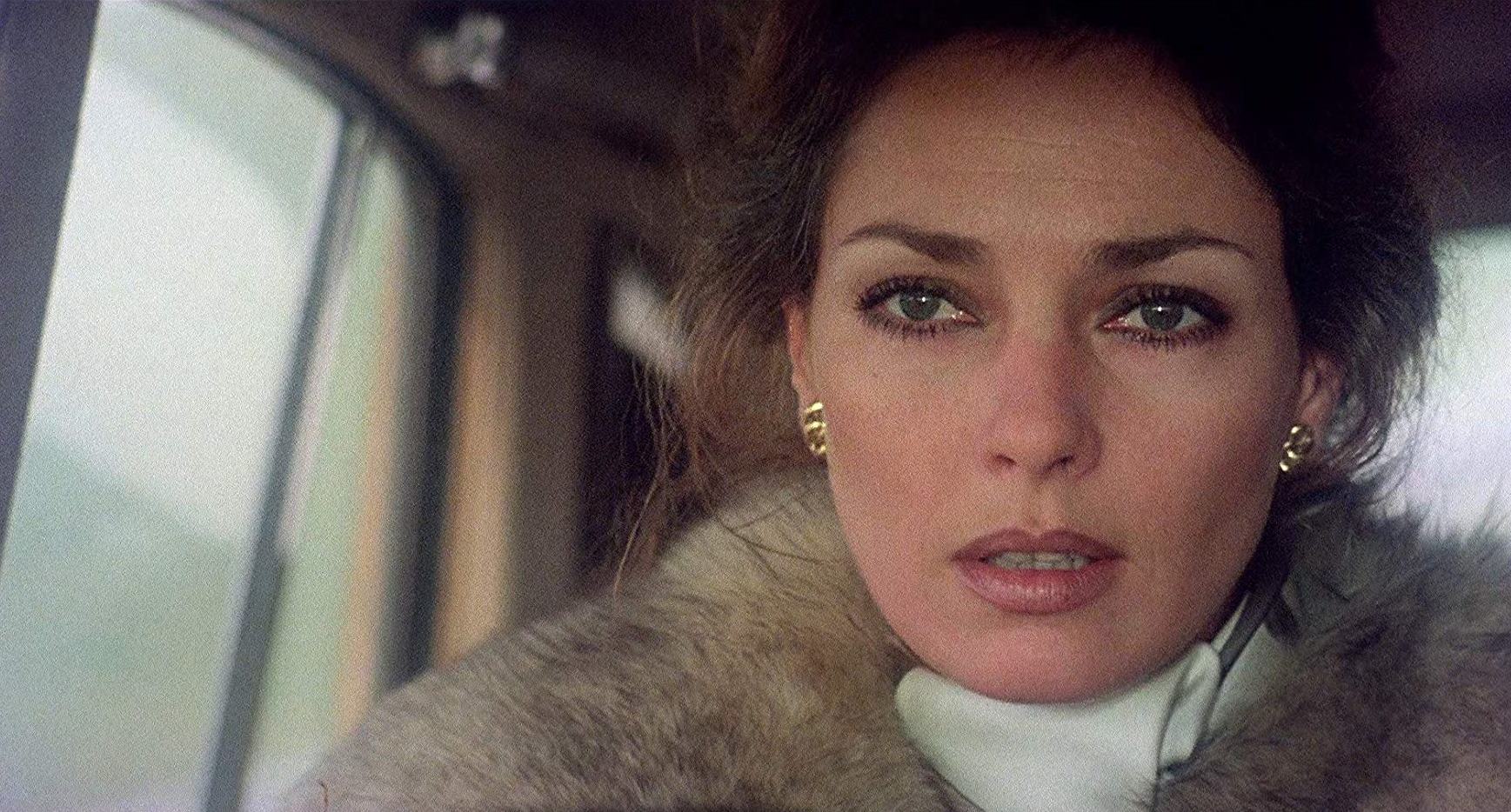 Unfortunately, Lucio Fulci is about at opposite remove as a director from Nicolas Roeg as it is possible to get. Roeg is an artist, one who often gets caught up in his pretensions undeniably but who made great films through editing associations. By contrast, Fulci's work here is dull and prosaic. All of Roeg's visual suggestions have been watered down to the clear and obvious level of a series of clues that Jennifer O'Neill picks up in her vision and then starts seeing come true. There is no ambiguity or uncertainty about any of these.
In other words, what we now have is not a dazzling art film that sweeps us up into something on a subliminal level but a pedestrian murder mystery that is no different to a bunch of other clairvoyant murder mystery films – see tv movies like Baffled! (1972), The Eyes of Charles Sand (1972), Visions (1972) and Empathy (2007) and films such as Eyes of Laura Mars (1978), Double Exposure (1981), Fear (1990), Murderous Vision (1991), Dead On Sight (1994), Sensation (1994), Hideaway (1995), A Deadly Vision (1997), After Alice (1999), In Dreams (1999), The Gift (2000), Murder Scene (2000), Troubled Waters (2006), Let Me Die Quietly (2009) and In/Sight (2011).
In Fulci's hands, the film is slow and dull. He characteristically has little interest in plot and the film plods along at an indifferent pace – it takes Jennifer O'Neill more than half the film to work out that she is having a vision of something that has yet to happen rather than of the past, for instance. Everything arrives at an abrupt and downbeat ending that the film has borrowed from Edgar Allan Poe's The Black Cat (1843).
Lucio Fulci's other genre films are:– Perversion Story (1969), Lizard in a Woman's Skin (1971), Don't Torture a Duckling (1972), Dracula in the Provinces (1975), Zombie – Flesh Eaters (1979), City of the Living Dead/Gates of Hell (1980), The Beyond/The Seven Doors to Death (1981), The Black Cat (1981), The House By the Cemetery (1981), The New York Ripper (1981), Manhattan Baby/Eye of the Evil Dead/The Possessed (1982), Conquest (1983), Rome 2072 A.D. (1983), Murderock (1984), The Devil's Honey (1986), Aenigma (1987), Touch of Death/When Alice Broke the Mirror (1988), Zombi 3 (1988), Demonia (1990), A Cat in the Brain.Nightmare Concert (1990), Voices from Beyond (1991) and Door to Silence (1992). Aenigma: Lucio Fulci and the 80s (2017) and Fulci for Fake (2019) are documentaries about Fulci.
---
---