aka Eye of the Evil Dead; The Possessed
---
Crew
Director – Lucio Fulci, Screenplay – Elisa Livia Briganti & Dardano Sacchetti, Producer – Fabrizio De Angelo, Photography – Guglielmo Mancori, Music – Fabio Frizzi, Makeup Effects – Maurizio Trani, Production Design – Massimo Lentini. Production Company – Fulvia Film srl.
Cast
Christopher Connelly (Professor George Hacker), Martha Taylor (Emily Hacker), Brigitta Broccoli (Susie Hacker), Giovanni Frezza (Tommy Hacker), Laurence Welles (Adrian Marcato), Cinzia de Ponti (Jamie Lee), Carlo De Mejo (Luke Anderson), Vincenzo Bellanich (Wyler)
---
Plot
Archaeologist George Hacker is on a dig in Egypt with his family. He enters a tomb, only for beams of light to come out of an amulet in the wall and blind him. Meanwhile, a mysterious old woman gives George's daughter Susie an amulet identical to the one in the tomb. As George recovers back at their apartment in Manhattan, Susie's amulet wields an influence of evil, killing others in the building. The amulet opens up a doorway in son Tommy's room that mysteriously teleports people to Egypt then kills them. George realises that the amulet belongs to the god Habanoganah and that its evil must be stopped.
---
Manhattan Baby is one of the films from Italian director Lucio Fulci. In the early 1980s, Lucio Fulci developed a cult with films such as Zombie – Flesh Eaters (1979), City of the Living Dead (1980), The Beyond (1981) and The House By the Cemetery (1981), which consisted of a cheap blend of surreal horrors and often extreme gore. (A full list of Lucio Fulci's genre films is at the bottom of the page). While Lucio Fulci's films have developed a cult, I admit to being not much of a fan. Fulci's films lack any narrative coherence – the Lucio Fulci cult is founded almost entirely on the surreal gore effects liberally interspersed throughout. The Fulci films from 1982 onwards almost invariably disappoint those among his cult because the splatter effects are watered down, leaving only tatty and indifferently written B movies.
Manhattan Baby falls into being one of these less interesting Lucio Fulci films. Fulci certainly has a reasonable budget on hand, enough to allow him to go on location not only in Manhattan but also to Egypt (even if every second shot seems to be a picture postcard one that frames some Egyptian landmark in the background). Manhattan Baby is also very nicely photographed at times, all of which shows Fulci on the verge of moving out of the B-movie ghetto most of his other films around this period were trapped in.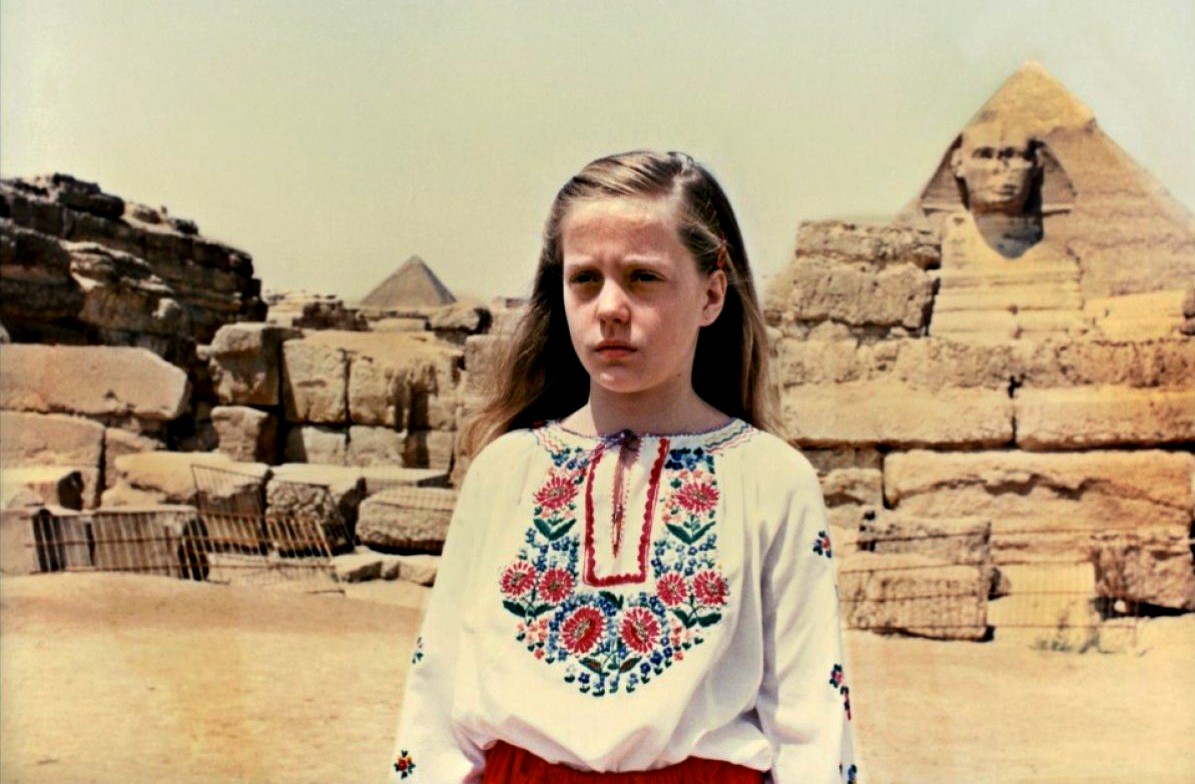 On the other hand, there are all the usual bafflingly cryptic Fulci-esque happenings – a glowing doorway opens up in young son Giovanni Frezza's bedroom and he vanishes through it, after which the phrase 'Daddy Help Me' appears in a mirror, a probable attempt to copy Poltergeist (1982), which came out two months earlier; laser beams appear out of the side of the wall in the tomb and blind Christopher Connelly and then equally arbitrarily reappear in his apartment and cure the blindness; the son leaves smoking palm prints; a photo of the kids taken by the au pair shows nothing there except the amulet; an x-ray of Brigitta Broccoli's stomach reveals a snake coiled inside.
There are various random deaths – a security guard in the apartment block enters a lift, which falls apart, while his hands start bleeding as he tries to pry the doors open before the floor of the lift collapses beneath him; Martha Taylor's work colleague Carlo De Mejo vanishes through the glowing door in Tommy's room, leaving only a pile of sand in the middle of the room and later turns up dead.
There is some occasional trademark Fulci gore – Christopher Connelly's native bearer falling down into the tomb where his body is impaled on spikes; a scene where Laurence Wells' stuffed birds comes to life (on clearly visible wires) and peck him to death – but mostly the film is lacking in the gore effects that Fulci became known for. (The stuffed bird sequence does yield the pricelessly cheesy line:– "You can take my body with stuffed birds but not have my immortal soul").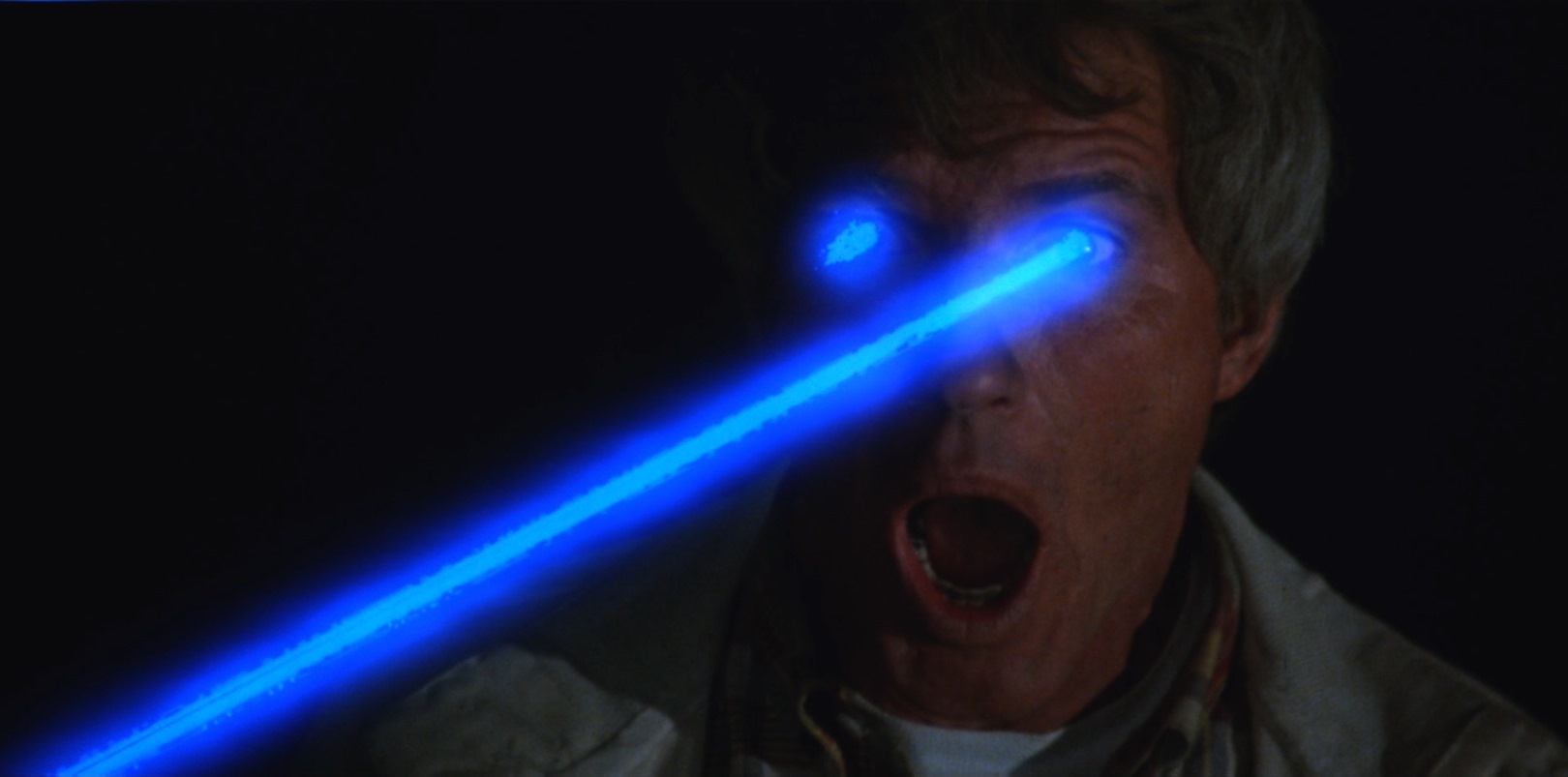 The complete lack of narrative drive, only punctuated by random supernatural effects and occasional gore scenes, makes for a dull film. The threat posed by the Egyptian god Habanoganah and the amulet is extremely vague and there is no sense that the characters are fighting against any clear-cut menace. In fact, in Lucio Fulci's perpetual straining for atmosphere, the non-narrative, the blank characters and lack even of identifiable conflict, Manhattan Baby proves a boring film. Certainly, in many respects, Manhattan Baby is not too different to Dario Argento's Inferno (1980), which was likewise a series of surreal and plotless supernatural killings set around a New York City apartment – unlike Argento however, Fulci is a hack director with little in the way of style.
Like most of Lucio Fulci's films, Manhattan Baby has existed under a variety of titles. In the US, it was renamed Eye of the Evil Dead to capitalise on the success of Sam Raimi's The Evil Dead (1981). It is also available in a variety of cut and uncut forms.
Lucio Fulci's other films are:– Perversion Story (1969), Lizard in a Woman's Skin (1971), Don't Torture the Duckling (1972), Dracula in the Provinces (1975), The Psychic (1977), Zombie – Flesh Eaters (1979), City of the Living Dead/Gates of Hell (1980), The Beyond/The Seven Doors to Death (1981), The Black Cat (1981), The House By the Cemetery (1981), The New York Ripper (1981), Conquest (1983), Rome 2072 A.D. (1983), Murderock (1984), The Devil's Honey/Dangerous Obsession (1986), Aenigma (1987), Touch of Death/When Alice Broke the Mirror (1988), Zombi 3 (1988), Demonia (1990), Nightmare Concert (1990), Voices from Beyond (1991) and Door to Silence (1992).
---
Trailer here
Film online in several parts beginning here:-
---