aka Carole
(Una Lucertola con la Pelle di Donna)
---
Italy/France/Spain. 1971.
Crew
Director – Lucio Fulci, Screenplay – Lucio Fulci, Roberto Gianviti, Jose Luis Martinez Molla & Andre Tranche, Story – Lucio Fulci & Roberto Gianviti, Producer – Edmondo Amati, Photography – Luigi Keveiller, Music – Ennio Morricone, Special Effects – Eugenio Ascani & Rambaldi Co., Production Design – Roman Catalyud. Production Company – Apollo Films s.r.l./Les Films Corona/Atlantida Films s.a.
Cast
Florinda Bolkan (Carol Hammond), Stanley Baker (Inspector Corvin), Jean Sorel (Frank Hammond), Leo Genn (Edmond Brighton), Edy Gall (Joan Hammond), Mike Kennedy (Hubert), Penny Brown (Jenny), George Rigaud (Dr Kerr), Anita Strindberg (Julia Durer), Silvia Monti (Deborah), Alberto de Mendoza (Sergeant Brandon), Franco Balducci (Chief Inspector McLeod), Ezio Marano (Lowell)
---
Plot
Carol Hammond, the wife of a London lawyer, tells her psychologist about a series of disturbing dreams in which she is drawn to neighbour Julia Durer, a wild party girl. In the dream, Carol allows herself to be seduced by Julia, only to stab her. Carol is then shocked to find that Julia has been stabbed in exactly the way that she dreamed. She falls under police suspicion when her paperknife and scarf are found at the murder scene. They suspect that she either acted in a fugue state or has a split personality. As Carol's solicitor father tries to clear her, the web of blackmail that Julia wove comes to light, as do other potential suspects, including Carol's husband. Meanwhile, two hippies who may have been in the dream now start trying to kill Carol.
---
Italian director Lucio Fulci gained a cult following in the early 1980s with films such as Zombie – Flesh Eaters (1979), City of the Living Dead/The Gates of Hell (1980), The Beyond (1981) and The House By the Cemetery (1981). Fulci had been writing scripts since the early 1950s and made his directorial debut in 1959. He had made some twenty-four films – mostly within the spaghetti Western genres and several comedies featuring the popular Italian duo of Franco and Ciccio – before he first broached horror in 1969, the genre with which he would always be associated. (See below for a full list of Lucio Fulci's other genre films).
Lizard in a Woman's Skin is a giallo thriller. This is a genre – so named for Il Giallo Mondadori, a series of books from an Italian publishing house that translated copies of English-language thrillers that were printed with distinctive lurid yellow covers (giallo being the Italian word for yellow). The genre was popularised on film by Mario Bava's Blood and Black Lace (1964) where Bava drew on the psycho-thriller that had been patented a few years earlier with Alfred Hitchcock's Psycho (1960) but conducted it with an extravagantly show-off, much more overtly sexual spin. The giallo genre gained a great popularity in the late 1960s/early 70s – the year before this, Dario Argento made his first appearance with the big hit of The Bird with the Crystal Plumage (1970) and went onto a number of other films in the genre over the next few years. There were numerous other giallo throughout this period and Lizard in a Woman's Skin is one of these.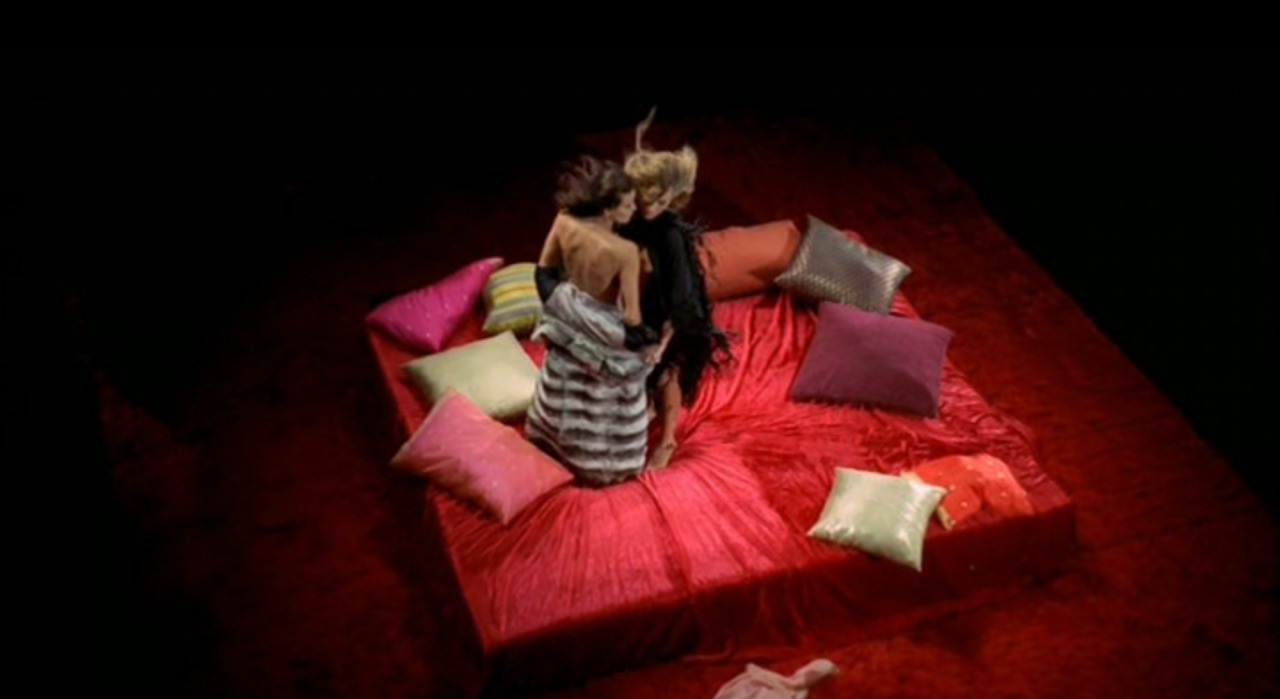 The film starts in with a captivating dream-like quality in which we see Florinda Bolkan running in slow-motion through a trainful of nude people before being seduced by her neighbour Anita Strindberg in a fur coat on a giant scarlet sheeted bed. In the next few scenes, we see Florinda Bolkan in the midst of a dull dinner party being distracted by the sounds of partying from next door and having fantasies of the orgy going on there. Anita Strindberg relaxes in the midst of the cavorting nude bodies, dressed in the richest of colours and the most ornate jewellery and with everybody surrounded by mirrors on the walls and ceiling. It feels like something out of the extravagantly orgiastic excesses of Fellini Satyricon (1969) – or perhaps given the theme of the housewife caught in fantasies, a giallo version of Fellini's Juliet of the Spirits (1965).
It is an exquisitely dressed and costumed film. The murder apartment comes in rich scarlet red with elegant drapings on the wall, while Anita Stridnberg is found dead wearing furs and thigh-high leather boots. The apartment where Florinda Bolkan lives is perfectly fitted in a modernist style, even comes with white telephones highlighted in the foreground of shots. Florinda Bolkan goes through an eye-catching range of fashions throughout. Indeed, one suspects that the film takes place (and was shot) in London so that the film can make its appeal as a giallo that sits atop the wave of Carnaby St fashion houses that were the height of Swinging Sixties chic. Not to mention that the film has one of the most attention-catching titles of any giallo of the era – even if nothing that takes place ever gives any clue as to what it might mean. Taking the title literally, you half expect a predecessor to the tv series V (1983).
The major problem is that after the opening provides such a superbly gaudy injection of decadence, the film slows down and becomes a dull murder mystery circling around whether Florinda Bolkan did it in a fugue state and uncovering blackmail plots on the part of Anita Strindberg. There is little that ever subsequently hits the stride that the opening scenes do. Compared to the rest of the dull hackwork he turned out, you feel that Lucio Fulci stumbled by accident onto the type of stylish psycho-thriller that directors to follow like Dario Argento and Brian De Palma managed to perfect. There are a few of the gratuitous gore scenes that Fulci subsequently made his trademark – notably a roomful of gored and still alive dogs strung up at the hospital, a scene that caused some controversy at the time – but not much.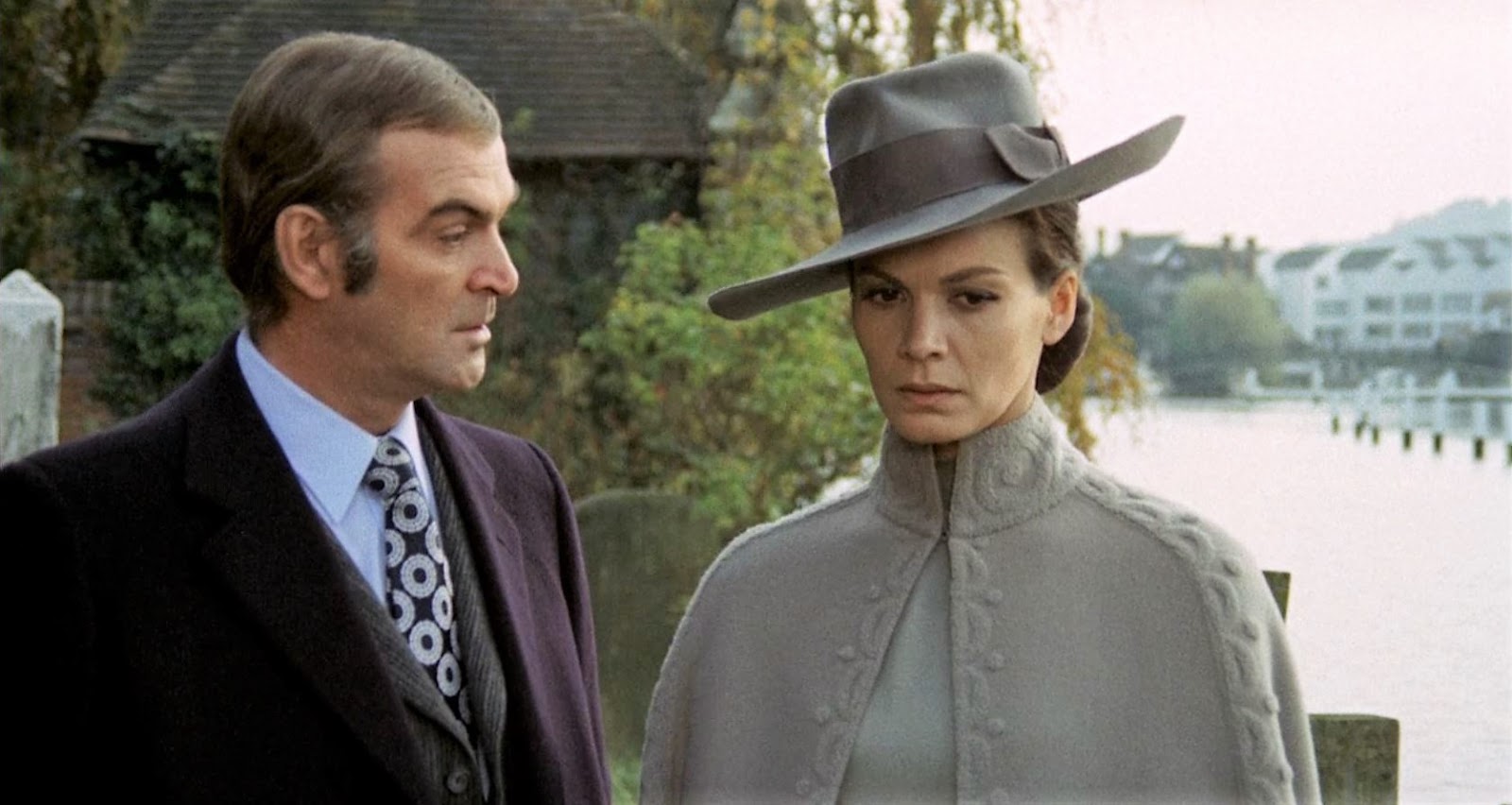 Nevertheless, despite a dull middle where you think the film has lost itself, Lizard in a Woman's Skin picks up again in the last twenty minutes. There is a fabulous sequence where Florinda Bolkan is lured to a cathedral and pursued by a red-headed hippie guy (Mike Kennedy) through the catacombs, through a secret door behind the pipe organ, into a room where she is beset by a horde of bats and then out across the ornate rooftop. It is something where Fulci manages to find something of one of Dario Argento's extravagantly over-the-top stalking set-pieces. This is also one of the occasions where Fulci, whose films became increasingly surrealistic and incoherent in subsequent years, manages to hold himself constrained by a psycho-thriller plot – moreover, one that is boosted considerably by an effective twist ending.
Lucio Fulci's other genre films are:– Perversion Story (1969), Don't Torture the Duckling (1972), Dracula in the Provinces (1975), The Psychic (1977), Zombie – Flesh Eaters (1979), City of the Living Dead/Gates of Hell (1980), The Beyond/The Seven Doors to Death (1981), The Black Cat (1981), The House By the Cemetery (1981), The New York Ripper (1981), Manhattan Baby/Eye of the Evil Dead/The Possessed (1982), Conquest (1983), Rome 2072 A.D. (1983), Murderock (1984), The Devil's Honey (1986), Aenigma (1987), Touch of Death/When Alice Broke the Mirror (1988), Zombi 3 (1988), Demonia (1990), A Cat in the Brain.Nightmare Concert (1990), Voices from Beyond (1991) and Door to Silence (1992). Aenigma: Lucio Fulci and the 80s (2017) and Fulci for Fake (2019) are documentaries about Fulci.
---
---