---
Crew
Director/Photographic – Lucio Fulci, Screenplay – Lucio Fulci & Giorgio Mariuzzo, Photography – Luigi Ciccarese, Music – Carlo Maria Cordio, Special Effects – Production Film 82 s.n.c., Production Design – Kemo Hrustanovic. Production Company – Ettore Spagnuolo/A.M. Trading International s.r.l. Roma.
Cast
Lara Naszinski (Eva Gordon), Jared Martin (Dr Robert Anderson), Ulli Reinthaler (Jenny Clark), Sophie d'Aulan (Kim), Jennifer Naud (Grace O'Neil), Kathi Wise (Virginia Williams), Riccardo Acerbi (Fred Vernon), Mijlijana Zirojevic (Kathy), Liljijana Blagojevic (Ms Jones), Dusica Zegarac (Mary), Zorica Lesic (Miss James)
---
Plot
At St Mary's girls college in Boston, the girls play a cruel prank on Kathy, the caretaker's homely daughter. They set her up on a date with the handsome physical education teacher but are waiting to surprise them. Kathy flees in humiliation, only to be run down by a car and left in a coma. Soon after, new girl Eva Gordon signs into the college and moves into Kathy's old room. From her hospital bed, Kathy reaches out and takes control of Eva's body to exact a series of bizarre deaths against her tormentors.
---
During the 1980s, Italian director Lucio Fulci developed a cult following with his horror films. The particular films that sparked the Fulci cult were Zombie – Flesh Easters (1979), City of the Walking Dead (1980), The Beyond (1981), The House By the Cemetery (1981) and The New York Ripper (1981). The films themselves are often incoherent on a narrative level but what drives them is some full-on gore effects and a series of bizarre despatches. (A full list of Lucio Fulci's films can be found at the bottom of the page). Fulci can also be briefly spotted on screen here as the reporter taking notes at the police crime scene investigation.
Fulci's heyday was between 1979 and 1981. He made a number of other films right up until his death in 1996 but these are substantially less interesting. During this period, Fulci was suffering for poor health due to diabetes, which led to financial problems. He had also had a bitter split with his regular screenwriter Dardano Sacchetti and was having difficulty attracting financing. The works he did produce seem watered down copies of the ferocious originals he delivered in his heyday. Aenigma demonstrates that Fulci has certainly not stopped delivering gore effects but the effort also seems far more like indifferent hackwork than his earlier films.
Lucio Fulci was always the low-rent cousin of Dario Argento and his works seem to go tattily where Argento had broken ground. Aenigma is fairly much a copy of Argento's Suspiria (1977) – a near plotless film about a series of outlandish novelty deaths occurring in a girls' boarding school. Fulci borrows the same set-up here. As a rationalisation, this has been bizarrely married to the premise of Richard Franklin's Patrick (1978) about a coma patient who psychically reaches out to exact revenge from a hospital bed. (Patrick seems to have had a following in Italy – the Italians also produced Patrick Still Lives (1980), an unauthorised sequel).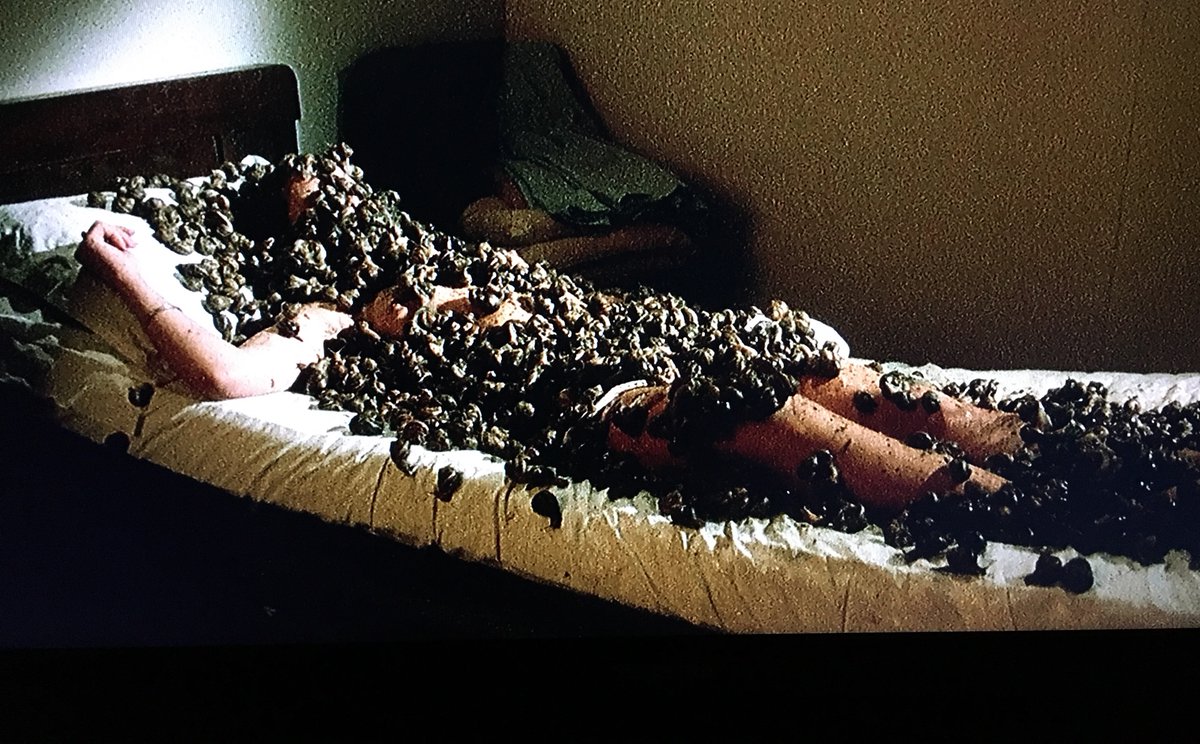 Fulci serves up a variety of novelty deaths. Some of these stand out – one where Kathi Wise wakes up to find her body covered with dozens of snails; a head abruptly being severed by a falling window sash. Other effects do not – a rather silly one where the macho phys ed teacher Riccardo Acerbi is attacked by his own doppelganger stepped out of as mirror. And there are those that sit somewhere between the two – Jennifer Naud encountering a classical painting that rains blood down on her and where the editing team valiantly attempt to make it look like she is being strangled by a statue. For the most part though, Fulci's work feels utterly by the numbers.
The only recognisable face present is the imported headline name of Jared Martin, who was briefly known as the lead in the short-lived sf tv series The Fantastic Journey (1977) and then became a regular on Dallas (1978-91). The film was shot in Yugoslavia and most of the rest of the cast have been recruited from among the locals. There is all the typical cheap dubbing of video-era imports from the period. In particular, the dialogue of breathy passion in the make-out session that opens the film is guaranteed to have you in hysterics.
Lucio Fulci's other films are:– Perversion Story (1969), Lizard in a Woman's Skin (1971), Don't Torture a Duckling (1972), Dracula in the Provinces (1975), The Psychic (1977), Zombie – Flesh Eaters (1979), City of the Living Dead/Gates of Hell (1980), The Beyond/The Seven Doors to Death (1981), The Black Cat (1981), The House By the Cemetery (1981), The New York Ripper (1981), Manhattan Baby/Eye of the Evil Dead/The Possessed (1982), Conquest (1983), Rome 2072 A.D. (1983), Murderock (1984), The Devil's Honey (1986), Touch of Death/When Alice Broke the Mirror (1988), Zombi 3 (1988), Demonia (1990), A Cat in the Brain.Nightmare Concert (1990), Voices from Beyond (1991) and Door to Silence (1992). Aenigma: Lucio Fulci and the 80s (2017) and Fulci for Fake (2019) are documentaries about Fulci.
---
---