UK. 1965.
Crew
Director – Lance Comfort, Screenplay – Lyn Fairhurst, Producer – Tom Blakely, Photography – Reg Wyer, Music – Bernie Fenton, Makeup – George Blackler, Art Direction – John St. John Earl. Production Company – Planet Film Productions.
Cast
William Sylvester (Paul Baxter), Hubert Noel (Count Sinistre, Armond de Moliere), Carole Gray (Tania), Tracey Reed (Karen Steel), Diana Decker (Madeleine Braun), Rona Anderson (Anne Forrest), Peter Illing (Inspector Malin), Victor Brooks (Inspector Hardwick), Eddie Byrne (Dr Robert Kelsey), Gerard Heinz (Bouvier), Brian Oulton (The Colonel), Marie Burke (Old Gypsy Woman), Geoffrey Kenion (Keith), Burnell Tucker (Derek)
---
Plot
British writer Paul Baxter is on holiday in France. While staying at an inn in the Brittany countryside, his friend Anne Forrest's brother is killed while spelunking nearby. Anne is then wooed by the local Count Sinistre who turns out to be a vampire. Her dead body is found in the river but the local police inspector dismisses it as a suicide due to grief. Paul finds a bat-shaped pendant dropped at the scene. He returns to England but Count Sinistre and his wife Tania follow, determined to get back the pendant and targeting those around Paul to do so.
---
Devils of Darkness was one of the minor films in the Anglo-horror cycle of the 1950s-70s. It was not produced by Hammer, Amicus or any of the key players during this era but a smaller distribution outfit Planet Films. Planet's only real other distinction is that they lured Terence Fisher away for Hammer to make a couple of science-fiction works – Island of Terror (1966) and Night of the Big Heat (1967) – and beyond that only turned out a handful of crime films.
Devils of Darkness very much wants to be a Hammer film. Indeed, the plot (at least during the French-set scenes) often resembles Hammer's Kiss of the Vampire (1962). The one difference is that this has the distinction of being set in the present-day as opposed to the period setting preferred by Hammer. Some sources (repeated by the IMDB) have made the untrue claim that Devils of Darkness was the first contemporary vampire film – that was in fact Return of the Vampire (1944), although you could easily argue that Universal's Dracula (1931) is set contemporary. It cannot even be said to be the first British contemporary-set vampire film as it had been beaten out in that regard by the vampire segment of Dr Terror's House of Horrors (1965).
The film appropriates Hammer's lush use of colour – and director Lance Comfort makes great use of it. The cultists look amazing wandering through the woods in single file in their brilliant scarlet red robes and holding torches, where Comfort even artily shows them reflected off the water of the lake. There are some great other shots throughout – the appearance of the old Gypsy woman where her eyes become lit up in a band of light as she delivers her pronouncement, or the scene where Hubert Noel takes Rona Anderson for a walk and she sees only her own reflection in the water of the lake.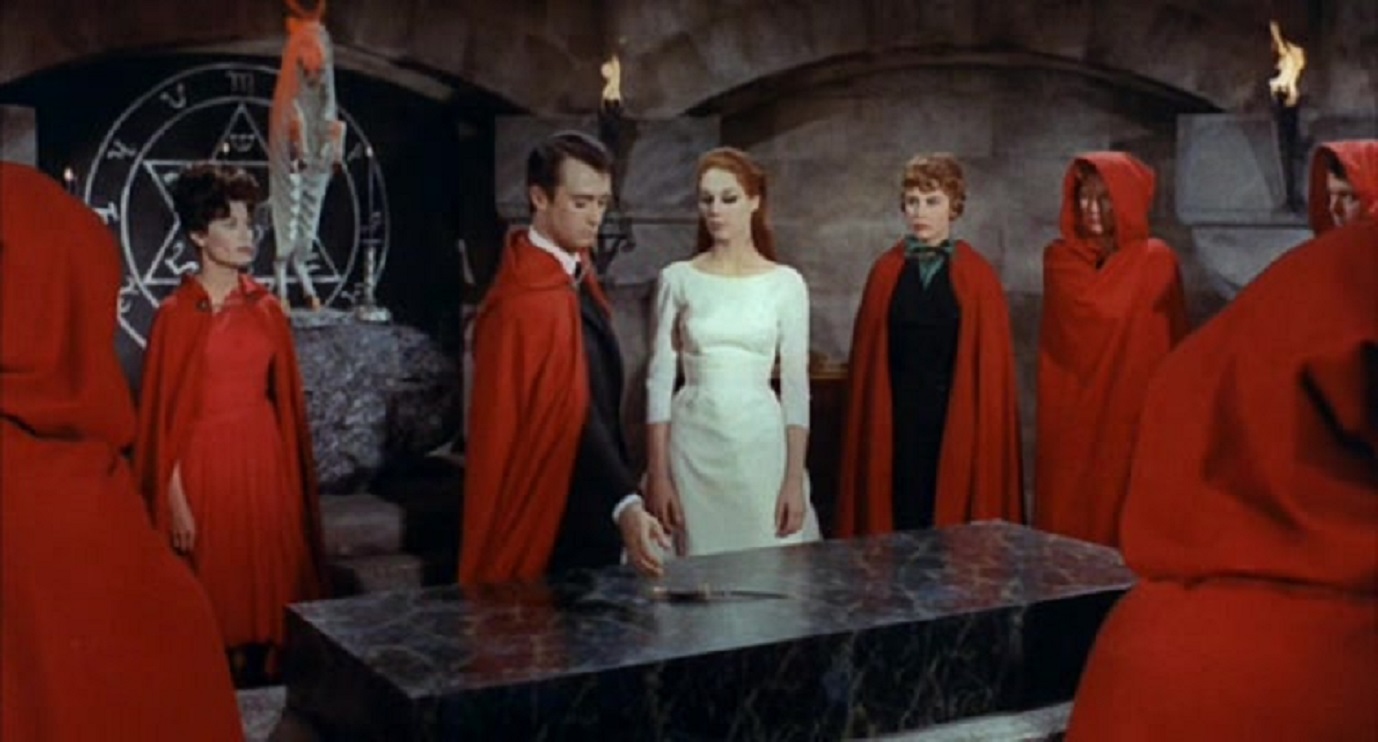 Unlike any of the Hammer vampire films – at least up until The Legend of the 7 Golden Vampires (1974) – this goes on location outside of England to France (during the first half). The film becomes far less interesting once it returns to England and mostly seems to consist of a series of interior scenes set in apartments and shops. These scenes slow down and lack the visual vibrance that the French ones had. Comfort shuffle scenes around without building much of a head of steam. The plot also lacks a certain focus and drive – William Sylvester picks up a bat-shaped pendant that was dropped near where Rona Anderson was killed and for reasons never made clear this seems so crucial to the vampires that they pursue him all the way back to England and abduct the people close to him.
The film is also weakened by the presence of French actor Hubert Noel who lacks any of the dark charisma of Christopher Lee or even a Bela Lugosi. Noel at best looks like a polished seducer whose waxy facial features give him an uncanny resemblance to a Gerry Anderson puppet. William Sylvester, an American actor who based his career in England and was later famous as Dr Heywood Floyd in 2001: A Space Odyssey (1968), makes for an okay lead. The film does have the benefit of some very beautiful women – Carole Gray, Tracey Reed – filling out the supporting roles. It feels at times that Lance Comfort is wanting to open up and offer a much openly erotic film but is being constrained by the censor of the day – if only the film has been made about five years later when the Anglo-horror cycle began to shuck these constraints, it would have been a very different work.
Devils of Darkness was the last film of British director Lance Comfort who died the year after its release. Comfort had had a career since the mid-1940s directing a string of quota quickie thrillers along with the occasional comedy and war film, as well as a certain amount of television. He is responsible for the rest of Planet Films' crime films. His only other venture into genre material was Hammer's forgotten Dr Jekyll and Mr Hyde comedy The Ugly Duckling (1959).
---
Trailer here
Full film available here
---