---
Crew
Director – Reginald Le Borg, Screenplay/Producer – Robert E. Kent, Based on the Short Story The Horla by Guy de Maupassant, Photography – Ellis W. Carter, Music – Richard La Salle, Special Effects Supervisor – Norman Breedlove, Makeup – Ted Coodley, Art Direction – Daniel Haller. Production Company – Admiral Pictures Inc.
Cast
Vincent Price (Simon Cordier), Nancy Kovack (Odette Malotte), Chris Warfield (Paul DuClasse), Elaine Devry (Jeanne D'Arville), Ian Wolfe (Pierre), Stephen Roberts (Captain Robert Rennedon), Harvey Stephens (Louis Girot), Mary Adams (Louise), Lewis Martin (Father Raymond)
---
Plot
19th Century France. After the funeral of magistrate Simon Cordier, his survivors are left a diary that explains what happened to him. In it, Cordier tells how he was requested to visit condemned murderer Louis Girot, who insisted that he was innocent and had been possessed when conducting the murders he is convicted of. Afterwards, Cordier was haunted by the spirit of an invisible creature that called itself The Horla. Cordier then fell for Odette Malotte, a beautiful married model who posed for one of his sculptings and who happily abandoned her husband to be with Cordier. However, The Horla drove Cordier to kill Odette and then as magistrate blame her husband for the murder.
---
Diary of a Madman was one of several efforts during the 1960s that attempted to capitalise on the success of Roger Corman's series of Edgar Allan Poe films that began with The House of Usher (1960). As with Corman's Poe films, it stars Vincent Price barnstorming in a period setting. Also on board is Daniel Haller, who acted as production designer for all of Corman's Poe films – the opening graveyard set here almost certainly appeared in one or more Poe films.
At the helm is director Reginald Le Borg, a B director from the 1940s who had a prominence in the 1940s (see below for Reginald Le Borg's other films). Corman's films were often heavy-handed in atmosphere and Diary of a Madman is a good deal more pedestrian. However, it does have an interesting screenplay – taken from an 1886 short story by 19th Century French literary writer Guy de Maupassant.
The Horla is certainly a different and unusual monster. Even though the film predated The Exorcist (1973) and the like, it has an interesting view of possession with Vincent Price actually conversing with the creature possessing him. What also makes the story interesting is the level of moral ambiguity – Nancy Kovack's romantic interest is a married woman who is keeping her wed state a secret from Vincent Price and intending to leave her husband for a better prospect; and at one point Price, though the hero, as magistrate condemns a man he knows to be innocent to hang for the very crime he himself committed.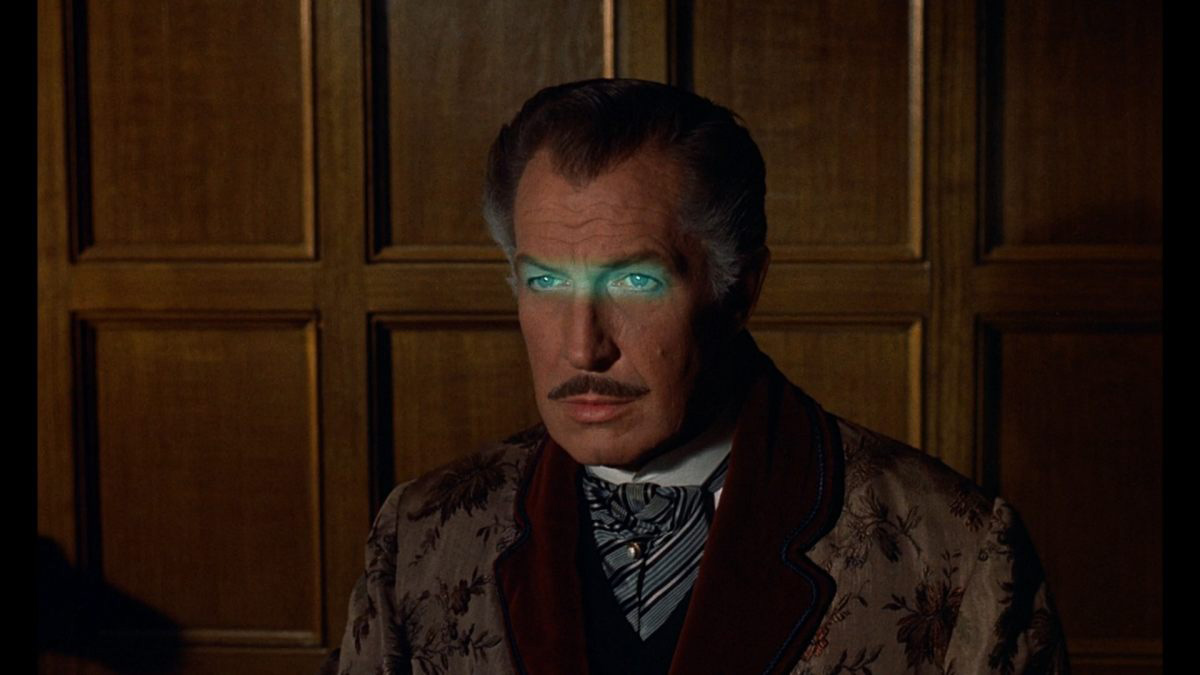 The film is made with reasonable Technicolor lavishness, something that allows Reginald Le Borg to transcend the pedestrianness of his own hand. There are some occasionally effective shock images – like the discovery of Nancy Kovack's severed head under the clay sculpture in Vincent Price's studio and a scene where the possessed Price is driven back from killing a man at the last moment by the reflection of a cross from the church across the street on his knife blade. Modestly effective.
Director Reginald Le Borg was an Austrian immigrant who worked as a B-budget director in Hollywood between the 1920s to the 1970s, mostly being known for a number of the entries in the Joe Palooka series. His other genre films include:- the Inner Sanctum thrillers Calling Dr Death (1944) and Dead Man's Eyes (1944); the clairvoyance film Destiny (1944); Jungle Woman (1944), the second in Universal's series starring Acquanetta as a were-ape woman; The Mummy's Ghost (1944), the fourth of Universal's Mummy series; Weird Woman (1944) about witchcraft in academic circles; the mad scientist film The Black Sleep (1956); Voodoo Island (1957); The Flight That Disappeared (1961), an anti-nuclear film about a planeload of people being abducted in mid-flight; the psychic thriller The Eyes of Annie Jones (1964); and the psycho-thriller So Evil, My Sister (1974).
---
Trailer here
Full film available online here:-
---