---
USA. 1995.
Crew
Director – Stuart Gordon, Screenplay – Dennis Paoli, Story – Stuart Gordon & Dennis Paoli, Producer – Maurizio Maggi, Photography – Mario Vulpiani, Music – Richard Band, Makeup Effects – Optic Nerve, Art Direction – Franco Vanorio. Production Company – Full Moon Entertainment.
Cast
Jeffrey Combs (John Reilly), Barbara Crampton (Susan Reilly), Jonathan Fuller (Giorgio D'Orsino), Jessica Dollarhide (Rebecca Reilly), Elizabeth Kaza (Agnese), Luca Zingaretti (Forte), Raffaella Offidani (Sylvana Luca), Massimo Sarchielli (Rinaldo Giannetti), Helen Stirling (Duchess D'Orsino)
---
Plot
John Reilly learns that he has inherited a castle in Italy. He, his wife Susan and their blind daughter Rebecca travel there to claim the inheritance. John and Susan's marriage is troubled with she unable to forgive him for an accident that killed their son that happened when John was driving. Their arrival at the castle disturbs a deformed creature that is chained up in the dungeon. John hears the creature and insists that there is something there, although nobody else can find any evidence. John then realises that the creature is a son born to his father. It has been kept in the dungeon and brutally tortured by his father's first wife after his father abandoned her. The creature escapes and begins killing people. However, Susan dismisses John's insistence that the creature is real as another of John's excuses to cover his behaviour. Next, the police come to arrest John for the creature's murders.
---
Stuart Gordon first emerged onto the genre scene with the cult classic Re-Animator (1985), adapted from an H.P. Lovecraft short story. This patented Gordon's gore-heavy black humour style. Alas, all of Stuart Gordon's films made since Re-Animator, which include the likes of From Beyond (1986), Dolls (1987), The Pit and the Pendulum (1991) and Dagon (2001), or his various ventures into science-fiction – Robot Jox (1990), Fortress (1993) and Space Truckers (1996) – have never struck with the same effect and certainly not the public resonance that Re-Animator did.
In many of these cases, at least up until his amazing adaptation of David Mamet's Edmond (2005), it feels that Stuart Gordon is searching around trying to find and replicate the same elements that made Re-Animator a success again, but without quite succeeding – with From Beyond, Gordon reunited most of the cast and production personnel of Re-Animator in another splatter-heavy H.P. Lovecraft adaptation; and with Dagon, he and the same writing/producing team united on a further Lovecraft adaptation. It feels like Gordon is trying the same here on Castle Freak, which reunites Gordon with his Re-Animator principals Jeffrey Combs and Barbara Crampton, as well as scripter Dennis Paoli, producers Albert and Charles Band and musician Richard Band. There is nothing on the credits of Castle Freak that acknowledges H.P. Lovecraft as source, although many have taken the film to be based on the Lovecraft short story The Outsider (1921), to which Castle Freak has nominal similarities.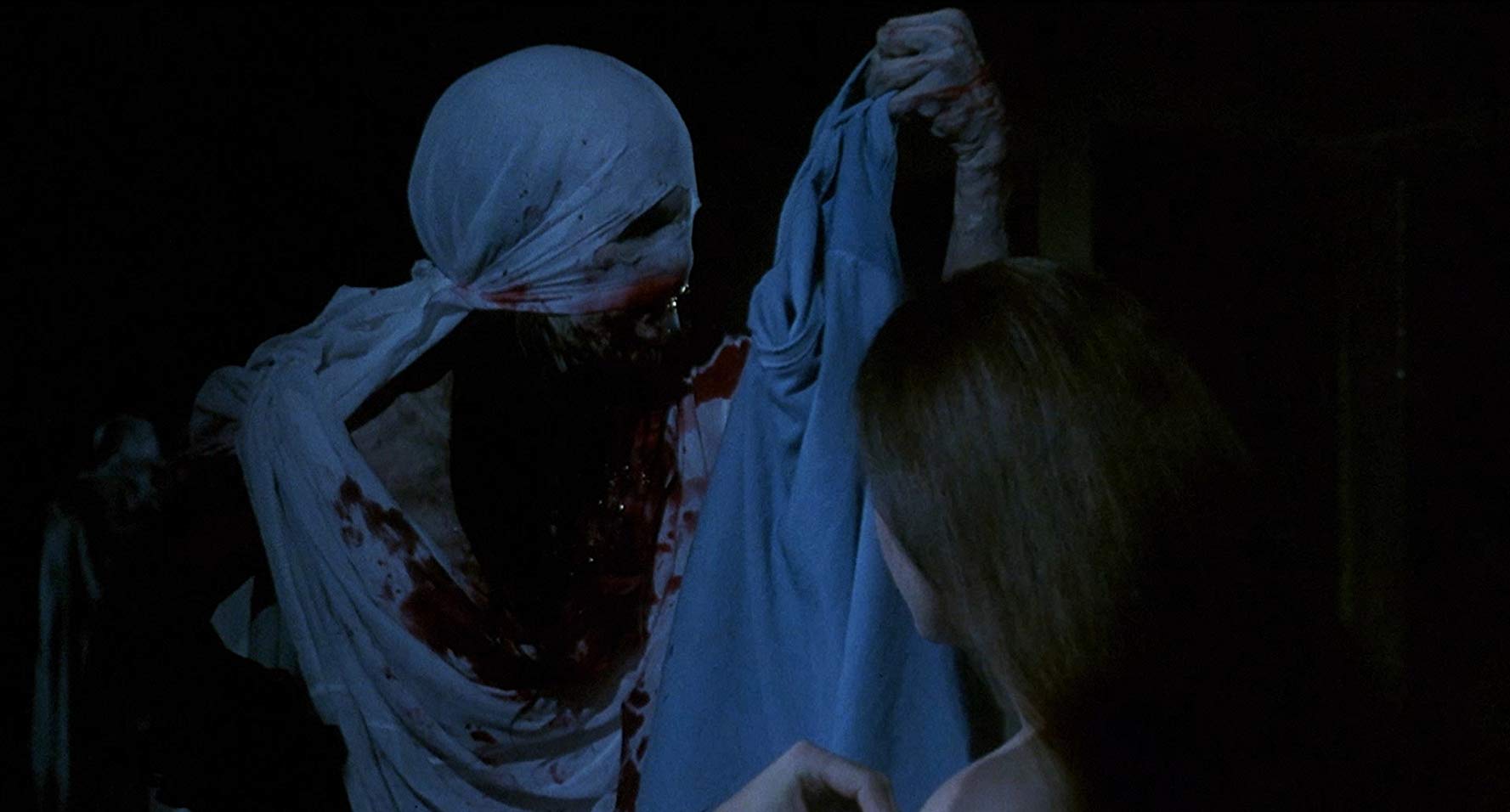 Castle Freak feels like Stuart Gordon is trying to revisit one of the Italian Gothic films of the 1960s – the likes of The Blancheville Monster (1963), The Terror of Dr Hichcock (1962), The Spectre/The Ghost (1963), Castle of Blood (1964), The Long Hair of Death (1964), Bloody Pit of Horror (1965), Night is the Phantom (1965), Nightmare Castle (1965), Terror-Creatures from the Grave (1965) and Baron Blood (1972). These would usually feature Barbara Steele and a plot about people inheriting a castle that had family secrets buried in the dungeons and/or resurrected sadistic nobles. Castle Freak rehashes the basic plot elements of these Italian films, albeit with a good deal more in the way of modern gore effects.
Alas, Castle Freak is routine in all respects. Stuart Gordon shot the film in a real castle in the small village of Giove in Umbria, Italy – one that was in fact owned by the film's Executive Producer Albert Band. Despite an impressive location, Castle Freak consists of nothing more than people skulking around the castle with little in the way of plot development. This video version seen here also gives the impression that much of the gore has been trimmed – nevertheless, Optic Nerve's deformed figure in the dungeon still looks nasty. However, with all of the gore trimmed, gone is the reason to watch much of Castle Freak. Occasionally, Stuart Gordon's sense of black humour emerges – like the scenes with daughter Jessica Dollarhide talking about how her true love will come for her as the creature creeps up and starts fondling her – but Gordon never pushes any of this as far as he did in Re-Animator. Jeffrey Combs's lead character is written with a self-loathing that is highly unappealing. Even the title, Castle Freak, seems silly and unserious.
The film was later remade as Castle Freak (2020).
Stuart Gordon's other genre films include:- Re-Animator (1985), From Beyond (1986), Dolls (1987), the live-action Transformers film Robot Jox (1990), the vampire tv movie Daughter of Darkness (1990), the Edgar Allan Poe adaptation The Pit and the Pendulum (1991), the future prison film Fortress (1993), Space Truckers (1996), the Ray Bradbury adaptation The Wonderful Ice Cream Suit (1998), the H.P. Lovecraft adaptation Dagon (2001) and the true crime based Stuck (2007). Gordon also came up with the stories for Honey, I Shrunk the Kids (1989), Body Snatchers (1993) and Progeny (1998).
---
Trailer here
---