---
Crew
Director – Rodo Sayagues, Screenplay – Fede Alvarez & Rodo Sayagues, Producers – Fede Alvarez, Sam Raimi & Rob Tapert, Photography – Pedro Luque, Music – Roque Banos, Visual Effects – Aparato, Crater Studio (Supervisor – Nikola Vucenovic), Eye-Spy VFX (Supervisor – Jose Marra), Tempest FX & VFX Legion (Supervisor – James David Hattin), Special Effects Supervisor – Gabor Kiszelly, Makeup Effects – Filmefex Studio (Prosthetic Designer – Ivan Poharnok), Production Design – Dave Warren. Production Company – Stage 6 Films/Ghost House Pictures/Bad Hombre Productions.
Cast
Stephen Lang (The Blind Man), Madelyn Grace (Phoenix), Brendan Sexton III (Raylan), Adam Young (Jim-Bob), Rocci Boy Williams (Duke), Christian Zagia (Raul), Bobby Schofield (Jared), Fiona O'Shaughnessy (Mother), Stephanie Arcila (Hernandez)
---
Plot
The blind man has set up another house with his daughter Phoenix, although is very controlling over what he will allow her to do. On a venture outside with Hernandez, the woman who brings them food and supplies, Phoenix encounters a strange man Raylan who follows her into the bathroom. Raylan and his gang of thugs follow Phoenix home, killing Hernandez and breaking into the house. There as the blind man tries to defend his home, Raylan and his gang harass and try to kill him and snatch Phoenix.
---
Don't Breathe (2016) was a modest hit from Sam Raimi's Ghost House Pictures. It earned over $160 million worldwide against a budget of less than $10 million. This is a sequel where director Fede Alvarez has stepped back and handed the reins over to Rodo Sayagues, his co-writer on Evil Dead (2013) and Don't Breathe. The film was shot in Serbia during the 2020 pandemic lockdown.
I wasn't much of a fan of Don't Breathe – its' suspense sequences felt calculated but entirely unmemorable. What is a surprise is that the theme of the house burglars who innocently enter into the lair of a killer has proven surprisingly fruitful since then with the likes of Bad Samaritan (2018), Monster Party (2018), Villains (2019) and The Owners (2020).
All of that said, Don't Breathe 2 is no longer a film about house burglars trapped inside a house and being hunted but has its entire sympathies reversed to become a Home Invasion Thriller. Both films have essentially the same plot where a group of thugs break into the house of a blind man (Stephen Lang) who proves far more resourceful in fighting back against them than anticipated.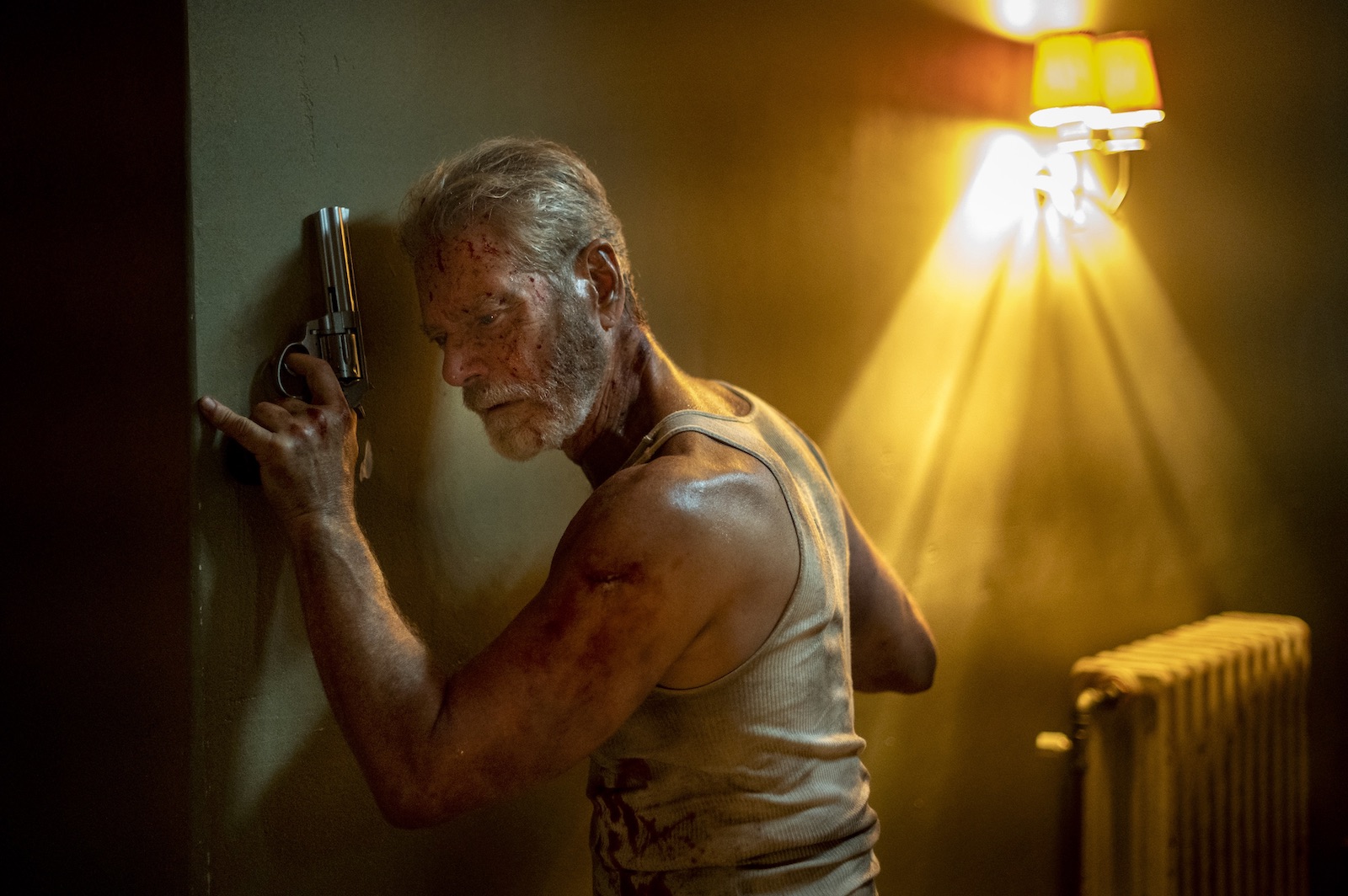 While on the face of it, Don't Breathe 2 conducts a repeat of the first film's plot, it is worth looking at the difference in where the sympathies lie. In the first film, these lay with the housebreakers who were a bunch of innocent kids trying to steal a stash of money. By contrast here, the sympathies of the film are entirely with Stephen Lang and the newly introduced character of his daughter (Madelyn Grace) while the home invaders are portrayed as a bunch of thugs with little redeemability.
The reversal of sympathies that are required between original and sequel are head-spinning. In the first film, Stephen Lang was portrayed as a disturbed individual who kept women imprisoned in his cellar to impregnate them but here he abruptly becomes the hero. The equivalent might be imagining someone like Leatherface and Sally Hardesty from The Texas Chain Saw Massacre (1974) or maybe Buffalo Bill and Catherine Martin from The Silence of the Lambs (1991) becoming the heroic protagonists of the story and teaming up to deal with home invaders.
Aside from that, all that leaves is how Don't Breathe 2 works as a thriller. If I might momentarily digress and draw one's comparison to Fede Alvarez's previous directorial film The Girl in the Spider's Web (2018), a sequel to The Girl with the Dragon Tattoo (2009), which I had no problem naming in a Worst Film of the Year list for another magazine. In Alvazrez's hands, the tightly plotted thriller of the original was turned into a film that consisted only of over-the-top action sequences in which the traumatised hacker heroine of the original became a stunt cycle rider.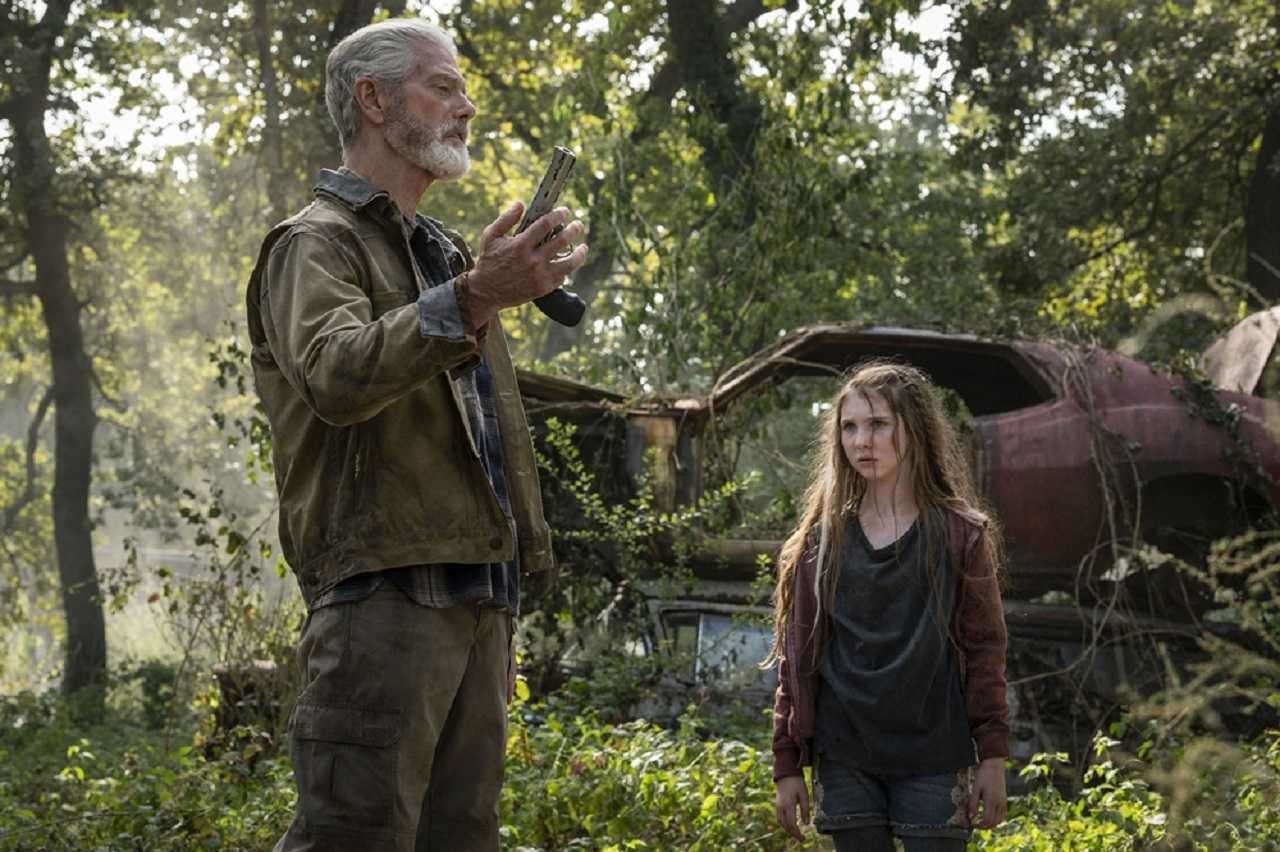 The same thing essentially happens here. Don't Breathe was a passable suspense film about people trapped in a house. By the time of the sequel that has been blown up into a series of action and fight set-pieces with people fighting, Madelyn Grace almost drowning in a box, blind Stephen Lang trapped in a burning house and the like. There are a couple of brutal and nasty sequences where we see someone's head bashed in with a hammer and another where one of the thugs has their mouth and nose glued over and tracheotomy is performed by a screwdriver stabbed into their cheek (something that would in actuality leave the person drowning in the blood from the wound). It is a film that exists solely in terms of a series of slick thriller and fight set-pieces.
I reach the end of it and am left wondering "Is that all there was to it?" Least of all what it was about this film that the producers and distributors possibly thought audiences might consider worth going out and risking their lives to watch in theatres during the Covid-19 pandemic. Are there really fans so enthusiastically dedicated to seeing more adventures of the blind man that they are willing to put their lives at risk?
---
Trailer here
---