---
Crew
Director – David Slade, Screenplay – Stuart Beattie, Brian Nelson & Steve Niles, Based on the IDW Publishing Graphic Novel by Steve Niles & Ben Templesmith, Producers – Sam Raimi & Robert G. Tapert, Photography – Jo Willems, Music – Brian Reitzell, Visual Effects Supervisor – Charlie McClellan, Visual Effects – Digital Post Ltd, PRP VFX (Supervisor – George Port) & Weta Digital Ltd, Special Effects Supervisor – Jason Durey, Makeup Effects Supervisor – Gino Acevedo, Makeup Effects – Weta Workshop (Supervisor – Richard Taylor), Production Design – Paul Denham Austerberry. Production Company – Ghost House Pictures/Columbia/Dark Horse Entertainment.
Cast
Josh Hartnett (Sheriff Eben Oleson), Melissa George (Stella Oleson), Danny Huston (Marlow), Ben Foster (The Stranger), Mark Boone Junior (Beau Brower), Mark Rendall (Jake Oleson), Nathaniel Lees (Carter Davies), Amber Sainesbury (Denise), Manu Bennett (Deputy Billy Kitka), Joel Tobeck (Doug Hertz), Megan Franich (Iris), Jared Turner (Wilson), Craig Hall (Wilson Bulosan), Chic Littlewood (Isaac Bulosan), Elizabeth McRae (Helen Munson), Elizabeth Hawthorne (Lucy Ikos), Peter Feeney (John Rhys), Ben Fransham (Heron)
---
Plot
Winter sets on the town of Barrow in the northernmost part of Alaska, 80 miles from the nearest civilization. The town's population halves as most people head south instead of stay through the 30 days of night and frequent blizzard conditions. In the midst of the departures, the town sheriff Eben Oleson must suddenly deal with a series of killings around town. As the townspeople are slaughtered wholesale, they realize they are dealing with vampires that have come there because of the month of night. Eben and several others take refuge in an attic hideaway. However, lack of supplies and other endangered survivors forces them to have to venture out into the streets.
---
30 Days of Night was the sixth film from Ghost House Pictures, the company set up by director Sam Raimi to produce horror films. Ghost House Pictures have so far put out The Grudge (2004), Boogeyman (2005), The Grudge 2 (2006), The Messengers (2007), Rise (2007), Raimi's Drag Me to Hell (2009), The Possession (2012), Don't Breathe (2016), The Unholy (2021) and the remakes of Evil Dead (2013) and Poltergeist (2015), as well as the tv series Legend of the Seeker (2008-10) and 13: Fear is Real (2009).
30 Days of Night is based on a graphic novel from IDW Publishing, which was originally published in a three-part mini-series in 2002. This proved popular and has spawned a number of follow-ups. With some irony, writer Steve Niles originally conceived 30 Days of Night as a film treatment, was unable to sell it, turned it into a graphic novel and then ended up selling the film rights for a seven figure sum in a bidding war. The rights were picked up by Sam Raimi who originally intended to direct himself but eventually let the director's chair go to David Slade, a music video director who appeared a couple of years earlier with the breakout Sundance hit of the extraordinarily charged Hard Candy (2005) about an underage girl taking matters into her own hands and torturing a paedophile.
I felt unsure about 30 Days of Night before sitting down to watch. Ghost House's other films have not done a huge amount to set the horror world alight so far and 30 Days of Night received mediocre reviews after opening in the US. The basic set-up and premise seems like a conceptual collision of Salem's Lot (1979) with its small town being overrun by a plague of vampires and John Carpenter's The Thing (1982) with its characters under snowbound siege with a monster in their midst. Certainly, I was expecting on the basis of Hard Candy for David Slade to do something remarkable with the vampire film. However, the first third of 30 Days felt like it did little to draw one into it. The vampire attacks seem lacking – all we get is a reprise of 28 Days Later (2002) where the action is shot in blurred, fast cuts such that it is frequently hard to work out what is going on as though the director/editor were too afraid of MPAA ire to show any of the gore too clearly.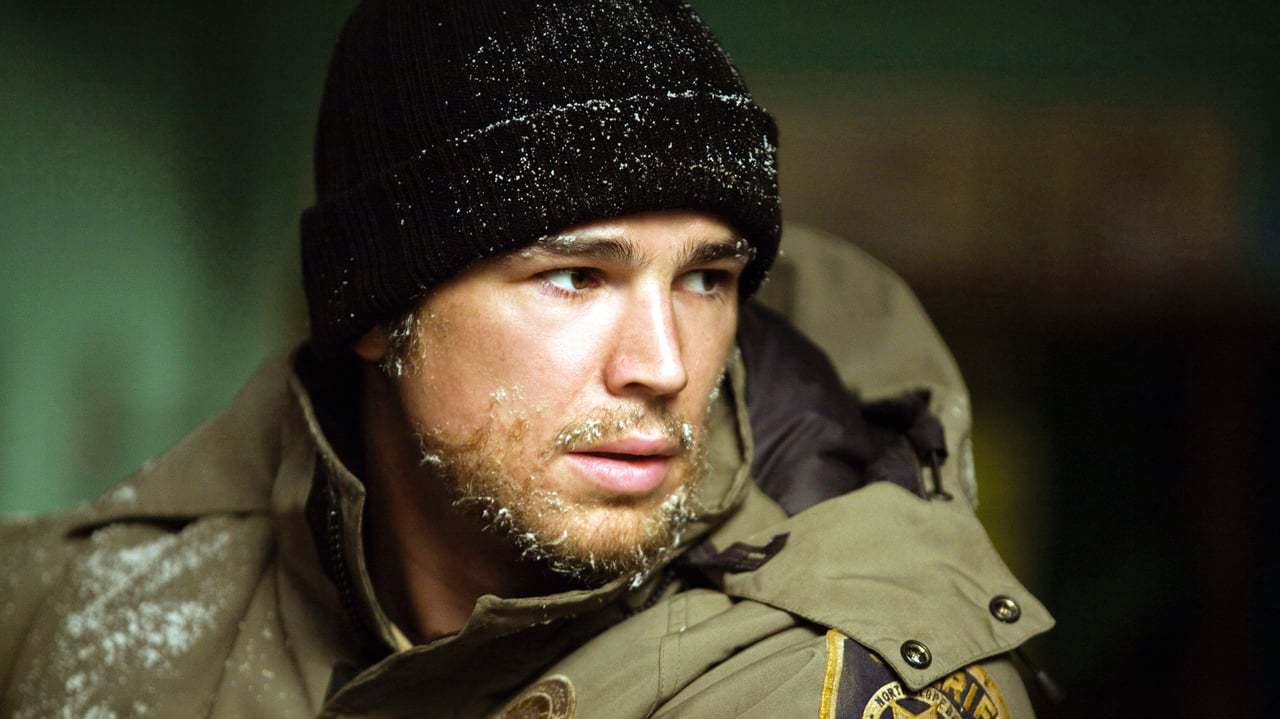 Eventually, 30 Days of Nights develops a mood that absorbs you into it. It is not a fast and slam-bang film. The most effective scenes tend to be those where the characters are at siege hidden inside an attic, the slow compounding of the situation and the twists that keep requiring them to venture out. The vampires, though they do not do much more than usual – snarling, drinking blood and talking in an arcane language – have an unearthly appearance thanks to Peter Jackson's Weta Workshop. The torchlight and night time snowbound shooting makes the film look as though it is taking place in a sepia-tone monochrome. David Slade also shoots much of the film in facial closeups, choosing a film stock that shows up every blemish on the actors' faces. These scenes feel like a far more authentic recreation of the fearful paranoid mood of Richard Matheson's I Am Legend (1954) than the recent film version I Am Legend (2007).
Most of the cast are competent in their parts – especially Ben Foster as a modern equivalent of Renfield. On the minus side, the film has a large cast of characters and most of the roles never get much development – it is often hard to tell what distinguishes one character from another. Josh Hartnett and wife Melissa George are said to have marital difficulties/estrangement but other than mentioning it their relationship is entirely glossed over. When characters do get more distinction, it is only in cliches – the self-interested hothead, the old man suffering from dementia who endangers everybody in the bolthole, the people who rise to make noble sacrifices.
A 29 year-old Josh Hartnett seems too young to play the role of the town sheriff but is convincing in the role, especially when it comes to the ending. The piece of writing that I feel failed to work was oddly the climax where [PLOT SPOILERS] Hartnett makes the reckless decision to infect himself so he can take the vampires on on their own level – but this only transpires as a glorified punch-up where the other vampires stand around watching and then inexplicably vanish when it is over.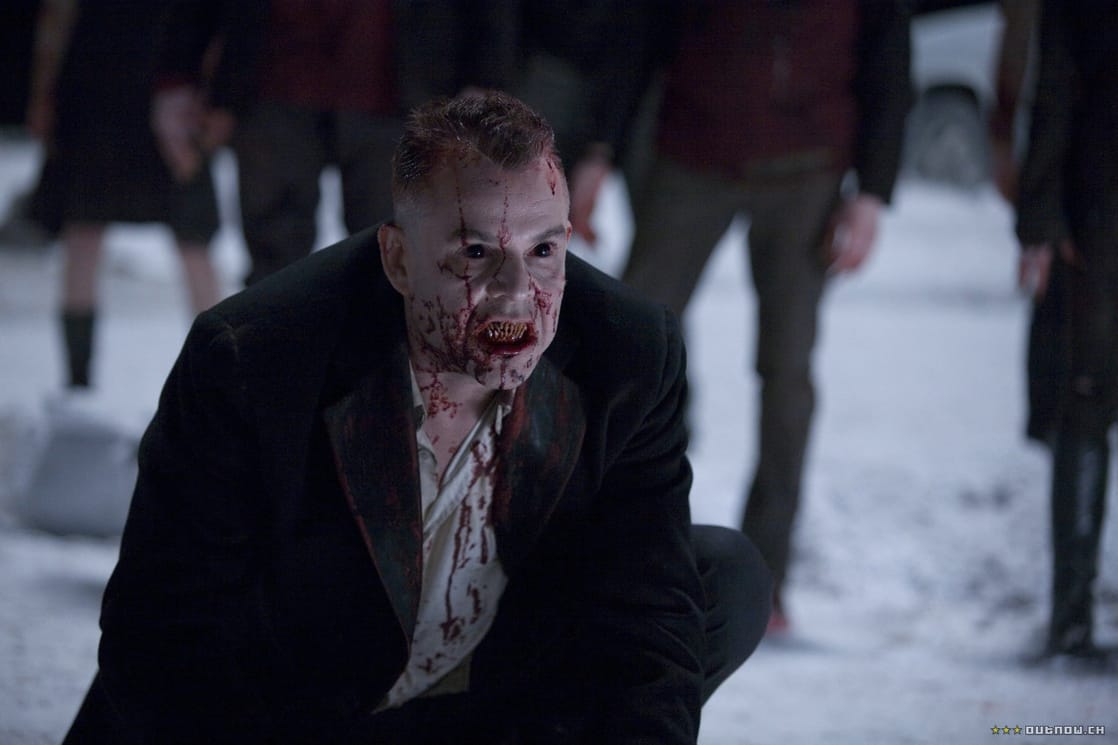 One of the other peculiarities about 30 Days of the Night is that Ghost House Pictures have taken the production to New Zealand to film. There is a certain amusement in seeing local soap opera actors turning up spouting American accents. Although, the biggest oddity is that New Zealand has been chosen at all. When you think of countries to represent an existing town in northernmost Alaska that remains snowbound and frozen over for the entire running time of the film, mild and temperate New Zealand – where it is not uncommon for some people to have never come across snowfall in their lives (at least without having travelled to the mountains) – is not the most natural location that comes to mind. One wonders why Ghost House simply did not hop over the border into Canada – a much more naturally snowbound location (and one where most American filmmakers end up going these days). For all that, the film does manage to get some excellent usage out of the locations – like the dazzling opening aerial shot where we see the tiny township as little more than a spidery blemish in a vast wilderness of white, or a shot where David Slade pulls up into the air to show the vampires' bloody swathe through the town.
At the same as the film came out, a prequel mini-series 30 Days of Night: Blood Trails (2007) dealing with the days leading up to the events of the film was released across the internet in 7 episodes that were later combined as one 30 minute film. The web series had a later sequel with 30 Days of Night: Dusk to Dusk (2008). A full-length dvd-released sequel was released with 30 Days of Night: Dark Days (2010), which was adapted from the original creators' follow-up to the comic-book.
Director David Slade next returned to matters vampiric with the Twilight sequel Eclipse (2010) and the The Way to Egress episode of the horror anthology Nightmare Cinema (2018). He has also produced and directed episodes of the tv series' Hannibal (2013-5) and American Gods (2017-21), as well as directing the groundbreaking interactive Black Mirror episode Bandersnatch (2018).
---
---