---
USA. 2005.
Crew
Director – Stephen Kay, Screenplay – Eric Kripke, Juliet Snowden & Stiles White, Story – Eric Kripke, Producers – Sam Raimi & Rob Tapert, Photography – Bobby Bukowski, Music – Joseph LoDuca, Visual Effects – Oktober (Supervisor – Brent Gilmartin), Additional Visual Effects – PRPVFX (Supervisor – George Port), Special Effects Supervisor – Brandon Drury, Production Design – Robert Gillies. Production Company – Ghost House Pictures.
Cast
Barry Watson (Tim Jensen), Emily Deschanel (Kate Houghton), Tory Mussett (Jessica), Skye McCole Bartusiak (Franny Roberts), Jonah Christopher Duff (Young Tim), Charles Mesure (Rob Jensen), Philip Gordon (Uncle Mike), Lucy Lawless (Mary Jensen)
---
Plot
As a child, Tim Jensen is afraid of the boogeyman that hides in the closet. Trying to assure him, his father goes into the closet only for it to snatch him. Fifteen years later, Tim has grown up and told himself that his father left home and abandoned the family. With the death of his mother, Tim decides to return to the family house and confront his fears. However, the boogeyman is still alive and emerges to kill those around him.
---
Boogeyman was the second film from the Ghost House Pictures production company formed by Sam Raimi – their first release was the successful American remake of The Grudge (2004) and they subsequently went onto the likes of The Messengers (2007), Rise (2007), 30 Days of Night (2007), Sam Raimi's own Drag Me to Hell (2009), The Possession (2012), Don't Breathe (2016), The Unholy (2021) and the remakes of Evil Dead (2013) and Poltergeist (2015), as well as the tv series Legend of the Seeker (2008-10) and 13: Fear is Real (2009). Sam Raimi is of course better known as a director with films like The Evil Dead (1981) and Spider-Man (2002) and sequels to either. Raimi and co-producer Robert Tapert also founded Renaissance Pictures where they have produced a number of films and tv series, most famously Hercules: The Legendary Journeys (1994-9) and Xena: Warrior Princess (1995-2001).
One had little idea what to expect from Boogeyman before sitting down to watch it. Sam Raimi had a respectable tradition in the horror genre with the likes of The Evil Dead and The Evil Dead II (1987), while Ghost House's The Grudge was modestly effective, all of which sat Boogeyman in promising stead. On the other hand, the director selected to handle Boogeyman was Stephen (T.) Kay, a former actor whose best known role was a regular on the tv soap General Hospital (1963– ). On the other side of the camera, Kay has some less than inspiring credits on his c.v. – he wrote the scripts for the big-screen remake of The Mod Squad (1999) and the tv movie Lizzie Borden Took an Ax (2014), while his second directorial outing was the widely reviled Sylvester Stallone remake of Get Carter (2000). Kay had previously ventured into genre material as director of the ghost story tv movie The Dead Will Tell (2004) and subsequently made the prison horror film Cell 213 (2011) and Isolation (2011).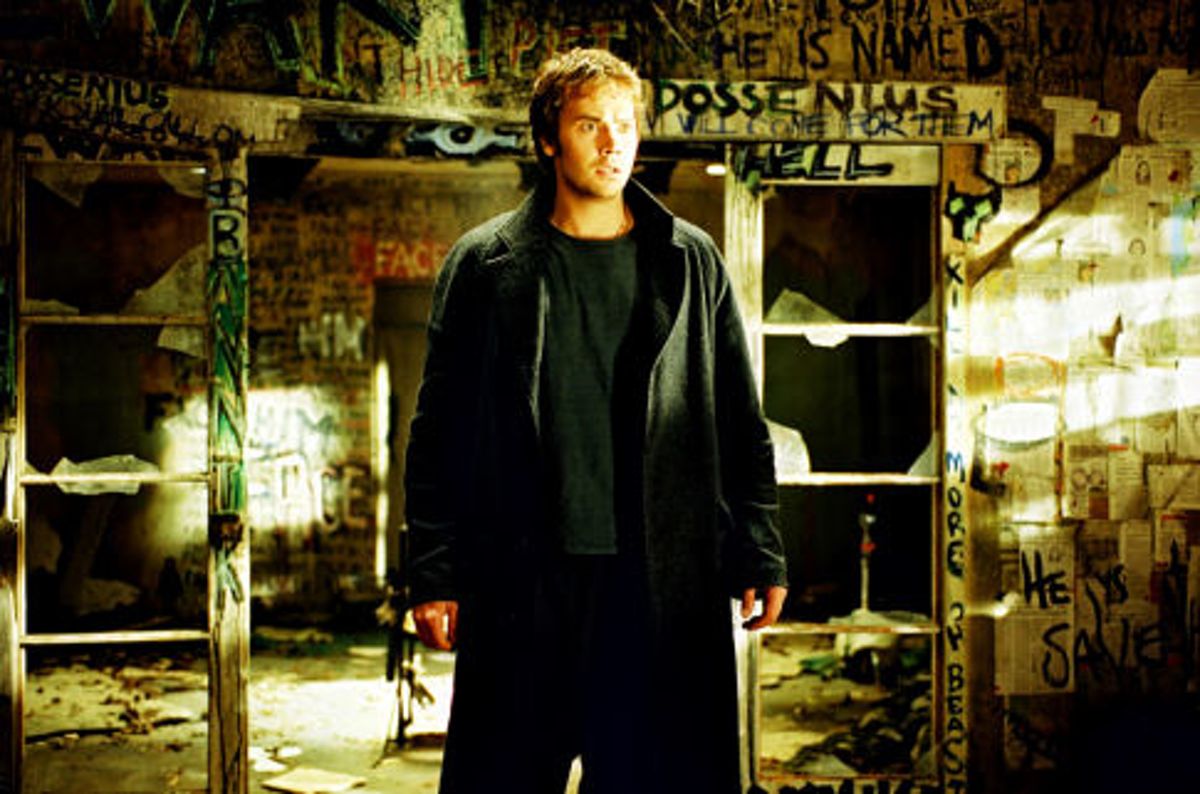 I saw a highly amusing interview with screenwriter Steven E. de Souza who poured contempt on Simon West, the director of Lara Croft, Tomb Raider (2001), which de Souza worked on at one point. de Souza was scathing about West's concept of conducting Tomb Raider as a "post-narrative" film – that is to say making a film that was entirely a series of action sequences and that dispensed with any connecting plot. I mention this in that Boogeyman could be considered the first "post-narrative" horror film.
It is a surprise to see that Boogeyman has three credited screenwriters, with one of them also taking a credit for story. While the American Screenwriters Guild is filled with countless stories of writers battling for recognition, Boogeyman is a refreshing example of screenwriters having received credit for doing as close as it is possible to no work whatsoever. Boogeyman is a film that has been construed almost entirely as a series of jumps, red herrings and hyped suspense scenes and with nothing else in the way of rhyme, reason or connecting rationale. Three-quarters of the film consists of hero Barry Watson creeping around the old family mansion and being scared by things. The boogeyman does eventually appear at the very end. But what it is, where it comes from or why it seems to be targeting Barry Watson's friends and family receives not the slightest word of explanation.
Directorially, the only scene where the film picks up out of the routine is where Barry Watson finds himself in a motel, where his girlfriend Tory Mussett mysteriously disappears while taking a bath and the motel closet disconcertingly opens into a closet in the house and he cannot be sure if the events at the motel even happened. This promising scene then dissolves into a climactic series of reality blurrings that have been taken straight from the book of A Nightmare on Elm Street sequel clichés and flip back and forward so rapidly as to erode all effect. There is a scene where one character in the film is revealed to have been dead all along – but this is a surprise that has been done to the point of overkill by too many copies of The Sixth Sense (1999) and can be seen coming from miles away.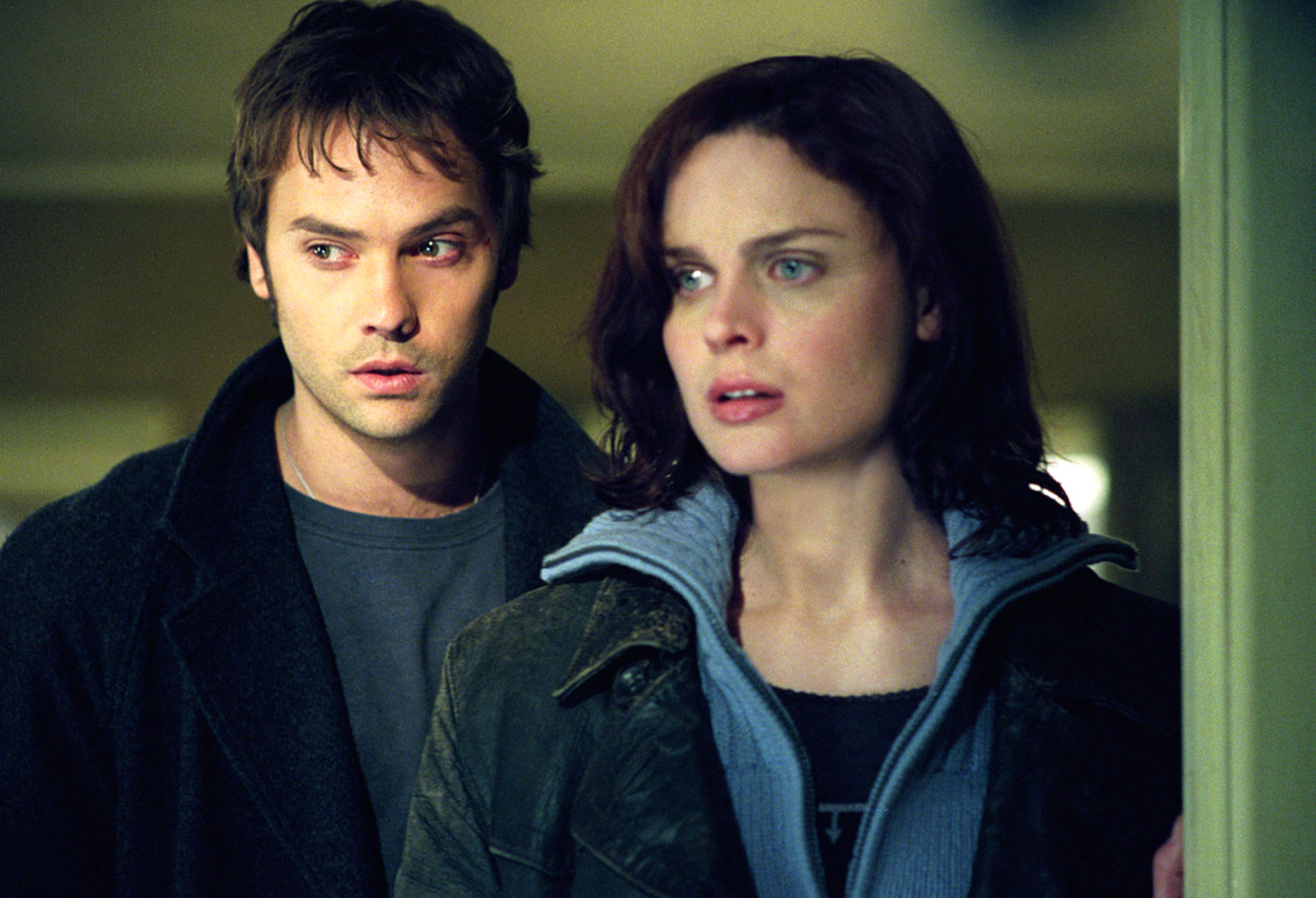 Boogeyman reminds somewhat of Darkness Falls (2003), a formula horror film that was also stretched out around a monster from folk legend – the Tooth Fairy there, the Boogeyman here. In both cases, the film consists of routine production line (and tamely PG-13 rated) scares that lack anything in the way of impact. Both films also feature a line-up of bland teen actors and actresses that one has never heard of before (and probably never will again) who have been selected solely for their good looks. Indeed, the only recognizable name in the cast is that of Lucy Lawless, the star of Renaissance's Xena: Warrior Princess and wife of co-producer Rob Tapert, although Emily Deschanel did subsequently go onto become the title character in the hit tv series Bones (2005-17).
Ghost House Pictures later released two direct-to-dvd sequels Boogeyman 2 (2007) and Boogeyman 3 (2008). Boogeyman is no relation to and should not be confused with Ulli Lommel's occult slasher The Boogey Man (1980) and its sequel Boogey Man II (1982).
Among the interesting names on the credits, co-writer Eric Kripke became best known as the creator of the hit tv series Supernatural (2005- ), which premiered several months after the film. Kripke has written a number of other genre scripts with the likes of The House With a Clock in Its Walls (2018) and created other genre tv series such as Tarzan (2003), Revolution (2012-4) and Timeless (2016-8). Co-writer Stiles White later went on to direct Ouija (2014) for Blumhouse.
---
---