(Encarnacão do Demonio)
---
Crew
Director – Jose Mojica Marins, Screenplay – Jose Mojica Marins & Dennison Ramalho, Producers – Caio Gullane, Fabiano Gullane, Debora Ivanov & Paulo Sacramento, Photography – Jose Roberto Eliezer, Music – Andre Abujamra & Marcio Nigro, Opening Animation – Guilherme Marcondes, Special Effects/Makeup Effects – Kapel Furman, Makeup Design – Denise Borro, Art Direction – Cassio Amarante. Production Company – Olhos de Cão/Gullane Filmes.
Cast
Jose Mojica Marins (Ze do Caixão/Coffin Joe/Josefel Zantanas), Jece Valadão (Colonel Claudimiro Pontes), Adriano Stuart (Captain Oswaldo Pontes), Milhelm Cortaz (Father Eugenio), Rui Rezende (Bruno), Cristina Ache (Lucy Pontes), Jose Celso Martinez Correa (Mystifying), Helena Ignez (Cabiria), Denora Muniz (Lucrecia), Thais Simi (Maira), Cleo De Paris (Dr Hilda), Eduardo Chagras (Emiliano)
---
Plot
In Sao Paulo, the black sorcerer Josefel Zanatas, alias Coffin Joe, is released from jail after forty years. He immediately rejoins his faithful hunchback assistant Bruno and sets about recruiting new acolytes. Coffin Joe is determined to fulfil his long-term ambition of finding the perfect woman to bear him a child. He and his followers begin abducting potential women, brutally torturing those who do not meet his requirements. Meanwhile, Coffin Joe runs afoul of the head of police Colonel Pontes after he intervenes to stop police death quads killing youths in the streets. Colonel Pontes teams up with the fanatical priest Father Eugenio, whose father was killed by Coffin Joe, and they obsessively set out to locate and kill him.
---
Embodiment of Evil is the third in the trilogy of Coffin Joe films from Brazilian director/actor Jose Mojica Marins (1936-2020). Acting as writer, director and lead actor, Marins created the character of Ze do Caixão, which translates from Portuguese to English as Coffin Joe, in the film At Midnight I'll Take Your Soul (1964). There Coffin Joe was an undertaker who was seeking the perfect woman to bear him a child, something that involved the killing of almost anybody who stood in his way or was of lesser moral strength than he. Coffin Joe had a distinctive look, always dressed in black, top hat, Satanic beard and long fingernails that Marins later grew for the role. Marins next appeared as Coffin Joe in Tonight I'll Possess Your Corpse (1967).
These three films – At Midnight I'll Take Your Soul, This Night I'll Possess Your Corpse and Embodiment of Evil – are considered the canonical Coffin Joe films, although the character and his name was used in several other films, including The Strange World of Coffin Joe (1968), a horror anthology directed by Marins in which Coffin Joe does not appear despite the title; Awakening of the Beast (1970), a pseudo-documentary on sexual perversion in which Marins appears as himself and as Coffin Joe during drug hallucinations; Black Exorcism (1974), a meta-fiction in which Marins appears as himself and finds family and friends haunted by his Coffin Joe alter ego; and Hallucinations of a Deranged Mind (1978) made up out of leftover scenes from the other films in which Marins plays both Coffin Joe and himself. Marins has also appeared in the Coffin Joe role as a Brazilian talkshow and horror host and has created a Coffin Joe comic-book.
Embodiment of Evil is a film that Jose Mojica Marins wanted to make for a number of years. It is Marins returning to his signature role of Coffin Joe (at least canonically) for the first time in forty years. With Marins at the age of 72 when Embodiment of Evil was made, it is very much a film about Coffin Joe having gotten old. The dapper, Satanic beard and slicked back hair has gotten grey and balding, while Marins looks flabbier and more jowly than the sharply handsome figure he used to be. Equally the story is about Coffin Joe being released from jail for the first time in forty years and Marins includes scenes of him trying to adjust to modern Sao Paulo and being bewildered by drug addicts, hookers and transvestites on the streets. There is even a confusing hallucinatory sequence where Coffin Joe appears to be transported into the afterlife to confront his own mortality, while the film climaxes with his death and funeral.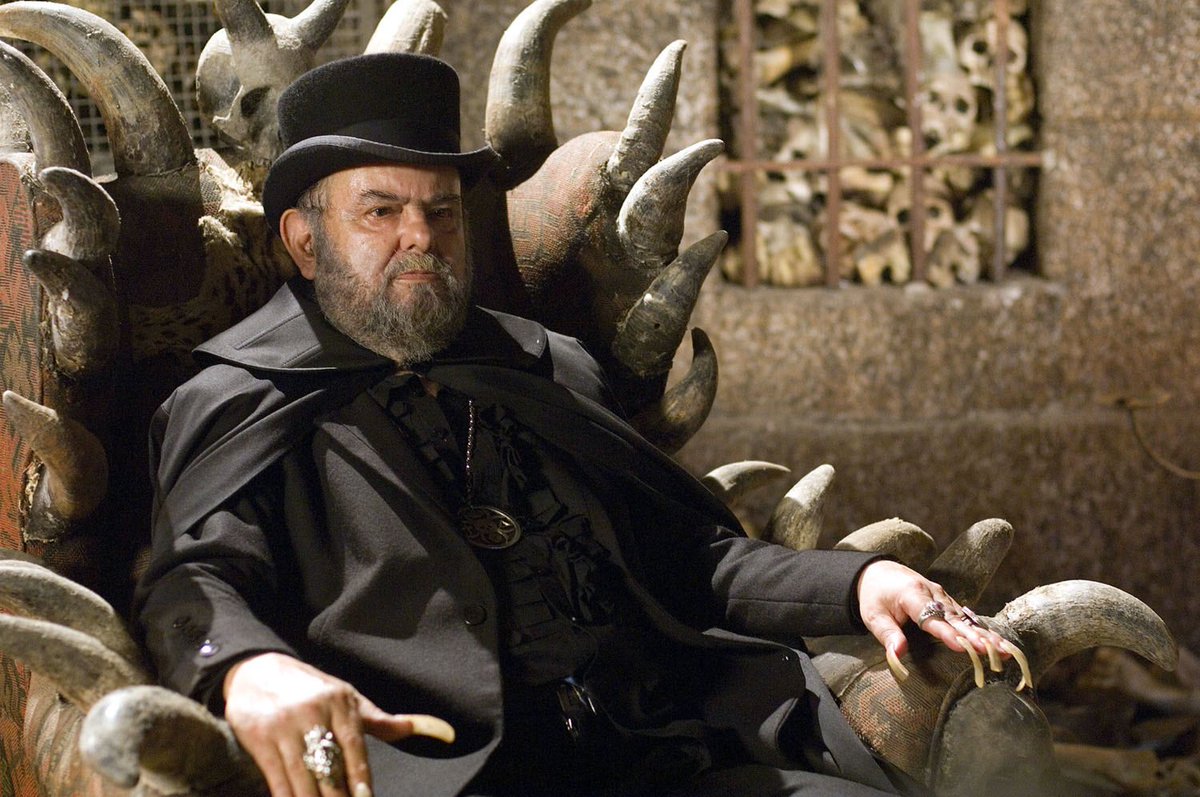 Despite showing his age, Jose Mojica Marins has lost none of his venom as Coffin Joe. He plays the part like an old B movie portrayal of a sorcerer – all theatric effect with he waving his hands a lot, calling out imprecations in a loud artificially projected voice and with thunder ominously clapping as he speaks. In terms of character, Coffin Joe falls somewhere between Aleister Crowley, the theatre of transcendent mysticism embodied by Alejandro Jodorowsky and Nietzschean nihilistic meta-morality.
While Coffin Joe's pronouncements on evil and morality have a philosophical facet to them, in actuality Marins' horror focus is so crude that you can hardly take any of it seriously. At one point here, for example, he tackles the real-life problem of a corrupt Brazilian police force sending death squads to target criminal youth in the favelas, but given that Coffin Joe spends the bulk of the latter half of the film engaging in a catalogue of even more extreme tortures himself, it is hard to take such a critical position terribly seriously.
The fun to be had in Embodiment of Evil is the catalogue of tortures that Jose Mojica Marins serves up, all lorded over by him snarling and taunting about morality and preaching nihilism in loud theatric voice. A group of postulants are brought to him and to prove their loyalty, he gives them each a gun and asks them to shoot themselves only for the guns are shown to be empty of bullets. Police doctor Cleo De Paris is brought to him as a candidate, he strips and drugs her and slices a patch of skin off her buttock and makes her eat it while she is under the influence. Even the priest nemesis (an alarmingly intense Milhelm Cortaz who seems to play the entire role by crossing his eyes) is seen attaching the electrodes from a miniature wind-up electric generator to his nipples.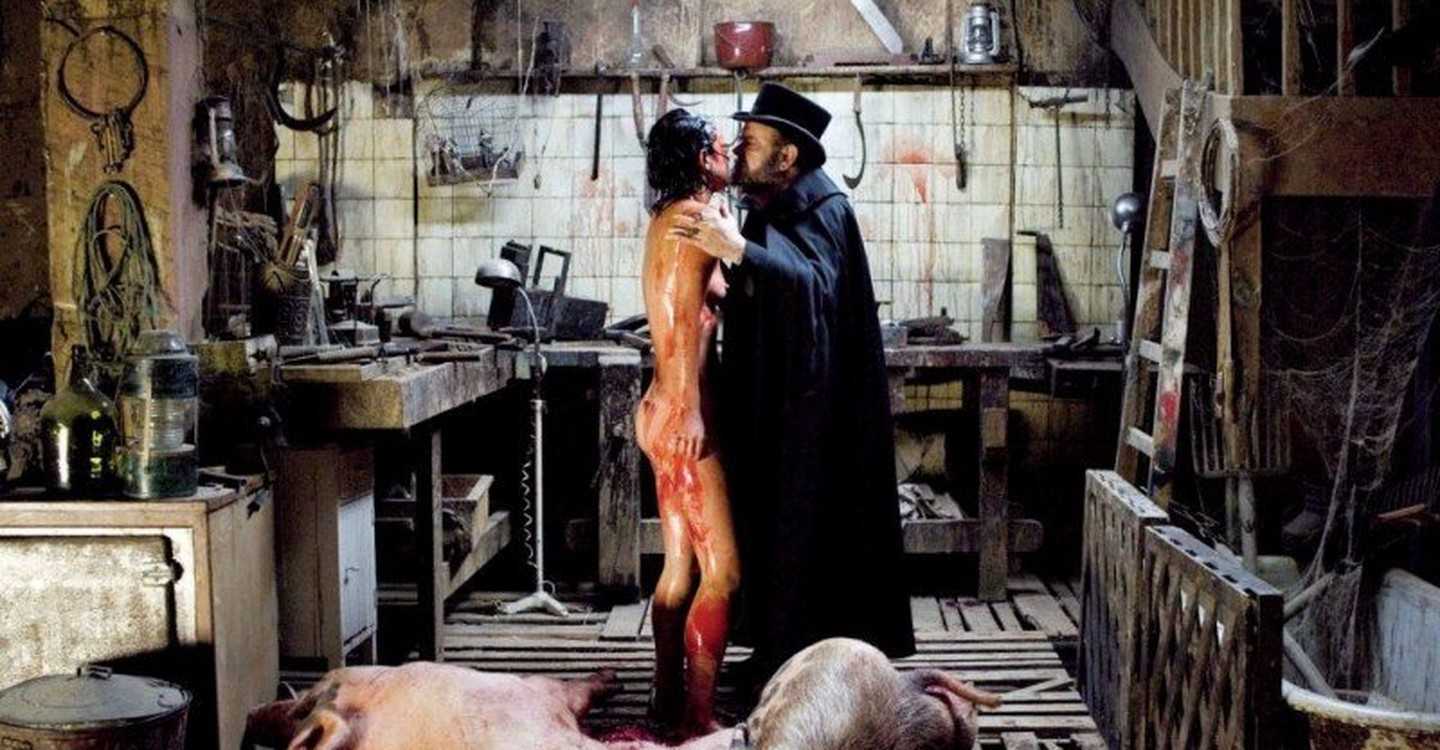 The latter third or so of the film descends into a catalogue of torture scenes – abducted girls being strung up with hooks through the skin of their backs; spikes hammered through hands; a police informant being scalped and the skin pulled over her eyes supposedly to prevent her seeing the horrors going on before her; various whippings; a branding sequence; a woman dunked in a barrel of entrails; one sewn up inside a pig carcass; another having her face forced into a barrel of bugs; another stripped, covered in honey and a rat placed inside her vagina.
In one scene, Marins attempts to up the ante on Angel Heart (1987) in not merely have a lovemaking scene where the lovers are covered in blood, but they and the room drowned in blood from two bodies pinned to the ceiling. Somehow it all manages to be remarkably inoffensive. Indeed, Brazilians tend to regard Coffin Joe as a folk hero in much the same way as characters like Jason Voorhees and Freddy Krueger became popular culture anti-heroes during the 1980s.
Outside of the Coffin Joe films, Jose Mojica Marins has directed a number of other horror films including an episode of the anthology Trilogy of Terror (1968); the surreal The End of Man (1971) about an enigmatic stranger and its sequel When the Gods Fall Asleep (1972); The Strange Hotel of Naked Pleasures (1976), Hellish Flesh (1977) and The Plague (1980). Marins has also directed a number of Brazilian sex films.
Buy this title from Synapse Films
---
---