---
Crew
Director – Don Edmonds, Screenplay – Langton Stafford, Producer – William J. Brody, Photography – Dean Cundey & Glenn Roland, Makeup Effects – Joe Blasco, Art Direction – Mike Riva. Production Company – Mount Everest Enterprises.
Cast
Dyanne Thorne (Ilsa), Michael Thayer (Adam Scott), Victor Alexander [Jerry Delony] (El Sharif), Wolfgang Roehm (Dr Kaiser), Tanya Boyd (Satin), Marilyn Joy (Velvet), Bobby Woods (The Prince), Elke Von [Uschi Digard] (Inga Lindstrom), Haji (Alina Cordova), Su Ling (Katsina), C.D. LaFleur [George 'Buck' Flower] (Beggar)
---
Plot
The former Nazi commandant Ilsa is now working as the harem keeper for El Sharif, the sheik of an oil-rich Middle Eastern kingdom. On his orders, she kidnaps women he desires and tortures them to make them compliant slaves for his harem. Dr Kaiser arrives to negotiate an oil treaty on behalf of the US government. El Sharif decides the girls must be gotten rid of before Kaiser arrives so Ilsa arranges a slave auction to sell them off. Kaiser's right hand man Adam Scott has infiltrated the harem with a spy but she is found and tortured by Ilsa. As Kaiser's party arrive, Adam seduces Ilsa and she finds herself responding to his charms. This angers El Sharif who decides Ilsa must be punished for betraying him.
---
Ilsa, Harem Keeper of the Oil Sheiks was the second of the notorious Ilsa films. The series began with Ilsa, She Wolf of the SS (1974), which starred Dyanne Thorne as the commandant of a Nazi concentration camp who enjoyed torturing and sexually using her prisoners. The film ventured into an extraordinary arena of bad taste in serving up concentration camp atrocities as exploitation movie grist. The film was popular and this meant that it was dragged out for several sequels. Ilsa, Harem Keeper of the Oil Sheiks was the first of these and was followed by Ilsa, The Tigress of Siberia (1977), all featuring Dyanne Thorne. There was a quasi-sequel with Greta the Mad Butcher/Wanda the Wicked Warden (1977) starring Dyanne Thorne as the sadistic matron of a psychiatric institution, which was repackaged and sold as Ilsa: Absolute Power.
The welcome thing about Ilsa, Harem Keeper of the Oil Sheiks is that it despatches with connection to the first film – all except Dyanne Thorne playing a woman with a taste for cruelty and sadism. In perhaps realising that the original ventured into an extraordinary level of bad taste, Ilsa, Harem Keeper of the Oil Sheiks dispenses with any mention of Nazism or Ilsa's background – for all we know, and given that Ilsa was killed at the end of the first film but still appears alive and the same age thirty years later, this could an entirely different character. As a result, Ilsa, Harem Keeper of the Oil Sheiks works far better and taps far more into the 1970s sexploitation genre that some people in the 2000s insist on calling grindhouse.
Now the venue has been cannily transplanted into the midst of the 1970s oil crisis. The villain of the show is the sheik of an unnamed Middle Eastern kingdom, while Wolfgang Roehm plays a German-accented ambassador that one suspects was based on Henry Kissinger, who has come to negotiate with regarding their hold over oil prices.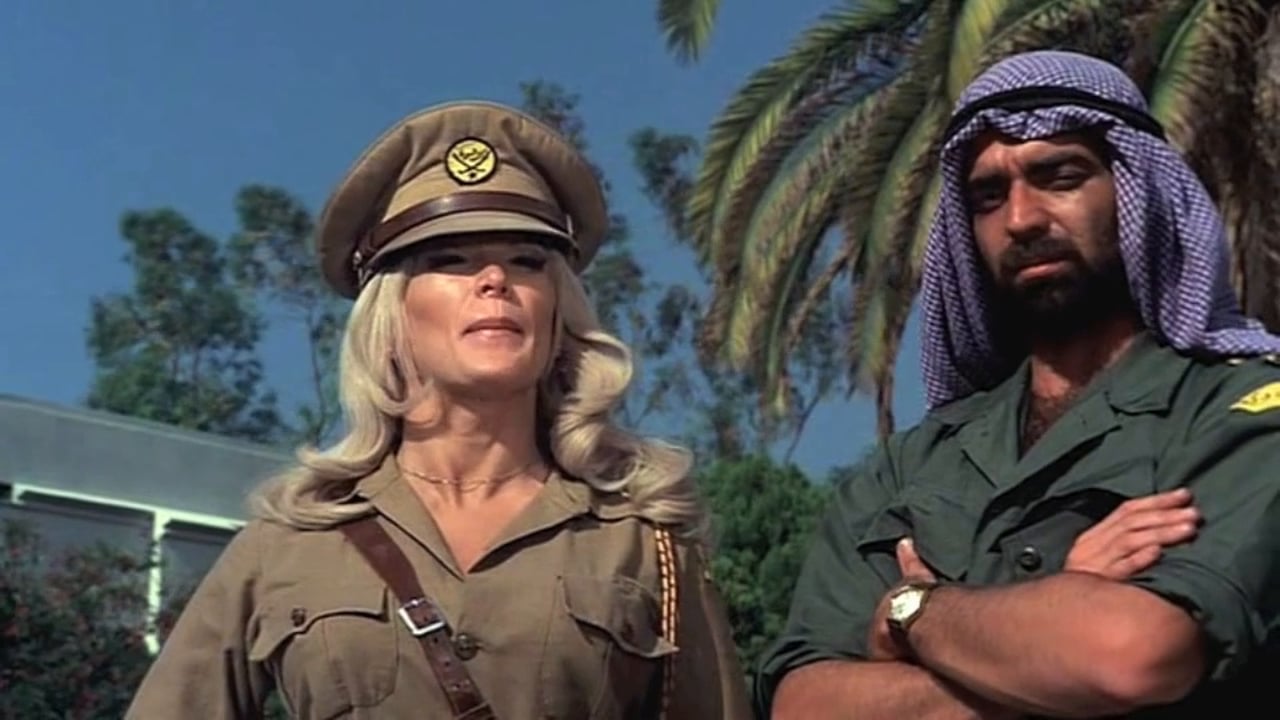 The torture scenes now seem on the tamer side – there's an amusing scene where a thief's hand is severed in the midst of a dinner party. In other scenes the captured girls have (it is implied) rats placed inside their vaginas, teeth chipped out and ants placed all over their bodies – but nothing that comes across as particularly horrific.
We get some great exploitation moments – like the scene where a man is condemned to a fight to the death with Ilsa's acolytes, two topless Black women (Tanya Boyd and Marilyn Joi) who easily wrestle him into submission and then kill him. It is almost like the scene with Bambi and Thumper in the James Bond film Diamonds Are Forever (1971) having been taken to its logical conclusion.
Dyanne Thorne is not much of an actress but she has an undeniably great presence. She has an awesome scene where she enters a dinner party wearing a skintight black catsuit where the very revealing holes are held together with red thread, while holding the leash of a hound in either hand. On the other hand, the film's sympathies seem off when it creates a villain who is greater than her with the sheik and then has Ilsa and her American lover (Michal Thayer) lead a rebellion against him. She is caught and tortured by the sheik in a scene where we are meant to have sympathy for her – however, part of our minds is still remembering that this is a woman who in the previous film ran a Nazi concentration camp and was seen torturing and killing prisoners. On the other hand, things are overturned again in a final scene that leaves Ilsa imprisoned in a dungeon.
---
---