---
USA. 2015.
Crew
Director – Patrick Kennelly, Screenplay – Sigrid Gilmer & Patrick Kennelly, Producers – Leo Garcia & Patrick Kennelly, Photography – Benjamin Conley, Music – Jonathan Snipes, Visual Effects – Ryan Marzolph, Makeup & Prosthetics Designer – Jill Fogel, Production Design – Liz Toonkel. Production Company – Walking to the Moon Productions.
Cast
Bethany Orr (Jill), Mary Loveless (Jennifer), Wes McGee (Rob Farrell), Sheresade Poblet (Cathy Esparanza), Jill Jacobson (Beverly), Robert Maffia (Officer Jimmy), Jules Bruff (Officer Marie), Kristin Minter (Nina)
---
Plot
Jill lives in an apartment in Los Angeles with her roommate Jennifer, an aspiring model,. Jennifer takes every opportunity to walk over Jill and cruelly berate her for her weight. Whenever Jill gets upset, Jennifer quickly make consoling promises to make it better but never keeps these. One evening after she has made dinner for the two of them but Jennifer stands her up, Jill snaps. Jennifer wakes up to discover that Jill has chained her to the wall in her underwear. With Jennifer her prisoner, Jill uses every opportunity to torment and feed Jennifer's lines and cruelties back to her. In the process, Jill's sanity starts crumbling.
---
Excess Flesh was a directorial debut for Patrick Kennelly. It played quite a reasonable number of horror and fantastic film festivals. Kennelly co-writes with rising African-American playwright Sigrid Gilmer.
The quickest way to pigeonhole Excess Flesh might be to imagine it as falling somewhere between Nicolas Winding Refn's The Neon Demon (2016) and Single White Female (1992) with its tale of a girl finding she has a mentally unstable flatmate (although here the unstable flatmate actually becomes the most sympathetic character in the show). As Refn did in the subsequent The Neon Demon, Kennelly and Sigrid Gilmer tap a heady swim of symbolism and images about trying to make it in Hollywood/the modelling industry and the pressure on a woman to stay slim and beautiful.
This becomes a disturbing portrait of how these pressures force one girl down into a maelstrom of madness. As the walked-over Jill, the unknown Bethany Orr gives a rather alarming performance where she lets all stops go. This is none more evident than a long scene where she sits in a chair watching junk entertainment tv news while eating food and every so often turning to purge into a bucket in between hitting herself in the head.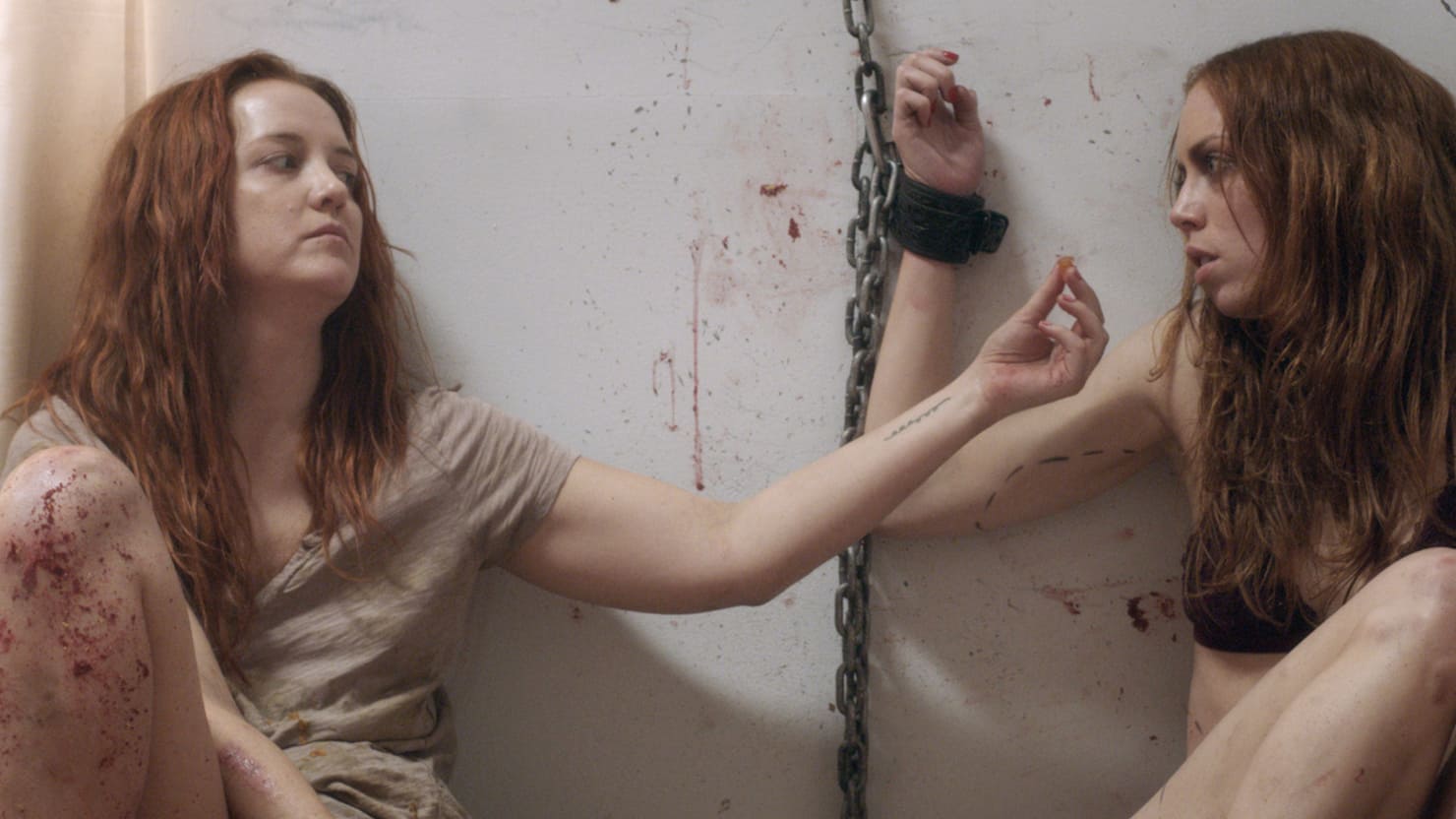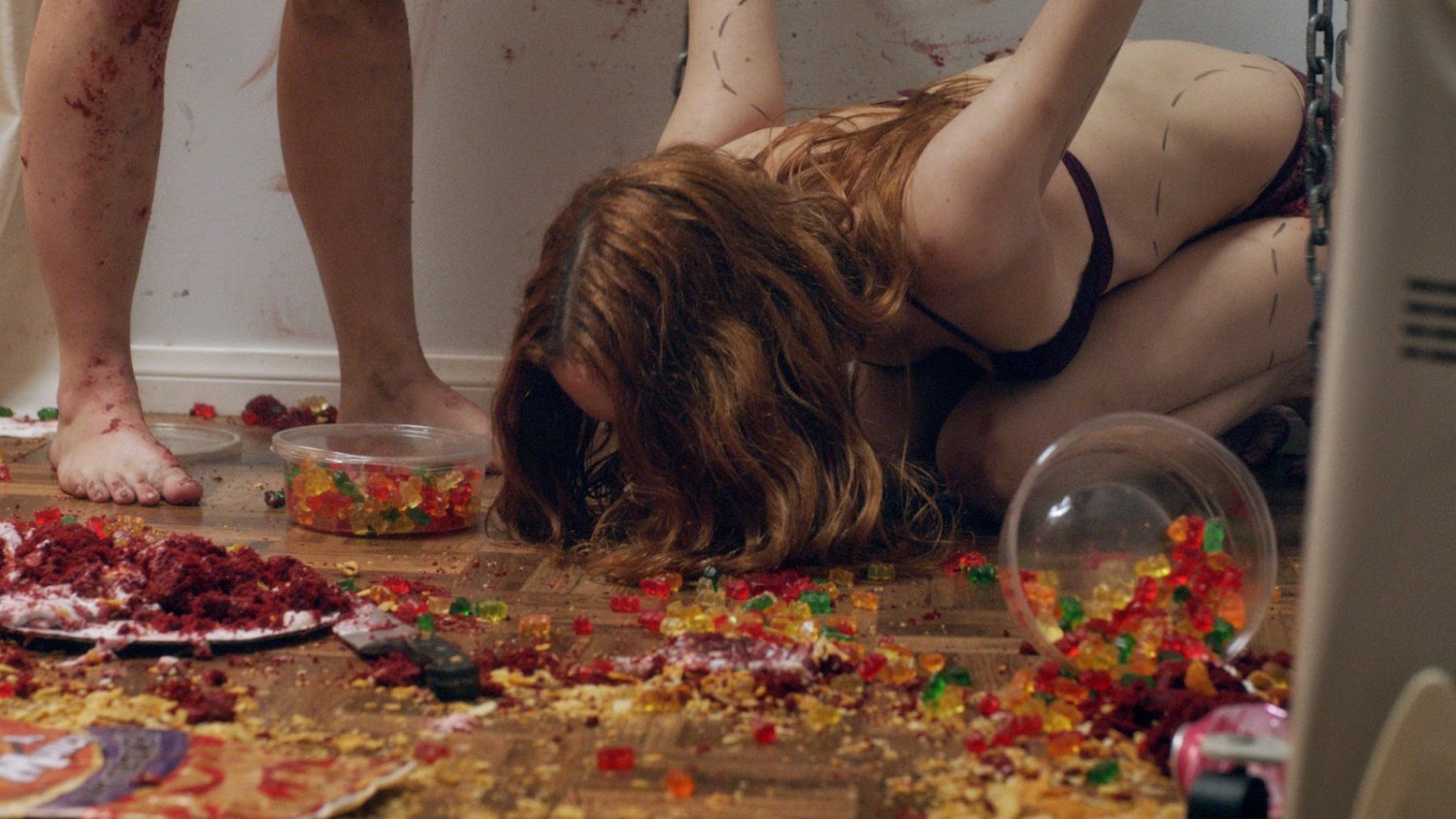 This reaches a snapping point where Bethany Orr makes dinner for Mary Loveless who forgets and goes out partying only to wake up and find Orr has chained her up in her underwear. Thereafter begins a torment in which Bethany Orr alternately starves and force-feeds Loveless, in between quoting her own bitchy self-absorbed lines back at her. Orr's supreme performance is highlighted no better than in a scene near the end where she runs out into the street after an escaped Mary Loveless and they are found by two cops where Orr's imprecations run between an over-eager disturbance and somehow also managing to convince them to leave the shell-shocked Loveless in her care.
Patrick Kennelly fills the film with images of food – often in unappealing closeups of people eating and their mouths full or munching, or shots of people purging. There is a montage sequence where Bethany Orr prepares dinner, including severing the head of a chicken, where Kennelly perversely fills the soundtrack with a chorus of what would seem to be ecstatic sighs and moans.
The film probably didn't need a long dream sequence towards the end where the two girls seem to participate in an American Idol (2002– )-like competition and are judged by a panel while having sex. I couldn't really work out what the film was trying to do/say here and the feeling is the sequence has been included more to pad the running time than anything else. Nevertheless, the rest of it is a work of considerable ingenuity.
---