---
Crew
Director/Screenplay – Richard Bates, Jr., Producer – Dylan Hale Lewis, Photography – Itay Gross, Music – Steve Damstra II & Mads Heldtberg, Visual Effects Supervisor – Steve Ansell, Production Design – Armen Ra. Production Company – New Normal Films/BXR Productions, LLC.
Cast
Annalynne McCord (Pauline), Traci Lords (Phyllis), Roger Bart (Bob), Ariel Winter (Grace), Malcolm McDowell (Mr Cooper), John Waters (Reverend William), Jeremy Sumpter (Adam), Ray Wise (Principal Campbell), Matthew Gray Gubler (Mr Claybaugh), Molly McCook (Natalie), Natalie Dreyfuss (Abigail), Marlee Matlin (Amber)
---
Plot
Eighteen year-old Pauline is a weird teenager who resents living with her controlling mother Phyllis. Pauline makes the decision to lose her virginity and chooses fellow schoolboy Adam, although he becomes disgusted after she asks him to perform oral sex on her while she is menstruating. Pauline is determined to become a medical doctor and save her younger sister Grace who is suffering from cystic fibrosis.
---
Excision was a film that started getting some surprisingly good notices among the critical horror circles that I pay attention to, which meant that it was something I had to track down. Perhaps the only surprise about seeing it eventually is that I would only consider it to be borderline horror. The dream sequences sit on the edge of genre material in much the same way it could be said that the dreams in something like Ingmar Bergman's Wild Strawberries (1957) and Cries and Whispers (1972) make them horror. It is not until the last few minutes that the film could be said to properly step over into genre territory.
Perhaps the nearest film you might make analogy to would be Lucky McKee's May (2002). Both films are rejection stories about a young, socially awkward woman that follow her social troubles before arriving at an ending that steps over into genre territory (even if both films take very divergent paths at that point). Excision is a tale of a teenage girl in high school that makes welcomely dark and subversive counterpoint to the absurdly rosy romanticism of Twilight (2008) and sequels.
Where Twilight says that all a teenage girl needs to make her life meaningful is the right guy to come along, Excision is full of awkwardness, rebellion against cloying WASP values and controlling parental figures, and the horrible discomfort of body changes and one's first sexual experience. It feels like a film that gains a gleeful perversity from deliberately wiping an audience's face in the uncomfortable issues surrounding these things – showing Annalynne McCord kissing people with a cold sore, asking a guy to eat her out while she is menstruating, showing her holding up a used tampon or a sex scene that dissolves into her riding a guy amid showers of blood.
In the lead role is Annalynne McCord who has been a rising young name in the last few years. I first noticed her in a sizzling role on Nip/Tuck (2003-10) but outside of that she just seemed just another Hollywood pretty face in tv shows like American Heiress (2007) and 90210 (2008-13). Here she confounds typecasting and determines to do some character acting, defying all the glamour roles as she has been cast up to this point and playing with seemingly unwashed hair, an acne-covered face and a thick monobrow. It is a clear effort to stretch her range and show she is capable of more – and an admirably brave piece of stepping outside the casting safety zone that you wish more young actors would think of doing. McCord has the difficult job of making such a physically unappealing character sympathetic but manages to pull it off thanks to an engagingly sarcastic line in backchat that endears her.
Surprisingly good up against her is Traci Lords as the mother. Lords had an infamous career as an underage porn actress in the 1980s then after this was discovered tried to make it as a legit actress. Alas, this only ended in a series of forgettable roles that Lords passed through with a sour-faced indifference. Here at least she gets the opportunity to play into that and proves unexpectedly good as the tight-lipped and controlling mother. The rest of the cast is filled out with some other well-known faces, including the subversive choice of iconoclastic filmmaker John Waters as a Baptist minister.
The horror element emerges in a series of often striking dream scenes that show Annalynne McCord (in full glamour mode) surrounded by nude bodies, in various necrophile scenes and of her removing organs from corpses. These are shot in sharp red and white colour contrasts that make them look for all the world like fetish fashion shoots. While striking, the only question it leaves you with is what purpose these scenes serve – there is never any clear idea given why they are there or what symbolic function they hold.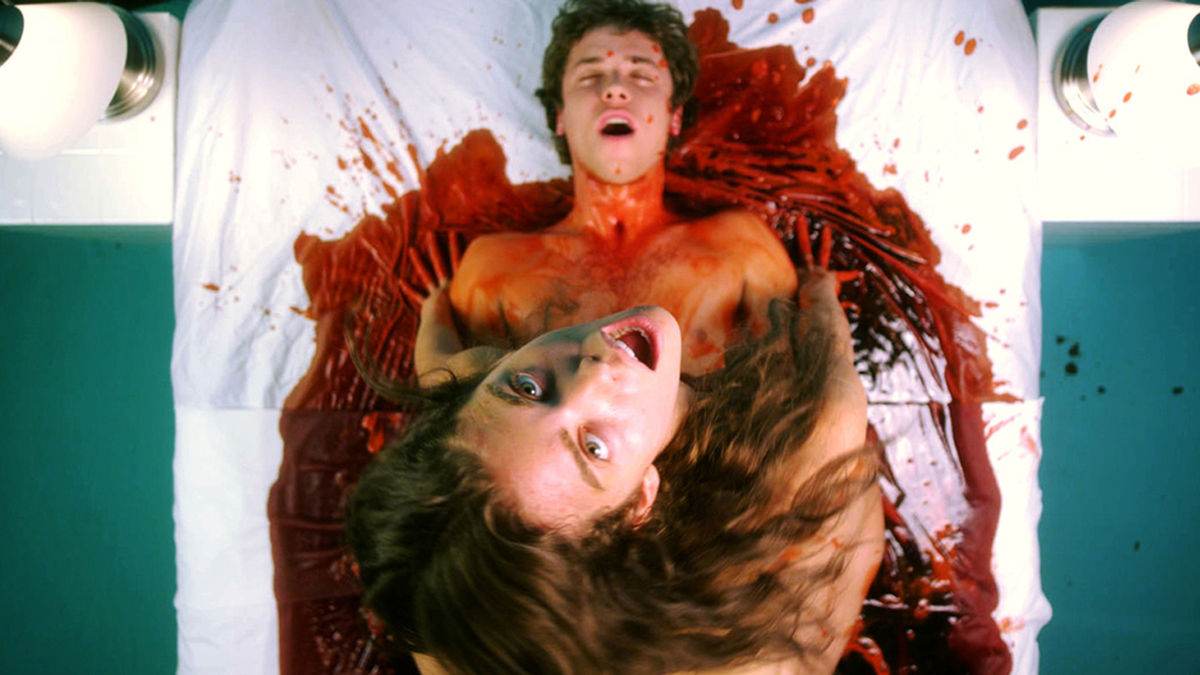 Excision was originally made in 2008 by debuting director Richard Bates, Jr as an eighteen minute short film. This has been the opportunity for Bates to expand the short to feature length and with a name cast. You can clearly see that the original idea and the sting in the ending held had an appealing concision but it does feels overburdened being stretched to full length here.
The film does arrive at a horrible ending, even if it is one that you can see coming. The main problem with it for me was that the film had done an admirable job in creating sympathy for Annalynne McCord but the ending steps over into then portraying her as the deluded monster and freak that the rest of the show has been engaged in persuading us that she is not.
Richard Bates, Jr next went onto make Suburban Gothic (2014), the non-genre Trash Fire (2016), Tone-Deaf (2019) with Robert Patrick as a wannabe serial killer and King Knight (2021) about a Wiccan coven leader reexamining his life, all.black comedies concerning themselves with middle-class disaffection
(Nominee for Best Supporting Actress (Traci Lords) at this site's Best of 2012 Awards).
---
---